Recently on Cyclingnews.com
Kristin Danielson
Photo ©: Larry Hanelin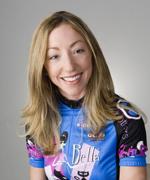 Married to the sport: The Kristin Danielson diary 2006
The long-time partner and now wife of Discovery Channel rider Tom Danielson, Kristin Danielson (nee Johnson) is a talent in her own right. Like her hubby, Kristin came from a background racing on fat tyres before recently making the transition to the road, and after a season with Ford-Basis, she'll be riding in Velo Bella-Kona colours in 2006.
September 4, 2006
Looking forward to riding the trails
The start
Photo ©: Tom Danielson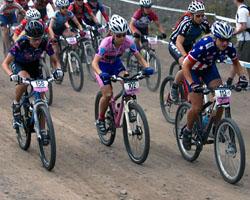 Just a fad that has passed? When I think of fads leg warmers, the zone diet and more fashion faux-pas come to mind, not an entire sport. How could my friend say this to my face? I do believe mountain biking is a lifestyle. A lifestyle that attracts fun loving and free spirits to it. No other place am I more content than when I am on my mountain bike riding through towering pine trees, through creeks, smelling the fresh mountain air and getting both wheels off the ground from that last jump. Whether mountain biking is a recreational sport, competitive sport or just a fad it is a beautiful sport that has brought much happiness to me this past summer. Not only did this sport introduce me to amazing people, such as my team, this sport has brought to me aspirations, accomplishments, mental and physical strength. The last time I checked, it is still a sport that is a part of the Olympic Games and has seen fierce competition among the past Olympians.
Even though my racing season has wound down, the time I spend on trails has not. This season is my absolute all time favorite to be encompassed by Mother Nature. Brilliant fall days are cool and colorful, who wouldn't want to be out on the trails? I know winter is larking around the corner and when winter shows its white face my Kalua-Lisa Kona will have to be hung up until next season; so it is imperative to explore new single track as I know soon they will be covered in a blanket of snow.
After the last NORBA race, where a mechanical ended up haunting me again, I quickly packed my car and headed to Denver for an early morning flight to Barcelona. Tom was there to pick me up. Simply the sight of his smile filled me with so much contentment; there was no other place I wanted to be. We drove into the breathtaking mountains where Tom trained, trained and trained some more for the up coming Vuelta de Espana. I rode up and down on roads that connected one small mountain town to the next. I absolutely loved being in the Pyrenees Mountains. While Tom and I enjoyed the time together we explored the idea of moving from the busy city of Girona to a more relaxed mountain town. The spring weather could be cold but the compromise is worth it. Our goodbyes weren't as somber as they usually are since I will return to Madrid for the end of the race.
Yesterday I watched the first climbing stage and cheered my hubby on. It's a long race and Tom has trained incredibly hard. I believe in his extraordinary talent and I hope his team believes in his abilities as much as I do. The next couple of weeks will be filled with nervous energy until I fly into Madrid and give Tom a big kiss and tell him how proud I am of him. I can't wait to spend some stress free time together this off season. Tom deserves every second of down time but until then he will be involved in an intense battle, don't forget to cheer for Tommy D!