Tales from the Peloton, December 8, 2003
A tribute to Jose-Maria Jimenez
February 6, 1971 - December 6, 2003
Jose-Maria Jimenez, 1971-2003
Photo ©: AFP Photo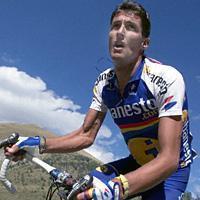 Spanish cyclist Jose-Maria Jimenez, who died in a hospital in Madrid, Spain, on Saturday at the age of 32, will be remembered as a climber par excellence. On his day, there was nobody in the Spanish peloton who could get close to the rider everyone called 'El Chaba' as he demonstrated most memorably in 1999, winning stage 8 of the Vuelta a Espaņa.
This was the first year the Vuelta included the Angliru, one of the hardest climbs in any stage race anywhere, and an ascent that still creates controversy today, even though the riders know what to expect.
Cyclingnews correspondent Martin Hardie wrote this report from stage 8 of the 1999 Vuelta. We can think of no more fitting tribute to a rider whose victories came from the heart, and who dedicated this and many other victories to the fans who adored his passionate style of racing.
Angliru - an epic stage of road racing
By Martin Hardie, cyclingnews.com correspondent.
Jan Ullrich (Telekom) and race leader Abraham Olano (ONCE)
Photo ©: AFP Photo

Alpine stages are a race within themselves. You only have to watch such stages of the Tour de France, Alpe D'Huez, Galibier, Tourmalet to get the feeling. Nothing seems to stir the imagination like the combat between cyclists ascending a giant climb. Even on the flat television screen the climbs are daunting. The real thing so much more.
Stage 8 of the Vuelta promised to expand the concept. It promised to be one of the epic stages. Even before a crank was turned in anger, the Alto de el Angliru, in Spain's northern Asturias region, was to become a cycling legend. In February, seven months before the race, eventual stage winner Jose Maria Jimenez described the classic climbs of the cycling world as "child's play in comparison". Of el Angliru Fernando Escartin said "if you stay sitting down, your front wheel goes up in the air. If you stand up, the back wheel slides."
Fernando Escartin after a serious crash
Photo ©: AFP Photo

At a time when cycling has gone from one body blow to another we wondered whether the Vuelta hype could ever be met. Was this a cynical attempt by Unipublic, organisers of the Vuelta, to grab a few headlines? Was this stage really going to push the mountain stage further than any climb before? Were its 23 percent ramps really where the Spaniards would get their own back for all the crimes perceived to be committed against them in the recent past?
13.5 kilometres of climbing at grades of 19%, 14%, 23% and 17% with portions in between giving new meaning to the phrase 'false flats'. All of this in the last part of a 176 km stage after already crossing two category 1 climbs and a category 2.
Kelme team director Alvaro Pino helps Escartin
Photo ©: AFP Photo

But you had to wonder would anybody live to fight el Angliru another day? The dispute was not between riders, it was the mountain against man. Some said that no one could get up if it rained. Even before el Angliru was mounted it poured. Down La Corbetoria, down El Cordal the race slid. In a ravine Olano is found with the tiny frame of Lotto's van de Wouwer, lying with his bike, Olano's on top. In the finale Escartin was not there. It was not this Spaniard's day but he was only bruised, not battered. No shattered collar bone.
Olano remounted and was dragged back into the race. Liquigas' Ivanov is somehow still upright and still up the road. Ahead still lays el Angliru. Where it has been all day, beckoning, taunting: 'I cannot be climbed, not today'.
Between Olano and Ivanov a group of five. The climb is underway and with 10 kilometres to go Ivanov has a minute lead over Mapei's Tonkov, Kelme's Rubiera and Heras and Telekom's Ullrich and Guerini. With Ullrich in the group, Zarrabeita works to bring his ONCE captain, Olano back up to them. But as Zarrabeita can work no more, Tonkov moves away from the other four. Soon he is past Ivanov and in no time has a 59 second lead over those he left.
Abraham Olano remounts after a crash
Photo ©: AFP Photo

The climb continues and Olano is now back with the Ullrich group. Only 6 kilomtres remaining and Jimenez and Heras start their pursuit of Tonkov. They start to eat into Tonkov's lead and pull away from Olano and Ullrich, who seem content now only to limit their losses, reach the summit and mark each other out of el Angliru's fury. But then Tonkov increases his lead again. With 3 kilometres to go Jimenez leaves his teammate Heras behind. With only the last kilometre remaining Tonkov still has 40 seconds on Jimenez. Then somehow Jimenez bridges and Tonkov is caught and passed. Jimenez crosses the line, there is no energy left for a victory salute. But a victory it is for Spain, Banesto, Jimenez and Alto de el Angliru.
Jose Maria Jimenez takes victory
Photo ©: AFP Photo

With his victory, Jimenez gave Spain and cycling what it craved. "I dedicate it to all of Spain, because I was in debt with all of it and with the team, until now, things have not gone the way they should have for the work I was doing in training. It cost me a lot more than the rest, because I had a big debt with my fans and the people that prepared this climb. Before the start, I felt that I had a lot of responsibility. I could see Tonkov a little earlier, but, even though I was feeling well, I wouldn't just take off, because I was a little afraid, maybe I didn't choose the right gearing for the rain. But once I passed the toughest section, I decided to go after him."
In somewhat of an understatement Tonkov said, "It has been an incredible stage." But the gap crossed by Jimenez on the final sections of el Angliru was not without controversy. Tonkov complained, "I'm very angry because Jimenez was helped by the motorcycles which didn't allow me to sprint." Mapei also believed that a commissaire's car had acted as the rabbit for Jimenez to chase across to Tonkov. But the Russian warned that the Pyrenees were still ahead.
It seems that el Angliru may well have given cycling the type of shot in the arm it needed. The spectacle, the suffering, the falls and the epic battles on a brute of a mountain. Over 120,000 fans lining the route, standing in pouring rain. The joy and tears of victory and loss. As those of us who ride sit back in awe, it all comes home in a most frightening and real manner when we think of the gearing used: chainrings of 30 or 32 teeth and rear sprockets of 25 or more.
More career highlights
Climbing Mont Ventoux in 1998
Photo ©: AFP Photo

Winning on Mont Ventoux
Photo ©: AFP Photo

Stage 20, Vuelta 1999
Photo ©: AFP Photo

With the other jersey-holders in the 1999 Vuelta
Photo ©: AFP Photo

The Classique des Alps, 2000
Photo ©: AFP Photo

Wearing the Vuelta leader's jersey in 2001
Photo ©: Sirotti
Major victories
2001
Points and mountains jerseys in the Vuelta a España; victories in stage 8, stage 11 and stage 12
2000
Classique des Alpes
Volta a Catalunya overall, stage 7 and stage 8
1999
Mountains competition in Vuelta a España, stage 8 win
1998
Mountains competition in Vuelta a España, victories in stage 6, stage 10, stage 11, & stage 16,
Stage 3, Dauphiné Libéré
Stage win, Vuelta a Asturias
1997
Spanish national championship
Vuelta a la Rioja, overall victory and 1 stage win
Mountains competition in Vuelta a España, stage 19 win
1996
Subida a Urkiola
Mountain competition in Vuelta a Burgos
1995
Stage win, Volta a Catalunya
1994
Subida a Urkiola