56th Vuelta A España
Spain, September 8 - 30, 2001
Vuelta 2000 Preview Start List Coverage Initial Announcement Past winners
Stage 21 - September 30: Madrid - Madrid ITT, 38 km

Angel Casero
Photo: © AFP
The final day of a Grand Tour is often a procession, with the leaders decided long before. But the 2001 edition of the Vuelta a Espana went right down to the wire. His fourth place in the final day's 38 kilometre individual time trial was enough for Angel Casero (Festina) to take the title from Oscar Sevilla (Kelme).
The Spanish duo went into the last day just 25 seconds apart. While Sevilla's team-mate Santiago Botero blitzed the course to take the stage win in 45.33 at a shade over 50km/h, the best the race leader could manage was almost two minutes slower. Casero was faster at all the time checks, eventually finishing just 45 seconds down on Botero to land the overall victory.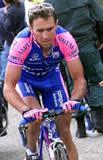 Gilberto Simoni
Photo: © AFP
Stage 20 - September 29: Guadalajara - Alto de Abantos, 176.3 km
Giro d'Italia champion Gilberto Simoni won an exciting 20th, and penultmate stage, in the Vuelta today as he stormed across the finish line two seconds ahead of Spain's Jose Maria Jimenez.
The pair had been jostling for much of the climb to Alto de Abantos, with Simoni very keen to win after his second place in the stage last year.
In the battle for overall honours Oscar Sevilla kept his slender 25 second margin over fellow Spaniard Angel Casero leading into tomorrow's final stage a 38km time trial. Sevilla had hoped to increase his lead over Casero during today's stage as he is a noted climber, however Casero clung to his wheel, and now, perhaps, the advantage goes to Casero, a recognised time triallist.
Sevilla and Casero finished 5th and 6th respectively in the stage, with Sevilla now retaining the overall lead for the 10th consective stage. The stage also conincided with Sevilla's 25th birthday, with the crowd cheering, and singing him happy birthday as he pulled on the leader's jersey
Stage 19 - September 28: Cuenca - Guadalajara, 168 km
Guido Trenti after 125km breakaway

GuidoTrenti
Photo: © AFP
Another good day for Cantina Tollo at the Vuelta as their Americn-Italian rider Guido Trenti got himself in the day's decisive break and bided his time to the finish, escaping from his breakaway companions at the last moment to take the win by two seconds over Mikel Zarrabeitia (O.N.C.E) and Alexander Shefer (Alessio).
Stage 18 - September 27: Albacete - Cuenca, 154.2 km
Filippo Simeoni,gives his bike a rest
Photo: © AFP
Filippo Simeoni in bike-kissing finish
Cantina Tollo's Filippo Simeoni won win the 18th stage of the Vuelta a Espana today after he managed to escape from what was originally a fourteen man break away. The peloton elected not to chase and eventually Simeoni was the last man standing after escaping from the break when the peloton finally did stir and chase it down. stopping two metres from the line he picked up his bike, kissed it and carried it across.
Stage 17 - September 26: Murcia - Albacete, 159.5 km
Hunter by a length in surprise finale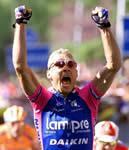 Robert Hunter
Photo: © AFP
This dramatic stage was won by South African rider Robert Hunter (Lampre) who outsprinted Telekom's Danilo Hondo in a close duel. After Telekom had controlled most of the race, reeling in the inevitable early break, the German team took its collective eye off the ball when Zabel was droppe and US Postal picked the moment to attack en masse, taking Kelme with them. The move blew the peloton in two and th large lead group, propelled by USPS and Kelme, gained a minute by the finish. In the finale Hunter took Hondo by a bike length.
Sevilla remains in the lead, with Casero second, but Heras has moved to third.
Live Report
Full results & report
Stage 16 - September 25: Alcoy - Murcia, 153.3 km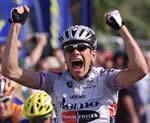 Tomas Konecny
Photo: © AFP
Konecny on the line after another high-speed chase
27 year old Tomas Konecny (Domo) won the 16th stage of the Vuelta after a close sprinting duel with Euskaltel's David Etxebarria. David Millar (Cofidis) powered an early break that lasted until 30km to go, then Richard Virenque (Domo) and Chechu Rubiera (US Postal) got away for a while, but it all came together with a kilomewtre to go. Konecny took line honours, easily passing David Etxebarria.
Live Report
Full results & report
Stage 15 - September 23: Valencia - Alto de Aitana, 207.2 km
Möller wins as GC tightens

Klaus Möller
Photo: © AFP
Exiled Dane, Klaus Michael Möller (Milaneza-MSS) won the longest stage of the Vuelta, that finished on top of the special category climb of Alto de Aitana. Möller crossed the line alone, 15 seconds in front of the improving Gilberto Simoni (Lampre) who was accompanied by Carlos Sastre (ONCE) and Roberto Heras (US Postal). Importantly for the GC, Festina's Angel Casero finished 6th at 34 seconds, putting 16 seconds into race leader Oscar Sevilla. Sevilla kept his jersey, but now only has a 25 second lead over Casero.
Stage 14 - September 22: Tarragona - Vinarós, 170.5 km
Garate makes the right moves in rain-sodden stage
Spain's Juan Manuel Garate (Lampre-Daikin) was the ultimate beneficiary today of a 14-rider breakaway and a tired peloton more interested in just surviving the lousy conditions than in pursuing a band of riders that posed no threat to anyone's GC ambitions.
Stage 13 - September 21: Andorra - Universal Estudios Port Aventura, 206 km

Beat Zberg
Photo: © AFP
In another startlingly fast stage a nine-rider breakaway escaped just before the halfway point and stayed away to the finish where Beat Zberg (Rabobank) outsprinted Richard Virenque for the win.
Stage 12 - September 20: Ordino - Est. d'Esquí Ordino Arcalis ITT, 17.1 km
Jimenez!!
By Gabriella Ekström, cyclingnews.com correspondent
Jimenez again
Photo: © AFP
Aitor Garmendia (Team Coast) was in the lead with his time of 37'11 (27.59 km/h) over the 17.1 km climb as Jose Maria Jimenez rolled down the starting ramp at the start of his winning ride. The weather was clear but cold, and both spectators as well as riders on their way back to the team buses were dressed for Siberian temperatures.
Live Report
Full results & report
Stage 11 - September 19: Alp - Andorra, 154.2 km
El Chabacano takes his second win!
By Gabriella Ekström, cyclingnews.com correspondent

El Chaba
Photo: © AFP
Jose Maria 'El Chaba' Jimenez (iBanesto.com) scored his second stage win in this year's Vuelta, on the toughest stage of the race. Jimenez rode away from the leading peloton on the second last climb of the day to take a two minute lead, and he was not seen again until he was on the podium celebrating his victory. The GC saw another shakeup, as race leader Beloki had a terrible day and lost 20 minutes. Oscar Sevilla (Kelme) regained the lead with Angel Casero (Festina) in second.
Stage profile
Live Report
Full results and report
Stage 10 - September 18: Sabadell -La Molina, 168.4 km
Santi Blanco impresses as the race reaches the Pyrenees
By Gabriella Ekström, cyclingnews.com correspondent

Santiago Blanco
Photo: © AFP
The tenth stage of La Vuelta was the first of three mountainous Pyrenean stages. The two major climbs of the day were the first category Alto de la Creueta with its summit located 34 kilometres from the finish, and the steep climb of La Molina that finished the stage.
Live Report
Full results and report
Stage 9 - September 16: Logroño - Zaragoza, 179.2 km
Gonzalez de Galdeano wins lightning fast stage
By Jeff Jones

Igor Gonzalez de Galdeano
Photo: © AFP
ONCE's Igor Gonzalez de Galdeano celebrated his first stage win in this year's Vuelta, breaking the record for the fastest ever stage in the Vuelta. Igor crossed the line alone after covering the 179.2 kilometres from Logroño to Zaragoza in 3:14:52, an average speed of 55.176 km/h. He smashed Marcel Wüst's average speed of 51.14 km/h in stage 14 of the 1998 Vuelta, as well as breaking the fastest average speed record in a Tour de France stage (55.152 km/h by Chris Boardman in the 1994 prologue). Only Rik Verbrugghe has ridden faster in a stage of a major tour: 58.895 km/h in the prologue of the 2001 Giro d'Italia.
Stage 8 - September 15: Reinosa - Alto Cruz de la Demanda, 195 km
More leadership changes as El Chaba takes the stage
By Jeff Jones

Joseba Beloki
Photo: © AFP
Part of what makes the Vuelta so fascinating to watch is the element of surprise in who's going to be "king for a day." After yesterday's fine performance in the 44 kilometre time trial, Kelme's Santiago Botero found himself in the golden leader's jersey for the second time in this Vuelta. Given his weakness in the mountains, few expected that he would hold onto his jersey by the end of today's uphill finish to Alto Cruz de la Demanda. Most expected that his teammate, Oscar Sevilla would take over again, given his performance the other day to Lagos de Covadonga.
Stage 7 - September 14: Torrelavega - Torrelavega ITT, 44.2 km
Botero bounces back

Santiago Botero
Photo: © AFP
By Jeff Jones
Blue eyed Colombian Kelme co-leader, Santiago Botero, has retaken the Maillot Oro (gold leader's jersey) in the Vuelta España, with an excellent ride in the 44.2 kilometre stage 7 time trial around Torrelavega. Botero was fastest at all intermediate time checks, and finished the testing, technical course in 55'09 (48.01 km/h), 29 seconds faster than American Levi Leipheimer (US Postal) and 44 seconds quicker than David Plaza (Festina). Botero took the jersey from his teammate Oscar Sevilla, who rode very well for 6th place and is now in second overall.
Live report
Full results and report
Stage 6 - September 13: Cangas de Onís - Torrelavega, 180.6 km
It's Millar time...again

David Millar
Photo: © AFP
By Gabriella Ekström, cyclingnews.com correspondent
Torrelavega, home city of Spanish sprinter ace Oscar Freire hosted the stage finish of La Vuelta today. Unfortunately for his fans, Freire was not the first rider over the line. Cofidis' David Millar took his second stage win in just six days when he out sprinted Kelme's Santiago Botero in a narrow fight for the line.
Live report
Full results & report
Stage 5 - September 12: Gijón - Lagos de Covadonga, 160.8 km

Juan Miguel Mercado
Photo: © AFP
By Gabriella Ekström, cyclingnews.com correspondent
23 year old Juan Miguel Mercado (iBanesto) made a very clear statement with his victory in today's stage to Lagos de Covadonga. His phenomenal ride in Vuelta a Burgos had nothing to do with luck. He and Oscar Sevilla laughed and congratulated each other on the top of Lagos de Covadonga. Mercado had just taken the biggest victory of his young career and Sevilla had the Maillot Oro.
Live report
Full results & report
Stage 4 - September 11: León - Gijón, 175 km
Zabel fastest in survivor's group

Zabel's hat-trick
Photo: © AFP
By Gabriella Ekström, cyclingnews.com correspondent
A massive crash near the front of the peloton with two kilometres to go put an effective end to most teams' winning plans at the end of today's fourth stage. Only a dozen riders escaped and among them were super sprinters Zabel and Freire, alongside important Mapei and Telekom leadout riders like Luca Paolini and Alberto Elli.
Zabel looked like a certain winner, but Oscar Freire offered tougher resistance today than he did during the two first stages of the Vuelta. Zabel fought him off by 'closing the gate', forcing Freire closer to the right side fence. The movement might have been irregular, but it is not clear if Zabel actually saw Freire coming. The Spanish sprinter grabbed Zabel's leg, in order to clear some space, and both Freire and his team mate Luca Paolini had verbal protests as the riders passed the line. Zabel who admitted no errors, was ushered to the podium as the winner of the stage.
Live report
Full results & report
Stage 3 - September 10: Valladolid - León, 140.5 km
It's all in the timing

Erik Zabel
Photo: © AFP
By Jeff Jones
Less than 24 hours after achieving his first ever Vuelta stage win, Telekom's Erik Zabel has done it again, this time taking the sprint into León after a regulation but crash-filled 140 kilometre third stage. Zabel was once again given a perfect leadout with the Telekom locomotive clicking into action with just 5 kilometres to go. Danilo Hondo again provided the final springboard for Zabel, and he finished up with third place. Today's runner up was Robbie McEwen (Domo-Farm Frites) who had no answer to Zabel's superior speed and power.
Live report
Full results & report
Stage 2 - September 9: Calamanca - Valladolid, 147.2 km
Zabel, who else?

Erik Zabel
Photo: © AFP
By Jeff Jones
Erik Zabel has notched up his first stage win in the Vuelta España in his typically strong, impressive style. The world's best sprinter benefited from another perfect lead out by his Telekom team, who set the tempo over the final 50 kilometres to swallow the last breakaway. Zabel was too strong in the sprint, but there was good news for Mapei's Oscar Freire who took second, with Domo's Robbie McEwen finishing in third.
Stage 1 - September 8: Salamanca - Salamanca ITT, 12.3 km
It's Millar Time - finally
By Jeff Jones

David Millar
Photo: © AFP
David Millar has done what he wanted to do in this year's Tour de France, albeit two months later in Salamanca at the start of the Vuelta a España. The Cofidis specialist rode a superbly measured time trial to win the Vuelta's first stage, edging out early leader Santiago Botero (Kelme) by 1 second, with Levi Leipheimer (US Postal) finishing third at 6 seconds. Millar demonstrated that all was not lost this season after a terrible Tour, as he clenched his right fist after crossing the line and checking his time.
Full results and report
Live report
Preview
By Jeff Jones

Roberto Heras wins stage 7 of the Vuelta 2000
Photo ©: AFP
The last, the shortest, and perhaps the hilliest of all the Grand Tours this year is the Vuelta España. 21 stages in 23 days, 2986 kilometres, 4 time trials, 2 rest days, 9 flat stages, 8 mountain stages (7 mountain top finishes), 3 Special Category climbs (the hardest), 10 Category 1 climbs, 8 Category 2 climbs, and 3 Category 3 climbs (the easiest). The race starts with a 12.3 kilometre individual time trial in Salamanca on Saturday, September 8, and will finish in Madrid on Sunday, September 30 with a 38 kilometre individual time trial.
That's the Vuelta in a nutshell, and it promises to be a great race this year. The reduction in the average stage length compared with the Giro and the Tour may make the Vuelta easier in some respects, but it means that most of the stages are also raced hard from the start. The cross-winds that are often present in the flat stages can play havoc with the peloton, with it being more important than ever to maintain a good position at all times.
In contrast to this are the mountain stages, which are more numerous in this Vuelta than in the Giro or the Tour. Last year's winner, Roberto Heras, won the Vuelta on his excellent climbing ability and good time trialling skills, rather than the other way round. He comes to the race as one of the top favourites, but he will need all his strength to overcome a rather impressive field.
Heras had an excellent Kelme-Costa Blanca team behind him when he won last year, but they will be his principal rivals this year with Oscar Sevilla, Santiago Botero, and Félix Rafael Cardenas to make things tough on the hills. Heras of course has the support of the US Postal team, which includes José Luis Rubiera, Levi Leipheimer and Mercury ring-in, Chann McRae, as well as several other strong riders. It's not as strong as the team that propelled Lance Armstrong to victory in July, but it is not undermanned.
Perhaps the myth can be dispelled that there was a 'promise' made by Lance Armstrong to help Heras win the Vuelta. Armstrong said during the Tour that "I don't know. It's 50-50...I would like to go there and support Roberto (Heras), I think he has an excellent chance to win again, but I will make my decision in August."
Roberto Heras' other big rivals will be the ONCE-Ersoki team, with Joseba Beloki, Igor Gonzalez de Galdeano and Abraham Olano heading a very solid nine man line up. With Santos Gonzalez, Carlos Sastre, Marcos A. Serrano, Rafael Diaz Justo, Jörg Jaksche and Mikel Zarrabeitia as the support, ONCE will once again have the strongest team on paper.

Early leader, Angel Casero, kept the pressure on for most of last years race.
Photo ©: AFP Photo
There are other riders to watch for two in the battle for climbing supremacy. Festina's Angel Luis Casero hasn't had a brilliant season, but after finishing second in last year's Vuelta, has to be an outside chance. Giro d'Italia winner Gilberto Simoni (Lampre) has started building up for the latter part of the season, and should feature in a few stages. He won last year's leg to El Angliru, which has been "replaced" this year by another fearsome climb, the special category Alto de Aitana which marks the end of stage 15. Gibi may be in form by then, to win on his preferred terrain.
Old rivals Marco Pantani (Mercatone Uno) and Richard Virenque (Domo-Farm Frites) should make a few cameo appearances during the race, although neither of them are expected to challenge for the overall. Virenque has shown good form since his return to racing on August 15, and might surprise in a few of the mountain stages.
Speaking of the older riders, Fernando Escartin (Team Coast) finally gets his chance to ride in a major tour this year, after his team was not selected for the Tour de France. Escartin is 33, but can still go up hills. He could partially resurrect Team Coast's abysmal 2001 season, especially after finishing third in the recent Championship of Zurich World Cup race.
The Vuelta isn't just about the mountain goats, and there are enough 'flat' stages to give the sprinters a rich haul. The biggest sprinting draw card in this year's race is six-time TdF points champion, Erik Zabel (Telekom). Zabel won the green jersey in this year's Tour on the final day after an epic battle with Australian Stuart O'Grady. He will be supported by a Telekom team that is solely geared to winning stages, and we will hopefully see a few from 'Die Monster'.
Zabel's main challengers include Alessio's fast man, Endrio Leoni, Domo's Robbie McEwen, Festina's Sven Teutenberg, Lampre's Robert Hunter, Mapei's Oscar Freire (winner of a couple of stages last year), Milaneza's Angel Edo and Saeco's Salvatore Commesso. But who can beat a motivated Erik?
Finally, there are riders who will most likely shine in individual stages, who are outside chances of a podium spot. These include Unai Osa and José Maria Jimenez (iBanesto.com), Manuel Beltran (Mapei), Igor Astarloa (Mercatone Uno), Oscar Camenzind (Lampre), David Etxebarria, Roberto Laiseka and Iban Mayo (Euskaltel), Danilo Di Luca (Cantina Tollo), Fabian Jeker (Milaneza), Julio Alberto Perez Cuapio and Giuliano Figueras (Panaria), Paolo Savoldelli (Saeco), Juan Antonio Flecha (Colchon Relax Fuenlabrada) and Aleksandr Sheffr (Alessio).
Vuelta Coverage
Cyclingnews will be providing the usual in-depth, quality coverage for the Vuelta España as we have done for all the major races in 2001. Daily stage reports, post-stage news, photos, rider interviews and live coverage of most stages will all feature in the Vuelta 2001 coverage.
Vuelta 2001: Business as usual, plus more hills
Mountainous, intense course should suit Spanish climbing specialists
The next edition of Spain's Grand Tour will follow the same pattern as the 2000 race with short, intense stages, and plenty of mountains and time trials. The 23-day, 21-stage tour covers a total of 2,986km with six mountaintop finishes and four time trials, including a mountain time trial.
The Vuelta kicks off on September 8 in Salamanca and the opening time trial is followed by three flat days where the sprinters will get a chance to do their thing before the race gets serious and heads for the mountains. Stage 5's finish at Lagos de Covadonga sees the riders climb to 1110m (3650ft) and is soon followed by three straight days in the Pyrenees.
After a day's brief respite on the plains, the race again climbs to Andorra, a day that includes three first category climb and the special category Estació de Pal. The mountain time trial at Pal is expected to be crucial in eliminating some podium hopefuls, though it's not expected to determine the overall winner.
From there the peloton heads to the race's most southerly point at Murcia before turning inland towards the nation's capital Madrid. On the way to Murcia the finish of stage 15 takes in the hors category climb of Aitana, a new addition to the Vuelta. The final day is a 38km time trial.
While the mountains should suit Spain's native climbers and US Postal's Roberto Heras is likely to be the hot favourite, the 96km of flat time trials will test the anti-gravity specialists who will have to stay in contention over nine flat stages.
Stage 1 - September 08: Salamanca - Salamanca (ITT), 12.3 km
Stage 2 - September 09: Salamanca - Valladolid, 147.2 km
Stage 3 - September 10: Valladolid - León, 140.5 km
Stage 4 - September 11: León - Gijón, 175 km
Stage 5 - September 12: Gijón - Lagos de Covadonga, 160.8 km
Stage 6 - September 13: Cangas de Onís - Torrelavega, 180.6 km
Stage 7 - September 14: Torrelavega - Torrelavega (ITT), 44.2 km
Stage 8 - September 15: Reinosa - Alto Cruz de la Demanda, 195 km
Stage 9 - September 16: Logroño - Zaragoza, 179.2 km
Rest Day - September 17
Stage 10 - September 18: Sabadell - La Molina, 168.4 km
Stage 11 - September 19: Alp - Estació de Pal (Andorra), 154.2 km
Stage 12 - September 20: Ordino - Estació d'Esquí d'Ordino-Arcalís (Andorra) (ITT), 17.1 km
Stage 13 - September 21: Andorra - Universal Studios Port Aventura, 206 km
Stage 14 - September 22: Tarragona - Vinarós, 170.5 km
Stage 15 - September 23: Valencia - Alto de Aitana (Alicante), 207.2 km
Rest Day - September 24
Stage 16 - September 25: Alcoi - Murcia, 153.3 km
Stage 17 - September 26: Murcia - Albacete, 159.5 km
Stage 18 - September 27: Albacete - Cuenca, 154.2 km
Stage 19 - September 28: Cuenca - Guadalajara, 168 km
Stage 20 - September 29: Guadalajara - Alto de Abantos, 176.3 km
Stage 21 - September 30: Madrid - Madrid (ITT), 38 km
Past winners
2000 Roberto Heras (Spa)    Angel Casero (Spa)        Pavel Tonkov (Rus)
1999 Jan Ullrich (Ger)      Igor Glez. Galdeano (Spa) Roberto Heras (Spa)
1998 Abraham Olano (Spa)    Fernando Escartin (Spa)   José Maria Jiminez (Spa)
1997 Alex Zülle (Swi)       Fernando Escartin (Spa)   Laurent Dufaux (Swi)
1996 Alex Zülle (Swi)       Laurent Dufaux (Swi)      Tony Rominger (Swi)
1995 Laurent Jalabert (Fra) Abraham Olano (Spa)       Johan Bruyneel (Bel)
1994 Tony Rominger (Swi)    Mikel Zarrabeitia (Spa)   Pedro Delgado (Spa)
1993 Tony Rominger (Swi)    Alex Zülle (Swi)          Ludino Cubino (Spa)
1992 Tony Rominger (Swi)    Jesus Montoya (Spa)       Pedro Delgado (Spa)
1991 Melchior Mauri (Spa)   Miguel Indurain (Spa)     Marino Lejaretta (Spa)
1990 M. Giovannetti (Ita)   P. Delgado (Spa)          A. Fuerte (Spa)
1989 P. Delgado (Spa)       F. Parra (Col)            O. Vargas (Col)
1988 S. Kelly (Ire)         R. Dietzen (Ger)          A. Fuerte (Spa)
1987 L. Herrera (Col)       R. Dietzen (Ger)          L. Fignon (Fra)
1986 A. Pino (Spa)          R. Millar (GB)            S. Kelly (Ire)
1985 P. Delgado (Spa)       R. Millar (GB)            F. Rodriguez (Col)
1984 E. Caritoux (Fra)      A. Fernandez (Spa)        R. Dietzen (Ger)
1983 B. Hinault (Fra)       M. Lejarreta (Spa)        A. Fernandez (Spa)
1982 M. Lejaretta (Spa)     M. Pollentier (Bel)       S. Nilsson (Swe)
1981 G. Battaglin (Ita)     P. Munoz (Spa)            V. Belda (Spa)
1980 F. Ruperez (Spa)       P. Torres (Spa)           C. Criquielion (Bel)
1979 J. Zoetemelk (Ned)     F. Galdos (Spa)           M. Pollentier (Bel)
1978 B. Hinault (Fra)       J. Pesarrodona (Spa)      J. Bernaudeau (Fra)
1977 F. Maertens (Bel)      M. Lasa (Spa)             K. Thaler (Ger)
1976 J. Pesarrodona (Spa)   L. Ocana (Spa)            J. Nazabal (Spa)
1975 A. Tamames (Spa)       D. Perurena (Spa)         M. Lasa (Spa)
1974 J. Fuente (Spa)        J. Agostinho (Por)        M. Lasa (Spa)
1973 E. Merckx (Bel)        L. Ocana (Spa)            B Thévenet (Fra)
1972 J. Fuente (Spa)        M. Lasa (Spa)             A. Tamames (Spa)
1971 F. Bracke (Bel)        W. David (Bel)            L. Ocana (Spa)
1970 L. Ocana (Spa)         A. Tamames (Spa)          H. Vanspringel (Bel)
1969 R. Pingeon (Fra)       L. Ocana (Spa)            W. Wagtmans (Ned)
1968 F. Gimondi (Ita)       J. Perez-Frances (Spa)    E. Velez (Spa)
1967 J. Janssen (Ned)       J. Ducasse (Fra)          A. Gonzalez (Spa)
1966 F. Gabica (Spa)        E. Velez (Spa)            C. Echeverria (Spa)
1965 R. Wolfshohl (Ger)     R. Poulidor (Fra)         R. Van Looy (Bel)
1964 R. Poulidor (Fra)      L. Otana (Spa)            J. Perez-Frances (Spa)
1963 J. Anquetil (Fra)      M. Colmenarejo (Spa)      M. Pacheco (Spa)
1962 R. Altig (Ger)         J. Perez-Frances (Spa)    S. Elliott (Ire)
1961 A. Soler (Spa)         F. Mahé (Fra)             J. Perez-Frances (Spa)
1960 F. De Mulder (Bel)     A. Desmet (Bel)           M. Pacheco (Spa)
1959 A. Suarez (Spa)        J. Segu (Spa)             R. Van Looy (Bel)
1958 J. Stablinski (Fra)    P. Fornara (Spa)          F. Manzaneque (Spa)
1957 J. Lorono (Spa)        F. Bahamontes (Spa)       B. Ruiz (Spa)
1956 A. Conterno (Ita)      J. Lorono (Spa)           R. Impanis (Bel)
1955 J. Dotto (Fra)         J. Quillez (Spa)          R. Geminiani (Fra)
1950 E. Rodriguez (Spa)     M. Rodriguez (Spa)        J. Serra (Spa)
1948 B. Ruiz (Spa)          E. Rodriguez (Spa)        B. Capo (Spa)
1947 W. Van Dijck (Bel)     M. Costa (Spa)            D. Rodriguez (Spa)
1946 D. Langarica (Spa)     J. Berrendero (Spa)       J. Lambrichs (Ned)
1945 D. Rodriguez (Spa)     J. Berrendero (Spa)       J. Gimeno (Spa)
1942 J. Berrendero (Spa)    D. Chafer (Spa)           A. Sancho (Spa)
1941 J. Berrendero (Spa)    F. Trueba (Sp)            J. Jabardo (Spa)
1936 G. Deloor (Bel)        A. Deloor (Bel)           A. Bertola (Spa)
1935 G. Deloor (Bel)        M. Canardo (Spa)          A. Dignef (Bel)