2009 UCI Track Cycling World Championships - CM
Pruszkow, Poland, March 25-29, 2009
Main Page Results Overall standings Previous Stage Next Stage
Stage 5 - March 27: Men: Kilometre TT, Team pursuit; Women: Scratch race, Sprint (1/4, 5th-8th final)
Nimke hands Germany gold #2, Phinney silver
By Gerry McManus in Pruszkow, Poland
Nimke salutes the crowd
Photo ©: Gerry McManus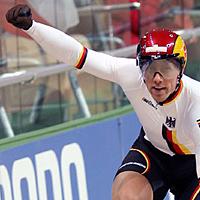 Stefan Nimke put in a storming ride to win gold in the Men's Kilometre time trial on Friday evening. Nimke's time of 1:00.666 was nearly a second faster than American Taylor Phinney who took his second medal of the championships. Nimke's first lap was only twelfth fastest but he put in a blistering second lap and then held on to win a second sprint gold medal for Germany.
Yondi Smidt (Netherlands) had been the early leader on the board until Michael Seidenbecher (Germany) sliced one 1/1000th off his time. Next to top the table was Miao Zhang (China) who went 5/100ths better at 1:03.427. Then along came Nimke and he destroyed everything on the board. Nimke's time left a huge challenge for young Phinney who produced the second fastest time of 1:01.611.
Mohd Rizal Tisin put in a great time of 1:01.658 to win bronze for Malaysia.
"I was very surprised to win by such a big margin," said Nimke. "I did the same in the Olympics in 2004 and every one was congratulating me and then I was overtaken on the leader board so I was very nervous this time. My morale was very good when we won the bronze medal in the team sprint here. My plan was to put in a good first lap so that I would not be too far behind but I know that my strength is always in the final 250m."
Danish take home the bacon in men's pursuit
The Danish fly their flag
Photo ©: Gerry McManus

It was less than a second but that's all that the Danes needed to win the gold medal in the men's 4,000m team pursuit. The quartet of Alex Rasmussen, Jens-Erik Madsen, Casper Jorgensen and Michael Faerk Christensen had to dig deep and go under four minutes again to hold off the challenge from Australia.
Denmark recorded 3.58.246 for 16 laps of the circuit taking their average speed to just over 60km per hour. The Aussies had a slight advantage after one km but the Danes took the lead at half distance and extended their advantage to ensure victory was theirs.
"This is perfect," said Alex Rasmussen. "We wanted to beat the British in the final but that didn't happen this year. It was great to keep the team together after the Olympics and taking the victory here. We have got great form especially with myself and Michael Morkov having perfect preparation on the road with Saxo Bank this year. It is much better than in other years and I can feel that I am fresher and not so nervous this time.
"I didn't feel the pressure so much as I did in the Olympics. I was really nervous before the final against the British and that showed. This time I was really calm. I was bit worried when Jens-Erik dropped off the back earlier than planned but I had good legs and did one and a half laps on the front a couple of times to keep the speed up."
Great Britain missed out on the bronze medal with Bellis unable to complete the distance again in the ride off and New Zealand added another medal to their championship total.
Pure gold for Gonzalez Valdivieso and Cuba in women's scratch
Gonzalez Valdivieso with her gold medal
Photo ©: Gerry McManus

Yumari Gonzalez Valdivieso won the bunch sprint and the gold medal in the women's scratch race on Friday evening in Poland. The Cuba girl out-sprinted brave Lizzie Armitsted (GBr) who came down in a crash with eight laps to go and remounted to win the silver medal. Australia's Belinda Goss finished third to win the bronze medal.
The race was all together with 10 laps to go but the pace was blistering. Jamilia Machacov (Cze), Tara Whitten (Canada) and Shelley Olds (USA) were leading the pack as the lap boards counted down. The pace slowed down with eight laps to go and the riders swung the track with Jeuland Pascale (France), Armitstead, Machacova and Leire Olaberria Dorronsoro (Spain) ending up in a heap when wheels were touched. Armistead got straight back into the action with cuts to her leg.
With five to go Eleonora Van Dijk (Netherlands) was on the front and watching for attacks from second placed Armistead. Two to go and Gonzalez Valdivieso, Armistead, Van Dijk and Goss were the front contingent of the bunch and remained there as the bell rang for the last lap.
The women's ascratch podium (l-r)
Photo ©: Gerry McManus

Gonzalez Valdivieso had the strength to hold on to win the gold medal. World Cup leader and pre-race favourite Armistead was quite philosophical about missing out on a gold medal.
"Maybe I could have been a bit more aggressive in the sprint," said Armistead. "I would have liked to have come round Gonzalez earlier. Perhaps if I hadn't crashed then I wouldn't have hesitated but I am still happy that I have got the silver medal and she is world champion and she deserves it.
"When the crash happened I just got pinned up against the fence by riders coming up that didn't know I were there. I thought I had missed it but I was unlucky that the Czech girl's bike flipped up onto my wheel. I will be fine for the points race on Sunday."
Two favourites out in women's sprint
Reigning world champion Vicky Pendleton cruised through the semi-finals, winning in two heats against Australia's Kaarle McCulloch. Simona Krupeckaite is through too, but China's Shuang Guo went out at the hands of Belarusian Olga Panarina and Ukrainian Lyubov Shulika was knocked out, courtesy of Wily Kanis (Netherlands).
The seedings from the qualifying session ensure that Krupeckaite and Pendleton won't meet until the final providing they can beat Kanis and Panarina respectively tomorrow in the semi-finals.
Photography
For a thumbnail gallery of these images, click here
Images by AFP Photo
Images by Gerry McManus/www.gerrymcmanus.co.uk
Results
Men's Kilometre TT
1 Stefan Nimke (Germany)                       1.00.666 (59.341 km/h)
2 Taylor Phinney (United States Of America)    1.01.611
3 Mohd Rizal Tisin (Malaysia)                  1.01.658
4 Michaël d'Almeida (France)                   1.02.034
5 Scott Sunderland (Australia)                 1.02.144
6 Teun Mulder (Netherlands)                    1.02.209
7 David Daniell (Great Britain)                1.02.316
8 Kamil Kuczynski (Poland)                     1.02.356
9 Quentin Lafargue (France)                    1.02.669
10 Edward Dawkins (New Zealand)                1.02.685
11 Yevhen Bolibrukh (Ukraine)                  1.02.860
12 Tim Veldt (Netherlands)                     1.02.886
13 François Pervis (France)                    1.02.976
14 Wen Hao Li (People's Republic of China)     1.03.287
15 Miao Zhang (People's Republic of China)     1.03.427
16 Michael Seidenbecher (Germany)              1.03.479
17 Yondi Schmidt (Netherlands)                 1.03.480
18 Yudai Nitta (Japan)                         1.03.655
19 Adrian Teklinski (Poland)                   1.03.887
20 Clemens Selzer (Austria)                    1.04.077
21 Tomas Babek (Czech Republic)                1.04.281
22 Filip Ditzel (Czech Republic)               1.04.319
23 David Alonso Castillo (Spain)               1.04.398
24 Nikolay Zhurkin (Russian Federation)        1.04.494
25 Gadi Chaid (South Africa)                   1.04.942
26 Juan Peralta Gascon (Spain)                 1.05.823
27 Yuriy Tsyupyk (Ukraine)                     1.06.206
28 Azikiwe Kellar (Trinidad and Tobago)        1.08.981

Men's Team Pursuit
Final

1 Denmark                                      3.58.246 (60.441 km/h)
 Michael Faerk Christensen (Denmark)                   
 Alex Rasmussen (Denmark)                              
 Jens Erik Madsen (Denmark)                            
 Casper Jorgensen (Denmark)                            
 
2 Australia                                    3.58.863 
 Jack Bobridge (Australia)                             
 Cameron Meyer (Australia)                             
 Leigh Howard (Australia)                              
 Rohan Dennis (Australia)                              
 
3 New Zealand                                  4.00.248 (59.938 km/h)
 Westley Gough (New Zealand)                           
 Jesse Sergent (New Zealand)                           
 Marc Ryan (New Zealand)                               
 Peter Latham (New Zealand)                            
 
4 Great Britain                                4.01.838  
 Jonathan Bellis (Great Britain)                         
 Peter Kennaugh (Great Britain)                          
 Edward Clancy (Great Britain)                           
 Steven Burke (Great Britain)                            
Women's Scratch Race
1 Yumari Gonzalez Valdivieso (Cuba)                    
2 Elizabeth Armitstead (Great Britain)                 
3 Belinda Goss (Australia)                             
4 Giorgia Bronzini (Italy)                             
5 Pascale Jeuland (France)                             
6 Eleonora Van Dijk (Netherlands)                      
7 Kelly Druyts (Belgium)                               
8 Andrea Wolfer (Switzerland)                          
9 Feiyan Sun (People's Republic of China)              
10 Jarmila Machacova (Czech Republic)                  
11 Lauren Ellis (New Zealand)                          
12 Shelley Olds (United States Of America)             
13 Alena Amialyusik (Belarus)                          
14 Maria Luisa Calle Williams (Colombia)               
15 Tara Whitten (Canada)                               
16 Malgorzata Wojtyra (Poland)                         
17 Thatsani Wichana (Thailand)                         
18 Leire Olaberria Dorronsoro (Spain)                  
19 Xiao Juan Diao (Hong Kong, China)                   
DNF Evgeniya Romanyuta (Russian Federation)            

Women's Sprint
Quarterfinal

1/4 final  
   
Heat 1   
1 Victoria Pendleton (Great Britain)           0.11.828  11.99
2 Kaarle Mcculloch (Australia)                           
   
Heat 2   
1 Simona Krupeckaite (Lithuania)               0.12.056  11.957
2 Yvonne Hijgenaar (Netherlands)                         
   
Heat 3   
1 Willy Kanis (Netherlands)                              11.775  11.722
2 Lyubov Shulika (Ukraine)                     0.12.357  
   
Heat 4   
1 Olga Panarina (Belarus)                      0.11.702          12.089
2 Shuang Guo (People's Republic of China)                11.530  
   
5th-8th Final  
   
5 Shuang Guo (People's Republic of China)      0.11.907  
6 Lyubov Shulika (Ukraine)                               
7 Yvonne Hijgenaar (Netherlands)                         
8 Kaarle Mcculloch (Australia)