2009 UCI Track Cycling World Championships - CM
Pruszkow, Poland, March 25-29, 2009
Main Page Results Overall standings Previous Stage Next Stage
Stage 6 - March 28: Men: Sprint (200m TT, 1/16, 1/8, repechage); Women: Omnium (200m TT, 5km Scratch race, 2km individual pursuit)
Bauge goes fastest in sprint qualification, through to quarter finals
By Gerry McManus in Pruszkow, Poland
Gregory Bauge (France) was the only rider who went below 10 seconds
Photo ©: Gerry McManus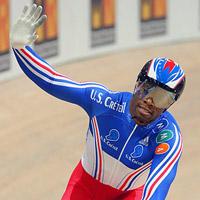 Gregory Bauge (France) was the only rider who went below 10 seconds in the men's sprint qualifying time trial on Saturday morning, recording 9.93 for the 200m flying start time trial.
Bauge easily beat Miao Zhang (China) to go into the 1/8 finals. Britain's Jason Kenny went second fastest in qualifying and beat Australia's Daniel Ellis in the following round.
Kevin Sireau (France) was third in qualifying and is through to the 1/8 finals when he beat Japan's Kazunari Watanabe in the 1/16 finals.
The 1/8 finals were fairly straight forward, but both German gold medallists Max Levy and Stefan Nimke could not repeat their gold medal form and were dispatched to the repechage. British pair Ross Edgar and Jason Kenny were pitched against each other in one heat with Kenny getting the verdict. Edgar came back through the repechage with a great victory against the German duo.
Fast finisher Bauge did things the hard way when he was caught out by Malaysia's Azizulhasni Awang and had to get to the quarter finals via the repechage when he beat fellow countryman Michael D'Almedia and Lei Zhang (China).
Whitten in women's omnium pole position
Tara Whiitten (Canada) slips away to win the scratch race
Photo ©: Gerry McManus
Yvonne Hijgenaar (Netherlands) won round one of the five-event Women's Omnium . Hijgenaar recorded 11.4 seconds for the 200m time trial. Great Britain's sprinter, Anna Blyth, was second with Italian Elisa Frisoni in third. Lithuania's Vilija Sereikaite was fourth and Canada's Tara Whitten was fifth.
Round two was the scratch race where Tara Whitten was part of a three-rider breakaway group. As their lead came down, she escaped with three laps to go as her breakaway companions Sereikaite and Lada Kozlikova (Cze) were caught by the chasers. Ukrainian Lesya Kalitovska won the bunch sprint ahead of Poland's Renata Dabrowska. Frisoni was fifth with Hijgenaar in seventh.
Sereikaite won the 2,000m individual pursuit with an amazing time of 2.20.682 but Whitten finished second to extend her lead in the overall competition. Whitten leads with eight points, Kalitoyska's in second place with 14 points and Hijgenaar lies in third with 17 points.
There are only two events left and Whitten holds the pole position heading into the points race where she should finish in the top five. The final event is the 500m time trial which is back into Hijgenaar's territory.
Sereikaite is fourth with 18 points and the medals are far from decided.
Photography
For a thumbnail gallery of these images, click here
Images by Gerry McManus/www.gerrymcmanus.co.uk
Results
Men's Sprint
Qualifying
 
1 Grégory Bauge (France)                         0.09.930  (72.507 km/h)
2 Jason Kenny (Great Britain)                    0.10.002
3 Kévin Sireau (France)                          0.10.010
4 Mickaël Bourgain (France)                      0.10.040
5 Shane Perkins (Australia)                      0.10.074
6 Matthew Crampton (Great Britain)               0.10.105
7 Lei Zhang (People's Republic of China)         0.10.116
8 Maximilian Levy (Germany)                      0.10.175
9 Michaël d'Almeida (France)                     0.10.184
10 Stefan Nimke (Germany)                        0.10.198
11 Ross Edgar (Great Britain)                    0.10.202
12 Azizulhasni Awang (Malaysia)                  0.10.210
13 Mohd Rizal Tisin (Malaysia)                   0.10.232
14 Robert Forstemann (Germany)                   0.10.270
14 Lukasz Kwiatkowski (Poland)                           
16 Teun Mulder (Netherlands)                     0.10.294
17 Scott Sunderland (Australia)                  0.10.314
18 Andrii Vynokurov (Ukraine)                    0.10.407
19 Josiah Ng Onn Lam (Malaysia)                  0.10.439
20 Valentin Savitskiy (Russian Federation)       0.10.453
21 Christos Volikakis (Greece)                   0.10.464
22 Kazunari Watanabe (Japan)                     0.10.488
23 Daniel Ellis (Australia)                      0.10.489
24 Miao Zhang (People's Republic of China)       0.10.496
25 Denis Dmitriev (Russian Federation)           0.10.513
26 Jason Niblett (Australia)                     0.10.534
27 Adam Ptacnik (Czech Republic)                 0.10.565
28 Sergey Ruban (Russian Federation)             0.10.584
29 Christopher Sellier (Trinidad and Tobago)     0.10.601
30 Travis Smith (Canada)                         0.10.603
31 Leonardo Alfredo Narvaez Romero (Colombia)    0.10.608
32 Wen Hao Li (People's Republic of China)       0.10.644
33 Edward Dawkins (New Zealand)                  0.10.654
34 Tomas Babek (Czech Republic)                  0.10.658
35 Simon Van Velthooven (New Zealand)            0.10.666
36 Filip Ditzel (Czech Republic)                 0.10.709
37 Alfredo Moreno Cano (Spain)                   0.10.728
38 Clemens Selzer (Austria)                      0.10.747
39 Hernan Sanchez Castillo (Colombia)            0.10.805
40 Jonathan Marin Cermeno (Colombia)             0.10.826
41 Kazuya Narita (Japan)                         0.10.829
42 Juan Peralta Gascon (Spain)                   0.10.837
43 Yondi Schmidt (Netherlands)                   0.10.869
44 Itmar Esteban Herraiz (Spain)                 0.11.141
 
1/16 final
 
Heat 1
1 Grégory Bauge (France)                         0.10.959
2 Miao Zhang (People's Republic of China)                
 
Heat 2
1 Jason Kenny (Great Britain)                    0.11.095
2 Daniel Ellis (Australia)                               
 
Heat 3
1 Kévin Sireau (France)                          0.10.945
2 Kazunari Watanabe (Japan)                              
 
Heat 4
1 Mickaël Bourgain (France)                      0.10.500
2 Christos Volikakis (Greece)                            
 
Heat 5
1 Shane Perkins (Australia)                      0.10.943
2 Valentin Savitskiy (Russian Federation)                
 
Heat 6
1 Matthew Crampton (Great Britain)               0.10.615
2 Josiah Ng Onn Lam (Malaysia)                           
 
Heat 7
1 Lei Zhang (People's Republic of China)         0.10.536
2 Andrii Vynokurov (Ukraine)                             
 
Heat 8
1 Maximilian Levy (Germany)                      0.11.138
2 Scott Sunderland (Australia)                           
 
Heat 9
1 Michaël d'Almeida (France)                     0.10.744
2 Teun Mulder (Netherlands)                              
 
Heat 10
1 Stefan Nimke (Germany)                         0.10.737
2 Robert Forstemann (Germany)                            
 
Heat 11
1 Ross Edgar (Great Britain)                     0.10.671
2 Lukasz Kwiatkowski (Poland)                            
 
Heat 12 
1 Azizulhasni Awang (Malaysia)                   0.11.167
2 Mohd Rizal Tisin (Malaysia)
 
1/8 final
 
Heat 1
1 Azizulhasni Awang (Malaysia)                   0.10.535
2 Grégory Bauge (France)                                 
 
Heat 2
1 Jason Kenny (Great Britain)                    0.10.406
2 Ross Edgar (Great Britain)                             
 
Heat 3
1 Kévin Sireau (France)                          0.10.622
2 Stefan Nimke (Germany)                                 
 
Heat 4
1 Mickaël Bourgain (France)                      0.10.787
2 Michaël d'Almeida (France)                             
 
Heat 5
1 Shane Perkins (Australia)                      0.10.732
2 Maximilian Levy (Germany)                              
 
Heat 6
1 Matthew Crampton (Great Britain)               0.10.726
2 Lei Zhang (People's Republic of China)
 
1/8 final repechage
 
Heat 1
1 Grégory Bauge (France)                         0.10.371
2 Michaël d'Almeida (France)                             
3 Lei Zhang (People's Republic of China)                 
 
Heat 2
1 Ross Edgar (Great Britain)                     0.10.839
2 Stefan Nimke (Germany)                                 
3 Maximilian Levy (Germany)

Women's Omnium
200m TT
 
1 Yvonne Hijgenaar (Netherlands)                 0.11.400  (63.157 km/h)
2 Anna Blyth (Great Britain)                     0.11.552
3 Elisa Frisoni (Italy)                          0.11.622
4 Vilija Sereikaite (Lithuania)                  0.11.800
5 Tara Whitten (Canada)                          0.11.882
6 Josephine Tomic (Australia)                    0.11.942
7 Lada Kozlikova (Czech Republic)                0.11.981
8 Renata Dabrowska (Poland)                      0.12.015
9 Lesya Kalitovska (Ukraine)                     0.12.139
10 Olga Slyusareva (Russian Federation)          0.12.214
11 Xiao Juan Diao (Hong Kong, China)             0.12.344
12 Gema Pascual Torrecilla (Spain)               0.12.376
13 Dalila Rodriguez Hernandez (Cuba)             0.12.381
14 Charlotte Becker (Germany)                    0.12.390
15 Kaytee Boyd (New Zealand)                     0.12.769
16 Andrea Botero Coy (Colombia)                  0.12.828
 
5km Scratch Race
 
1 Tara Whitten (Canada)                                  
2 Lesya Kalitovska (Ukraine)                             
3 Renata Dabrowska (Poland)                              
4 Gema Pascual Torrecilla (Spain)                        
5 Dalila Rodriguez Hernandez (Cuba)                      
6 Elisa Frisoni (Italy)                                  
7 Yvonne Hijgenaar (Netherlands)                         
8 Josephine Tomic (Australia)                            
9 Andrea Botero Coy (Colombia)                           
10 Charlotte Becker (Germany)                            
11 Kaytee Boyd (New Zealand)                             
12 Olga Slyusareva (Russian Federation)                  
13 Vilija Sereikaite (Lithuania)                         
14 Lada Kozlikova (Czech Republic)                       
15 Xiao Juan Diao (Hong Kong, China)                     
16 Anna Blyth (Great Britain)
 
2km Individual Pursuit
 
1 Vilija Sereikaite (Lithuania)                  2.20.682  (51.179 km/h)
2 Tara Whitten (Canada)                          2.23.950
3 Lesya Kalitovska (Ukraine)                     2.24.094
4 Josephine Tomic (Australia)                    2.25.841
5 Lada Kozlikova (Czech Republic)                2.26.037
6 Charlotte Becker (Germany)                     2.27.078
7 Kaytee Boyd (New Zealand)                      2.27.283
8 Dalila Rodriguez Hernandez (Cuba)              2.27.450
9 Yvonne Hijgenaar (Netherlands)                 2.27.757
10 Anna Blyth (Great Britain)                    2.27.918
11 Olga Slyusareva (Russian Federation)          2.29.295
12 Andrea Botero Coy (Colombia)                  2.30.419
13 Elisa Frisoni (Italy)                         2.30.815
14 Gema Pascual Torrecilla (Spain)               2.31.658
15 Renata Dabrowska (Poland)                     2.32.060
16 Xiao Juan Diao (Hong Kong, China)             2.44.123