Results and Reports from Australia
Promoters wishing to submit results should send them to Cyclingnews
Randwick Botany CC
Heffron Park, Maroubra, March 15, 2003
Visiting UK riders mix it in A-Grade
By Tony Horneman
Poms pay a visit to Heffron
Photo: © Tony Horneman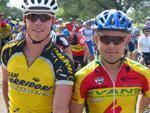 Tim Morley 22, and Jody Crowforth also 22, from Surrey, England lined up with 15 other A-Grade riders at the weekly Randwick Botany Cycling Club races at Heffron Park, Maroubra on Saturday, March 15, 2003.
Morley punctured on the first lap, but was able to rejoin the race to complete the 36km. Morley and Crowforth, who normally race mountain bikes in the UK and Europe, finished just out of the placings. Paul Rowney (Eastern Suburbs), also a mountain biker, chucked-a-wheelie on his road racing bike, and held it for over 10m, at the start of the race. He then returned the bike to two wheels to slog it out with the other elite riders. As usual, the King of Heffron Park - Anthony Spurgeon (Caravello) and Stewart Campbell (Eastern Suburbs) - otherwise known as "Computer" - set the pace for A-Grade. Campbell made a solo breakaway with three laps to go and sailed home to take the win. Second was Spurgeon followed by John Kenny (Eastern Suburbs).
Nineteen B-Grade riders covered 32km during their race. A four-man breakaway comprising Clive Hammerson, Dave McPherson, Dave Mackey (all from Randwick Botany) and Brent Bennett (Penrith) powered away early in the race. A chase group contingent which included Paul Hanley (Canberra), Jonathon Tuinsh (North Sydney), Roger Shackleton (Waratah Veterans) and Chris Young (Eastern Suburbs) set out to chase down the breakaway group. The group worked well together catching the leaders during the final lap. Final placings were Hammerson, Hanley and Tuinsh.
There was the smell of burning rubber in the final sprint of the twenty-rider C-Grade 28km race. Sean Ballesty's front wheel actually touched Martin Dunklerley's rear wheel during the 60kmh sprint. Tony Horneman and Dale Rockell, who were following close behind, could smell the burning rubber from the touch. Fortunately, all riders stayed upright to finish the sprint. Colin Cook (Bicisport) was first, followed by Andrew Best (Randwick Botany), Martin Dunklerley (Manly Warringah), Sean Ballesty, Brad Lane and Tony Horneman.
Phillip Chippendale returned to D-Grade racing at Heffron Park after some time overseas but finished out of the placings. First across the line was James Dalton (Randwick Botany) followed by Andrew Young (Eastern Suburbs) and Felix Tucci (Waratah Veterans).
Nine junior riders competed in time trails and a 10km handicap race. Andriano Maradini recorded a personal best time of 3min 55sec for 2km. Andrew Young was quickest on the day with a time of 3min 24sec. Thomas Murdoch won the handicap race.
Radio coverage
Coverage of local cycling results can be heard on Sydney's Eastside Radio 89.7FM "GAME ON" program, hosted by Brad Cooke, each Saturday morning from 10am to 12noon.
More information
Randwick Botany Cycling Club conducts racing at Heffron Park, Maroubra NSW each Saturday throughout the year. Juniors start at 1.00pm and Seniors 2.30pm. For more information please contact the club secretary Helen Vella on 02 9667 3307 or email secretary@randwickbotanycc.com or web site www.randwickbotanycc.com.
Results

(Randwick Botany Cycling Club riders unless otherwise noted.)
 
Seniors
 
A Grade, 36km
 
1 Stewart Campbell (Eastern Suburbs)
2 Anthony Spurgeon (Caravello)
3 John Kenny (Eastern Suburbs)
 
B Grade, 32km
 
1 Clive Hammerson
2 Paul Hanley (Canberra)
3 Jonathon Tuinsh (North Sydney)
 
C Grade, 28km
 
1 Colin Cook (Bicisport)
2 Andrew Best
3 Martin Dunklerley (Manly Warringah)
4 Sean Ballesty
5 Brad Lane
6 Tony Horneman
 
D Grade, 20km
 
1 James Dalton
2 Andrew Young
3 Felix Tucci (Warratah Veterans)
 
E Grade, 12km
 
1 Kevin Blanchfield
 
Juniors
 
A Grade 2km Time Trial
 
1 Andrew Young          3.24
2 Thomas Murdoch        3.35
 
B Grade 2km Time Trial
 
1 Tom Patton            3.38
2 Tamas Bykerk          3.48
3 Adriano Maradini      3.55
 
C Grade 2km Time Trial
 
1 Elliot Doughty        4.17
2 Sam Buckland          4.25
3 Matthew Fortuna       4.50
4 Patrick Jenner        5.15
 
All in 10km handicap
 
1 Thomas Murdoch
2 Tom Patton
3 Tamas Bykerk
4 Sam Buckland
5 Elliott Doughty