Results and Reports from Australia
Promoters wishing to submit results should send them to Cyclingnews
Randwick Botany Cycling Club
Heffron Park, March 8, 2003
Chris Jenkins storms home in A-Grade
By Tony Horneman
Ross Fullerton (right) celebrates with his wife after the race
Photo: © Tony Horneman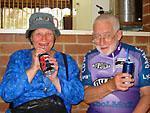 A fine day with a northerly breeze greeted riders in the weekly Randwick Botany Cycling Club at Heffron Park on Saturday 8 March 2003.
The pace in A-Grade was high from the start. Scott Callum from the Eastern Suburbs club kept it so with some big turns on the front. On lap 4, Randwick Botany's Matt Lucas went off the front and suffered for about 2 laps battling the wind and trying to stay away from the chasing peloton.
On lap 7, Lucas was caught and Randwick Botany junior stars Robert Cater, Chris Jenkins and another A-grade rider who collectively then made a second break off the front. This successful break stayed away. Todd Sinclair had a fantastic ride in successfully bridging the gap and joined the breakaway. Cater was really driving the break hard at this stage with some laps clocked at around 2min 50sec. This got a little too much for Lucas who dropped back to the main bunch leaving Cater, Jenkins and Sinclair to battle it out to the finish.
The final downwind sprint saw Jenkins placed first, Todd Sinclair second and Robbie Cater third. Good rides from Michael Cohen, Dave Jackson and Joe Sorby, all of whom were promoted to A-grade recently.
The B-grade race was just one attack after the other. At about lap 2, Dave Macpherson decided to attack off the front and got away by himself for about a lap. No sooner had he been caught than two more Randwick Botany riders attacked off the front. Big Michael Murdoch with Shaun Bloch in tow, hit off the front and stayed away for a couple of laps.
As soon as they were brought back, John Buckton launched perhaps the most successful break and got a lead of some 35 seconds for several laps before the wind, the chasing peleton and the fact that there was still about 10 laps to go, convinced him to back off.
There were several other attacks and then with about 3 laps to go, four B-graders got away. Roger Shackleton drove the break and was largely responsible for keeping the four away from the chasing peleton. On the bell lap, Rob Allen of the Eastern Suburbs club made an attack, John Buckton jumped quickly onto his wheel. In the final surge to the line, it was Brendan Ingram first, Chris Young (Eastern Suburbs) second and Simon Gallagher third.
There was not much action in C-Grade, in fact when third place getter Shaun Ballesty was questioned about the race, Shaun said, "There was no action. If there was, I didn't see it." Despite there being little action as such, Randwick Botany rider Craig Clement ensured that the pace was high as he did some big turns at the front. Final placings were Martin Duntterly (Manly) first, Colin Cook (Bicisport) second and Shaun Ballesty third.
The D-Grade pace was pretty steady however around lap 8 James, James Grant went off the front of the peleton. Tony Aitchison lifted the pace and was able to bring James back into the peleton. Final placings were William Salter (Waratah Veterans), Simon Llewellyn and James Dalton.
In E grade, a closely contested sprint saw Ross Fullerton, who turned 82 today, once again take victory over Kevin Blanchfield.
The Junior 10km handicap was very exciting with all grades coming together about half way through the bell lap. Junior results can be seen in the left hand column.
Radio Coverage
Coverage of local cycling results can be heard on Sydney's Eastside Radio 89.7FM "GAME ON" program, hosted by Brad Cooke, each Saturday morning from 10am to 12noon.
More Information
Randwick Botany Cycling Club conducts racing at Heffron Park, Maroubra NSW each Saturday throughout the year. Juniors start at 1.00pm and Seniors 2.30pm. For more information please contact the club secretary Helen Vella on 02 9667 3307 or email secretary@randwickbotanycc.com or website www.randwickbotanycc.com.
Results
Seniors
 
A Grade, 36km
 
1 Chris Jenkins (Randwick Botany CC)
2 Todd Sinclair (Randwick Botany CC)
3 Robert Cater (Randwick Botany CC)
 
B Grade, 32km
 
1 Brendan Ingram (Randwick Botany CC)
2 Chris Young (Eastern Suburbs)
3 Simon Gallagher (Randwick Botany CC)
 
C Grade, 28km
 
1 Martin Duntterly (Manly)
2 Colin Cook (Bicisport)
3 Shaun Ballesty (Randwick Botany CC)
 
D Grade, 20km
 
1 William Salter (Waratah Veterans)
2 Simon Llewellyn (Randwick Botany CC)
3 James Dalton (Randwick Botany CC)
 
E Grade, 12km
 
1 Ross Fullerton (Randwick Botany CC)
2 Kevin Blanchfield (Randwick Botany CC)
 
Juniors 
 
A Grade 2km Time Trial
 
1 Thomas Murdoch (Randwick Botany CC)              3.25
2 Andrew Young (Randwick Botany CC)                0.24
 
B Grade 2km Time Trial
 
1 Tom Patton (Randwick Botany CC)                  3.52
2 Adriano Maradini (Randwick Botany CC)            0.05
 
C Grade 2km Time Trial
 
1 Elliot Doughty (Randwick Botany CC)              4.25
 
All in 10km handicap
 
1 Thomas Murdoch (Randwick Botany CC)
2 Tom Patton (Randwick Botany CC)
3 Adriano Maradini (Randwick Botany CC)
4 Elliott Doughty (Randwick Botany CC)