Results and Reports from Australia
Promoters wishing to submit results should send them to Cyclingnews
Carnegie Caulfield Cycling Club
Glenvale Crescent, Mulgrave, March 2, 2003
Pearson takes attacking A & B race
By Mal Sawford
David Salton
Photo: © Mal Sawford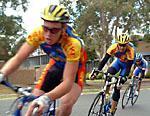 Autumn brought with it a dismal morning, but after a lengthy drought period we really shouldn't complain. Melbourne's South East was a cold, wet and windy place to be, but it didn't stop the diehards fronting up for their regular Sunday morning Criterium. The wet conditions saw many stay in bed, or opt out of racing after a few test laps, but organizers were able to run a combined C and D Grade bunch for the early risers, with the combined A and B Grade bunch taking to a nearly dry circuit just after 10.15am.
Due to the wet conditions, the C/D bunch were put under control for the first 20 minutes, giving the riders plenty of time to refresh their wet weather skills. Once racing started, Grant Hellings took up pace making duties, constantly at the head of affairs each time the bunch passed the finish line.
The bunch stayed together for the duration, with the final sprint taken out by Dion Warburton ahead of Andrew Knowles - riding a borrowed bike after an early puncture! Third went to Richard Cormick, with a pulled foot costing Michael Hay a higher placing. Melissa Sandford handled the wet conditions well, claiming the Women's division ahead of Gemma Goyne. David Accadia hit the final corner a little fast, and was the day's only casualty, sliding off without serious injury or bike damage.
The A/B race was a far more attacking affair, with Warragul pair Joel Pearson and David Salton stretching the bunch out early on. An attack from them just before the half way mark saw the bunch split in half. Big efforts from Danny Weatherley, Ken Ford, Kirsty Bortolin (The Freedom Machine) and Rachel Rademaker (Cyclelink) saw them claw their way back to the lead group, before the next surge saw the two female competitors lose contact for good.
Late attacks from Tom Jepson (Trak Cycles) and Pearson were nullified, and with 3 laps to go the pace eased leading into the final sprint. Echuca's Matt Jones lead out of the final corner, but faded, allowing Pearson and Salton to fight out the win. Pearson held on by a wheel, with Warren Knevitt (O'Mara Cycles) and Rohan McLellan filling the final placings in a close finish.
Carnegie Caulfield Criteriums continue every Sunday at Glenvale Crescent, with racing at 6.30pm Tuesday evenings at Sandown Raceway (Melways map 80B10 Sandown Road entrance). All holders of 2003 Cycling Australia licenses are welcome (don't forget to bring your license or receipt!) and non-members can have a go by taking out a three-race license for $39, deductible from your full membership if you decide to continue racing. For first time competitors, Tokyo Olympian Mick Hollingworth conducts racing clinics in E Grade.
Photography
Images by Mal Sawford
Results
A & B Grade (1 hour + 3 laps) 17 starters
 
1 Joel Pearson (Warragul CC)
2 David Salton (Warragul CC)
3 Warren Knevitt  (Carnegie Caulfield CC
4 Rohan McLellan  (Carnegie Caulfield CC
 
C & D Grade (50 minutes + 3 laps) 16 Starters
 
1 Dion Warburton (Carnegie Caulfield CC)
2 Andrew Knowles (Carnegie Caulfield CC)
3 Richard Cormick (Carnegie Caulfield CC)
4 Michael Hay (Carnegie Caulfield CC)
 
Women
 
1 Melissa Sandford (Carnegie Caulfield CC)