Results and Reports from Australia
Promoters wishing to submit results should send them to Cyclingnews
Randwick Botany Cycling Club
Heffron Park, Maroubra, March 1, 2003
Good Roll-Up At Heffon Park
By Tony Horneman
D grade
Photo: © Tony Horneman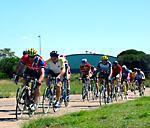 Randwick Botany Cycling Club members backed-up after Round 1 of the Club Criterium Championship held in the morning of Saturday 1 March 2003 for the regular Club race in the afternoon at Heffron Park, Maroubra. Over 70 riders registered by the 2.30pm start time.
The 36km A-Grade race-pace was high, averaging just under 41kph. Randwick Botany riders Joseph Sorby and Dave Jackson found the pace relentless with junior star Robert Cater and David Stewart (Eastern Suburbs) driving the bunch hard.
The final sprint was exciting with only the width of a tyre separating Randwick Botany's Patrick "Paddy" Jones and Stewart "Computer" Campbell from the Eastern Suburbs club. Third place went to David Stewart with U19 Robert Cater fourth.
B-Grade started fast courtesy of Keegan Aitchison (Southern Cross). Aitchison sprinted from the gun, forcing the bunch to chase. The pace remained high with several riders being dropped early. Several attacks were launched by Phil Gough (North Sydney), the first with four laps to go then again with two to go. The bunch reeled him in on both occasions. The race was won by Randwick Botany's Michael Cohan in a fantastic sprint. Brendan Ingram was tucked in the slipstream of Cohan's bike but couldn't quite come out to pass him. In the end, it was Cohan first, Brendan Ingram second Glen Irons further back.
Mark Goodwin from the Sutherland club did lots of work at the front of C-Grade and drove the bunch for 28km. Randwick Botany rider, Shaun Ballesty also lifted the pace as he launched a couple of attacks during the race. Velodrome Track star Janelle Lindsay, Greg Smart, Dale Rockell and Richard Edmonds could be seen planning their race strategy, hiding at the back of the bunch. None of their strategies worked because final placings were Steve Orfanis (Sydney), Chris Guillan (Southern Cross) and John Hadick (Eastern Suburbs).
Richard Jenkins could be seen doing a bit of work on the front of D-Grade over their 20km race. Mark Murdoch surprised the bunch with a big attack off the front on the bell lap. Although unsuccessful, Murdoch took the sting out of some of the sprinters legs who tried to chase him down. Final placings were Simon Llewellyn (Randwick Botany), Colin Cook (Bicisport) and Carlo Ghisolfi (St George).
In E-Grade, Kev Blanchfield didn't have it all his way this week. Ross Fullerton attacked and was able to get away and hold off Blanchfield to take first place.
Randwick Botany race organisers welcomed a group of Southern Cross Juniors to the racing program. The juniors had a 1-lap 2km time trial followed by an exciting 10km handicap race. In a great ride, Katrina Lane from Southern Cross was first with Sam Buckland from Randwick Botany second and scratch marker Thomas Murdoch, third.
Radio Coverage
Coverage of local cycling results can be heard on Sydney's Eastside Radio 89.7FM "GAME ON" program, hosted by Brad Cooke, each Saturday morning from 10am to 12noon.
More Information
Randwick Botany Cycling Club conducts racing at Heffron Park, Maroubra NSW each Saturday throughout the year. Juniors start at 1.00pm and Seniors 2.30pm. For more information please contact the club secretary Helen Vella on 02 9667 3307 or email secretary@randwickbotanycc.com or website www.randwickbotanycc.com.
Results
Seniors
A Grade, 36km
 
1 Pat Jones (Randwick Botany CC)               53.22 (40.8kph)
2 Stewart Campbell (Eastern Suburbs)
3 David Stewart (Eastern Suburbs)
4 Robert Cater (Randwick Botany CC)
 
B Grade, 32km
 
1 Michael Cowen (Randwick Botany CC)           50.15 (39kph) 
2 Brendan Ingram (Randwick Botany CC) 
3 Glen Irons (Randwick Botany CC)
 
C Grade, 28km
 
1 Steve Orfanis (Sydney)                       46.36 (36kph)
2 Chris Guillan (Southern Cross)
3 John Hadick (Eastern suburbs)
 
D Grade, 20km
 
1 Simon Llewellyn (Randwick Botany CC)         35.07 (34kph)
2 Colin Cook (Bicisport)
3 Carlo Ghisolfi (St George)            
 
E Grade, 12km
 
1 Ross Fullerton (Randwick Botany CC)
2 Kevin Blanchfield (Randwick Botany CC)
Juniors
A Grade 2km Time Trial
 
1 Thomas Murdoch (Randwick Botany CC)           3.18
2 Tyron Bicknell (Randwick Botany CC)           0.13
3 Belinda Angwin (Randwick Botany CC)           0.25
 
B Grade 2km Time Trial
 
1 Matt Guillan, (Southern Cross)                3.20
2 Luke Davison (Southern Cross)                 0.01
3 Tom Patton (Randwick Botany CC)               0.12
 
C Grade 2km Time Trial
 
1 Katrina Lane (Southern Cross)                 4.13
2 Sam Buckland (Randwick Botany CC)             0.07
3 Leah Guillan (Southern Cross)                 0.12
 
Junior 10km handicap
 
1 Elliott Doughty (Randwick Botany CC)
2 Thomas Murdoch (Randwick Botany CC)
3 Belinda Angwin (Randwick Botany CC)