Results and Reports from Australia
Promoters wishing to submit results should send them to Cyclingnews
Randwick Botany Criterium
Heffron Park, Maroubra, November 16, 2002
Cyclingnews editor in Tour Down under mini-rerun
By Tony Horneman
RBCC stars of tomorrow
Photo: © Tony Horneman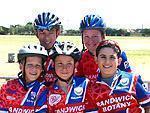 In a scene reminiscent of Michael Rogers in the Tour Down Under last January, Eastern Suburbs rider and cyclingnews.com editor Jeff Jones had a puncture in the last lap of Saturday's 36km A-Grade race and borrowed a wheel from a spectator around the back of the circuit and finished second.
In the Tour Down Under incident, AIS rider Michael Rogers lost his rear derailleur when a motorcycle marshal clipped his bike. Throwing the bike to the ground in disgust he was approached by a spectator, who happened to own the same type of bicycle as Rogers. The spectator gave his bike to Rogers, who remounted and rejoined the race, and improved his General Classification in the Tour.
Seven A-Grade riders started the race but after 6 laps, half the riders were dropped, leaving Randwick Botany's Robert Cater and Patrick Jones to battle it out with Jeff Jones. With 8km to go, Jeff Jones attacked and established a break. Robert Cater bridged the gap and caught the leader just after his puncture. Cater powered away to win in a time of 55min 45sec and an average speed of 39kph. After the quick front wheel change, Jeff Jones rejoined the race just ahead of Patrick Jones and went on to take second place. Patrick Jones finished third.
After the race Jeff Jones thanked Randwick Botany's Dave McPherson, who was a spectator for the day, for lending him his front wheel.
The thirteen-rider B-Grade bunch went flat-out form the start of their 32km event. Randwick Botany's Keegan Aitchison set the fast pace early but Eastern Suburbs riders Craig Dempsey and John MacKenzie attacked forcing the other B-Graders to chase. Stan Janarkis from the Sydney Cycling Club was next to attack and was chased down by Dempsey. The pair stayed away for 2 laps. Janarkis was home first in a time of 51min 25sec and an average 37.7kph. Dempsey was second followed by John MacKenzie. Randwick Botany's Jaysen Brenton was fourth.
Eighteen C-Grade riders started the 28km race, with Daniel Hynes (Sydney CC) sitting on the front for the early laps. The pace slowed in the second half of the event which complicated the racing when D-Grade was passed. For two laps, C and D Grades where together. At one point Randwick Botany D-Grade rider Ron Sproule sprinted around the combined bunch to break the deadlock. C-Grade then reformed for the final bunch sprint, with Hynes speeding home to win in a time of 47min 42sec and an average speed of 35.6kph. Randwick Botany's John Rivesz was second, followed by Janelle Lindsay, Karl Bellamy (Sydney CC), John Buckton and new Randwick Botany member Richard Edmonds. This was Edmond's first competitive bike race which he enjoyed immensely. "There is a fair bit of speed control required with the bunch surging then slowing throughout the race," he said after the race.
Randwick Botany's Tony Aitchison won D-Grade for the first time in his cycling career. Recording a time of 36min 43sec and an average speed of 33kph, Aitchison was delighted with the result. "I hope this win is mentioned in the race report", he said at the finish line. Second home was Paul Baker followed by Guy Bicknell and Ron Sproule, all Randwick Botany riders.
Four junior events were conducted earlier in the day. Results are listed at the end of this report.
Randwick Botany concluded the final round of the 2002 Club Championship with a morning road race at Heffron Park on Saturday. The championship involved a series of time-trials, hill climbs, criterium and road races throughout 2002. Final Championship results are at the end of this report.
Coverage of local cycling results can be heard on Sydney's Eastside Radio 89.7FM "GAME ON" program, hosted by Brad Cooke, each Saturday morning from 10am to 11am.
Randwick Botany Cycling Club conducts racing at Heffron Park, Maroubra NSW each Saturday throughout the year. Juniors start at 1.00pm and Seniors 2.30pm. For more information please contact the club secretary Helen Vella on 02 9667 3307 or email secretary@randwickbotanycc.com or website www.randwickbotanycc.com.
Results
Seniors
A Grade, 36km
 
1 Robert Cater (Randwick Botany CC)                 55.45 (39km/h)
2 Jeff Jones (Eastern Suburbs)
3 Patrick Jones (Randwick Botany CC)
4 Andrew Kilday (St George)
 
B Grade, 32km
 
1 Stan Genarkis (Sydney CC)                         51.25 (37.7km/h)
2 Craig Dempsey (Eastern Suburbs)
3 John MacKenzie (Eastern Suburbs)
4 Jaysen Brenton (Randwick Botany CC)
 
C Grade, 28km
 
1 Daniel Hynes (Sydney CC)                          47.42 (35.6km/h)
2 John Rivesz (Randwick Botany CC)
3 Janelle Lindsay (Randwick Botany CC)
4 Karl Bellamy (Sydney CC)
5 John Buckton (Randwick Botany CC)
6 Richard Edmonds (Randwick Botany CC)
 
D Grade, 20km
 
1 Tony Aitchison (Randwick Botany CC)               36.43 (33km/h)
2 Paul Baker (Randwick Botany CC)
3 Guy Bicknell (Randwick Botany CC)
4 Ron Sproule (Randwick Botany CC)
Juniors
A Grade 2km Time Trial
 
1 Robert Cater                        2.56
2 Belinda Angwin                      0.46
 
B Grade 2km Time Trial
 
1 Andrew Young                        3.38
 
C Grade 2km Time Trial
 
1 Adriano Maradini                    4.17
2 Sam Buckland                        0.04
3 Elliott Doughty  
 
10km Handicap
 
1 Andrew Young                        17.23
2 Belinda Anguin
3 Adriano Maradini
2002 Randwick Botany Cycling Club Championship Results (Seniors)
Overall Club Champion (most points): Will Gray
Club Time-Trial Champion (most points): Janelle Lindsay
Fastest Time-Trial at Heffron Park 2km: Sam Haeta, 2.55
 
A Grade
 
1 Aaron Castles
2 Chris White
3 Chris Jenkins
 
B Grade
 
1 Will Gray
2 Dave Mackey
3 Neil Morris
 
C Grade
 
1 Tony Caruana 
1 Matthew Tabone 
2 John Edmondson
 
D Grade
 
1 Scott Rice
2 Paul Baker
3 David Jenkins-Flint
 
E Grade
 
1 Mark Murdoch
2 Janelle Lindsay
3 Norman Jew