Recently on Cyclingnews.com
Results and Reports from Australia
Promoters wishing to submit results should send them to Cyclingnews
Randwick Botany CC Criterium
Heffron Park, Maroubra, December 7, 2002
Big guns firing; Maradini breaks 4 min barrier
Ready for action!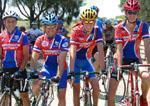 The big guns of local Sydney cycling lined up in the Randwick Botany Cycling Club A-Grade 32km event at Heffron Park on Saturday 7 December 2002. Stuart Campbell from the Eastern Suburbs Club and Anthony Spurgeon from Team Caravello set the pace during the race. Spurgeon, who broke his handlebars in last week's race, suffered a puncture but was allowed a lap-out to change the wheel and rejoin the race. Randwick Botany's Mark Robertson and Will Grey made a gutsy attempt at staying with the front-runner, but were dropped after only three laps. The finishing order was Anthony Spurgeon first, followed by Stewart Campbell, Shaun Higgerson (Randwick Botany), Jeff Jones (Eastern Suburbs and Cyclingnews.com editor), Robert Cater and Chris Jenkins both from Randwick Botany Cycling Club.
John Mackenzie from the Eastern Suburbs Club did most of the work in the B-Grade 28km race. Placings were Kevin Garvey (Eastern Suburbs), Chris Young (Eastern Suburbs) and Michael Murdoch (Randwick Botany).
There were numerous attempted breakaways in the C Grade 24km event. Phil Kauter (Eastern Suburbs) and Randwick Botany riders, John Buckton, Wayne Goold, and Shaun Ballesty all went up the road at different times. The only successful break came from Randwick Botany rider Tony Caruana with Saxon Johns from Eastern Suburbs Club. The pair put 100m on the field. Randwick Botany's James Stevens put in a big solo effort to bridge the gap to latch on to Caruana and Johns. The trio stayed away to fight out the final sprint. Stevens was home first, followed by Caruana and Saxon Johns. Shaun Ballesty won the bunch sprint for fourth, followed by John Buckton - fifth and John Rivesz - sixth. Paula Rettenmaier from the Sutherland Club had another good race but finished out of the placings.
Randwick Botany's James Guinan won the D-Grade 20km race. Under 15 junior Tyrone Bicknell was second with Carlos Ghisolfi (St George) third.
Breeding 'em young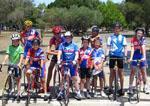 Ten junior riders competed in time trial and handicap events. Riders included: Michael Murdoch, Thomas Murdoch, Andrew Young (Eastern Suburbs), Tom Paton (Manly Warringah), Matthew Fortuna (St George), Patrick Jenner, Adriano Maradini, Sam Buckland and Elliott Doherty.
The star performer in the junior racing was Under 11 rider Adriano Maradini. Fresh from his bronze medal in the Sydney Metropolitan Track Titles at Lidcombe, Adriano broke the 4 minutes barrier for 1-lap around Heffron Park for the first time in his cycling career. The time was 3min 57s.
Coverage of local cycling results can be heard on Sydney's Eastside Radio 89.7FM "GAME ON" program, hosted by Brad Cooke, each Saturday morning from 10am.
Randwick Botany Cycling Club conducts racing at Heffron Park, Maroubra NSW each Saturday throughout the year. Juniors start at 1.00pm and Seniors 2.30pm. For more information please contact the club secretary Helen Vella on 02 9667 3307 or email secretary@randwickbotanycc.com or website www.randwickbotanycc.com.
Results

(Randwick Botany Cycling Club riders unless otherwise noted.)
 
Seniors
 
A Grade, 32km
 
1 Anthony Spurgeon
2 Stewart Campbell
3 Shaun Higgerson
4 Jeff Jones (Eastern Suburbs)
5 Robert Cater
6 Chris Jenkins
 
B Grade, 28km
 
1 Kevin Garvey (Eastern Suburbs)
2 Chris Young (Eastern Suburbs)
3 Michael Murdoch
 
C Grade, 24km
 
1 James Stevens
2 Tony Caruana
3 Saxon Johns (Eastern Suburbs)
4 Shaun Ballesty
5 John Buckton
6 John Rivesz
 
D Grade, 20km
 
1 James Guinan
2 Tyrone Bicknell
3 Carlos Ghisolfi (St George)
 
Juniors
 
A Grade 1km Time Trial
 
1 Michael Murdoch, 3.11
2 Thomas Murdoch, 3.20
 
B Grade 1km Time Trial
 
1 Andrew Young (Eastern Suburbs), 3.34
2 Tom Paton (Manly Warringah), 3.50
3 Matthew Fortuna (St George), 4.26
4 Patrick Jenner, 4.56
 
C Grade 1km Time Trial
 
1 Adriano Maradini, 3.57
1 Sam Buckland, 4.02
3 Elliott Doherty, 4.13
 
Handicap
 
1 Thomas Murdoch
2 Michael Murdoch
3 Tom Paton (Manly Warringah),
4 Andrew Young (Eastern Suburbs)
5 Adriano Maradini