Results and Reports from Australia
Promoters wishing to submit results should send them to Cyclingnews
Randwick Botany Cycling Club
Heffron Park, November 30, 2002
Spurgeon Snaps Handlebars In Breakaway
By Tony Horneman
A Grade grinners
Photo: © Tony Horneman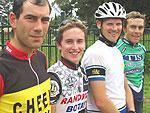 The threat of thunderstorms and rain forced Randwick Botany Cycling Club commissaries to reduce the length of criterium racing at Heffron Park on Saturday. All racing was completed before the passing showers arrived.
A strong southerly wind tested the nine riders in the A-grade 32km race. Very high rider speeds were reached across the back of the circuit with the prevailing tailwind, but down the straight, it was a real grind into the headwind. During the race, the King of Heffron Park - Anthony Spurgeon from the Caravello Joinery Team, attempted a breakaway from the A-Grade bunch whilst heading down the straight. As he rose out the seat and applied maximum power for the breakaway, he applied so much force to the metal handlebars that they snapped and broke in two, causing Spurgeon to fall onto the circuit. No other riders fell and Spurgeon sustained only minor abrasions. "Well that happens some times. I'll just have to get some new handlebars", he said after the race.
Eastern Suburbs and cyclingnews.com editor Jeff Jones broke away for two laps but was eventually caught by the chasing riders. Another Easts riders John Kenny surprised everyone in the bunch and led out with 600m to go. Randwick Botany rider Chris Jenkins got behind Kenny for protection from the wind down the final straight. Jenkins jumped out of the slipstream with 150m to go to power home to win in a time of 50min 10sec and an average speed of 38.7kph. Randwick Botany's Clive Hammerson was second, followed by John Kenny, Jeff Jones, Robert Cater and Matthew Lucas.
Randwick Botany's David Gardiner broke away and rode solo for the first half of the 28km B-Grade event. The remaining seven riders had to work hard to chase down Gardiner. In the final bunch sprint Michael Cowan attacked on the last lap with Dean Preddy on his wheel. Close behind was Randwick Botany's Jayson Brenton who drafted the front-runners down the strait and had enough energy to pass them both and take the win. Race time was 47min 11sec at an average speed of 36kph. Second place went to Michael Cowan, followed by David Gardiner and Keegan Aitchison.
Twenty-one riders started in the C Grade 24km race which maintained a steady pace for the first half of the race. Eastern Suburbs riders John Harrs and Chris Dowd with John Buckton, President of the Randwick Botany Cycling Club, increased the pace in the closing stages which caused some riders to be dropped. Only nine riders remained for the final lap. Randwick Botany's Tony Caruana was triumphant, winning by 10 metres in a time of 41min 21sec at an average 35.2kph. Second place went to new Randwick Botany member James Stevenson with Karl Bellamy from Sydney Cycling Club third. Fourth home was Brad Lane followed by Randwick Botany's Club Captain Janelle Lindsay.
Randwick Botany's Suzanne Jackson was pleased with her second race at Heffron Park, finishing with the 16-rider bunch after 16km. First place went to Carlos Ghisolfi from the St George club in a time of 29min 05sec and an average speed of 34.5kph. Second was Alec Lazich and third Tyrone Bicknell. Placings in the E Grade 10kms race were Norman Jew, Kevin Malcolm and Kevin Blanchfield.
Nine junior riders competed in time trial and handicap events. Riders included Patrick Jenner, Chris Bowie, Sam Buckland, Tyrone Bicknell, Andrew Young, Peta Vea, Matthew Fortuna, Elliott Doherty and Tom Patton.
Coverage of local cycling results can be heard on Sydney's Eastside Radio 89.7FM "GAME ON" program, hosted by Brad Cooke, each Saturday morning from 10am.
Randwick Botany Cycling Club conducts racing at Heffron Park, Maroubra NSW each Saturday throughout the year. Juniors start at 1.00pm and Seniors 2.30pm. For more information please contact the club secretary Helen Vella on 02 9667 3307 or email secretary@randwickbotanycc.com or website www.randwickbotanycc.com.
Photography
Images by Tony Horneman/www.randwickbotanycc.com
Results
A Grade, 32km
 
1 Chris Jenkins (Randwick Botany CC)                   50.10 (38.7kph)
2 Clive Hammerson (Randwick Botany CC)
3 John Kenny (Eastern Suburbs)
4 Jeff Jones (Eastern Suburbs)
5 Robert Cater (Randwick Botany CC)
6 Matthew Lucas (Randwick Botany CC)
 
B Grade, 28km 
 
1 Jayson Brenton (Randwick Botany CC)                    47.11 (36kph)
2 Michael Cowan (Randwick Botany CC)
3 David Gardiner (Randwick Botany CC)
4 Keegan Aitchison (Randwick Botany CC)
 
C Grade, 24km
 
1 Tony Caruana (Randwick Botany CC)                   41.21 (35.2kph)
2 James Stevenson (Randwick Botany CC)
3 Karl Bellamy (Sydney CC)
4 Brad Lane (Randwick Botany CC)
5 Janelle Lindsa y (Randwick Botany CC)
 
D Grade, 16km
 
1 Carlos Ghisolfi (St George)                        29.05 (34.5kph)
2 Alec Lazich (Randwick Botany CC)
3 Tyrone Bicknell (Randwick Botany CC)
 
E Grade, 10kms 
 
1 Norman Jew (Randwick Botany CC)                      22.30 (27kph)
2 Kevin Malcolm (Bankstown Sports)
3 Kevin Blanchfield (Randwick Botany CC)
 
Juniors
 
A Grade 1km Time Trial
 
1 Michael Murdoch (Randwick Botany CC)               3.16
 
B Grade 1km Time Trial
 
1 Peta Vea (Randwick Botany CC)                       3.20
2 Tyrone Bicknell (Randwick Botany CC)                0.06
3 Chris Bowie (Randwick Botany CC)                    0.52
 
C Grade 1km Time Trial
 
1 Tom Paton (Randwick Botany CC)                    3.53
2 Matthew Fortuna (Randwick Botany CC)              0.45
 
D Grade 1km Time Trail
 
1 Sam Buckland (Randwick Botany CC)                  4.12
2 Adriano Maradini (Randwick Botany CC)              
3 Elliott Doherty (Randwick Botany CC)               0.11
 
A/B Grade Handicap
 
1 Robert Cater (Randwick Botany CC)
2 Michael Murdoch (Randwick Botany CC)
3 Tyrone Bicknell (Randwick Botany CC)
 
C/D Grade Handicap
 
1 Adriano Maradini (Randwick Botany CC)
2 Tom Paton (Randwick Botany CC)
3 Sam Buckland (Randwick Botany CC)