BMC Software New York City Cycling Championship - NE
USA, August 1, 2004
Live report Women's results Amateur results Junior Results Corporate Challenge Results Photography
Health Net goes one-two in NYC
Henderson and Fraser ride lead out train to win
By Mark Zalewski in New York City
Greg Henderson (Health Net p/b Maxxis)
Photo ©: Mark Zalewski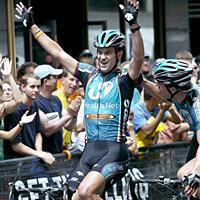 Coming off a strong finish in Altoona by Health Net's climbing trio of Scott Moninger, John Lieswyn and Jason McCartney, the flat-land sprint specialists Gord Fraser, Greg Henderson and Hayden Godfrey had their work cut out for them at the BMC Software New York City Cycling Championship. But the trio of international riders, all headed to the Olympics this month for their countries, came together in the final stretch to put together a bullet train of a lead out. Godfrey set a blistering pace that kept everyone behind from coming around -- with Henderson taking the win and Fraser finishing right behind in second.
This 100km tight and technical criterium course with a block of cobblestones produces a fast race, with crashes and a lot of DNFs. In the past, a breakaway somewhere during the race determines the final selection, but Mother Nature had a hand in determining a lot of the early pace today. Morning showers dropped enough water on the course to create puddles in the corners and in the manhole covers, giving the main stretch of Water Street new meaning. Breaks still did form with the usual suspects of Ofoto shaking the branches. However, it all came down to a fast field sprint to the line for the top prize, with Health Net conducting the train.
Hayden Godfrey (Health Net) was key to delivering his teammates to the line, albeit organized on the fly at the last possible moment. "I was just suffering all day -- I told them I wasn't feeling so good," said Godfrey's teammate Gord Fraser. "Ideally, I was piloting those guys to make the lead out really late -- as late as possible. That way, if I didn't have the legs, they might have it to keep going to win. Sure enough, Hayden took us so close and so fast that Greg and I both blew! But we had to keep going, and I was totally pedaling squares there at the end."
Slippery when wet
Photo ©: Mark Zalewski

"Wow mom
Photo ©: Mark Zalewski

Chris Horner (Webcor)
Photo ©: Mark Zalewski

Another attack from Ofoto
Photo ©: Mark Zalewski

Alex Candelario (Jelly Belly p/b Aramark)
Photo ©: Mark Zalewski

With his left brake lever taped
Photo ©: Mark Zalewski
Chris Horner (Webcor)
Photo ©: Mark Zalewski

Ivan Dominguez (Colavita)
Photo ©: Mark Zalewski

Former elite road champion Scottie Weiss (Subway-Express)
Photo ©: Mark Zalewski

Across the line, it's one-two Health Net
Photo ©: Mark Zalewski

Coming out of the final loop at the south end of Water Street, Godfrey saw Henderson riding the wave of riders on the front, and hit the gas to try to throw together some sort of a lead out. "It was pretty carnage -- we weren't really together," Godfrey explained. "Greg was quite a bit ahead of me, and I was going to kick up to his wheel and let him get on because that would have worked fine. But just as I was coming up Gord had found my wheel and I heard, 'Go!' so I just went. And I yelled at Hendey as I was going past and he just jumped straight on and I just laid it down as hard as I could."
After not finding sprinter Charles Dionne in the mob, Webcor's Chris Horner found himself in a golden position coming out of the final turn, but didn't take advantage of it. "It was Henderson leading out Gord and I was on Gord's wheel and I was like 'Perfect!' They went to the center and I was like, 'They are never going to make it that way!' and I went right trying to do my own lead out. I wanted to follow Gord to the line and get second, third or fourth, because I'm never going to come around Gord -- I'm realistic! But he went to that side, and I figured they were going to close the door hard -- but they never did. I should normally go with Gord, he knows what he is doing. I broke my rule of thumb!"
Going with Gord would have been the smart thing to do, as he led Henderson to the line, followed by a fast Ivan Dominguez (Colavita/Bolla). However, bad luck struck the Cuban sprinter when his right foot disengaged from the pedal, and Henderson came across the line first, followed by Fraser with Dominguez holding on for third.
Henderson, recently crowned a World Champion on the track in the scratch race, came into New York flying after a strong build-up at Superweek." I knew I needed some racing, so I did four of [the Superweek races] in a row and went back home and did some heavy training early on," the New Zealander remarked. "We were going like 60-65 k/ph in the end!"
Henderson is in great form with a good schedule ahead of him. "I've got one more [race] in Charlotte and then I'm in Athens."
Many in the crowd were watching the USPRO Champion Freddy Rodriguez, once again sporting his stars and stripes. However, bad luck also struck for Rodriguez. "I was scared -- my brake broke at the beginning -- I couldn't brake with my front brake at all! It cracked and I am holding it with tape. It happened before [the crash] and then I broke my front wheel over one of the pot holes and then crashed in a corner. After that my hamstring was not working, and I basically pedaled in on one leg. It hurts like hell right now."
Nevertheless, Rodriguez showed his strength by staying in the race, and was rewarded with the overall PCT lead as a result of his top ten finish.
Defending champion Marty Nothstein (Navigators Insurance) stayed attentive at the front all day, but could not find his way through the fray when it counted. "Typical criterium finish, it was a bit hectic. I was fifteenth back, and we never got it quite organized like we normally do. There was a lot of turbulence back there, a lot of fighting. Actually I got shuffled, had a bit of contact with the cobbles and lost fifteen spots, and it took a bit out of the tank to get back toward the front. But it was too much mayhem."
How it unfolded
The young Ofoto team has made a name for itself this year by attacking early, often and relentlessly. Most of the time, it doesn't result in a win, but it sure gets attention from the TV cameras and the race announcers, which always makes a sponsor happy. Today, the thorn in the side of the field was Peter Lopinto (Ofoto), as the 23 year old threw himself into the wind at every chance. On the first lap, Lopinto was joined by Ben Brooks (Jelly Belly p/b Aramark) for a break that never got more than 500 meters.
The field wasn't moving with any great speed in the beginning, as slick roads made many nervous. "The first half was definitely easier than the second half, but it got going pretty good," said Alex Candelario (Jelly Belly p/b Aramark). "It was pretty f**king hard man -- Superweek gets you ready for this race though!"
Chris Horner put a hurt on the field after going down early in a crash. "I bruised the ribs and something else in the crash. Guys just went into the barriers in front of me, and I hit the brakes but the bike isn't slowing down in these conditions. It was early in the race. My number one goal was not to crash, and I failed at that, so I figured I might as well drill it and cause a split or something."
"...when I got back in I was like, 'I'm just gonna DRILL it for like two laps and see if it causes a split back there because of the conditions.' And I kept looking and looking and did it for about a lap and a half and no splits. I was coming into every corner just sliding into every corner, and there was bound to be a split but it never happened!" he said with a chuckle.
The crash that Horner referred to involved American Olympic hopeful Colby Pearce riding for the TIAA-Cref/US National team. "I was just tired," Pearce explained. "I thought I could shoot the gap next to Wherry -- and I pushed him a little to do it, but he didn't have anywhere to go and I ended up in the barriers." His right wrist took the brunt of the crash, but doctors determined it was only bruised. Pearce, the elder statesman on the team of U23 Americans, is headed to Athens to compete in the 40km points race later this month.
Primes offered at the most unlucky (or lucky, depending where you were riding) times shut down many of these attacks, including Horner's. Mark Walters (Navigators Insurance) rode a strong race today, covering many of these early breaks, and finding himself in the biggest break of ten, which also faltered as the roads began to dry.
Finally, Eric Saunders (Ofoto) took matters into his own hands and opened up a 400 meter gap. As riders tried to bridge the gap, the prime bell rang again for $300 and Saunders was in a tough spot. Coming around again Saunders was barely holding on to his lead with Davidenko (Navigators Insurance) trying hard to cross. Saunders held on to the gap for the prime, and then sat up to wait for Davidenko. When the two joined, they only had a few hundred meters, but the field sat up and away the duo went.
This break never seemed to die, with the gap fluctuating between six and sixteen seconds throughout the subsequent laps. Colavita/Bolla sent riders to the front to chase, with a little help from Health Net. "We had Gustavo who did a fantastic job, he was riding at the front with one Health Net guy and occasionally a Jelly Belly guy," former USPRO Road champion Mark McCormack said. "We knew we had a good shot with Ivan and [Juan Jose Haedo], But you can't really force it."
Finally, with 30 km to go the two were reeled in by the field -- and almost on cue, Peter Lopinto (Ofoto) took off again, and dangled off the front. At this point the Navigators were ever present at the front, waiting for more attacks to go. Aaron Olsen (Colavita/Bolla) obliged and took Siro Campagnoro (Navigators Insurance) with him. Again the prime bell rang and this signaled the end of the break, but not before Olsen could take the cash.
A few more breaks tried to go and were covered. Even Nothstein took his turn marking, following Cameron Hughes (Subway-Express) on a move. Ed Beamon quickly reminded Nothstein not to jump too early and wait for the rest of the team to catch up. Beamon was confident with his team after an impressive Tour of China.
With one lap to go, it was Kirk Albers (Jelly Belly) driving the pace high for sprinter Jonas Carney, much to the surprise of his teammates. "The thing is [Albers] said he didn't have anything -- we weren't really counting on him. Then all of a sudden he went to the front and drilled it!" Two Navigator riders were on Albers' wheel, with Nothstein nowhere to be found. "We thought we had Marthy Nothstein on the wheel, but we didn't, and Vassili had used all his energy up the road," Australian Henk Vogels revealed. "I crashed mid-way in the race and did some damage to my hip -- I couldn't even pedal out of my seat. For me, my race was finished if I didn't have Marty there."
Headed back south on Water Street it seemed that no one team had any organization, and that it would be up to an individual to grind it out. However, the high speed caused fluidity in the bunch, and the three Health Net sprinters found each other coming out of the final turn. "I was worried, I was on Hayden in about tenth wheel, and we were separated from Greg," Gord Fraser explained. "I was a little unsure to with Hayden because we hadn't done any lead outs together. I was telling him the whole time what to do, and when he hit it after the last corner, Greg was really heads up. He was at the front of the field, and we were coming up quite fast. He looked over, saw us and immediately did a left turn, and I let the gap go."
Mark McCormack has a slightly different take on the matter. "I was looking out for Ivan --- we came out of the last turn just like two years ago when he won the race. I was flying up the left hand side and one of the Heath Net guys came over and pushed me into the fencing. He ended up winning the race -- kind of a rough way to do it, it is bike racing after all, but I don't need to be put into the barriers, so I backed down. Ivan could have won the race -- he said he clipped out of his pedal."
Fraser admitted that he wasn't feeling his best, but stuck it out over the final meters of the race. "All I could do is hold on to my teammates -- I had no idea what was happening behind me. I was starting to bog down -- I knew we were a little vulnerable from behind, but we were going so fast and the finish line came up really quick. To get one-two was really good for us, especially after the climbers did their job in Altoona, we had a little more pressure on us to come through."
Photography
Images by Mark Zalewski/showchoir.net
Images by Beth Seliga/www.3catsphoto.com
Images by Robert Way/InMotion Event Photography
Images by Travis Drennen/www.tddesignimages.com
Images by Aaron Wolfe
Results
1 Greg Henderson (NZl) Health Net - Maxxis                   2.05.13
2 Gordon Fraser (Can) Health Net - Maxxis                           
3 Ivan Dominguez (Cub) Colavita Olive Oil p/b Bolla Wine            
4 Jonas Carney (USA) Jelly Belly - Aramark                          
5 Robbie Ventura (USA) US Postal Service p/b Berry Floor            
6 Antonio Cruz (USA) US Postal Service p/b Berry Floor              
7 Juan Jose Haedo (Arg) Colavita Olive Oil p/b Bolla Wine           
8 Fred Rodriguez (USA) Acqua & Sapone - Caffee Mokambo              
9 David McCook (USA) McGuire Pro Cycling                            
10 Chris Horner (USA) Webcor Cycling Team                           
11 Hayden Godfrey (NZl) Health Net - Maxxis                         
12 Alex Candelario (USA) Jelly Belly - Aramark                      
13 Dennis Kraft (Ger) Action Ati                                    
14 Charles Dionne (Can) Webcor Cycling Team                         
15 Matt Dubberley (USA) Sierra Nevada Cycling                       
16 Jason Waddell (USA) Sharper Image - Mathis Brothers Furniture    
17 Buck Miller (Can) Jet Fuel Coffee                                
18 Jeffrey Hansen (Can) Jet Fuel Coffee                             
19 Marty Nothstein (USA) Navigators Insurance                       
20 Gustavo Artacho (Arg) Colavita Olive Oil p/b Bolla Wine          
21 Remi McManus (USA) Subway-Express                                
22 Emil Abraham (Tri) Team Monex                                    
23 Cameron Hughes (Aus) Subway-Express                              
24 Chad Hartley (USA) Jittery Joe's                                 
25 Danny Schmatz (USA) Health Net - Maxxis                          
26 Jacob Erker (Can) Team Seasilver                                 
27 Ben Jacques-Maynes (USA) Sierra Nevada Cycling                   
28 Siro Camponogara (Ita) Navigators Insurance                      
29 Ben Haldeman (USA) Webcor Cycling Team                           
30 Kyle Gritters (USA) Team Monex                                   
31 Timmy Duggan (USA) US National Team                              
32 Mark McCormack (USA) Colavita Olive Oil p/b Bolla Wine           
33 David Richter (USA) Subway-Express                               
34 Mark Walters (Can) Navigators Insurance                          
35 Oliver Zaugg (Swi) Suanier Duval - Prodir                        
36 Henk Vogels (Aus) Navigators Insurance                         
37 Scottie Weiss (USA) Subway-Express                               
38 Dan Bowman (USA) US National Team                                
39 Drew Deters (USA) Team Seasilver                                
40 Sebastian Alexandre (Arg) Colavita Olive Oil p/b Bolla Wine      
41 Matthew Svatek (USA) Sharper Image - Mathis Brothers             
42 Ernesto Lechuga (Mex) Jelly Belly - Aramark                      
43 Mariano Friedick (USA) Jelly Belly - Aramark                 0.19
44 Josh Goodwin (USA) Team Monex                                    
45 Andrew Randell (Can) Jet Fuel Coffee                         0.29
46 Josh Hall (Can) Jet Fuel Coffee                                  
47 Davide Frattini (Ita) Team Monex                             0.33
48 ?? (USA) Ofoto Cycling Team                                      
49 Chris Wherry (USA) Health Net - Maxxis                           
50 Denis Bertolini (Ita) Acqua & Sapone - Caffee Mokambo        0.39
51 Vassili Davidenko (Rus) Navigators Insurance                     
52 Christian Foster (USA) Subway-Express                        0.55
53 Kirk Albers (USA) Jelly Belly - Aramark                      1.10
54 Michael Creed (USA) US Postal Service p/b Berry Floor        1.21
55 Adam Myerson (USA) Sharper Image - Mathis Brothers           1.33
56 Erik Saunders (USA) Ofoto Cycling Team                       2.30
DNF Imanol Ayestaran Odriozola (Spa) Webcor Cycling Team            
DNF Jason Bausch (USA) Ofoto Cycling Team                           
DNF Alberto Benete (Spa) Suanier Duval - Prodir                     
DNF Benjamin Brooks (Aus) Jelly Belly - Aramark                     
DNF Nathaniel Cornelius (USA) Subway-Express                        
DNF Janiel Danesh (USA) McGuire Pro Cycling                         
DNF Drew Deters (USA) Health Net - Maxxis                           
DNF Justin England (USA) Webcor Cycling Team                        
DNF Russell Hamby (USA) Sierra Nevada Cycling                       
DNF Trent Klasna (USA) Sierra Nevada Cycling                        
DNF Damon Kluck (USA) US Postal Service p/b Berry Floor             
DNF Peter Knudsen (USA) Team Seasilver                              
DNF Jay Ku (USA) US National Team                                   
DNF Jesse Lawler (USA) Jittery Joe's                                
DNF Peter Lopinto (USA) Ofoto Cycling Team                          
DNF Andrew Manart (USA) US National Team                            
DNF James Mattis (USA) Webcor Cycling Team                          
DNF Patrick McCarty (USA) US Postal Service p/b Berry Floor         
DNF Nathan Miller (USA) McGuire Pro Cycling                         
DNF Glen Mitchell (NZl) Sierra Nevada Cycling                       
DNF Nathan Mitchell (USA) US National Team                          
DNF Aaron Olson (USA) Colavita Olive Oil p/b Bolla Wine             
DNF Colby Pearce (USA) US National Team                             
DNF Lawrence Perera (USA) Sharper Image - Mathis Brothers           
DNF Chris Pic (USA) Jittery Joe's                                   
DNF Viktor Rapinski (Blr) Navigators Insurance                      
DNF Jake Rosenbarger (USA) Jittery Joe's                            
DNF Jackson Stewart (USA) Ofoto Cycling Team                        
DNF Jonny Sundt (USA) Jittery Joe's                                 
DNF Francisco Jos Ventoso Alberdi (Spa) Suanier Duval - Prodir      
DNF Devon Vigus (USA) McGuire Pro Cycling                           
DNF Eric Wohlberg (Can) Sierra Nevada Cycling                       
DNF Scott Zwizanski (USA) Ofoto Cycling Team                        
 
Pro Cycling Tour standings
 
1 Fred Rodriguez (USA) Acqua & Sapone - Caffee Mokambo           142 pts
2 Francisco Jos Ventoso Alberdi (Spa) Suanier Duval - Prodir     126
3 Gordon Fraser (Can) Health Net - Maxxis                        125
4 Lars Michaelsen (Den) Team CSC                                  76
5 Max Van Heeswijk (Ned) US Postal Service p/b Berry Floor        60
6 Antonio Bucciero (Ita) SAECO                                    60
8 Alberto Loddo (Ita) Suanier Duval - Prodir                      54
9 Jonas Carney (USA) Jelly Belly - Aramark                        44
10 Plamen Stoyanov (Bul) Hoop CCC Polstat                         42
11 Benjamin Brooks (Aus) Jelly Belly - Aramark                    39
12 Ivan Dominguez (Cub) Colavita Olive Oil p/b Bolla Wine         38
13 Michael Barry (Can) US Postal Service p/b Berry Floor          36
14 Antonio Cruz (USA) US Postal Service p/b Berry Floor           36
15 Juan Jose Haedo (Arg) Colavita Olive Oil p/b Bolla Wine        32
16 Piotr Chmielewski (Pol) Action Ati                             24
17 Ciaran Power (Irl) Navigators Insurance                        22
18 Kirk O'Bee (USA) Navigators Insurance                          22
21 Charles Dionne (Can) Webcor Cycling Team                       20
22 Dennis Kraft (Ger) Action Ati                                  20
23 Gordon McCauley (NZl) Team Monex                               18
24 Alex Candelario (USA) Jelly Belly - Aramark                    18
25 Russell Hamby (USA) Sierra Nevada Cycling                      16
26 Guennadi Mikhailov (Rus) US Postal Service p/b Berry Floor     14
27 Arkadiusz Wojtas (Pol) Hoop CCC Polstat                        14
29 Jakob Piil (Den) Team CSC                                      12
30 Jaroslaw Zarebski (Pol) Hoop CCC Polstat                       12
31 Mark McCormack (USA) Colavita Olive Oil p/b Bolla Wine         12
33 Denis Bertolini (Ita) Acqua & Sapone - Caffee Mokambo          11
34 Tristan Hoffman (Ned) Team CSC                                 10
36 Adam Wadecki (Pol) Action Ati                                   9
37 Kazimierz Stafiej (Pol) Action Ati                              8
38 Brice Jones (USA) Health Net - Maxxis                           8
39 Radoslaw Romanik (Pol) Hoop CCC Polstat                         7
40 Chris Wherry (USA) Health Net - Maxxis                          6
41 Jason Waddell (USA) Sharper Image - Mathis Brothers             6
43 Danny Schmatz (USA) Health Net - Maxxis                         5
44 Chad Hartley (USA) Jittery Joe's                                4
46 Brian Sheedy (USA) Team Seasilver                               3
47 Eric Wohlberg (Can) Sierra Nevada Cycling                       3
49 Caleb Manion (Aus) Jelly Belly - Aramark                        2
51 John Lieswyn (USA) Health Net - Maxxis                          1