BMC Software New York City Cycling Championship - NE
USA, August 1, 2004
2003 Results Map Live coverage Past winners
Riders excited about racing in the Big Apple
American style criterium racing takes over Lower Manhattan
By Mark Zalewski in New York
2003 winner Marty Nothstein (Navigators)
Photo ©: Jon Devich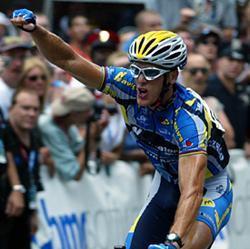 Criterium racing in Europe is what celebrity golf is in America. But in the fast-paced, fast-food, instant gratification culture of the U.S., criterium racing is king. Referred to as "NASCAR on bikes," this short and technical style of racing fits well with American fans used to seeing sports presented on a field or court, and is usually the only way a promoter can get streets closed to hold a race. Heaven forbid if a soccer mom has to drive her land yacht three blocks more to get around a four cornered criterium course in suburbia! More and more, local races are forced to hold their races in parking lots of office parks.
So imagine what it takes to shut down a 1.2 mile course in the heart of New York City. For the third year in a row, the Pro Cycling Tour has been able to do just that, presenting the BMC Software New York City Cycling Championship. With crowds estimated at over 100,000, it's easy to see why defending champion Marty Nothstein (Navigators Insurance) calls this the 'Super Bowl' of American criterium racing.
"The venue is tough to describe - it's awesome," said Nothstein. "If you could pick a criterium anywhere in the world, you'd want it here in NYC. With the skyscrapers around you and the fans are just fanatical about it - it's electrifying to race down there. To me, it's like the super bowl of criterium racing in the world. Every American who's raced it knows that, and that is why I am here - it's a prestigious one to win!"
Most of the top American riders, along with a contingent of European racers, will contend for a $40,000 prize purse. And back after a one-year hiatus is a pro women's category, along with defending champion Sarah Uhl (Quark). Also on the schedule is a junior race, men's elite amateur race and the infamous BMC Bike Messenger Challenge, featuring some of the toughest bike messengers in the world. Squid, of last year's winning team, had some advice for the professional racers.
"Me and my team went down and rode the course beforehand, because New York is famous for its pot holes. Once you figure out where the pot holes are on the course you can avoid them or push another team into them!" But without missing a beat, a spokesman for the Mayor of New York chimed in, "The course was resurfaced, so you will see NO potholes!" (laughs) This reflects the excitement of the city to host a race like this, especially as it bids for the 2012 Olympics.
Favourites for the Pro Men's race include defending champion Nothstein, current USPRO Champion and winner in Trenton, Fast Freddy Rodriguez (Acqua e Sapone), Philadelphia winner and PCT points co-leader Francisco Ventoso (Suanier-Duval Prodir), Canadian Olympian Gord Fraser (Health Net p/b Maxxis) and former winner Ivan Dominguez (Colavita-Bolla).
See also: Pre-race comments from the stars
Cyclingnews will be covering the race live starting at 12:30 EDT (local time)/9:30 PDT (USA West)/18:30 CEST (Central Europe)/02:30 AEST (Australia East).
Past winners
2003 Marty Nothstein (USA) Navigators
2002 Ivan Dominguez (Cub) Saturn Cycling Team