89th Tour de France - Grand Tour
France, July 6-28, 2002
2002 Tour de France rider journals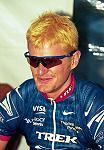 Champion in the making
Photo: © Jonathan Devich
Floyd Landis
Nationality: American
Team: United States Postal Service
A strong climber and time trialist, 26 year old Landis, from Lancaster Co., PA, burst onto the road scene in 1999 in his rookie road year, wearing the Maillot Jaune and finishing third in the Tour de l'Avenir stage race, followed by 4th place in 2000. After an up and down 2001 season with Mercury, Landis has been a great addition to USPS in 2002, recently placing 2nd overall behind winner and team leader Lance Armstrong in the Dauphiné Libéré.
Stage 20 - Sunday July 28: Melun -Paris-Champs-Elysées, 140 km
Hung in there
Here's a quick email since we have to get ready for the team dinner. It was really crazy and hectic today getting to the hotel after the stage. Hey - I made it to Paris!
Man, I'm really happy this Tour de France is over. My wife Amber came over today and it's really great to have her here since I haven't seen her for two months! We'll just relax in Paris for a few days and have some nice meals and maybe I'll even do some sightseeing if I'm not too tired. Man, I'm tired though. After the final stage finish today, we had the parade on the Champs Elysees. That was madness. But to make it to Paris on the winning team has got to be the best way to do it.
Riding on the team this year with Lance and supporting him in his fourth straight Tour de France win has been a real honor. Plus the guys on the team are so great. When I get back to Spain, I'll send a longer diary. Thanks for reading.
Until next time,
Floyd