89th Tour de France - Grand Tour
France, July 6-28, 2002
2002 Tour de France journals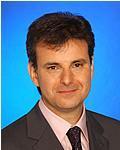 TV Guy
Photo: © SBS
Mike Tomalaris, SBS broadcaster
Nationality: Australian
Mike Tomalaris is the producer and sometimes presenter of SBS TV's Toyota World Sports, the only daily prime time sports show on Australian TV. Mike has covered the Tour de France for SBS Sport since 1996, and always brings a distinct Australian perspective to the network's coverage of the world's biggest annual sporting event.
Stage 18 - Friday July 26: Cluses - Bourg-en-Bresse, 176.5 km
From Macon
How cool is Robbie McEwen?
He just beats Erik Zabel in a sprint for important green jersey points, slams on the brakes for the waiting camera crews at the finish line in Bourg-en-Bresse and immediately starts talking with the type of confidence expected from a man who is about to create Tour de France history. The body language says it all.
Without wanting to predict the outcome of the sprint competition, McEwen knows he has the firepower over his German nemesis. After all he has won every sprint, intermediate or otherwise, the two have contested since the Tour's first week. Not just that - as McEwen makes his way to the presentation podium to accept another green jacket, I ask him if now would be an opportune time to do a quick SBS promo? On the likelihood he'd say "you're kidding", Robbie grabs the microphone and pulls it off in one take. All this after having ridden 180 kilometres, and seconds before mounting the winner's podium before a world-wide television audience.
As a TV guy, I find McEwen a TV natural. When his riding days are over, there's is no doubt he has a future in front of the cameras or microphone. Nothing is ever too much trouble for Robbie. In the 10 years I have known him, he has never refused an interview or TV opportunity.
You may say it's an example of a bulging ego at its best? No, this is Robbie translating the sport he is loves and is on his way to mastering.