An interview with Floyd Landis
Landis back on right track with USPS for 2002
By Tim Maloney, European editor
Floyd Landis

Photo: © Richard Bryne
Born: October 14, 1975
Place of Birth: Lancaster Co., PA
Lives: San Diego, CA
Marital status: Married to Amber Basile
Height: 5ft 10in (1.78m)
Weight: 150lb (68kg)
Professional since: 1999
Teams: Mercury (1999-2001), US Postal Service (2002-)
Major results
2002
2nd overall, Criterium du Dauphiné Libéré
3rd stage, Tirreno Adriatico
5th overall, Circuit Cycliste de la Sarthe
2001
1st, Boulevard Road Race
2000
1st overall, Tour du Poitou-Charentes
1st stage and 5th overall, Tour of Langkawi
4th overall, Tour de l'Avenir
1999
3rd overall, Tour de l'Avenir
5th overall, G.P. Cycliste de Beauce
1st stage and 2nd overall, Cascade Classic
Cyclingnews spoke to Floyd Landis after Stage 6 of the Dauphiné Libéré in the French mountain resort of Morzine, where the American rider clinched his second place on GC after a fine ride on the toughest day of this prestigious "hors categorie" French stage race.
A strong climber and time trialist, 26 year old Landis, from Lancaster Co., PA, burst onto the road scene in 1999 in his rookie road year, wearing the Maillot Jaune and finishing third in the Tour de l'Avenir stage race, followed by 4th place in 2000. After an up and down 2001 season with Mercury, Landis has been a solid addition to USPS so far in 2002.
Cyclingnews: Floyd, we're sitting about 10km from Les Gets, where the 2002 World Cup Mountain Bike finals will be held. As a former top caliber mountain biker who is among the new wave of bikers coming into road cycling, what's going through your mind right now, sitting in second place behind Lance Armstrong in a major European stage race?
Floyd Landis: Well to be honest, I'm pleasantly surprised - sure I have some good form but part of it is luck and part of it is how the team tactics work with Lance in the lead. I was free to go in a break (on Stage 5) and we gained some time and now I find myself in second place! So yeah, I'm ecstatic!
CN: Most of the day on Stage 6, you were sitting right on Lance's wheel protecting his position in the group. Did you have to do much chasing?
Dauphine stage 5
Photo: © AFP

FL: (Laughs) I was privileged today! I'm 2nd (on GC) and the team was strong enough that I didn't have to do more than just hang out and wait for the end and if Lance needed help, then I'd sacrifice my second spot to help him. Luckily, I had to spend no energy except working for me, which was generous of the team to say the least.
CN: You must have heard a lot about the Col de Joux Plane. What happened to you today on the final climb?
FL: From the beginning of the stage, Johan (Bruyneel / USPS director sportif) said that it would be such a hard day today that even if a break goes, they're going to be ruined when they come to the final climb anyway. His advice was never panic; the team stays together as long as possible and when we got there (Joux Plane), a couple of guys attacked, Kivilev attacked and then Lance went up the road with Kivilev and Moreau and they had their little race for the stage. Meantime, the rest of us, the next five or six guys...I stayed with Menchov and I figured he'd be trying to protect his spot (on GC) and there's no sense in me chasing Lance. Then we got to the top and there was no way to catch Lance.
CN: Were you with (Haimar) Zubeldia as well?
Armstrong and Landis on the Joux Plane
Photo: © AFP

FL: Yeah, he sat on Menchov for a good long time and then he attacked with maybe 3km to go (from the summit of Joux Plane) and stayed between us and the leaders until the finish. The GC got re-arranged a little and since I didn't have to stay with Lance, I did what I could to save my spot.
CN: What did you think of the legendary Col de Joux Plane?
FL: It was ugly! I had enough warning; I knew what I was getting into - 11 or 12 kilometres of a steep climb, plus it was a really hot day. At the end of the race, at least I know who's going to be racing hard and who's going to sit up. It was pretty predictable once we got there what would go on. So you just have to deal with the stress of getting to the bottom of the climb in the front. From then on it was pretty normal what went one.
The Dauphine podium
Photo: © AFP

CN: After the Dauphiné finishes, what is on your program? Will you go back to Girona?
FL: It's hard to say - I'm hoping the Tour but Johan (Bruyneel) is going to wait until the week before and take the best guys... (another USPS team will ride the Tour Of Catalunya from 17-23 June). The team's goal is to win the Tour, so they're going to take whoever deserves to go. I'm hoping that they pick me but we'll see! I've never done a Grand Tour before so I'll just take it as it comes.
CN: Do you recognize many other riders from when you rode in Europe the last few years for Mercury?
FL: Yeah, I've gotten to know quite a few people in the peloton and for the most part, guys remain friends. Sure, teams get rearranged, but for the most part, there are rarely personal things between riders. It's just a bunch of guys that generally like each other and ok, when we start racing it gets ugly but hopefully they forget about it afterwards. I've made quite a few friends and yeah, it's been a good time.
CN: Have you seen (1999 World MTB XC Champion) Michael Rasmussen (CSC-Tiscali) in the peloton, who you may remember from your mountain bike days?
New recruit
Photo: © Jonathan Devich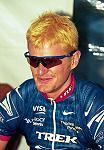 FL: Yeah I have - poor guy, he's had to work for the past month in the Giro so God only knows what he's doing here in the first place! He's a nice guy...if I were him I probably would have bagged it a long time ago but more power to him; he's hangin' in there.
CN: What is your takeaway from your experiences at Mercury?
FL: I had a lot of good experiences, not just racing, although all things considered, it was good for my career to be on the team. I got to do some big races; Paris-Nice and some classics and I learned a lot about racing, but I learned a lot about life too. How I shouldn't necessarily just things people say. Sometimes you have to learn that the hard way.
All in all, it was good for me; if I had stuck with mountain biking, I would have probably quit cycling since that was going nowhere. But I left Mercury because I didn't get paid; I wasn't supposed to get paid after June 2001 but I ended up getting paid for 8 months of my 12 month contract.
CN: Were you suspended from Mercury? Allegedly, riders were suspended from the team for some reasons.
FL: No I was never officially suspended from the team. So I still don't really know what I was...somehow I was paid for July and August when the team didn't want me to pay me for this period. Once this happened, I thought, 'yahoo' my contract was back to normal, but a few days later, the team manager sent me an email saying that if I didn't send the money back, or he was going to send LAPD to my house. Well I don't live in LA anyway and it would have been a civil matter! And this money was owed to me under my contract!
CN: How did you react to this situation?
FL: I got angry and I've been angry for 6 months. And this thing is still going on - I've got a wife and a 5 year old daughter and I just can't afford to not get paid for 4 months. As I understand it, there is still money (from Team Mercury's 2001 3 month salary bank guarantee) on deposit with the UCI, so I'm hoping that this will be released soon and me and the other riders will finally get paid. It's been way too long!
As we post this interview, Floyd Landis is still on the bubble for his Tour De France selection, which USPS director Johan Bruyneel will decide after the Volta a Catalunya.