The Legend of Landis - Part One
By Tim Maloney, Cyclingnews.com European editor
The story of Floyd Landis is among the most intriguing to emerge out of the world of pro cycling in the last few years. Soon after Tim Maloney's last interview with Floyd Landis, he was on the bubble for Tour de France selection. USPS director Johan Bruyneel was well aware that Lance Armstrong needed some heavy artillery for his defence of the Tour, and after an incredible ride in last month's Critérium du Dauphiné Libéré, Bruyneel recruited young gun Landis to the TdF squad.
One of road cycling's new wave
Photo: © CN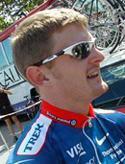 The 26 year old Temecula, California resident, originally from Lancaster, PA burst on to the international scene in 1999 with a startling 3rd place finish in the Tour de l'Avenir as a rookie road racer. Landis is a key member of a new wave of mountain bikers like Cadel Evans, Michael Rasmussen and Miguel Martinez who are making the successful transition to road cycling.
As you may be aware, Cyclingnews has an exclusive diary from Floyd Landis during the Tour, but we thought you might want to get to know him a little better. So we sat down with Floyd at the USPS team hotel in Luxembourg on July 4; Independence Day for the people of America - and for the month of July at least, France has become "land of the free and the home of the brave".
Cyclingnews: Floyd, how did you get here (to the TdF) anyway?
Floyd Landis: It would appear like I just showed up (jokes) but I've been around for quite some time. I been racing mountain bikes since I was 16, and I started as a pro (mountain biker) at 19, from '96 to '98.
CN: How did you begin cycling in the first place?
FL: I grew up in Pennsylvania, a little place that's not really even a town, called Farmersville (15 miles north of Lancaster, PA., in Pennsylvania Dutch country). So I lived out in the country and my friend Eric Gephardt and I got some mountain bikes so we could get around to each others houses, go to the river and go fishing, whatever. It turned out that riding the bikes was more fun so we ended up doing that most of the time - that was when we were probably 15. We didn't do any races or anything; we just wore sweat pants and rode around in the woods. I had a Marin or something - fluorescent orange - it was $300 bucks. I thought it was way overpriced but it turned out to be a piece of junk! (laughs) and (Eric) had a Giant Rincon or something - a heavy steel bike; something we could beat up.
So the guy at a local bike shop called Green Mountain Cyclery, his name is Mike Farrington. She's a friend of mine and I still talk to him sometimes, he and his club put on a mountain bike race in a place called Brickerville, only 15 miles from my house and he said come up and do the race. We were into riding and hanging out at the shop - you know, have people to talk to, the social thing. So I was like, "OK, I'll go do the race!"
So I rode the race and I won the race, the beginner race, I was a junior and there were probably 10 people in the field and I thought "Oh I'm gonna be the next greatest thing since Greg Lemond." Little did I know that I won this stupid little junior race (laughs), but the (Brickerville) race was actually a good size race with 500 racers - but the category I was had very little competition. I figured I could handle this, it's something I can do.
Flying start in the TdF
Photo: © CN

CN: So the Brickerville race got you started?
FL: Yeah, the next year (1992) I did four or five races, all within an hour's drive, nothing big. I was on the Green Mountain Cyclery Team and rode with those guys, there were 20 or 25 guys and we used to go out on Wednesday nights and Saturdays and train and have fun and race each other. It was good - I had a lot of good times with those guys in my club. The following year I was 18, so it was my last year as a junior. I did 10 or 12 races that year and I went to Traverse City, Michigan for the NORBA National Final. It was the third or fourth race I rode as an expert junior and I won it.
CN: That must have changed things for you.
FL: Well, I decided that, "OK, I'm going to be a professional mountain bike racer, make a lot of money and have a good time." I'm a really competitive person and in sports, I played baseball in elementary school but not a lot of organized sports or anything. I was too skinny and little; everybody was stronger than me. In my elementary school baseball team, I think two years in a row we didn't win a single game.
I used to go home and cry, but by the last couple of years in high school, I decided that I was going to be a bicycle racer so I just concentrated on that. Right from the beginning, after the first race I did, I pretty determined that decided that that was what I was going to be. So I started to spend most of my time thinking about bicycles, training and trying to learn whatever I could, and for the most part I probably trained way too hard but when you're 16 it doesn't really matter.
CN: What happened after your win in Traverse City?
FL: In the summer of '94, between junior and when I raced pro, my friend Eric Gephardt and I drove around the country racing. We were gone for six weeks at a time and we never slept in a motel once! We just took sleeping bags.
CN: Were you still riding for Green Mountain Cyclery at that time?
FL: Yeah, I didn't have another sponsor, but GT gave me a bike. We had some good times - it wasn't ideal for training or anything but we weren't riding six hours a day. We drove to Spokane, Washington first, then south to Big Bear and then to Mammoth - I don't remember the exact order, but we went to Vail and then we drove home. We had friends that were doing the races; we would know somebody who had a hotel so we could take a shower in their room or something. And we'd sleep outside - just winging it. So in '94, I met these people who ran TWP; it was a small (mountain bike) component company that's not in business anymore - there used to be thousands of them but it's not like that anymore. For a couple of years (mountain bike component companies) could sell anything as long as it was purple!
Two laidback dudes
Photo: © Sirotti

CN: That must have been a step up for you to be fully sponsored?
FL: I wasn't getting paid any salary; just expenses taken care of and they used to let me stay with them in Orange County. It was good because training in the winter in Southern California was a lot better than Pennsylvania.
CN: So you moved from Farmersville, Pennsylvania to Southern California in 1995?
FL: I spent a couple of years of there actually; '95 thru to '97 when I moved to San Diego. So for a couple of years, I raced for (TWP), just mostly NORBA nationals and a couple of times we went to World Cup races.
CN: I remember seeing you at the World Cup in Sankt Wendel in 1997 - I think your finished in the twenties; it was a respectable placing for a privateer.
FL: Yeah, we went to Europe that year to race. I didn't have a big team or anything; not a lot of support...
CN: How was it to be a privateer in the age of those mega mountain bike teams?
FL: I just never quite made it onto a big team, I don't know what the deal was. They didn't think I was going to last long, but as it turns out, I lasted longer than they did! No hard feelings; they went away and I didn't! (laughs) I was doing the best I could with what I had.
CN: Did you ever get approached by any of the big mountain bike teams?
FL: Not really, no. I would approach them and talk to them and they would string me along and say "we'll try and figure something out" and this and that. Doug Martin at GT helped me out; he gave me a bike and some equipment when I was an expert, he tried to help out but he didn't put anything into it. He didn't spend any money, I wasn't on the (GT) team or anything.
CN: It seems to me that these mega MTB teams really missed the part about developing home-grown American talent and preferred to spend the big bucks on hiring a euro-dog...
No probs in TTT
Photo: © Sirotti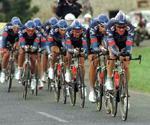 FL: ...who was an ex-road racer like...
CN: Gerhard Zadrobilek?
FL: Yeah, that's exactly what they did.
CN: Instead of developing a rider like you.
FL: But that's great! As it turns out, I'd much rather be here (laughs) at the time, even when I was racing pro mountain bikes - I was interested in racing on the road. Somehow or another, I wanted to switch, but I wasn't sure how it was going to work out. I didn't have any connections with real teams and I hadn't done any road races like I had in mountain biking so the (road) teams didn't know who I was.
CN: So TWP folded in '97 and you raced the NORBA circuit with Chevy Trucks?
FL: Yeah, in '98, I raced on a team sponsored by Chevy Trucks with Will Geohegan and Matt Smith and it looked like we were going to go again in '99, but in the spring of '99, GT took the sponsor and we were left hangin' - we didn't have a sponsor anymore. So I was about ready to hang it up and say "you're done", but I had this fitness and I had been training like crazy all winter; so I said "OK I'll do some road races'. Luckily, or unluckily as it may be, I was approached in the beginning of '99 by John Wordin.
Part 2 of The Legend of Landis to follow shortly: Landis joins Mercury and sets out on an excellent road racing adventure that turns sour but has a happy new beginning when Floyd joins USPS in 2002.
Other Talking Cycling Interviews