89th Tour de France - Grand Tour
France, July 6-28, 2002
2002 Tour de France rider journals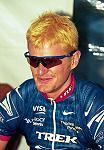 Champion in the making
Photo: © Jonathan Devich
Floyd Landis
Nationality: American
Team: United States Postal Service
A strong climber and time trialist, 26 year old Landis, from Lancaster Co., PA, burst onto the road scene in 1999 in his rookie road year, wearing the Maillot Jaune and finishing third in the Tour de l'Avenir stage race, followed by 4th place in 2000. After an up and down 2001 season with Mercury, Landis has been a great addition to USPS in 2002, recently placing 2nd overall behind winner and team leader Lance Armstrong in the Dauphiné Libéré.
Stage 8 - Sunday July 14: St-Martin de Landelles - Plouay, 217.5 km
Bastille Breakout
Jeez, it was a fast race again today! I guess lots of guys were trying to get their shots in before the mountains or something. We finally had a slight tailwind, but that didn't have much to do with the speed today. There were lots and lots of attacks; we had to chase one break in the beginning but that was all.
It was good for us that the break got away and finally made it to the end. We all road on the front the last half-hour, since we didn't need any debacles like yesterday when Lance crashed. So we were very happy to finish this first part of the Tour without any real problems.
Today I couldn't look at anything it was so fast. We got to the feed zone in two hours! I still had bottles and my food when we got there which was amazing. But finally this first really fast part of the Tour is over and I think we are all glad.
Tomorrow is the time trial and I am going to go for it. Not that Lance is going to use any time splits off of us anyway. They told me to go 90% but nobody knows what that means. I'll do my best to stay up there on GC, since Lance needs a couple of highly placed guys to go with the moves in the mountains so he doesn't have to chase everything.
I haven't see the course but Lance has ridden it a couple of times. It's long enough for me, not like the prologue or anything. So I'll take it like it comes. Tomorrow should be pretty relaxing. I don't go off until 3:28 so I'll take it easy in the morning. Then there is the rest day on Tuesday. Yeah, I can use a rest day! The problem is that everybody else gets one. I just need to figure out how to get the rest day just for me.
Until next time,
Floyd