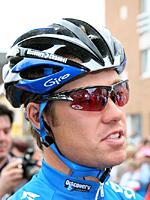 © Anthony Tan
A late bloomer- The Tom Danielson diary
Tom Danielson's top 10 in last year's Vuelta a Espana provided Discovery with enough evidence to nominate him as their sole Vuelta leader.
Danielson is a relative late-comer to the sport and is still learning his trade. He will be detailing his progress in this special diary for Cyclingnews during the race.
September 16 - Looking towards home
Tom Danielson (Discovery Channel)
Photo ©: Sirotti

Hi there, Cyclingnews readers,
Well, the Vuelta is just about done now. I rode hard today in order to protect my sixth place overall and that worked out fine, even though Samuel Sanchez (Euskaltel-Euskadi) did a very good time.
Looking back, it has been a difficult Vuelta for me, so to come back from my earlier disappointments and win that stage was an amazing experience. Bouncing back from such a low meant a lot. My season is over tomorrow so it is nearly time for a break. My wife is here now, so it is great to be with her.
My plan is to go home, go to Interbike and, of course, to recover. I also have a fundraiser back in Durango for my scholarship. It's called the Durango Fall Blaze Bicycle Tour and it will take place on Saturday, September 30. I'm looking forward to that!
Hasta luego,
Tom
2006 entries
Vuelta a Espana
Giro d'Italia
Profile and interview