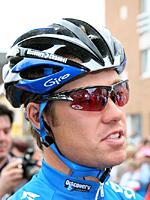 © Anthony Tan
A late bloomer- The Tom Danielson diary
Tom Danielson's top 10 in last year's Vuelta a Espana provided Discovery with enough evidence to nominate him as their sole Vuelta leader.
Danielson is a relative late-comer to the sport and is still learning his trade. He will be detailing his progress in this special diary for Cyclingnews during the race.
August 29: So far so good
Hi there Cyclingnews readers, here's an update on the first two stages of my Vuelta. Everything is going well thus far, the team was very good yesterday. I stayed out of trouble, we covered a few breakaways and I was in a good position in the final. I was really happy with yesterday and in the team time trial we were good as well. I think that for the team that we have, we did a good ride. CSC was obviously a level above us but the other two were very close, so I think if we didn't make a few small mistakes, we could have got second.
Discovery Channel
Photo ©: AFP

This year is different for me than was the case last time round. I have prepared very well for this race. I am in better condition that I was here last year and I am understand racing a bit better. I am also more motivated because I have a good opportunity ahead of me. I have yet to see exactly what that opportunity is but in the next week we will learn what I can do here. I will do everything I can to have a strong ride in this Vuelta.
Thinking about it, I believe I needed to get last year under my belt in order to build my confidence up. As I have said in a few interviews recently, this is really only my third year as a professional cyclist. It makes things a little more difficult than for some other riders of a similar age. For example, when Ivan Basso was winning the world under 23 championships, I was doing group rides and getting dropped! I was not even training and was 25 pounds heavier than I am now.
This sport is so hard, it takes a long time to get good at it. For me, my fitness and engine are good but you have to understand the races, you have to understand the training and you have to know all that in order to realise how to get the best out of yourself. I spent last year learning that and this year I feel that I am ready to take advantage of the situation that is in front of me. So we will see how things go over the next three weeks.
I'll give you another update in a couple of stages,
Tom
2006 entries
Vuelta a Espana
Giro d'Italia
Profile and interview