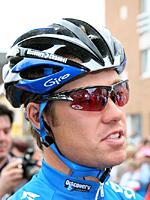 © Anthony Tan
A late bloomer- The Tom Danielson diary
Tom Danielson's top 10 in last year's Vuelta a Espana provided Discovery with enough evidence to nominate him as their sole Vuelta leader.
Danielson is a relative late-comer to the sport and is still learning his trade. He will be detailing his progress in this special diary for Cyclingnews during the race.
September 7: Aiming for the TT
Hi there Cyclingnews readers,
Well, things are getting better for me. I feel like whatever is wrong with me in the first week is going away. I won't know for sure until the time trial but I feel like I am back on track. I came to this Vuelta very motivated and I am going to finish the race with absolutely everything I have.
I tried to get clear in the last couple of days in the hope that I might be able to get back a little bit of time but it doesn't look like that is possible, as that was closed down very quick. But we will see - the race is very unpredictable and it is far from over. We are only on stage 12 today so it really is a long way to Madrid.
Last year at this time I was just hanging on for dear life whereas this time I feel strong. I am down in the GC for a number of different reasons. Right now I don't have one clear objective, whether it is GC or a stage win; I just want to come out and show that I am strong, show that I am a fighter and show that I am not a quitter.
The time trial is the next test…I am going to go fast there!!
Until next time,
Hasta luego,
Tom
2006 entries
Vuelta a Espana
Giro d'Italia
Profile and interview