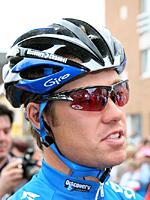 © Anthony Tan
A late bloomer- The Tom Danielson diary
Tom Danielson's top 10 in last year's Vuelta a Espana provided Discovery with enough evidence to nominate him as their sole Vuelta leader.
Danielson is a relative late-comer to the sport and is still learning his trade. He will be detailing his progress in this special diary for Cyclingnews during the race.
September 3: Feeling stronger, but playing the team role
Hi there Cyclingnews readers,
Janez Brajkovic (Discovery)
Photo ©: AFP

Well, I was stronger today than in the other mountain stages, that is for sure. I was with the first guys, but Johan asked me to wait for Janez. That is what I had to do. I lost time the other day…I still don't know why that happened, but my legs are better now. Today I was easy on the back of Marchante when Sastre attacked. Those guys were going across to Vino and Kashechkin and I was there. But when your teammate is in the gold jersey, I guess that is what you have to do…
I hope I can do something later in the race. It seems I am back to where I should have been. I can't explain why I was so bad in the first few days, but today I felt good.
It is very disappointing the way things turned out earlier on in the race. I am happy for Janez, the way things turned out for him [taking gold] but I am disappointed that I had that bad day, and also lost a bit of time on the first mountain stage. I would like to make a good Vuelta so we will see.
As regards my plans from this point on, I will have to listen to what Johan says and see what I can do. I would love to win a stage. I will try, but first I would like to climb with the best guys. Today I felt like I could have…if you watched the stage on TV, you could see that I could have.
Anyway, there are two time trials and three mountain stages left, so we will see…
Talk to you after the rest day,
Hasta luego,
Tom
2006 entries
Vuelta a Espana
Giro d'Italia
Profile and interview