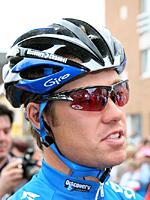 © Anthony Tan
A late bloomer- The Tom Danielson diary
Tom Danielson's top 10 in last year's Vuelta a Espana provided Discovery with enough evidence to nominate him as their sole Vuelta leader.
Danielson is a relative late-comer to the sport and is still learning his trade. He will be detailing his progress in this special diary for Cyclingnews during the race.
September 14: Inspiration to fight back
Hi there Cyclingnews readers,
Tom Danielson (Discovery Channel)
Photo ©: AFP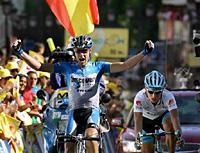 Well, as you may have seen, I won yesterday's stage. I was really delighted with that, obviously. I've taken other victories in the past but this one is different.
First of all, this race has the title of a Grand Tour so that obviously makes it very special. But the biggest and most special part of today is that in one race I have been able to recover from the lowest I have been in my cycling career and, with the help of my wife and my team, been able to come back, fight back and deliver at the finish.
I actually didn't think I'd be able to get away in a break after it not working out the day before. But this whole race has been a surprise for me. It has been a surprise in the beginning, why I was so bad, then it was a surprise when I couldn't go in the breakaway earlier this week.
To be honest with you, my priority in the stage was to work for Egoi in the beginning to make sure he won the KOM. So I bridged across to his breakaway and then pulled for him for three kilometres all the way to the top. He won the KOM which was icing on the cake and then, as you could see, Kashechkin and Astana just went crazy and I ended in the middle of it.
A breakaway went then. Egoi is very good at the breakaway and he said 'Tom, Tom, this is your opportunity.' I took it. I didn't care if it was going to get caught…I have been very, very frustrated in this race and have had to be mentally strong to come back from all the disappointments that I have had from the beginning. Every pull that I took was brushing the dirt off my shoulder, and the finish line was where I brushed it all off. It was a great experience.
I should add at this point that a guy called Gene McClean has been a big inspiration for me. I met him through the LAF [Lance Armstrong Foundation] and he is a big cycling fan. Gene has brain cancer and has been fighting it every day. Cancer is a battle that you can't ever give up on and compared to that, but bike racing is just a game. So thinking of his life and what he goes through is an inspiration and enabled me to fight back out of the lows that I have experienced here.
Anyway, until next time,
Hasta Luego,
Tom
2006 entries
Vuelta a Espana
Giro d'Italia
Profile and interview