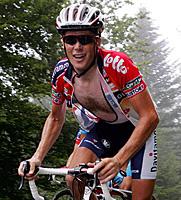 © Jon Devich
Stepping up - The Chris Horner diary
From being the USA's top domestic rider for several years to riding for a ProTour team in the Tour de France, Chris Horner is always on the up.
A talented all-rounder, Chris had a successful year Saunier Duval-Prodir in 2005, and is now riding for Davitamon-Lotto. As one of the team's key men in the Vuelta, Horner will be detailing his progress in this special diary for Cyclingnews during the race.
September 3: A tall order
The stage that promised to be the queen stage of the Vuelta didn't disappoint, with lots of action and some decisive results. Personally, the loss of our GC rider meant that I needed to do what I could on the stage – but after a long season filled with suffering, it was definitely a tall order! But things went okay.
It was a hard stage from the start, with a sketchy neutral to begin with and then crazy attacks. I'm feeling a little better every day, so I was in a good spot today. I contemplated attacking on the final climb, but while I was thinking about it, Vino attacked and then it was GAME OVER. I saw that, and just thought, okay, shut her down. There was definitely no way he was coming back!
I rode tempo to the finish to keep from losing any more time than was necessary, without going too deep. My pick for the win now is Vino – with the attack that guy put on today, he is showing some great form. He has some ground to make up, but with the way he's riding now, I think he could pull it off.
After surviving the first nine stages, the peloton gets a break tomorrow, with our first rest day. I'm looking forward to it, because if this race is anything like the Tour, the days will start to fly by once we get through it. It seems like the last two weeks go faster than the first week somehow. The racing gets broken up with different kinds of racing – with time trials thrown in among the rest of the road races, plus another rest day. For me, tomorrow will be about sleep – lots of sleep.
That's all for today. I'm off to lie in bed and move as little as possible for the next 36 hours.
Thanks for reading,
Chris