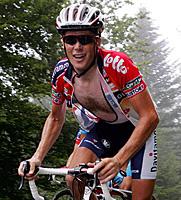 © Jon Devich
Stepping up - The Chris Horner diary
From being the USA's top domestic rider for several years to riding for a ProTour team in the Tour de France, Chris Horner is always on the up.
A talented all-rounder, Chris had a successful year Saunier Duval-Prodir in 2005, and is now riding for Davitamon-Lotto. As one of the team's key men in the Vuelta, Horner will be detailing his progress in this special diary for Cyclingnews during the race.
September 12: The psychological warfare involved in peeing
We're really hitting the final stretch now. Yesterday's rest day was great. It was so nice to be in a place that was familiar to me. I knew where to ride, where the internet café was, etc. It made the day much more relaxing and easy to deal with.
It was a pretty typical rest day, with a lot of sleep, a ride, some time spent at the internet café, and watching a movie on my computer. Nothing too exciting, but it was great to have a day free from transfers and all of that. And now the end is near, and there is definitely a light showing at the end of the tunnel.
That said, they still threw in some tough stages for the final week, so it's not over yet. Today's stage was only 145 km, but the profile in the race bible showed that it was not going to be an easy one. Riders in contention needed to use the day to try to crack Valverde, but, as the results show, that didn't work out too well. That guy is really showing some great form. And it's even more amazing because he can do it all now, he can sprint almost as well as the best sprinters, he can climb with the climbers, and now he can even time trial. That's a scary combination.
I think he probably cracked a few guys today (mentally), when he pulled over on a steep climb to pee. Granted, we weren't going super hard, but there were still guys getting dropped, so I can guarantee that some of the guys at the back were cracked to see that. Unbelievable.
For me, it was same story, different day. I feel really good right up until the leaders punch it and then it all goes down the drain for me. I had high hopes going into the end of the stage today, since I was feeling good, but then the top guys punched it and it was game over for me again. Oh, well. Guess that's what I get at the end of a long season – close but not quite…
Now there's only five days to go. I'm off to shut it down for the night.
Thanks for reading,
Chris