Recently on Cyclingnews.com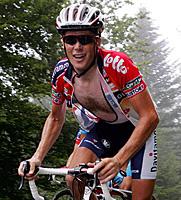 © Jon Devich
Stepping up - The Chris Horner diary
From being the USA's top domestic rider for several years to riding for a ProTour team in the Tour de France, Chris Horner is always on the up.
A talented all-rounder, Chris had a successful year Saunier Duval-Prodir in 2005, and is now riding for Davitamon-Lotto. As one of the team's key men in the Vuelta, Horner will be detailing his progress in this special diary for Cyclingnews during the race.
September 8: Lucky 13
Today's lucky stage 13 seemed to continue in the whole comedy of errors theme. Most of the stage was uneventful, aside from a minor roundabout mishap.
We were going into a roundabout at the usual 55 km/hr, and, as usual, we were going to take the right lane around the roundabout. But this time, it didn't look like they had the left side blocked, so, at the last minute, Freddy yelled at me to go left, and, being the genius that I am, I listened. The only problem was that the road WAS blocked off - with tape. I managed to just barely duck under the tape (slowing down to a "reasonable" 53 km/hr to do so), but then when I looked up, I realized that there was ANOTHER string of tape across the road. DAMN!
Luckily, a fan bailed me out and held up the tape so I could slide under that one, too, and I popped back out with the field. Actually I popped out about 5 seconds ahead of the field, so I had to sit up and wait for them to catch back up to me. When they caught me, I definitely got a lot of unkind words from the rest of the field, even though it was ALL FREDDY'S FAULT. Oh, well. At least it made the day exciting, even if everyone wanted to kill me and I almost got clothes-lined - twice. But here's a big thanks to the random spectator who held up the second tape - I definitely owe you one.
Anyway, the rest of the stage was less exciting, thankfully. There was a climb near the end, so I stayed with Freddy to try to keep him in the race. I used all the tricks in the book to keep him in, but it didn't work out and we ended up coming in just off the back of the field. It just didn't work out - again… But, at least we keep trying.
Granted, I'm not too sure I should be helping Freddy after he almost got me killed - but I can always do something mean to him while he's sleeping to get him back.
That's all for today. Now it's off to dinner for me.
Thanks for reading,
Chris