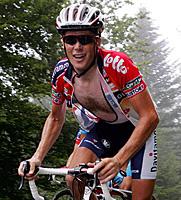 © Jon Devich
Stepping up - The Chris Horner diary
From being the USA's top domestic rider for several years to riding for a ProTour team in the Tour de France, Chris Horner is always on the up.
A talented all-rounder, Chris had a successful year Saunier Duval-Prodir in 2005, and is now riding for Davitamon-Lotto. As one of the team's key men in the Vuelta, Horner will be detailing his progress in this special diary for Cyclingnews during the race.
September 2: Another big loss
Josep Jufre (Davitamon-Lotto)
Photo ©: Unipublic

Another day done, which means Iím one step closer to both the rest day and the end. Today we had a rolling stage, with one cat 3 climb. It seems like the race really got underway today, with lots of attacks and fast racing all the way around. It was nice to get things going.
However, our team suffered a big loss today, when our current GC leader, Josep Jufre, got caught and hurt in the big crash of the stage. He cut an artery in his arm on a road barrier, and it was bleeding too badly for him to continue, so he was taken to a hospital to try to get the bleeding stopped. That means that his race is over. I didn't see the crash, but Freddy did and he said it was pretty ugly.
Itís a big loss for Josep and for the team, since he was riding so well, which is huge, since heís a Spanish rider in Spainís biggest race. Personally, I had been looking forward to helping him try to break into the top ten. Josep has been a dedicated workhorse for the team, for Cadel and for myself all season, and I would have liked to help him have a great Vuelta in return. It was a big loss all the way around, but thatís the way bike racing goes Ė itís easy to go from top to bottom in only a few moments, but hopefully he can bounce back fast and have a good ride in the remaining races of the season.
Fred Rodriguez (Davitamon)
Photo ©: Unipublic

The day pretty much ended up the way it started, fast until the finish, with a crazy final 2 km that saw sprinters and climbers both duking it out all the way to the line. I did a hard two km on the front going into the finish to help Freddy, but he ended up in front too soon, so it didn't work out. Weíll try again.
I keep thinking that something exciting is going to happen one of these days so Iíll have a good story to tell, but it hasnít happened yet. So thatís all for now.
Thanks for reading,
Chris