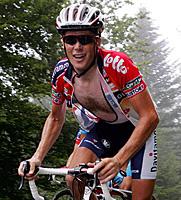 © Jon Devich
Stepping up - The Chris Horner diary
From being the USA's top domestic rider for several years to riding for a ProTour team in the Tour de France, Chris Horner is always on the up.
A talented all-rounder, Chris had a successful year Saunier Duval-Prodir in 2005, and is now riding for Davitamon-Lotto. As one of the team's key men in the Vuelta, Horner will be detailing his progress in this special diary for Cyclingnews during the race.
September 15 - Getting ready for the TT
Almost done! Today the peloton was really feeling the hurt. We had an hour transfer after the race last night, an hour transfer to the start this morning, and then another 200 km transfer after the stage again to get us to Madrid for the end of the Vuelta. That, combined with 19 days of racing, general fatigue, and who knows what else made for a VERY grumpy peloton. I started the day in a bad mood, and it seemed like the rest of the group was in the same funk, and it made for a lot of pissed-off bike racers.
The leading break
Photo ©: Unipublic

All in all, I'm glad things are about done. I'm getting a cold, which just makes everything else seem worse! The day went okay - it was super boring, which was surprising. A break went away, and everyone pretty much called it a day. We had Pieter in it for our team, so we were set.
Luckily, those Belgian boys really like suffering in long breakaways, which means I'm off the hook! I was positive, after getting into 20th overall yesterday, that a break would go away and get enough time for someone to jump over me and bump me back out of the top 20 (prize money only pays out to 20th place, so that's why 20 is the magic number).
It got close for a while today with Lars Bak from CSC in the break. He was only sitting about 14 minutes behind me in GC, and with the slow pace I thought that he'd jump over me for sure when the break started getting around the 13 minute mark, but then things sped up again for a bit and that saved the day. I sat in the field and cheered for everyone to go faster to help my cause and it all worked out.
Anyway, now there's only two more days to go - a TT, which is mostly a rest day and then the final parade and we are out of here! Wahoo! I'm a tired boy and ready for a few days away from bike racing. Now it's bedtime again, so I'm off. Thanks for reading!
Chris