2002 MTB World championships - CDM
Kaprun, Austria, 24 August - 1 September, 2002
Cross Country MTB World's preview -
Demanding course to create a real selection
By Tim Maloney, European editor in Kaprun
True grit - Alison Dunlap rides with her wrist in a cast at the most recent NORBA
Photo: © Jeff Zelek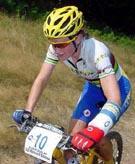 The demanding Cross Country course at this years Worlds will produce real champions. It's a 6.9km circuit with 325 metres of climbing every lap (see map). According to Dean Golich, former Team GT Coach and currently coach of Womens World Champ Alison Dunlap, "this Cross County course has the extremes of both XC & downhill. It has really steep uphills and really steep downhills. It's very tough." With overnight rain predicted and possible showers Sunday, the weather could have a major impact on tomorrows Mens Elite & U23, Womens Elite Cross Country races. Kiwi Tim Vincent, who's been doing double duty as a Cyclingews correspondent this week at Worlds said "It's not a typical World Cup course at all. It's quite steep up and down. Usually look you look forward to the downhill so you can relax a bit, but not this one."
Womens Elite Cross Country: Defending champion Alison Dunlap from the USA will have a tough time defending her title after a training crash in early August. "Alison is doing fine", her coach Dean Golich told Cyclingnews. "With her broken wrist, she's still not 100%. She's still a little hesitant and during the week, she crashed once and got 7 stitches in her left leg. I think Alison just wants to get (Worlds) over and concentrate on winning the World Cup title in Les Gets. That is the only thing she hasn't really done, so she's really looking forward to the World Cup final. If she has a good Worlds, great; if not, there is still the World Cup."
Roland Green took out all five rounds of NORBA this year.
Photo: © Ken Keefner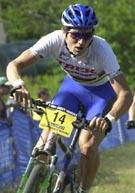 Watch for German champ Sabine Spitz to be strong in front of the home crowd, as well as Swiss star Barbara Blatter. Frenchwoman Laurence Leboucher could have a good ride on the tough course as well. More unpredictable are European champ Gunn-Rita Dahle of Norway who always seems to implode in big races, and former World Champ Marga Fullana, who has not raced much this season. Australian Mary Grigson always gives it a go on tough courses so she may be a podium candidate, while both 36 year old Canadians Sydor and Redden may find it difficult on such a tough course.
U23 Cross Country: Young guns go for it in Kaprun tomorrow and it may be lean and mean Canadian Ryder Hesjedal's final shot at a rainbow jersey. The Gary Fisher-Subaru pro will do battle with class French rider Julien Absalon and tough Australian Sid Taberlay, while Germans Jochen Kab and Manuel Fumic and Austrian Michael Weiss will have plenty of Teutonic support tomorrow.
Mens Elite Cross Country: Is this race wide open or is it just a forgone conclusion that Canadian Roland Green will repeat as World Champ? With riders like Cadel Evans, Miguel Martinez and Michael Rasmussen all gone to road racing, Green may just dominate everyone like he has all season in the NORBA series. The 28 year old from Victoria, British Colombia will have to battle experienced riders like Bart Brentjens (34), Filip Mierhage (31), Christophe Dupouey (34). But Green also faces some good young cross country talent like European champ Jose Hermida from Spain (24) and solid Swiss Christophe Sauser (26). Sleepers include the aforementioned 2000 Olympic champ Miguel Martinez, who has been dropped by the Mapei team and needs to show something somewhere this season and Dutchman Bas Van Dooren, who has spent most of the season on the road for the BankGiroLoterij team. Van Dooren was very strong in the recent European championships, but two last-lap flats may have denied him the Euro title.
Sunday's Cross Country schedule
Women - 4 laps: 8:30 - 10:30 (CEST)
U23 Men - 5 laps: 11:15 - 13:15
Elite Men - 5 laps: 14:05 - 17:00


Cyclingnews will be posting live updates of the races throughout the day.
Photos by Tim Maloney/Cyclingnews.com
Ready for action Roland Green's Trek at Kaprun 2002 in full side view - a hardtail chosen for the worlds
Rear view of the reigning world champ's bike shows a very solid rear triangle
Front view and a spare for the front wheel attached to the Bontrager stem