2002 MTB Worlds - CDM
Kaprun, Austria, 24 August - 1 September, 2002
Cross Country


© www.mountainbike-2002.com
Starting in the Mountainbike Village in Kaprun, the 2002 course taking the riders out on a flat gravel road to the Gasthof Mühle. Moving through the small tunnel under the street, the course then starts up the first hill climb to the "Winkelgraben" (approximately 400m long) moving into a dirt road for approximately 600m.
A long and technical downhill will follow, running beside the fire road for approximately one km., then turning around the "Guggenbichl" on a short and easier climb. The riders will then follow a short downhill to a creek crossing before starting the final climb.
The riders will climb 1.3 kilometres of technical singletrack up to the Lechnerberg before beginning their descent. Technical downhill trails follow for the next 700m. before flattening out. This will allow a bit of a breather before the well known technical section of previous years batters their senses. The riders then re-enter the Mountain Bike Village for the start/finish.
Cyclingnews spoke to European Champion Gunn Rita Dahle of Norway after she rode the course for the first time. "It's a tough parcours with no moments for rest. It's either up or down and it's extremely important to have the right position in the various parts of the race. It will be an exhausting race won by the one with most powers left at the end. Lots will happen in the final laps."
Course summary
Distance: 6.950 Km
Elevation Difference: 325m
Downhill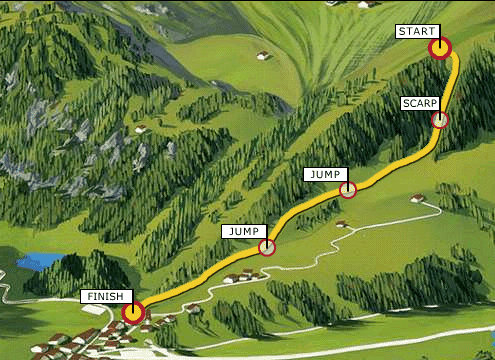 © www.mountainbike-2002.com
The start of this years four kilometer course begins as it always has with a one kilometer run beneath the chairlift. After the jump the riders cross the fire road at the chairlift stations and then move into the "Wiesengrat", the most spectacular section of the whole Downhill course.
With no time to relax, the riders continue on into the very fast and technical section at the "Ortlehen" for the next 700 meters. The course then moves out of the forest section and follows into the finish area, where parts of the Four Cross Course will be used. This will allow the riders to expunge any remaining energy and style it up for the cameras and crowds.
Course summary
Distance: Approx 4 km.
Elevation Difference: 775m