2002 MTB Worlds - CDM
Kaprun, Austria, 24 August - 1 September, 2002
Results Team Relay Cross Country Downhill Four Cross Other events
August 29-31 - Downhill
Vouilloz vaults to victory in men's DH for 10th World Title
Chausson crushes women again to gain 7th World Crown
By Tim Maloney, European editor in Kaprun
Nico Vouilloz
Photo: © Tim Maloney

It seems like every year when the Downhill World's roll around, French super duo of Nico Vouilloz (Vouilloz Racing) and Anne-Caroline Chausson (Volvo-Cannondale) are at their best. It's no accident that both "bleus" are the winningest riders in downhill mountain biking. Today in Kaprun, Austria in front of large, enthusiastic crowds reminiscent of a World Cup ski race, Vouilloz and Chausson showed why they are the best as both posted unbeatable times to respectively take their 10th and 7th world titles in the gravity contest.
Vouilloz told Cyclingnews that "The Worlds was my return to competition, but today to win my 10th world downhill title, it was something. This year, because of my injury, I really prepared well for the World's since it was my main focus."
Vouilloz's father told us that "Nico broke his finger at Maribor WC DH in June and had an operation to repair the break. He had to stop for 6 weeks and missed all the World Cups in North America, so he didn't do anything in the World Cup this year."
Nico's winning bike
Photo: © Cyclingnews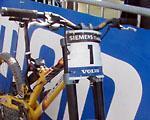 Vouilloz really wanted the win in Kaprun and nothing was going to stop the 26 year old Nice, France native today. "Our team really did a good job," continued Vouilloz. "When I was at the top today before the start, I was motivated to win. It was always my goal and I've said before that if I get 10 world titles, I would retire. But I don't know now..."
Likeable Brit Steve Peat was a disappointed runner-up to the French powerhouse. "I'm disappointed even though I'm on the podium," Peat told Cyclingnews. "I'd rather be on top of it! I made a mistake up in the top woods section. I don't know for sure how much time I lost, but I clipped out and then I tried to clip back in when I hit a root section and my foot just slipped out. That did it. Then I was just sitting in the (hot seat) hoping everybody else went slower."
In fact, Peat sat there for a very long time, as the privateer rider was seeded 22nd and in the end, only third seeded Vouilloz could knock Peat out of the hot seat and eventually the rainbow jersey.
Former UCI Mountain Bike honch Martin Whiteley, now of Global Racing described the 3.2 km downhill course as divided into 3 sections. "The first third is a slow forest section; stop and go with lots of open roots and it's very, very much a lottery through there. The middle section is a little flatter with some interesting single track and down the bottom is open; fast with jumps - motocross. This is a good, balanced course for the World Championships. It is 70-80% like the previous Kaprun World Cup course so most people who have ridden here before feel at home here."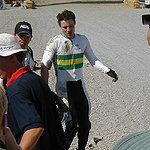 Jared Graves is helped off his bike
Photo: © Tim Maloney
Aussie Chris Kovarik had some trouble on the bottom part of the DH course, explaining to Cyclingnews that "I'm pretty stoked I got a medal; I wish I coulda gone a little bit faster; at the bottom I was braking a little bit because it was so tough on the course at the finish with arm pop and stuff, but I'm pretty happy with my run. It's really demanding and you need a lot of upper-body strength."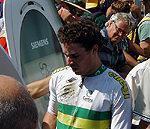 Graves heads for the showers
Photo: © Tim Maloney
It seems that the Aussies are gaining strength on the dirt side of cycling, placing 4 riders in the top 10 today. Kovarik's bronze was followed by John Waddell in 5th, Nathan Rennie in 8th and Mick Hannah in 10th. Jared Graves may have been in the top 15 had he not biffed a left-hander halfway down the mountains but eventually finished 42nd.
Top American downhiller today was Eric Carter in 24th. The 32 year old southern Californian told Cyclingnews that "this course is really fast now. It's dried put from earlier in the week so the times will be fast."
Carter's USA squad team-mate Kirt Voreis crashed hard up top and hurt his back, eventually finishing 88th.
Volvo-Cannondale star Anne-Caroline Chausson took her 7th World DH Title in Kaprun and as usual, the 25 year old from Dijon, France made it look easy while going very, very fast.
"I'm always happy to win," said a breathless Chausson to Cyclingnews moments after her World's victory. "There's a lot of pressure (to win) and it's not that easy to win a race."
Chausson was fastest qualifier and her run knocked promising 20 year old Great Britain rider Fionn Griffiths out of the gold medal position. Ever game Missy Giove had a great run and grabbed the bronze ahead of Britain's Tracy Moseley.
The almost 30 something Durango, Colorado missile told Cyclingnews that "Yeah, I'm disappointed but not that much. I'm riding fast now and I'm healthy. And they can say I'm old and slow, I'm old and fast!"
NORBA Champ Lisa Sher was a respectable 13th today. "My run went all right," she told Cyclingnews. "It was pretty smooth; not super on the edge or anything. The course was pretty rough..."
Final
Elite Men

1 Nicolas Vouilloz (Fra)                   5.08.53 (70.30 km/h)
2 Steve Peat (GBr)                         0.00.54
3 Chris Kovarik (Aus)                      0.05.35
4 CÚdric Gracia (Fra)                      0.05.97
5 John Waddell (Aus)                       0.08.69
6 Mickael Pascal (Fra)                     0.08.88
7 Oscar Saiz Castane (Spa)                 0.09.31
8 Nathan Rennie (Aus)                      0.09.40
9 Tomas Misser Vilaseca (Spa)              0.09.76
10 Mick Hannah (Aus)                       0.09.81
11 John Kirkcaldie (NZl)                   0.10.85
12 Ivan Oulego Moreno (Spa)                0.10.93
13 C. Carrick-Anderson (GBr)               0.12.11
14 Cyril Lagneau (Fra)                     0.13.40
15 Bas De Bever (Ned)                      0.14.32
16 Markus Klaussmann (Ger)                 0.15.95
17 Dustin Adams (Can)                      0.16.79
18 David Vazquez Lopez (Spa)               0.16.86
19 Corrado Herin (Ita)                     0.17.28
20 Claudio Caluori (Swi)                   0.17.54
21 Frank Schneider (Ger)                   0.17.55
22 Sean Mccarroll (Aus)                    0.18.14
22 Bernat Guardia Pascual (Spa)            0.18.14
24 Eric Carter (USA)                       0.18.75
25 Rob Warner (GBr)                        0.19.91
26 Filip Polc (Svk)                        0.19.99
27 Cesar Rojo Vidal (Spa)                  0.20.61
28 William Longden (GBr)                   0.21.20
29 Thomas Ryser (Swi)                      0.21.26
30 Bruno Zanchi (Ita)                      0.21.96
31 Damien Mermoud (Swi)                    0.22.30
32 Adam Vagner (Cze)                       0.22.34
33 Rene Wildhaber (Swi)                    0.22.35
34 Michal Marosi (Cze)                     0.24.11
35 Dan Atherton (GBr)                      0.25.74
36 Markolf Berchtold (Bra)                 0.26.15
37 Nino Mladen Antic (Cro)                 0.26.87
38 Julien Poomans (Fra)                    0.27.14
39 Guido Tschugg (Ger)                     0.27.61
40 Gert Tholen (Ned)                       0.27.98
41 Andreas Steffen (Swi)                   0.28.83
42 Jared Graves (Aus)                      0.29.78
43 Naoki Idegawa (Jpn)                     0.31.66
44 Markus Petschenig (Aut)                 0.32.60
45 Glyn O'brien (Irl)                      0.32.81
46 Myles Rockwell (USA)                    0.34.32
47 Maciej Jodko (Pol)                      0.34.41
48 Grzegorz Zielinski (Pol)                0.34.46
49 Zigmars Skolins (Lat)                   0.35.14
50 Michael Goelles (Aut)                   0.36.11
51 Richard Lancaster (USA)                 0.36.23
52 Mathieu Laurin (Can)                    0.36.43
53 Samuel Zbinden (Swi)                    0.37.35
54 Nico Vink (Bel)                         0.37.70
55 Ruediger Jahnel (Aut)                   0.38.20
56 Michal Sliwka (Pol)                     0.39.65
57 Duane Stander (RSA)                     0.40.51
58 Vlastimil Hyncica (Cze)                 0.41.54
59 Espen Johnsen (Nor)                     0.41.75
60 Colin Ross (Irl)                        0.41.93
61 Matthias Haas (Aut)                     0.42.27
62 Andrew Yoong (Irl)                      0.42.49
63 Trevor Porter (Can)                     0.43.69
64 Ryo Uchijima (Jpn)                      0.43.99
65 Trond Hansen (Nor)                      0.44.16
66 Koen Van Valkenhoef (Ned)               0.44.99
67 Szymon Syrziystie (Pol)                 0.45.05
68 John Lawlor (Irl)                       0.45.14
69 Visa Malinen (Fin)                      0.45.31
70 Kristof Lenssens (Bel)                  0.45.37
71 Marco Fidalgo (Por)                     0.47.47
72 Stuart Hughes (GBr)                     0.50.89
73 Shaun Keppler (RSA)                     0.51.49
74 Mike Jones (Can)                        0.51.97
75 Janez Jamnik (Slo)                      0.52.43
76 Wilfred Van De Haterd (Ned)             0.54.20
77 Mihaly Gulyas (Hun)                     0.54.90
78 Kalle Miettinen (Fin)                   0.55.43
79 Brant Lyon (Can)                        0.56.33
80 Hiroki Maruyama (Jpn)                   0.56.54
81 Diego Echeverria (Chi)                  1.01.01
82 Walter Martinschitz (Aut)               1.01.57
83 Stefan Ceman (Svk)                      1.02.92
84 Juhana Koivisto (Fin)                   1.03.13
85 Michal Cervenka (Cze)                   1.07.78
86 Kuldjiev Radoslav (Bul)                 1.21.09
87 Oleg Voronin (Rus)                      1.22.91
88 Kirt Voreis (USA)                       1.24.98
89 Krisztian Halasz (Hun)                  1.26.14
90 Gundars Osis (Lat)                      1.29.34
91 Camilo Puig (Chi)                       1.32.85
92 Laur Samlik (Est)                       1.36.13
93 Max Hilbert (Lux)                       1.38.77
94 George Stanila (Rou)                    1.51.40
95 Frank Maas (Lux)                        2.02.86
96 Adrian Stoica (Rou)                     2.05.79
97 Viljar Teppo (Est)                      2.14.64
98 Titev Nikolay (Bul)                     2.16.39
DSQ Geoff Pendrel (Can)
DSQ Artiom Grek (Rus)
DNF Ctr-Bill Slivnik (Slo)
DNF Enrico Dal Fitto (Ita)
DNF Filip Cillik (Svk)
DNF Sebastian Vasquez Cid (Chi)
DNS Nuno Duarte (Por)
DNS Aku Tuunainen (Fin)

Elite Women

1 Anne Caroline Chausson (Fra)             5.45.58 (64.28 km/h)
2 Fionn Griffiths (GBr)                    0.06.60
3 Missy Giove (USA)                        0.10.56
4 Tracy Moseley (GBr)                      0.14.61
5 Sabrina Jonnier (Fra)                    0.14.77
6 Marielle Saner (Swi)                     0.15.68
7 Nolvenn Le Caer (Fra)                    0.22.47
8 Tai Lee Muxlow (Aus)                     0.23.49
9 Vanessa Quin (NZl)                       0.23.86
10 Sarah Stieger (Swi)                     0.25.34
11 Marla Streb (USA)                       0.25.82
12 Celine Gros (Fra)                       0.27.28
13 Lisa Sher (USA)                         0.27.49
14 Amelie Thevoz (Swi)                     0.27.94
15 Petra Bernhard (Aut)                    0.29.84
16 Kathy Pruitt (USA)                      0.33.86
17 Mio Suemasa (Jpn)                       0.35.76
18 Anneke Beerten (Ned)                    0.40.44
19 Sandra Walker (Swi)                     0.44.58
20 Melissa Buhl (USA)                      0.45.44
21 Helen Gaskell (GBr)                     0.46.00
22 Anita Molcik (Aut)                      0.51.56
23 Miriam Blas Otondo (Spa)                0.52.28
24 Michelle Dumeresq (Can)                 0.54.70
25 Maxine Irving (GBr)                     0.58.25
26 Mami Masuda (Jpn)                       1.01.17
27 Talitha Fitzgerald (Aus)                1.05.87
28 Sylvie Allen (Can)                      1.08.77
29 Katarina Siskova (Svk)                  1.12.76
30 Dalma Kiss (Hun)                        1.17.24
31 Claire Buchar (Can)                     1.23.77
32 Bohdana Pulpanova (Cze)                 1.24.46
33 Sheila Morris (Can)                     1.38.21
34 Sonja Granzow (Ger)                     1.39.02
35 Helena Boskova (Svk)                    1.52.74
36 Cassidy Johnson (Can)                   1.54.91
DNF April Lawyer (USA)
DNS Anja Jerenko (Ger)
DNS Jo Leigh (GBr)

Junior Men

1 Sam Hill (Aus)                           5.22.01 (68.18 km/h)
2 George Atherton (GBr)                    0.01.61
3 Justin Havukainen (Aus)                  0.02.61
4 Julien Camellini (Fra)                   0.03.77
5 Mark Beaumont (GBr)                      0.07.53
6 David Mclaughlin (Aus)                   0.08.89
7 Matti Lehikoinen (Fin)                   0.09.40
8 Mario Schurter (Swi)                     0.15.00
9 Andrew Neethling (RSA)                   0.15.77
10 Jerome Clementz (Fra)                   0.16.31
11 Fabien Cibelly (Fra)                    0.16.96
12 Thibaut Ruffin (Fra)                    0.20.03
13 Yoann Barelli (Fra)                     0.20.10
14 Kamil Tatarkovic (Cze)                  0.20.34
15 Richard Cheetham (GBr)                  0.20.68
16 Alan Beggin (Ita)                       0.22.05
17 Luke Strom (Aus)                        0.22.87
18 Atte Korhonen (Fin)                     0.22.98
19 Damien Spagnolo (Fra)                   0.24.69
20 Justin Leov (NZl)                       0.24.77
21 Toni Berg (Fin)                         0.24.93
22 Warren Cody (USA)                       0.25.91
23 Marcel Beer (Swi)                       0.26.30
24 Will Clifford (Aus)                     0.27.53
25 Jason Delport (RSA)                     0.28.34
26 Daniel Umland (USA)                     0.28.49
27 Antonio Leiva (Chi)                     0.28.92
28 Derek Bahlo (Ger)                       0.30.39
29 Chris Wein (Aus)                        0.31.47
30 Thomas Vanderham (Can)                  0.32.05
31 Jonas Westman (Swe)                     0.32.37
32 Vincent Saut (Fra)                      0.33.74
33 Matej Charvat (Cze)                     0.36.20
33 Joa Corominas Vilarasa (Spa)            0.36.20
35 Henry O'donnell (USA)                   0.36.85
36 Filip Matus (Cze)                       0.37.18
37 Ben Reid (Irl)                          0.38.41
38 Kwanah Sioui-Moar (Can)                 0.38.72
39 Aku Hjelm (Fin)                         0.39.31
40 Jamie Popham (Irl)                      0.39.85
41 Nathaniel Giacomozzi (Bra)              0.40.08
42 Karlis Kisuro (Lat)                     0.40.97
43 Tim Mackersy (NZl)                      0.42.16
44 Pawel Ostaszewski (Pol)                 0.42.28
45 Carlo Gambirasio (Ita)                  0.43.17
46 James Scott (Irl)                       0.43.74
47 Syuichiro Aoyagi (Jpn)                  0.43.79
48 Jonty Neethling (RSA)                   0.48.06
49 Stefan Koenigsmayr (Aut)                0.50.58
50 Michal Kolbek (Pol)                     0.51.33
51 Jan Cestnik (Slo)                       0.52.88
52 Mathieu Lagrange (Can)                  0.52.93
53 Steve Wentz (USA)                       0.53.78
54 Carlos Loureiro (Por)                   0.54.08
55 Anderson Furnanetto (Bra)               0.56.65
56 Sascha Ehrmann (Ger)                    0.56.70
57 Pasqual Canals Flix (Spa)               0.58.26
58 Ziga Zivoder (Slo)                      1.01.41
59 Jiri Placek (Cze)                       1.06.05
60 Peter Posa (Hun)                        1.06.61
61 Sergio Campos (Por)                     1.08.62
62 Ladislav Foret (Cze)                    1.09.09
63 Karel Bayer (Cze)                       1.11.77
64 Volkmar Berchtold (Bra)                 1.13.26
65 Gero Pretis (Aut)                       1.59.22

Junior Women

1 Emmeline Ragot (Fra)                     6.27.4 (55.98 km/h)
2 Claire Bauchet (Fra)                     0.07.5
3 Diana Marggraff (Ecu)                    0.10.9
4 Leana Gerrard (USA)                      0.33.5
5 Bernardit Pizzaro Lazo (Chi)             0.35.9
6 Brook Baker (Can)                        0.46.1
7 Magen Long (USA)                         0.55.9
8 Darcy Turenne (Can)                      1.07.8
9 Ida Sylwan (Swe)                         1.14.6
Seeding Run
Elite Men

1 CÚdric Gracia (Fra)                      5.23.9
2 Mickael Pascal (Fra)                     0.00.2
3 Tomas Misser Vilaseca (Spa)              0.04.0
4 Mick Hannah (Aus)                        0.04.0
5 Chris Kovarik (Aus)                      0.04.6
6 Jared Graves (Aus)                       0.04.8
7 Kirt Voreis (USA)                        0.05.0
8 Nathan Rennie (Aus)                      0.07.2
9 Cesar Rojo Vidal (Spa)                   0.07.3
10 Bas De Beever (Ned)                     0.07.4
11 John Waddell (Aus)                      0.07.7
12 Oscar Saiz Castane (Spa)                0.08.5
13 John Kirkcaldie (NZl)                   0.08.7
14 Ivan Oulego Moreno (Spa)                0.08.7
15 Markus Klaussmann (Ger)                 0.11.1
16 Sean Mccarroll (Aus)                    0.11.2
17 Cyril Lagneau (Fra)                     0.11.5
18 David Vazquez Lopez (Spa)               0.12.5
19 Crawford Carrick-Anderson (GBr)         0.12.8
20 Bernat Guardia Pascual (Spa)            0.13.2
21 Myles Rockwell (USA)                    0.13.9
22 Steve Peat (GBr)                        0.14.2
23 Frank Schneider (Ger)                   0.15.1
24 Eric Carter (USA)                       0.15.7
25 Bruno Zanchi (Ita)                      0.16.1
26 Markolf Berchtold (Bra)                 0.16.3
27 Dan Atherton (GBr)                      0.16.4
28 Rob Warner (GBr)                        0.17.2
29 Filip Polc (Svk)                        0.17.6
30 Corrado Herin (Ita)                     0.17.7
31 Thomas Ryser (Swi)                      0.19.3
32 Claudio Caluori (Swi)                   0.20.8
33 Andreas Steffen (Swi)                   0.21.7
34 Dustin Adams (Can)                      0.22.2
35 Gert Tholen (Ned)                       0.22.8
36 Rene Wildhaber (Swi)                    0.23.9
37 Zigmars Skolins (Lat)                   0.25.1
37 Markus Petschenig (Aut)                 0.25.1
39 Matthias Haas (Aut)                     0.25.5
40 Sebastian Vasquez Cid (Chi)             0.25.5
41 Adam Vagner (Cze)                       0.26.0
42 Julien Poomans (Fra)                    0.26.2
43 William Longden (GBr)                   0.27.3
44 Michael Goelles (Aut)                   0.27.7
45 Naoki Idegawa (Jpn)                     0.28.4
46 Glyn O'brien (Irl)                      0.28.8
47 Guido Tschugg (Ger)                     0.29.3
48 Enrico Dal Fitto (Ita)                  0.29.5
49 Wilfred Van De Haterd (Ned)             0.31.0
50 John Lawlor (Irl)                       0.32.7
51 Espen Johnsen (Nor)                     0.33.0
52 Mathieu Laurin (Can)                    0.33.6
53 Ruediger Jahnel (Aut)                   0.34.6
54 Daniel Mermoud (Swi)                    0.35.4
55 Brant Lyon (Can)                        0.35.6
56 Samuel Zbinden (Swi)                    0.36.2
57 Richard Lancaster (USA)                 0.36.4
58 Grzegorz Zielinski (Pol)                0.37.0
59 Nico Vink (Bel)                         0.38.3
60 Nuno Duarte (Por)                       0.38.8
60 Nino Mladen Antic (Cro)                 0.38.8
62 Marco Fidalgo (Por)                     0.39.9
63 Vlastimil Hyncica (Cze)                 0.40.3
64 Maros Michal (Cze)                      0.41.0
65 Stuart Hughes (GBr)                     0.41.6
66 Sliwka Michal (Pol)                     0.41.9
67 Maciej Jodko (Pol)                      0.42.1
68 Kristof Lenssens (Bel)                  0.43.2
69 Ryo Uchijima (Jpn)                      0.43.2
70 Trevor Porter (Can)                     0.43.2
71 Visa Malinen (Fin)                      0.43.2
72 Colin Ross (Irl)                        0.43.4
73 Ctr-Bill Slivnik (Slo)                  0.44.9
74 Hiroki Maruyama (Jpn)                   0.46.4
75 Duane Stander (RSA)                     0.46.9
76 Andrew Yoong (Irl)                      0.47.0
77 Janez Jamnik (Slo)                      0.47.8
78 Juhana Koivisto (Fin)                   0.50.1
79 Trond Hansen (Nor)                      0.51.2
80 Mike Jones (Can)                        0.53.0
81 Gundars Osis (Lat)                      0.53.1
82 Filip Cillik (Svk)                      0.53.5
83 Szymon Syrziystie (Pol)                 0.55.3
84 Geoff Pendrel (Can)                     0.56.2
85 Diego Echeverria (Chi)                  0.57.6
86 Aku Tuunainen (Fin)                     0.57.8
87 Walter Martinschitz (Aut)               0.58.2
88 Mihaly Gulyas (Hun)                     0.59.3
89 Shaun Keppler (RSA)                     0.59.4
90 Stefan Ceman (Svk)                      1.08.1
91 Cervenka Michal (Cze)                   1.11.5
92 Koen Van Valkenhoef (Ned)               1.15.2
93 Kalle Miettinen (Fin)                   1.23.2
94 Kuldjiev Radoslav (Bul)                 1.33.3
95 Oleg Voronin (Rus)                      1.33.8
96 Artiom Grek (Rus)                       1.36.3
97 Krisztian Halasz (Hun)                  1.40.2
98 Laur Samlik (Est)                       1.44.7
99 Max Hilbert (Lux)                       1.52.1
100 Camilo Puig (Chi)                      2.01.7
101 Frank Maas (Lux)                       2.09.1
102 Adrian Stoica (Rou)                    2.14.5
103 Viljar Teppo (Est)                     2.20.2
104 George Stanila (Rou)                   2.23.6
105 Titev Nikolay (Bul)                    2.28.8
106 Nicolas Vouilloz (Fra)                 3.17.5
DNS Greg Minnaar (RSA)
DNS Fabien Barel (Fra)
DNS Todd Leduc (USA)
DNS Johan Possman (Swe)
DNS Roger Gonzalez Salvador (Spa)
DNS Petr Joch (Cze)
DNS Gabriel Benoit Planella (Chi)

Elite Women

1 Anne Caroline Chausson (Fra)             5.56.1
2 Missy Giove (USA)                        0.13.9
3 Nolvenn Le Caer (Fra)                    0.17.3
4 Sabrina Jonnier (Fra)                    0.22.3
5 Fionn Griffiths (GBr)                    0.23.2
6 Kathy Pruitt (USA)                       0.24.0
7 Petra Bernhard (Aut)                     0.24.5
8 Tracy Moseley (GBr)                      0.26.0
9 Marla Streb (USA)                        0.26.1
10 Vanessa Quin (NZl)                      0.26.5
11 Marielle Saner (Swi)                    0.26.8
12 Sarah Stieger (Swi)                     0.31.4
13 Amelie Thevoz (Swi)                     0.33.0
14 Tai Lee Muxlow (Aus)                    0.34.4
15 Anneke Beerten (Ned)                    0.36.7
16 CÚline Gros (Fra)                       0.38.2
17 April Lawyer (USA)                      0.41.2
18 Anita Molcik (Aut)                      0.42.9
19 Mio Suemasa (Jpn)                       0.43.7
20 Lisa Sher (USA)                         0.44.6
21 Maxine Irving (GBr)                     0.46.4
22 Melissa Buhl (USA)                      0.51.2
23 Sandra Walker (Swi)                     0.54.2
24 Jo Leigh (GBr)                          0.56.4
25 Michelle Dumeresq (Can)                 0.57.4
26 Mami Masuda (Jpn)                       1.12.2
27 Katarina Siskova (Svk)                  1.13.9
28 Sylvie Allen (Can)                      1.17.3
29 Talitha Fitzgerald (Aus)                1.18.8
30 Helen Gaskell (GBr)                     1.20.0
31 Dalma Kiss (Hun)                        1.24.1
32 Bohdana Pulpanova (Cze)                 1.25.0
33 Miriam Blas Otondo (Spa)                1.26.1
34 Sonja Granzow (Ger)                     1.34.3
35 Helena Boskova (Svk)                    1.54.3
36 Anja Jerenko (Ger)                      2.07.2
37 Sheila Morris (Can)                     2.25.3
38 Claire Buchar (Can)                     2.33.0
39 Cassidy Johnson (Can)                   2.45.2

Junior Men

1 George Atherton (GBr)                    5.32.8
2 Matti Lehikoinen (Fin)                   0.01.5
3 Jerome Clementz (Fra)                    0.07.2
4 Fabien Cibelly (Fra)                     0.09.9
5 Justin Havukainen (Aus)                  0.10.1
5 Mark Beaumont (GBr)                      0.10.1
7 Luke Strom (Aus)                         0.11.2
8 Sascha Ehrmann (Ger)                     0.14.5
9 Richard Cheetham (GBr)                   0.15.5
10 Yoann Barelli (Fra)                     0.18.5
11 Alan Beggin (Ita)                       0.18.9
12 Justin Leov (NZl)                       0.19.5
13 Andrew Neethling (RSA)                  0.20.0
14 Antonio Leiva (Chi)                     0.20.3
15 Thibaut Ruffin (Fra)                    0.21.6
16 Jonas Westman (Swe)                     0.21.7
17 Pasqual Canals Flix (Spa)               0.22.3
18 Marcel Beer (Swi)                       0.22.5
19 David Mclaughlin (Aus)                  0.23.5
20 Sam Hill (Aus)                          0.24.3
21 Damien Spagnolo (Fra)                   0.26.7
22 Kwanah Sioui-Moar (Can)                 0.27.0
23 Kamil Tatarkovic (Cze)                  0.27.6
24 Will Clifford (Aus)                     0.27.9
25 Thomas Vanderham (Can)                  0.28.6
26 Henry O'donnell (USA)                   0.29.3
27 Jamie Popham (Irl)                      0.30.3
28 Derek Bahlo (Ger)                       0.30.8
29 Karlis Kisuro (Lat)                     0.32.7
30 Warren Cody (USA)                       0.33.5
31 Daniel Umland (USA)                     0.33.8
32 Nathaniel Giacomozzi (Bra)              0.34.3
33 Tim Mackersy (NZl)                      0.35.6
34 Jason Delport (RSA)                     0.35.7
35 Toni Berg (Fin)                         0.38.3
36 Stefan Koenigsmayr (Aut)                0.38.3
37 Joan Corominas Vilarasa (Spa)           0.38.3
38 Carlo Gambirasio (Ita)                  0.41.7
39 Ben Reid (Irl)                          0.42.6
40 Pawel Ostaszewski (Pol)                 0.43.7
41 Julien Camellini (Fra)                  0.43.9
42 James Scott (Irl)                       0.45.2
43 Mario Schurter (Swi)                    0.47.1
44 Chris Wein (Aus)                        0.48.1
45 Michal Kolbek (Pol)                     0.48.2
46 Jonty Neethling (RSA)                   0.49.0
47 Aku Hjelm (Fin)                         0.50.8
48 Peter Posa (Hun)                        0.52.4
49 Steve Wentz (USA)                       0.53.9
50 Ziga Zivoder (Slo)                      0.54.2
51 Jan Cestnik (Slo)                       0.54.4
52 Mathieu Lagrange (Can)                  0.55.4
53 Carlos Loureiro (Por)                   0.56.3
54 Gero Pretis (Aut)                       0.59.4
55 Syuichiro Aoyagi (Jpn)                  1.02.1
56 Anderson Furnanetto (Bra)               1.06.2
57 Vincent Saut (Fra)                      1.07.2
58 Jiri Placek (Cze)                       1.08.3
59 Karel Bayer (Cze)                       1.10.0
60 Atte Korhonen (Fin)                     1.15.6
61 Volkmar Berchtold (Bra)                 1.20.1
62 Ladislav Foret (Cze)                    1.35.2
63 Matej Charvat (Cze)                     1.52.5
64 Sergio Campos (Por)                    10.18.6
65 Filip Matus (Cze)                      13.38.9

Junior Women

1 Emmeline Ragot (Fra)                     6.43.2
2 Claire Bauchet (Fra)                     0.09.2
3 Bernardita Pizzaro Lazo (Chi)            0.16.6
4 Diana Marggraff (Ecu)                    0.21.3
5 Leana Gerrard (USA)                      0.32.8
6 Ida Sylwan (Swe)                         0.48.0
7 Magen Long (USA)                         0.57.1
8 Brook Baker (Can)                        1.05.9
9 Darcy Turenne (Can)                      1.19.0