2002 MTB World championships - CDM
Kaprun, Austria, 24 August - 1 September, 2002
Volvo-Cannondale riders ponder future in a tough market
By Tim Vincent, Cyclingnews correspondent in Kaprun
"I don't know when I have to give my car back" said Kashi Leuchs. "I'm a bit afraid to ask!"
Volvo announced last week (see full story) that its ninth year of sponsoring the Volvo-Cannondale mountain bike team would be its last. Leuchs' concern about how much longer he will have his team car typifies the uncertainty that the five riders and six staff now face.
Volvo-Cannondale's last supper?
Photo: © Tim Vincent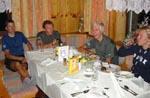 While they have been told they should look for new jobs, Team Sports, the company that manages the Volvo-Cannondale team, is looking for a new sponsor. If they find one, the team will ride again, with new colours, but possibly little else changed.
Although the chances are small, that option is clearly the one favoured by the riders. Kashi Leuchs and Christoph Sauser said they were both really happy on the team, the support and whole team environment had been fantastic, probably the best of any team.
It is hard to accept the news on the face of it especially as the team is still racing and staying together. "The team is like my summer family, I can't imagine us splitting up" said Sauser, "but re-reading the press release brings it home."
"My first feeling is appreciation" said Leuchs. "I am really happy to have been a part of it, but at the same time, I'm sad that it has to end."
Both riders expect that they will be able to find something for next year, but are aware that it might be less than what they are used to. Now is not the best time to be on the market, especially if there is any substance to the rumours that the Giant team will be ending too. "There are a lot of top riders right now, and the number of teams and amount of money available to support them is declining," explained Kashi. "Perhaps I'll return to the States to race. It means a lot more travelling, but I have enjoyed better success there." Christoph plans to remain based in Switzerland.
But right now it is business as usual for the team. This weekend, four of the five riders affected, Kashi Leuchs, Christoph Sauser, Anne-Caroline Chausson and Cedric Gracia are in Kaprun, Austria for the World Mountain Bike Championships. And it is looking good for them. Chausson and Gracia both qualified fastest in their seeding runs for the downhill races (Chausson took the gold, and Gracia fourth - see full report and results), and the Cross-Country course suits the strengths of both Christoph and Kashi.
The last event the Volvo-Cannondale riders will attend as a team is the World Cup final in Les Gets, France next weekend.
Photography
Photos by Tim Vincent/Cyclingnews.com