Letters to Cyclingnews - March 21, 2004
Here's your chance to get more involved with Cyclingnews. Comments and criticism on current stories, races, coverage and anything cycling related are welcomed, even pictures if you wish. Letters should be brief (less than 300 words), with the sender clearly identified. They may be edited for space and clarity; please stick to one topic per letter. We will normally include your name and place of residence, but not your email address unless you specify in the message.
Each week's best letter gets our 'letter of the week' award. We look for for letters that contain strong, well-presented opinions; humour; useful information or unusual levels of sheer helpfulness.
Please email your correspondence to letters@cyclingnews.com.
Recent letters
Bjarne Riis
Radios
US MTB racing
WADA and Armstrong
The "World" Cycling Series
Doping
Iban Mayo
Armstrong's brakes
Fixing Cipo's problem
Max number of champions in a TDF?
Sean Kelly and the 1992 Milan-San Remo
The most fashionable men of the peloton
We're not sprinters
Jame's Diarrhea
Bobby Julich Interview

Letter of the week
A signed copy of William Fotheringham's Tom Simpson bio is on its way to Jordan.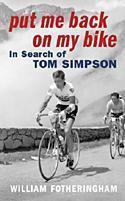 Bjarne Riis
I just thought I'd draw people's attention to a perhaps obvious but understated point that Bjarne Riis is a phenomenal team director--in my opinion, certainly the best in the sport. Apparently, every single rider performs better with CSC than with his former team. Good riders become great, older fading stars find a few last moments of glory, and super-talents finally make good on their potential under Riis' watchful eye.
Case in point: Jalabert found two amazing years at the Tour and San Sebastian at the bitter end of his career with Riis; Hamilton became a superstar in the Tour, Giro, and at Liege; Sastre became a stage-winning force in the grand tours; and now Jaksche has two impressive stage race titles under his belt, Bobby Julich finally seems to have gotten his mojo back, and the ever-powerful Jens Voight looks better than ever.
Let's also not forget the team victories, especially at the Tour, and the truly outstanding performances from lesser-heralded riders like Andrea Peron, Nicki Soerensen, and Jakob Piil. The most inspiring thing about Riis' success at CSC, though, stems from the fact that he's not a dictator like Ferretti or Saiz, nor is he simply a tactician or chess player with the sport's most obviously talented and experienced team (a la Lefevre with his countless squads of classics gods throughout the years). Instead, Riis focuses on team work, mental preparation, and new training regimens that allow for individual breakthroughs in riders within a very supportive team structure. His own riders stress in every interview how Riis prepares and motivates the riders so well but then gives them a little breathing room and freedom to ride their own race (see Jaksche's recent interview, among others).
Now, Riis is, without a doubt, still a very good tactician; however, he is first and foremost a master of race preparation and all of the intangibles that go into getting a human being--not a machine--to realize his own enormous potential. This ought to be especially welcomed by every one who has been lashing out at the use of race radios lately because of the way team directors can now kill the spirit of racing.
If you want to see inspiring performances these days, you need look no further than Riis' past and present protégés. And if you don't believe how good he is, I can assure you that there's a reason Tyler Hamilton--despite no longer riding for Riis--still emails Bjarne all of the SRM data from his training; and when Tyler reached out to shake Riis' hand at the end of an epic solo breakaway and one of his career's true highpoints, that was no insignificant gesture. It was a clear acknowledgement that Bjarne Riis had brought Tyler Hamilton up to that level--a level that had already existed in Tyler Hamilton in the form of potential but that Johan Bruyneel's more mechanical use of him had stifled--and Riis' qualities as a superior motivator surely played no small part in Tyler Hamilton's ability to twice endure broken shoulders in grand tours, as well.
Kudos, Bjarne Riis. I can't wait to see what you have in store for us later in the year with a (no doubt) breakthrough-ready Kurt Asle-Arvesen, experienced Michele Bartoli, and irrepressibly talented Ivan Basso.
Jordan Sagalowsky
Cambridge, Ma
Sunday, March 14, 2004
Radios #1
In response to Mr. Stewart-Sturge's views. If you believe that the local radio-free cat 3 event is pure and more exciting than pro racing with radios, then by all means go to the industrial park and have a ball. The common thread here (5 out of 5) is that radios destroy spontaneity. The word is that "the first thing a pro does in a breakaway is radio back to the D.S." Besides being simplistic and often untrue, I'll offer the latest news as evidence. Look at the last two action packed, exciting stages of Paris-Nice. Attacks, counterattacks, chases and breaks. All predicated on the strength,and skill of the protagonists. Do you really believe that Sanchez or Vinokourov were robots, doing the bidding of their directors? Sanchez made a bold and brave move and suffered through purgatory in the final 5km, while Vino's superb performance had very little to do with a director's instruction. Radio instructions can only do so much to control a rider: if he or she doesn't have the strength and will, the instruction cannot be carried out.
Radios have become a much appreciated tool of the trade. Instead of misinformed armchair critics, ask the pros and the vast majority will support their effectiveness, and will also argue that racing is still the wonderful chess match on wheels that it always was. We can't always rely on the race organization for timely and accurate split times to the break or chase, so now with radios we are able to make decisions (often between ourselves as well as between riders and D.S.) about when or whether to chase, so we can fit more action into the same amount of race time. Radios are excellent during mechanical or crash situations and again speed up the same response we would have had without the radio. As far as safety, I can't count the number of times I've avoided a crash thanks to a broadcast of "roadworks/slippery metal bridge/passing ambulance". Another example; chasing through the caravan and seconds from impacting a suddenly decelerating team car, but I was warned off by my director who had heard over general race radio about said team's rider stopping. Had he gotten such a warning, Phinney may have saved himself agony and facial reconstruction in just such a collision years ago during the Tour.
Some say we are robots being fed a constant stream of instructions. The truth is far less sci-fi. The fact is that we still have to train hard, eat right, show up motivated, and turn that motivation into brilliant athletic performances.
John Lieswyn
Ames IA
Sunday, March 14, 2004
Radios #2
The fallacy of these examples of controlled riding in the Tour -- of the 'look at USPS' variety especially -- is so clear that most children could see it. Is USPS the only team with radios? Is the ability to control the race only a feature of their strategy? Is bike racing so complicated that the basics of tactical racing elude 'lesser' DSs and riders? Come on. Do you really believe that this sort of 'just in time' coaching is what separates better and worse DS's? The skills of race preparation and management exceed what happens over the walkie-talkie.
And, last I looked, all the D1 teams had radios -- there's no tactical competitive advantage, just another version of a level field where the riders still determine the outcome. Riders still have great days and poor days, blow up, screw up, miss breaks, ignore orders -- and perform amazing feats of strength and will. There's no 'robotic symphony' in bike racing, and if there is, it's more related to drug enhanced physiology than broadcast-quality coaching.
I'm not a big fan of radio control either, I don't know why, I just don't like it. For me, it probably comes down to a sort of nostalgic sense of the aesthetics of racing. But the various arguments to nostalgia are meaningless in a sporting context that changes whether we like it or not, and the 'look at the USPS machine, they wouldn't exist without radio' tack is just silly. Why are such arguments even necessary? If you don't like it, just say so; if race fans cared, en masse, who knows what UCI might do? But they really don't, do they? That's because no one agrees on the effect radios have -- not even the DSs or the riders, who are obviously and interestingly split on the issue.
Mark Jenkins
Portland, Oregon
Friday, March 12, 2004
Radios #3
Radios make races less competitive? Less exciting? Less spontaneous? They've turned the riders into virtual robots? They've driven all guts and glory from the sport? Where WAS I when all these TERRIBLE DEVELOPMENTS that have RUINED CYCLING occurred?
Oh yeah... I was watching the 2003 Tour. And Vino in Paris-Nice. And Petacchi in the Giro. And U.S. Postal versus ONCE in the Vuelta. And... and... and...
Keep the damn radios. They make the riders safer and, from what I can see, simply mean that you have to be a special rider, not just an aggressive or lucky one, to truly animate a race.
Tim Heffernan
Brooklyn
Monday, March 15, 2004
Radios, Chalkboards, and Fairness
I think race radios make racing more fair, rather than less, since it allows more riders to know what is going on. Prior to radios, the only riders who really knew what was going on at the front of the race were those who were there, not because they see the events as they happen, but since, lets not forget, they are the ones who can best see the 'official time gaps' and rider numbers written on the motorcycle chalkboards! If one believes that racers should be attentive for their information, rather than informed remotely, then we need to be talking about eliminating the motorcycle whiteboards, not just radios! We're all familiar with the good-old amateur racing situation -- if they're out of sight, you just don't know! I say keep the radios.
Kurt Larson
Albuquerque, NM
Monday, March 15, 2004
US MTB racing
I can't bite my tongue any longer. Jeremiah Bishop has now ended the U.S. NORBA win drought by taking the XC win in Waco. Last year he nearly took the U.S. Championship, was the highest placed American at Worlds last year, and is now well positioned to make the U.S. Olympic team...and he still doesn't even have a full factory contract. Trek couldn't manage to bump him up to their full factory squad. I guess they had to spend all their money on Travis Brown and his played out image. Travis may be a great guy, nothing against him, but lets get some merit-based system here.
I've known Jeremiah since his first year as a senior when he showed up at Canaan to race for the Clif Bar composite team I had put together for the 24 hrs of Canaan. He showed up with his bike and his clothes, nothing else. And that pretty much is representative of what he has done for about 10 years now; live hand-to-mouth, busting his butt trying to scratch together enough money to be able to try to make it in this sport with little or no help from others. A meager stipend and some equipment finally came his way, and now he still isn't getting his due. I could reel off a list of guys I know in the same boat, road and MTB. It answers the question of why we can't seem to compete at the same level as everyone else on the international level. We make it all but impossible to cobble out even a meager living for all but those who are willing to put their lives on hold and hope that something comes their way, someday. A handful of riders get superstar salaries while the rest scramble for scraps, hoping that it will eventually pay off.
While Ryder and Co. have articles about their new swanky home and pimp rides (cars, not bikes) guys like Jeremiah, who has now finally actually beaten those guys, not just been chasing them, are simply struggling to make ends meet. I hear Jeremiah at least got a sizeable bump in his pay, even if he doesn't get the place on the factory team. But still, give the guy the respect he deserves. And stop wondering why our MTB riders can't compete.
Jakob Helmboldt
Richmond, VA
Tuesday, March 16, 2004
WADA and Armstrong #1
That anybody is confused over this surprises me.
Dick Pound is the head of a very powerful agency, and as such has great responsibility. He needs to be fair and just; he should not be making sweeping unfounded allegations; I am surprised that he wasn't asked to step down after such a foolish statement.
As to Lance using cortisone, well I am sure that if you asked Dick Pound he wasn't referring to the treatment of saddle sores. Besides, and not that it really matters, but Lance was 'cleared to use the cortisone'. That is, he was allowed to use it; don't confuse this by saying he tested non-negative and then was cleared.
Mike Papageorge
Spain
Friday, March 12, 2004
WADA and Armstrong #2
As the best known cyclist on the planet, Lance Armstrong was right to criticize Dick Pound for his ill-advised generalization that all TdF riders are on banned substances. Pound's remarks make me wonder if he's been paying any attention the drug testing that the Tour has implemented since 1998 and to the tests over the years that Lance himself has taken and passed. And correct my memory, but hasn't the WADA tested Armstrong in the off season?
Yes, some riders continue to take performance enhancing drugs and some have been caught and punished and the testing program is far from foolproof, but cycling is light years ahead of Major League Baseball.
Harold Thompson
Hillsborough, NJ
Friday, March 12, 2004
WADA and Armstrong #3
It is also "hard to put power to the pedals" with swollen glands and a sore throat! If one were to follow Mr. Schopfer's "definition" of performance enhancement, then such drugs as antibiotics would fall under said category. I believe that Mr. Armstrong has every right/duty to defend himself as well as his fellow riders against Mr. Pound's spurious generalizations and I would find it "funny" if a rider of Armstrong's stature and influence did *not* offer some type of rebuttal. Furthermore, to draw an analogy between Armstrong's use of a cortisone cream for the treatment of saddle sores and such drugs as EPO and HGH is faulty reasoning. Period. (Are sports drinks performance enhancing drugs because they prevent electrolyte depletion?!)
Lastly, I would imagine that there is a fair amount of doping in the pro peloton but I firmly believe that all riders are innocent until proven otherwise and for Mr. Pound to make such inflammatory statements is just plain bad business. Do not fear, those who dope will pay the price one way or another.
Mike Dimkich
Los Angeles, CA USA
Monday, March 15, 2004
The "World" Cycling Series
The "World" Cycling Series? (First Edition News, March 18th). Entirely run in North America? Where's the "World" in that? Are you all Baseball Fans? Do you realise how much this reinforces the idea that Americans are arrogant SOB's who care nothing for the rest of the World?
While riders from the USA have made their mark on World cycling in a big way, calling a domestic criterium series the "World Series" is an insult to the countries which are still the major forces in Cycling. Call it the "All-American", or support the World Cup by running at leat one World Cup race in the USA, where you would have the top teams from the First Division present with their best riders.
John McMillan
London, UK
Thursday, March 18, 2004
Doping
Is not the underlying question whether the words 'sport' and 'professionalism' are compatible. When I was a child we would say, 'Cheats never prosper' and ,'Once a cheat, always a cheat'. Childhood seems a long way off now,
Norman Winn
Rennes les Bains, France
Saturday, March 13, 2004
Iban Mayo #1
I could not agree more agree with this opinion. Iban Mayo is a very talented rider who WILL be the next TDF champ (not this year!). He is an excellent climber, his only problem is that he needs to have more consistency. In '03 TDF he was there with Lance when they crashed, but LA put himself back in the race faster.
More determination Iban! I'll change my USPS colors when that happens!
Eduardo Sarmiento
Panamá, Republic of Panamá
Friday, March 12, 2004
Iban Mayo #2
If Iban Mayo has learned to time trial, the Euskatel team will have exactly twice as many powerful riders for the TTT as they did in 2003. Unfortunately, he and Zubeldia will still end up with a 2:30 deficit to the USPS/CSC/Telekom/Iles Balears trains after that stage and they will be battling for the lower steps on the podium.
(Man I hope I'm wrong. Then we'd have a helluva race.)
Martin McEwen
Montreal, Canada
Friday, March 12, 2004
Iban Mayo #3
Mayo has already shown in the past that he has potential for time-trials.
Being just 27 with only 59kg to carry in the mountains, and huge determination to improve, he is certainly the cyclist to watch to pose the real threat to Armstrong this year. The uphill TT definitely favours him (and Vinokourov) over Ullrich. Too bad he will probably lose too much precious time in the team time trial.
Francesco Troili
Rome, Italy
Date: Tue, 17 Feb 2004 11:19:21 +0100
Armstrong's brakes
Did anyone else notice the centre-pull brakes on Lance's bike in the Murcia TT? Are these prototype Dura-Ace 2005? Or just some old bits found in the back of the US Postal team truck? I know which I'd put my money on.
Julian Bray
London
Tuesday, March 16, 2004
Cyclingnews tech guy John Stevenson replies:
In fact, they're 1982/83 Shimano Dura-Ace AX. This was an 'aero' styled group - one of the first. The brakes don't work terribly well, but in a TT you don't expect to have to slam on the anchors hard, so that doesn't matter too much.

My guess is that Armstrong uses them because they're slightly more aerodynamic than a regular brake, as they sit entirely within the shape of the frame. Does this really matter? Probably not by more than a second or two over 40km, at the most, but if you're a top-level racer and you *think* it makes a difference, then it does - racing's as much about psychology as about physiology and physics.
Fixing Cipo's problem
What's up with the king of style? In most recent photos of Cipo sprinting for the line, for second I might add, his helmet is askew. He looks like a dork. I think that's the real reason his performance is a bit off. Dorks never get the chicks, and dorks never win the sprints. Straighten up that helmet Cipo - problems solved!
In jest,
John Kilpatrick
London, Ontario, Canada
Friday, March 12, 2004
Max number of champions in a TDF?
Any ideas in which year the TdF had the greatest number of winners (past or future) riding?
For example, in 1997 there was Rijs, Ulrich and Pantani but I'm guessing that other years may have had more?
Richard Hellier
Reading, UK
Friday, March 12, 2004
Sean Kelly and the 1992 Milan-San Remo
The header paragraph on your feature on the 1992 Milan-San Remo refers to Sean Kelly as a 'dark horse' challenger for the race, as opposed to favourites Moreno Argentin and Tony Rominger.
It is possible that Kelly could have been regarded as a dark horse at that point: he was approaching his 36th birthday and in the twilight of his career. However, this ignores the fact that he had won the last major classic of 1991 - the Tour of Lombardy - and that Milan-San Remo would be his 9th major classic victory (he had already won it in 1986, along with Paris-Roubaix in 1984 and 86, Liege-Bastogne-Liege in 1984 and 89, and the Tour of Lombardy in 1983, 85 and 91, not to mention Ghent-Wevelgem in 1988 and Paris-Tours in 1984). No reference at all is made to this pedigree in Dr. Ferrari's article; perhaps some sort of editorial input could have been used to remedy the omission.
David Ryan
Ireland
Thursday, March 18, 2004
The most fashionable men of the peloton
This my not seem newsworthy, but I just wanted to let the world know that my two favorite riders are the Frenchman Laurent Brochard and the Russian Vladimir Karpets (has there ever been a cooler name?).
Not only are they great competitors, but they are also the most stylish men in the pro peloton. Both men proudly sport lavish Neapoleonic and eastern-bloc style mullets, respectively, which put them light years ahead of other wanna-be fashionistas in the peloton, such as, say, Scottsman David Millar.
Sure, these days every other Tom, Dick and Harry can be seen walking the mall with a mullet and fancy pants, and the runways of Milan are chock full of mullet nuts- now that the mullet is THE trendy cut of the day.
But where were those people 5 years ago when even your mom was hosting a website dedicated to maligning the mullet? Laurent and Vladimir had their hairstyles on display for the world back when it was very unpopular to do so. But they are fashion leaders, not followers and I don't think they get the credit they deserve.
Blake Terry
Kansas City, U.S.A.
Friday, March 19, 2004
We're not sprinters
I think Aki Sato's statement of "Although the pro sprinters have to be fit, in the real world of Cat 4's and 3's, sprinters do not have to be as fit - they just need enough fitness to get to the finish" perfectly sums up why there is this seemingly constant bickering between climbers and sprinters in the everyday world of cycling (I'm not talking about Mayo and McEwan here, more like Smith and Jones).
Undoubtedly there are massive differences at the pro level between the two. And there will always be the debate over who is better, fitter, whatever. I'm making a different point here.
In the "real" world of Cat 4's and 3's (or B and C Grade in Australia), the problem is this. The "sprinters" manage to get through a race by just hanging on, saving themselves, letting others chase down the breaks, then finding that bit extra to get up in the sprint. They then find themselves getting points and eventually moving up a grade/category. What invariably happens then (and I'm sure we've all seen it) is that they don't have the fitness to hang on in their new grade, suffer in a few races, get dropped then return to their original grade, having achieved nothing personally and contributed nothing to the racing. Those that manage to lift themselves to the new level of competition and improve, well, good on them. They obviously deserve it.
Compare this to the more all round rider who sprints a bit, climbs a bit and generally improves their overall cycling performance. They get a few results here and there, eventually move up a grade/category, and invariably end up staying at the new grade because they are more capable in all regards, not just one.
I would put it to the erstwhile readers that in our "real" world, there is no such thing as a "sprinter". We are all just cyclists who should always be trying to improve all aspects of our cycling, be it sprinting, climbing, time trialling, whatever are our weaknesses. Saying to yourself "I'm a sprinter" (and taking the associated attitude of saving yourself for the end of a race) at our level is denying something to both yourself and your fellow competitors. Saying "my sprint is my strongest asset" is a fair comment, but we shouldn't fool ourselves - none of us are sprinters.
By the way, Aki - well written letter - I'm not having a go at that! Reading it felt like being in the midst of a sprint. Well done.
Simon van der Aa
Tasmania, Australia
Tuesday, March 16, 2004
Jame's Diarrhea
I really enjoy Jame Carney's Diary on your site. Mostly I enjoy it because he's a bit nuts but he also manages to give an overview of track events with a little insight to the drama that can happen inside a velodrome. If I wanted to know that so and so won the points race with X number of points, I'd just look at the results. Jame's Diary gives the track scene some much needed life.
I'm looking forward to his report from Mexico.
Thanks to Cyclingnews.com and Jame for a bit of comic relief.
Cheryl "Touching Evil" Willson
USA
Monday, March 15, 2004
Bobby Julich Interview
Thanks for the interview. It makes me look forward even more to seeing Bobby race in the Wachovia Series races here in the Philadelphia area in early June. One comment though, Manayunk is a neighborhood in Philadelphia not an area outside the city. Keep up the good work, your racing coverage is the best.
Patrick Hynes
USA
Thursday, March 18, 2004
Recent letters pages