Marco Pantani
Photo: © Phil O'Connor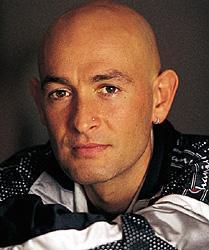 The sudden death on Saturday of Italian climber and 1998 Tour de France winner Marco Pantani shocked the cycling world, and as Pantani's colleagues in the peloton paid tribute, so his achievements and the tragic end to his life were high in the minds of Cyclingnews readers too.
Here are some more of your letters about Marco Pantani.
Mud
I am also glad to live in a country where you are innocent until proven guilty. Unfortunately that does not prevent mud being thrown and even more unfortunately some of it nearly always sticks. Marco Pantani was never found guilty of anything more than having a higher than allowable hematocrit level. We should all be very sad that his life has come to an end too early.
Vale, el Pirata.
Geoff Duke
Melbourne, Australia
Tuesday, February 17, 2004
From a fellow sufferer
When my husband gave me the news of Marco's death, I felt a great loss. We are a family of avid cycling fans and the loss of a great rider hit us very hard. His death is very personal to me as I also suffer from depression and while I take my medication every day and follow my doctor's advice, there are days when it is hard to go on. I have felt the depth of despair and the sense of nothingness in my life as he must have felt. My heartfelt prayers go out to his family and to the cycling community. We have lost a great friend, mentor and man.
Barbara Pope
Maple Ridge BC, Canada
Monday, February 16, 2004
Giro memories
It was always an ambition of mine to witness a European cycle race live. Fortunately for me the 1998 Giro was just that race. To see Marco race into the maglia rosa in the Dolomites and hang on to win the final time trial are images that will last for ever. Marco I always believed in you. The memories will be cherished for ever.
Grazie Marco. Riposa in Pace.
Daniel Stocco
Melbourne, Australia
Tuesday, February 17, 2004
Our grande campione
Ti amo Marco
We Love You
Thanks for the great memories, they will live on with us always, OUR GRANDE CAMPIONE.
Il Pirata forever.
Fabrizio Alessi, Rocco Buonocore, Brendhan Barry
Sydney Australia
Tuesday, February 17, 2004
I watched him fly
I liked Marco.
I stood with my wife on the Galibier summit and watched him fly - making his attack for glory in the Tour of 97.
How does someone who soared so high, drop so low, with no one to catch him?
It says a lot of this world.
Richard Hill
Tuesday, February 17, 2004
Shame
It is a shame that the cycling does not have one ounce of empathy for riders who are experiencing difficulties. Afterwards when they are dead everybody writes nice things about them, but at the time, nobody wants to support a rider accused of wrong doings. Even if they are just accused!
I don't know if Pantani was innocent or not, but I know this: whichever crime he may have been guilty of, it should not render capital punishment!
When Kivilev died in a crash, UCI demanded every rider to wear a helmet. What will be UCI's reaction after two of their finest champions, Jimenez and Pantani, succumbed to depression?
A great champion is dead and I pay my deepest respect for the climber/attacker-extraordinaire, personality-superbe, but foremost human-fantastique, Marco Pantani.
Kristian Johansson
Sweden
Tuesday, February 17, 2004
Dismayed
Shocked and dismayed at the tragic loss of il pirato loved watching him at the Tour de France. Deepest sympathy to his family. Will say a prayer for him.
RAJ
Australia
Tuesday, February 17, 2004
Spirit
I also am not ashamed to admit I cried at the news of Pantani's death. It just comes to show how much his spirit affected me. The sport will not be the same without the "Pirate".
R.I.P.
Adam Reichbaum
Pittsburgh, PA
Tuesday, February 16, 2004
A bike in heaven
I don't remember all the dates, stages and contenders, but I will always remember Marco Pantani in the mountains. With his fast, fluid out-of-the-seat style, he could make the big ring spin on awesome grades and never need his saddle. He would still be flying up the cols long past the point that others' legs had surrendered to the pain and exhaustion. His cycling was as beautiful as any ballet, but with the power of a marching band.
There is a bike in heaven for Marco. God keep him dear.
Robert N. Thompson
Richmond, Virginia USA
Tuesday, February 17, 2004
He will be missed
Hearing about Marco Pantani's death was a real shock to me. This was a man, in my eyes, who was a true fighter. One who would not give up no matter how badly the odds were stacked against him. During the Indurain era, I watched this little man dare to attack, turning him into the character we know as Il Pirata. There were times where I didn't agree with his viewpoints, but I always admired him. The man had a huge heart filled with desire and he will be sorely missed!
Tom Oehler
USA
Tuesday, February 17, 2004
Marco Pantani
Photo: © Cynthia Wilck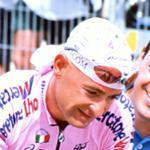 We failed him
I traveled with the 2000 Tour de France. Pantani and Armstrong's climbing battles and the post race comment clashes were the excitement of that tour. His personality and attacking style were what made him who he was and why we loved to talk about him. He will be missed by all who love the thrill and unpredictability of the sport of cycling.
I feel the bigger problem of performance drugs and the long term and post career effects on the mental state of the person need to be addressed by those who coach and train for the sport. There is continuing pressures for the riders to take drugs in order to compete in the pro level cycling world. If we continue to ignore this, we will lose more great people to the long term problems these drugs eventually bring to the person taking them. We failed Pantani, Jiminez, and many more.
I've enclosed a photo I took of Pantani at the 2000 TDF start line. To me, it show how vulnerable he looks even as he is hounded by the fans.
Cynthia Wilck
Tuesday, February 17, 2004
RIP
Rest in peace Marco.
Erol Orhun
Stockholm, Sweden
Tuesday, February 17, 2004
A myth
I am so sad. This is a great loss for cycling. It is terrible that Marco has been a victim of all these doping problems…the journalists have hassled him with all the problems of the sport and I think that no matter whose problems they were for them to handle his own situation like this with all the pressure, the mean articles and all the criticism it was all very, very difficult for one man to support. Marco paid a huge price for the entire world in these doping problems…He was a perfect scapegoat and still even if he did make these mistakes…cycling has lost a myth, a hero.
"Marco Pantani est parti seul a l'attaque dans un col ou personne ne le reprendera, personne.... adieu Marco »
A McNeill
Tuesday, February 17, 2004
Heartbreaking
I was fortunate to see Marco Pantani race in the Giro a couple of years ago. Most startling was that despite his inability to compete well that year, it was nearly all the spectators were there expressly to see him. They screamed his name at every group of riders that passed, despite the fact that he was only one person in only one group. To his fans, he was clearly bigger than any one of us.
Near the end of his career, it was suggested by a number of cyclists that Pantani should talk more with his legs than with his mouth. It's heartbreaking to look back and see that once he stopped talking altogether, we had lost him.
Howard Parr
Sacramento, CA
Tuesday, February 17, 2004
Thanks
Marco,
Thanks for the memories.
Rory J Wyley.
Ireland
Tuesday, February 17, 2004
Climber extraordinaire
I was holding out hope that Marco would gain the form he once had and to see him in the brightly colored peloton of the 2004 Season. To motivate me as a cyclist, I have been watching a lot of old race footage 1998, 1999 Tour de France, and 1998 and 2003 Giro. Nothing was more exciting then watching him sit amongst his team mates waiting for the moment to step on the gas. And when he stepped, he stepped or as the announcers say "dance on the pedals". Marco was truly one of my favorites in the cycling world, for being a quiet man he spoke volumes when the hills turned upward.
I'll never forget the time in the Giro when he dropped his chain, his team dropped back to pull him through the peloton, then he put the hammer down. Marco climbed like no other and me being a big fan of climbing the mountains I always have a vision of Marco in my head to make it a bit easier or faster to the top. Now faced with the fact that he will ride no more and that anticipation of seeing him this season is gone, I will never rid my mind of the images/thoughts that I have of him. He was a climber extraordinaire. Cycling will need to preserve his image and accomplishments as I will do the same.
Marco, thank you for everything and may you be at peace when you reach the summit. God Bless Il Pirata
Dan Wyszynski
Denver Colorado
Tuesday, February 17, 2004
Scapegoat
I loved The Pirate, and have been ashamed of many in pro cycling for abusing him as a scapegoat for their collective doping problems. "Let he who is without sin cast the first stone. "
Art Smith
USA
Tuesday, February 17, 2004
Counseling?
I know Pantani had been receiving medical attention for his mental problems, but perhaps if the various professional riders' associations and the UCI could offer some sort of anonymous and discreet counseling service he could have benefited from this service before his problems became too deep to resolve. The pressures of life, be it as professional sportsmen, or just ordinary individuals, are huge and everybody should have access to someone who can help with emotional problems. Not everybody can talk to family or friends and people whose career sees them constantly staying in hotels and on the move have little chance to discuss any weighty problems. Lots of large commercial corporations and public institutions such as the police or teaching professions have these facilities so why not cycling?
Marco di Gavano
UK
Tuesday, February 17, 2004
The glory and the swagger
As I read Steve Farris' letter it brought to mind a recent tragedy in my life--the suicide of a lifelong friend. He fell rapidly into the depths with no one to help. While Pantani's official cause of death has yet to be determined, indeed, may never be determined, there is no doubt that he was suffering mentally and psychologically in the last few months of his life. I am sad for his loss but more for what he had to endure. I will try to remember the glory and the swagger. Not the end!
Randy Howell
USA
Tuesday, February 17, 2004
Grit
To me Marco was the best; true grit and determination. When the road went up he was the best. I hope he has taken the climb to a better life. We your fans will miss you.
Rest in peace.
Malcolm Putman
Tuesday, February 17, 2004
Long roads
From a special fan from Portugal to the Pirate of the high mountains:
You have reached the stars now
alone through the long roads
to the high mountains
you always used to win
Jorge Rodrigues
Portugal
Tuesday, February 17, 2004
Vulnerable
It is a terrible tragedy when someone with the incredible talent of Marco Pantani implodes instead of exploding his opponents on the great mountain slopes of the great races.
When he was at his best he attacked, and attacked again, and again and again. He was exciting, he was passionate, he was colourful. And sadly, it turns out, he was more vulnerable off the bike than on.
I woke up the day after his death was reported and exercised to the tape of his victory on stage 15 of the 2000 Tour de France which he won over another troubled talent, José Maria Jimenez. I will remember Marco this was -- an incredible fighting spirit. He didn't always win; but, on the bike, he never gave up.
I had hoped that Marco would find a way to start riding again. He was young enough to have a few more good racing years. He was riding into form at last year's Giro.
I will miss him.
Skip
Tuesday, February 17, 2004
Sport diminished
It is extremely sad to learn of Marco Pantani's untimely death. Watching the Channel 4 coverage of the Tour de France and Marco's exciting attacks in his first two Tours gave me the encouragement needed to take up riding and join my local cycle club. Marco's winning the Tour after recovery from injuries, which would have crippled a lesser individual, was truly awe inspiring. The sport will be diminished without the presence of the Pirate in the peloton.
Michael Stanley
Team Cambridge, United Kingdom
Tuesday, February 17, 2004
Inspiration
It was a tiny little section in a Scottish newspaper, but the news was a huge shock to me. My hero had died. I was not into cycling at all, despite the fervor it created in my family back in Italy. When I heard of the story of his crash and terrible injuries, I was somehow attracted to watch him in the Giro d'Italia. He captured my imagination. Glued to the TV all day, every day, I watched him crowned champion. I loved his style, his character and strength - suddenly I was a cycling fan.
I felt for him as he was persecuted but the news came as a shock. I called my friends in Italy and they said they all cried at the news - its a sad time for lovers of cycling in Italy. I know the chains depression can throw on you. I am there too, it is terrible to be constantly castigated and never left alone. Let this great man rest in peace now and let us remember his fantastic cycling and personality.
Ciao Marco, la Toscana piange per te.
Fabiola Lazzurri
Glasgow, Scotland
Tuesday, February 17, 2004
A wonder
Marco Pantani, to me, was an absolute wonder to watch when the roads of Europe started to rise. The way he danced on the bike is something we won't see for many years to come, if ever again. Something tells me that if he would have cycled "honestly" the media dogs of Europe and the courts of law would never have had anything to do with this cyclist. The sad fact is a young man has died, angry and depressed and alone. We should honor his achievements, but one will always wonder if the way he danced on the bike was because of athletic ability or because of chemical shortcuts.
Phil Hines
Pennsylvania
Tuesday, February 17, 2004
Ciao
Ciao ciao caro Marco.
Mio marito anche ha un grande incidente dieci anni fa - tu lui migliore -
grazie.
Giulia di Gavano
Colin Brooks
Wednesday, February 18, 2004
A hero
I didn't find out about Marco until February 17 when a co-worker left his obituary on my desk. The picture of Marco and the word Obituary on the top of the page. The two did not make sense. I had to read the obituary twice to believe it. I was in shock most of the morning.
Marco was and always will be hero of mine. We had lost a great one. Let the man rest in peace now.
Addio Marco, we will miss you.
Joe Favara and family
Wednesday, February 18, 2004
A champion from the heart
I write this letter with much sadness for a great rider of the peloton. I never knew Pantani, I never rode with Pantani, I never raced with Pantani, but then again I knew him from the papers and the magazines. Marco Pantani was one of my favorite riders because he was a champion from the heart. I followed Marco for many years reading, watching, cheering him on from TV and videos of bike races. He inspired me to race harder, train harder, and to overcome difficulties of racing. I am Spanish-American here in the United States and have a heart for people like Pantani who loved the sport and then hated it because he tried too hard to please everyone, but could not please the papers and the lawyers, and the Italian justice system that eventually killed him. Marco's death was not a suicide, but death by the system that made him popular, the press. He was beat down, demoralized, and hung out to dry. No one is perfect, no one can do all for everyone, but when you try to live up to the press they turn around and kill your integrity.
I hope that the press, the Italian justice system, and all others who constantly attacked Marco Pantani's life are satisfied now to what they have done to a great cyclist. They can now chase someone else down and do the same to them.
To Marco Pantani, the great cyclist and person.
Goodbye!
Bob Martinez
USA
Wednesday, February 18, 2004
Only human (Marco Pantani)
I do believe that I am one of those readers / critical commentators to whom Mr. Strange refers in his letter and, despite his death, I still do not respect Pantani's "great" Tour overall victories; I believe that no matter how great a climber he was, those jerseys were fraudulently obtained.
Having said that, I am saddened to hear of his death. I am not saddened because cycling or Italy has lost a "true champion", but simply because he was a human being.
The tragedy of Marco's apparent suicide isn't for Marco, who is, quite simply, dead. It isn't a tragedy for the prosecutors who will close his file and move on and his death will quickly fade into the casual, factual memory of the international cycling community. The real tragedy is that his absence will be a daily, constant, visceral reality for his family and close friends. As a man, Marco made personal and professional choices and then had to deal with the consequences. His family on the other hand has lost a son, whom they loved as a son, and for them I have great sympathy.
Michael Schlitzer
Sterling, VA, USA
Wednesday, February 18, 2004
Stark warning
I would like to add my own sorrow at Pantani's death and what a unique rider he was. His death is a stark warning to all of us - play life with a few cards, not just one. Professional cycling stinks because you have to have the lifestyle of a monk while doing a dog eat dog job, hence the lack of spirituality. I used to be a total cyclist and I hit the same problems Marco did, holing up in hotel rooms and so forth - it was only my previous education and living in a vibrant city that saved me. So to all wanna-be professionals out there - do a college course or two during your career, and get into music or the arts in some way.
I can only repeat the sorrow all cyclists feel at the death of this superb climber-no offence to Indurain but his reign would have been terminally dull without Pantani-my thought towards the people responsible for his death do not bear printing.
Rest in peace Marco.
Eliot Coolican
London
Wednesday, February 18, 2004
Unfair
I am not ashamed to say that I didn't know who Marco Pantani was until I read of his death. I am quite new to cycling. What I will say is that his death has affected me and I'm not sure why. I feel a tremendous amount of sorrow. It seems wrong and unfair that someone so influential and with such great following, should be allowed to slip away as he did. I hope others who see a friend is falling will not turn the other cheek, but rise to the occasion to be helpful, loudly if necessary. I hope he's aware of how many people are mourning his death, that he is loved and missed. Bless his soul. I hope, where ever he is, that he's at peace.
Jennifer Place
Boulder CO
Wednesday, February 18, 2004
The one they cheered for
This is something I wrote the week before Marco died. It was not written because of or for him, but the timing is so weird. I wish he could have read this some time ago. This is something most people in sports should read while they are still competing.
I Used To Be The One They Cheered For
The crowds are gone now…
This assumes you are still there but you cannot see them any more
In reality, the crowds are still there, bigger than ever.
You have been the one to move on.
The crowds are silent now
This assumes because you don't hear them that they are not there,
In reality, they are as loud as ever
You are just not the one who they cheer for today…
This is normal… at every new turn
there is someone new to cheer for
in all sports, in all politics, in all communities
You have moved on to other chapters in your life.
You have developed and life is different
You have new and different friends, jobs, homes.
If you stayed in the past
without ever developing new interests,
without exploring new things in life
as you go from one age… one chapter of life into another,
You would be in the same condition
as a shut in, an invalid, a person who has no choice,
whether by medical or mental condition.
Be free to move outside your home and your past
You need to move from one chapter of life to another.
You need to move on
Mourn no more the silence of the crowd
There really is not silence in your life
You are now one of the crowd
making the noise with your friends
Mourn no more the isolation
Just because the throngs aren't where you are
You now have to go to where they are now
They are living in the new and current
Look around you…
The people who are really close to you
Are the ones who see you for who you are
They love you for who you are
Not what you are or what you were
Most of the crowds loved what you were
Now they love what someone else is
True fans still remember what you gave them
They will always be grateful to you for that
True fans mourn when past champions become tragic figures
It is up to you to not be the tragic figure
It is up to you to be grateful for what you have today
And to be grateful for the gifts that you received from your past
The true friends and family you now have
Are so essential to your life
You need to now give back to them
What you borrowed from them during
What was your time of the past
It is up to you to live up to no-ones expectations
But to live… to live a complete and loving life
Embrace your lover
Hug your children and friends
Move with the ebb and tide of life
You can have lovely days
One after the other
If you choose to see the beauty of life
In all its complexity, challenges and normalness
Life is like a kaleidoscope
Move it a little and
Everything looks different
Yes, you used to be the one they cheered for
Thank your God
For how wonderful that was.
How few people have had that experience
It is someone else's turn now
You are the product of a wonderful kaleidoscope
Keep on moving it and
And looking forward through it
Enjoy the colors of your life
Brent Emery
Milwaukee, WI
Wednesday, February 18, 2004
Godspeed (Marco Pantani)
May the hill rise to meet Marco, the wind be at his back, the sun shine on him and the God he believes in hold him safe in his hands forever.
A truly sad loss.
John Kelly
Thursday, February 19, 2004
A loss for the runts
I've always been a fan of Marco Pantani since the day I happened to be in Italy to witness him take the fight to Miguel Indurain in the '94 Giro at a time when Indurain was considered unassailable. I think that Pantani's appeal comes from the surprise of this singularly unattractive and runty little guy (The Italians called him Dumbo before "il Elephantino" and "Pirata. ") who would not get even third string pick in a pickup schoolyard soccer match, slaying the handsome golden boys of the sport. He did it to Indurain, Ullrich and tried hard to take down Armstrong.
Pantani appealed to me on a sympathetic level. I can envision him as that scrawny, ugly kid we always picked on all the way through school. He couldn't get a date, couldn't make the team and was probably a lonesome loser in the eyes of his peers. When he discovered the bike, he probably found some solace and then discovered his ability to stand up to, compete with and then dominate his peers. The bike gave him identity. It gave him recognition. It gave his fans the hope that there is someone out there scoring points for the scrawny, runts of the world.
When, in the end, it was all taken away from him through his own doings or the machinations of others, he lost his identity. The bike gave Pantani a life, but because he could not cultivate one outside of the sport, he gave his away to depression and possibly drugs. And THAT is the tragedy. He gave hope to the underdogs of the world, but in the end, he saved none for himself.
Morgan Andriulli
Huntsville, Alabama
Thursday, February 19, 2004
Scars
"God will not look you over for medals, degrees or diplomas, but for scars." - Elbert Hubbard
Marco had a few medals and awards, but it's the scars that we'll remember. Which I think is what attracts many people to cycling. The dichotomy is that everyone is capable of riding a bike, but so few are capable of racing at the level of the elites. It takes sacrifice and suffering to reach the heights of a Pantani, and even when they do slave away, we the viewing public are not satisfied. If Marco comes in 14th in GC a grueling three week tour, we say he's washed up. If Jan balloons up to a whopping 6% body fat, we say he's out of shape. If Mario only wins two stages against Petacchi at the Giro, when no one else can even touch him, we call him a loser whose ego obviously has gotten in the way of his training. And if Lance comes in 2nd out of 180 racers in a time trial, we say he's lost his grip on this discipline.
Marco still had some years of racing left in him. Maybe not with the goal of a top ten UCI points placing, but definitely as an antagonist who would attack at the decisive moment and shake things up.
I can't pass along any wisdom or lessons learned from this to the rest of you. That is a highly personal issue, and everyone has to come to their own conclusions as to what this means to you. But I've seen too much death this past year, and have walked hand in hand with depression, and Marco's death is yet another reminder and should be a wake up call that life is too short not to take care of those around you.
"It is foolish and wrong to mourn the men who died. Rather we should thank God that such men lived. " -George S. Patton, Jr.
Steve O'Dell
Peachtree City Georgia
Thursday, February 19, 2004
Recent letters pages