Letters to Cyclingnews - January 14, 2004
Here's your chance to get more involved with Cyclingnews. Comments and criticism on current stories, races, coverage and anything cycling related are welcomed, even pictures if you wish. Letters should be brief (less than 300 words), with the sender clearly identified. They may be edited for space and clarity; please stick to one topic per letter. We will normally include your name and place of residence, but not your email address unless you specify in the message.
Each week's best letter gets our 'letter of the week' award. We look for for letters that contain strong, well-presented opinions; humour; useful information or unusual levels of sheer helpfulness.
Please email your correspondence to letters@cyclingnews.com.
Recent letters
Cycling over-represented in heart fatalities
Fitness?
Tour de France 2004
Greatest of all time
Adham Sbeih
Clinger to fill Cipo's shoes?
How to lean in corners?
Riding Etiquette
Tom Simpson Ventoux Monument
Reader Poll - Best Bike
Tour de France - Visiting
The Ras


Letter of the week
A signed copy of William Fotheringham's Tom Simpson bio is are on its way to Kyle.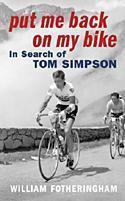 Cycling over-represented in heart fatalities
Dear Cyclingnews,
Zanette, Jimenez, Zanoli: European professionals and all dead this year whilst young men from apparent heart attacks. These are just the ones I've kept track of; are there any more?
It seems apparent to me that current and former European professional cyclists in their early to mid 30's are over-represented in fatalities attributed to heart problems, congenital and otherwise.
What could be going on? Does cycling attract, due to a mysterious or subconscious factor, those of us who suffer from a predisposition to heart problems? Certainly, many world-class swimmers are asthmatic, but they began swimming on the advice of their doctors. The messrs named above, I assume, received no such coaxing to become cyclists. I also suffer from predisposition to heart problems and I was drawn to the sport as if to a magnet.
Who can forget the tragic figure of Rudy Dhaenens? A nearly man who won the world title in 1990 amid much surprise, suffered the dreaded (and perhaps clichéd) 'rainbow curse' the next (or did he? He was, after all, the classic 'nearly man'), and was then forced to quit cycling upon the revelation that he suffered a congenital heart defect that excluded hard physical exertion. That Dhaenens was eventually killed in a car accident travelling to his commentary job on the Tour of Flanders makes him a worthy subject for a ballad. I can also remember a Polish rider whose name I cannot recall that won the amateur World road title in the early nineties that was forced to quit for a similar heart ailment.
Greg Lemond's words to a British documentary in 1990 seem incisive: "Who knows, maybe this sport isn't really healthy". Lemond was alluding to the Tour, of course, and not to cycling in general. If it wasn't for his superb fitness and talent, Lemond would probably have suffered complications from his hunting accident far earlier than he eventually did.
But Lemond's point is a salient one: are the demands of professional cycling so high and violent to the body that they produce fatal health problems relatively early in life; a hastening of the things that were to kill us later in life? Some medical literature a few years ago suggested that the human heart has a preset number of beats it can perform before failing. Do the physical demands of professional cycling use up that number early?
My speculations in this letter have been at best whimsical, and at worst guilty of fallacious argument. However, my desire has been to avoid the cynical assumption that professional cyclists are dying from EPO misuse. Unfortunately, time may tell that this was really the case after all.
Kyle Macak
Sydney, Australia
Saturday, January 3, 2004
Fitness?
In view of cycling's awareness of the importance of heart health. What kind of heart checks should a cyclist request? It seems that some young and older racers' deaths could have been prevented. Is there any age group that should avoid maxing their heart rate? (If they have continued from a young age )
Timothy Shame (timnheathers@wmconnect.com)
USA
Sunday, January 4, 2004
Tour de France 2004
After the amazing return of Ullrich this year I consider him the favourite for next year's tour. He has always been the strongest man of the peloton, as he has shown in this year's time trial. But let's take a look at some interesting points.
Ullrich came back from two surgeries and didn't have an opportunity to be well prepared for the Tour, but even so, look at what he did. He lost the Tour on the Alpe. He wasn't at the best of his form yet. But even so, remember that Beltran was a former Team Coast rider who transferred this year to US Postal. So, who put down that amazing pace that caused Ullrich to be left behind on the Alpe? Who was always there to protect Armstrong on the climbs? What if Beltran hadn't gone to US Postal? I wonder…
What about Mayo? Ullrich really only lost time for Mayo on the Alpe. On the Peyresourde, he really didn't go for it (probably it was a mistake, but that's the past). He even took a minute out of Mayo on Ax les Thermes. Ullrich is always too afraid to attack; he doesn't have the killer eye like Armstrong on Luz Ardiden. That's his weakness (the mind). But he is beginning to change now and Armstrong is breaking. Don't give excuses that he is sick or dehydrated, bla bla bla…he is clearly getting weaker.
Taking a look at Ullrich's team for next year, oh that's going to be something. He's not going to be alone anymore (like this year), his team would be able to control the race, protect him and destroy the field (even US Postal - Heras has gone out, and by the way, he doesn't have a chance in the Tour, the same with Simoni).
The Tour is at another level. There are no Armstrongs or Ullrichs at the Giro or Vuelta. Outside Pantani (he won because Ullrich didn't prepare well for the 1998 Tour, putting on some weight), tell me how many of the recent winners of the Giro or Vuelta have done a significant result at the Tour. No, the Tour is another level for these riders.
Let's take a look at next year route. I think it suits Jan very well. Two major days in the Pyrenées, where I think the show will start. Remember the 2002 finish at La Mongie? I think this year it will be something like that, but it will be Telekom that will destroy the field. The next day should be very important and a well prepared Ullrich should be able to match Armstrong: this year Armstrong only took 40 seconds out of Ullrich on Luz Ardiden.
Ah, the time trial up the Alpe. What a day it will be, but this time I think it would play into the hands of Ullrich. It's a time trial without the constant changes of rhythm of a mountain top finish, remember. And he even has a 60 km time trial to destroy the other opponents. Look what he did this year. And if it is a nice hot sunny day he will crush Armstrong. Armstrong was lucky this year with being a rainy day on the last time trial, because if it wasn't Ullrich would have probably take a lot of time out of him the way he was going.
He's back and it looks as though he's becoming stronger then ever. Let's wait and see.
Isaac Almeida
Viseu, Portugal
Date: Mon, 29 Dec 2003 15:24:05 +0000
Greatest of all time
Matthew Mecham called Bernard Hinault a "whining badger".
I guess he was not born in Hinault's days or he would have known that his motto was "don't get mad, get even". He never complained of any dirty trick played on him, he just made sure the perpetrators of those tricks paid for them.
Besides, "whining badger" is an oxymoron.
Cheers,
François Siohan
Switzerland
Monday, January 5, 2004
Adham Sbeih
I just needed to speak my mind regarding Adham Sbeih.
I know that the last thing he wants are people like myself proliferating a rash of "in defense" type rants, so I'll bite my tongue and leave it to this..
After bike racing for more than half of my life thus far, I've come to the realization that what keeps me going in this sport more than any other single factor is the friendships that I have been able to make with so many different people that I may have never met otherwise. Adham is at the very top of that list and I'm a better person for having him as one of my best friends. His presence in the peloton will be missed by more than just me, I'm sure.
Burke Swindlehurst
USA
Tuesday, January 6, 2004
Clinger to fill Cipo's shoes?
I can't believe the crap I read recently on Cyclingnews. The mere suggestion by Anthony Tan that David Clinger might be able to fill Super Mario's shoes. Whatever David Clinger has been smoking, he must have passed on to Anthony Tan, hence the reason Mr. Tan would waste the time with this interview. He's got the legs?! He's got the speed?! Well, we all know now from this interview that he has the "confidence". I gave up after a brief moment combing through Clinger's palmares to find any result that would indicate he has the speed to even be Cipo's 3rd lead-out man.
Clinger would be hard pressed to fill the shoes of the departed Giovanni Lombardi. When he says things like "...when Cipollini doesn't have the balls to win, the other riders will have their chance...", it makes me wonder who he's trying to impress. Obviously not Cipollini. I would be willing to bet Cipollini's not itching to have Clinger in his lead-out train when he decides he does have the balls to win.
Thomas Cooke
Park City, Utah, USA
Sunday, January 04, 2004
Anthony Tan replies:

For a non-European rider to be considered worthy of being on a European trade team whose main sponsor(s) have no real interest outside of Europe such as Domina Vacanze, that rider is obviously believed to be someone of considerable potential, at least from the perspective of team management.

While it is true that Clinger does not possess the palmares or sprinting ability of Mario Cipollini, it would be premature to suggest that the American will never be able to do so. Foreign riders often take longer to assimilate and grow in the unique environment of European professional cycling, with Clinger no exception.

Clinger did come across as a rider full of confidence - maybe a little too much - but confidence is half the battle in a sport that is often characterised by mind over matter. Whether he makes it to the level of Cipollini or any of the world's top sprinters, we'll just have to wait and see.
How to lean in corners?
I don't know if this subject has been discussed before. I think it probably has, but here goes.
The point of the debate here in our club is the technique for leaning the bike. Does one lean the bike over into the corner and try to stay more upright with the body, does one stay centred with the bike and lean the bike over with the body aligned, or does one hang off the bike into the corner, a la a motorcycle ace?
We are not debating the braking, or foot and hand weighting just the leaning technique. Any input would be appreciated: technical or just what feels good.
Dermot Meaney
Bright, Victoria., Australia
Tuesday, January 6, 2004
Riding Etiquette
Following on from a point raised by Thomas Sulentic in last week's letters.
"There is nothing worse than some asshole all pumped up on caffeine who truly believes that every group ride is his platform to showcase his/her new found cycling skills. You know the dick that puts the hammer down after the last stop sign out of town."
Yes, I think we all know many riders like that, and most of them probably aren't charged up on caffeine or anything else! That's one reason why I choose to do most of my training alone, and strictly limit the amount of riding I do with the local bunch.
Patrick Douglas
England
Friday, January 9, 2004
Tom Simpson Ventoux Monument #1
Peter Niesen asks if the Simpson memorial monument is cared for. While I can't answer that specifically, I can say that I would guess that the elements would keep it free from any articles left that were not tied down!
We were there the year Armstrong gifted the stage to Pantani. The wind was so strong and cold the day before the stage came through, that the Etape du Tour was cut short and the four of us huddled in the car together overnight to keep warm!
My family and I went back a couple of years ago in July when the Ventoux was not on the Tour route. The place was so desolate, cold and misty it was not hard to imagine the snowfall that winter would bring. I'm sure the vast majority of artefacts must end up down the valley with the snow melt. This is why I'm sure the memorial is in such a precarious state because of the constant erosion of the mountain, which is covered in loose off-white limestone rubble that is constantly on the move. It needs some deep solid foundation to hold it.
There were a few riders tackling the mountain that day. We passed them in the car at Bedoin and waited at the top and cheered on the only one who made it all the way to the top.
Roll on July!
David Norwich.
Fountainhall, Scotland
Sunday, January 4, 2004
Tom Simpson Ventoux Monument #2
The Commune of Bedoin, the village at the foot of the climb, regularly removes excess tributes from the monument.
Chris Sidwells,
England
Wednesday, January 7, 2004
Reader Poll - Best Bike
I certainly agree with Dan's improved method of counting the "Best Bike" votes - but in his tally, he lists one "Opera" and one "Giorgione". OperaBike is a Pinarello brand - designed, manufactured, and sold by Pinarello under a different name because of the different tubing used - and the Giorgione is one of their models. So, that would add two to Pinarello's total - nearly, but not quite, putting them into their rightful place atop the podium.
Paul Spencer
USA
Monday, January 5, 2004
Tour de France - Visiting
I am interested in seeing the Tour de France live this year, and, naturally, would like to both bike part of the stage and watch the racers finish. I know that some bike tours offer the chance to ride the course in the morning and then see the end of the race, but I was not able to find out about the rules and regulations for individuals riding on the course early on the day of the race. Is this at all possible for an individual?
Thanks,
Piotr Brzezinski
Poland
Tuesday, January 06, 2004
The Ras
Fantastic book, great stories about great characters. It explains the reasons behind the infamous split and the unfortunate incidents that accompanied this.
A great read for all cycling fans.
John Moran,
Ireland
Thursday, January 8, 2004
Recent letters pages