Letters to Cyclingnews - November 21, 2003

Letter of the week
A set of Specialized Bar Phat shock-absorbing handlebar wrap - as used by Supermario - is on its way to Marek.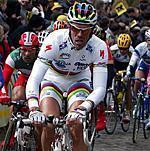 Tour climbers analysed
I agree that Lance was the best climber in the Tour de France during the period of 1999-2002. As for the year 2003, I have a different opinion, which I will try to prove using some hard facts.
Of course, a definition of the best climber is problematic. I offer my own definition by which the best climber in the race is the cyclist with the most consistent performance in all of the mountain stages calculated from the final cumulated time of these stages (ignoring some extremes when there is a break of non GC contenders with big gap).
However, some of the mountain stages have a mountaintop finish while some don't. But as we will see, this will not significantly change the results of the comparison. By using this definition of the best climber, I have compared time differences between the six most consistent climbers in the 2003 TdF: Iban Mayo, Lance Armstrong, Haimar Zubeldia, Ivan Basso, Alexandre Vinokourov, Jan Ullrich and Tyler Hamilton. These six climbers appeared consistently in the leading groups in the finals of mountain stages. I have calculated the time differences in seconds between these 6 riders in 7 mountain stages of the 2003 TdF (Stages 7, 8, 9, 13, 14, 15, and 16). Then I have made two rankings - differences in stages with that have a mountaintop finish and differences in all mountain stages.
The results are as follows.
Stages with mountaintop finish
 
1 Iban Mayo                         0.00
2 Lance Armstrong                  +0.41
3 Haimar Zubeldia                  +1.16
4 Ivan Basso                       +1.40
5 Alexandre Vinokourov             +2.31
6 Jan Ullrich                      +2.38
7 Tyler Hamilton                   +3.17
 
All mountain stages
 
1 Iban Mayo                         0.00
2 Lance Armstrong                  +1.24
3 Alexandre Vinokourov             +1.55
4 Haimar Zubeldia                  +1.59
5 Ivan Basso                       +2.23
6 Jan Ullrich                      +3.21
7 Tyler Hamilton                   +5.12
This approach has a number of shortcomings. One can argue that Lance did not chase too hard for Mayo on L'Alpe d'Huez stage, because he was lesser threat than Beloki on GC; this calculation does not take notice of placing on intermediate climbs, and some good climbers who were just helping out (Heras, Beltran, etc.) are not included. But that is my point - the best climber is in my definition the one with most consistent performance in mountain stages. And this year, it was Iban Mayo, though Lance is still the most complete rider.
Marek Sasik
Bratislava, Slovakia
Friday, November 14, 2003
Beloki's choice of team
Am I the only one that finds Beloki's move to Brioches La Boulangère strange? It seems to me that the best and obvious move would have been to reunite with Saiz at Liberty Seguros. They had a successful relationship at ONCE and, surely, the relationship would have continued to grow at Liberty Seguros. Admittedly, Beloki weakened Saiz's position, in his search for a new sponsor, by indicating he may leave Saiz. Therefore, Saiz wanted Beloki to make the first move if they were to reunite. Surely, this is something the two egos could have worked out.
If Beloki had no intention of working with Saiz, the next best team would have been Stayer where he would have had a strong group of ex-ONCE riders for support in the Tour. Stayer and Beloki couldn't agree on money. So Beloki is now stuck with Brioches. I fear his Tour hopes have vanished. However, I may be proved wrong if he does an "Ullrich at Bianchi" type performance at the Tour.
Wolfgang Klages
Wednesday, November 19, 2003
Simoni's Challenge #1
I have to agree fully with Geoff Rapoport's letter.
Lance should and I am sure will completely ignore the challenge of Gilberto Simoni. Lance should be and will be totally focused on securing the elusive 6th Tour de France. It is this "never been done before" achievement that will make him the greatest Tour rider of all time. He doesn't need to get involved in side shows like the Giro. Not in 2004 anyway!
Simoni should be the one making the "sacrifice" if he wants to challenge Lance fair and square. He has less to lose than Lance for sure. He just like Salvodelli who will be supporting Ullrich should give the Giro a miss next year and focus his whole season on the Tour. Then he will have the level playing field he so craves.
Simoni should consider this before dismissing such an idea - Simoni would be remembered more for being the guy who stopped Lance winning his sixth Tour then if he were to win another three Giro's!!
If you want to show the world you're the best then you've got to do it against the best, at the best race in the world.
Over to you Gilberto - pick up that gauntlet!
Andy Hill
CC Luton/Bandon Cleaning/Eddingtons, UK
Friday, November 14, 2003
Simoni's Challenge #2
The writer makes an interesting case with Simoni's challenge. I think he sells Lance and the USPS team short though.
First, other cycling champions like Merckx and Indurain were able to pull off the Giro/Tour double. Roche and Pantani did it as well. Everyone likes to say that "nowadays it's too hard to peak for both, blah, blah." Those arguments have been made for years. Great champions don't pay attention to the conventional 'wisdom'.
Second, it's tough to claim that the USPS team would be burned up or wiped out by trying to win the Giro and Tour. These guys managed to win the Tour and Vuelta this year, didn't they? Of course that was with two different leaders but the writer's claim was the team couldn't handle it, not the leader.
Third, the writer fails to understand what it's like for a rider to compete and possibly win his own national tour. You must be Italian, French or Spanish to truly understand this.
No other pros have a national tour like theirs, how could Lance possibly understand what it would be like for Simoni to race (and win) the Giro?
For many Italian pros, the dream of winning le Tour is strong. But doing it at the expense of the Giro is a huge sacrifice to make. One that Lance knows nothing about.
Simoni wants Lance to race both events to win. Gilberto will race both to win. Does Lance have more to lose than Simoni in this scheme? Certainly. Nobody becomes a great champion without some risk though, do they?
Simoni knows that Lance will quite likely win the '04 TdF. He also knows Armstrong will probably hang up his bike afterwards. If Lance fails to line up for the Giro in '04 it's quite likely his fans will never get to see how he'd fare in the Giro d'Italia. Lance can say that Le Tour is different than the Giro, but until he's raced there, he doesn't know HOW it's different.
I, for one, would love to watch him find out.
Larry Theobald
CycleItalia, Sioux City, IA, USA
Sunday, November 16, 2003
Simoni's Challenge #3
Indurain did it, other greats have done it, why can't Lance? Quit beating the Lance drum without admitting he has faults, is not loved by all cyclist (even in the U.S) and will have a hard enough time winning the tour next yr let alone a double. A couple of years ago I think he could have pulled it off but these days he has people pulling him all over the place, the focus is harder to maintain and retirement is one tour away.
I will give you this, Lance does not care what I or anyone else thinks, as he has said over and over "in a couple of years I will be on the beach drinking Shiner Bock Ale and won't give any of you a second thought."
That's fine with me and fine with him but be honest about it, he is not in shape to win a grand double and his attitude towards the amateur racers, the fans, the press and a contingent of other people is and has been to look out for himself and his select few friends.
Tom Jiminson
Pasadena, CA
Sunday, November 16, 2003
Simoni's Challenge #4
I don't see why Lance Armstrong riding the Giro and the Tour in the same season is such a preposterous idea. I mean, it's not like it hasn't been done before. Pantani did it five years ago, and won both. Indurain did it three times, and won both on two of those three occasions. Rominger won the Vuelta and finished 2nd in the Tour in 1993. Bugno and Chiappucci did both races almost every year in the early '90s. Hinault did it all the time. And if Armstrong can do two hard stage races like the Midi Libre and the Dauphinée, why not one three-week race?
I know that the Tour is pretty much all that matters to Americans, but I refuse to believe that cycling has changed so drastically since the 90s that the Giro-Tour double is now virtually impossible to achieve.
If I were Lance I'd do it, and if I lost, well then I could at least say that I tried. It's not like he needs the money to live, and it would help his image in Europe a great deal.
Anders P. Jensen
Korsør, Denmark
Sunday, November 16, 2003
Simoni's Challenge #5
Here's a reason for Armstrong to take up Simoni's challenge (in answer to Geoff Rapoport); to finally answer the question of whether he is even worthy of being considered to be among the ranks of riders like Merckx.
People are lining up to call Lance the greatest of all time and he can't win (won't even attempt) a grand tour double, much less the triple crown or any number of other feats. Hell, he won't even race worlds when they are in North America on a rare occasion, much less combine it with the Giro and the Tour.
Jake Helmboldt
Richmond, VA
Monday, November 17, 2003
Simoni's Challenge #6
Maybe, maybe, but then maybe:
Maybe Tyler Hamilton will win the Tour and Stefano Garzelli will win the Giro, George Hincapie will win Paris-Roubaix and Flandres.
Maybe Vino will win the Tour of Suisse, and Ullrich will have to stretch his season to try to win something in the Vuelta after 12 second and 14 third placements in the longest cycling year of his life.
Maybe some random Joe Schmoe will pop up from nowhere to win it all (then we are stuck with another cannibal for 10 years).
It's frustrating for the fans because we will never see all the best of the best squaring it off in the same grand tour. Some guys will go for the Giro, some for the Vuelta, some for the Tour of Suisse, and then most of the big guys will kill themselves for a top 20 placement in the Tour.
Simoni: enough press releases, you and Lance Armstrong go to the Crocodile Trophy at the end of next year and we see there who is the best - good preparation for riding in hot weather.
From: Stefano Drei
CA, USA
Tuesday, November 18, 2003
Floyd Landis
The big blue train that is USPS is certainly "all for one and one for all", and that is the ingredient leading to their ultimate success and the defeat of the other big teams in le Tour. In Mr Rapoport's letter of the week he writes "11 months out of the year they (domestiques) get to race their respective races". That's not at all evident from the Landis interview. The frustration was evident in the interview particularly waiting for Heras after being in the winning break during the late stages of the Vuelta. I have felt for the longest time that eventually the drive to win on the part of a cyclist can't be forever quelled to be perpetually subservient to his master, namely Armstrong. The losses of best friends Livingston and Hamilton lie testament to that thesis. The working conditions, organization and pay scale obviously are very attractive, particularly for a rider like Landis with undoubted talent coming from the debacle called Mercury. However, how long can a rider of such ability be held on a leash without wanting to chance an opportunity to win or eventually transfer?
Barry Whitworth
Roseburg OR USA
Monday, November 17, 2003
Roberto Heras
Regarding Roberto Heras, I'm having a very hard time thinking of someone who won a Grand Tour as "awful this year". Does anyone seriously believe Roberto's currently thinking to himself, "yeah, I guess I did win the Vuelta, but really, this year really sucked"? Or are any of the 1500-plus pros who didn't win the Giro, Tour, or Vuelta thinking to themselves, "this year was bad, but at least I didn't do what Heras did..." Seems unlikely.
Rob Roeder
USA
Tuesday, November 18, 2003
UCI plans
Am I the only one worried by the UCI's plans for a 20-team, 30-race series starting 2005? If I've read it right there will be 20 teams given a contract for 4 years, with no promotion and no relegation during that period, 30 races to include the world cup (10 races) and the 3 tours, others to be added to make up the number.
Now my question is: how will this benefit cycling? Because within 2 years there will not be any second or third division teams as there will be no sponsors to pay the bills, and few if any races outside of the "circus" for them to ride in. Here in Spain there are a number of one week tours. Some that are organised by Unipublic (who organise the Vuelta) may survive but the rest will disappear due to lack of TV coverage. Will France, Italy etc be any better off?
The smaller teams only survive on the crumbs thrown to them by TV coverage so where will the next generation of cyclists come from? Something similar has happened in football, but they can get players from South America, eastern Europe: we can't get bike racers the same way can we?
Already the roots are dying, races for women and the under 23's falling from the calendar like flies, is the process reversible? Not with the UCI in charge it seems. Will their plan really do anything for the good of cycling in general? I can't see how. I hope I'm wrong but the only effect I can see is the "suits " that run the "sport" getting richer.
Barry Rothwell Taylor
Union Ciclista Benidorm
Friday, November 14, 2003
Cyclist of the year #1
While Bettini, Hamilton, Vino and others had very good years, it has to be Petacchi for one simple reason: He did something nobody else has done, at least four stage wins in all three Grand Tours. I would exclude Lance despite his tying the record with five straight because he looked a bit wobbly and got extremely lucky - crashes for major contenders and Ullrich's tactical gaffes. Only two other riders ever had won in all three tours, and they had most of their wins in one of them, with one or two stages in the others. Say what you want about sprinters not working until the last kilometer, if it is so easy why don't people win in all three all the time?
Steve F
Pasadena CA
Friday, November 14, 2003
Cyclist of the year #2
All of the cyclists so far mentioned are good, sound choices for rider of the year. I like them all, and most of the reasons for voting for them are pretty well thought out too. While all are worthy cycling racers, some are bums off the bike.
I like Gibo Simoni for the following reasons.
1. He is a grand tour winner, not once, but twice.
2. He doesn't snub anyone on or off the bike, and
3. Seems to be aware of the politics and history of his sport.
4. Has kept his small town roots and honors those who have helped him achieve success.
5. While challenging Armstrong and others to race him in his own race, has not feared to race on their "turf". And, has challenged with
6. A respectful and lighthearted attitude.
7. Is diplomatic enough to rescue Mayor Brown and the pre-race meeting in San Francisco, even though he was the "outsider".
8. In short, seems to be the best representative we currently have of a cyclist, on and off the bike.
Unless I am missing something major, Gilberto Simoni embodies the qualities of a champion in heart and deed.
John Williams
CA
Saturday, November 15, 2003
Tour 2004 - TTT rule change
Tim Shame has the right idea about the TTT in the Tour. Why not just make it shorter to reduce the time gaps, if that is what the organisers are worried about (as it obviously is)? Putting a limit on the time gaps seems ludicrous. What is to stop a team that knows it has little chance of getting within 2:30 mins (or whatever the gap they choose) of USPS having a third rest day and just rolling in within the standard time limit, with little energy expended and their main GC contenders out of the wind all day?
Regards
Rob Meeks
Friday, November 14, 2003
Punishing fatal driving #1
While agreeing emotionally and in principle, I find myself disagreeing with both points of view when I try to imagine the psychology of conviction in these cases.
I think the problem is that everyone drives. Most drive so much that they have experienced many of the things that kill cyclists -- they've done many of them themselves and have simply had the good fortune not to kill anyone. They've spilled coffee on themselves, rubbernecked dangerously at events in oncoming lanes, had animated discussions on mobile phones, leaned backward to hand their kids juice cups, cut it too close at intersections, run yellow lights.
When confronted with a person who is just like them whose inattention -- which is just like theirs -- had disastrous results that they've been merely fortunate to avoid, it's unlikely that a jury will convict someone of a substantive charge on the basis of what is easy to see as simple bad luck. Driving is complicated -- the problem with it is that even the best drivers have moments where they're not all there, and everyone knows it.
They might reflect on their own luck, they might resolve to do better themselves, but unless there's something egregious -- drunk driving, highly excessive speed, deliberate assault -- there's just too much identification to get consistent convictions, and upping the penalties will result in fewer, not more convictions.
If you can't even substantively and consistently criminalize drunken driving, which has been shown to cost thousands of lives annually and continues to do so despite a variety of more or less serious legal gestures and sanctions, then cyclists don't stand a chance.
Mark Jenkins
Portland, Oregon
Friday, November 14, 2003
Punishing fatal driving #2
Part of the legal problem with your argument is in the very definition Darrel Stickler gave.
"Second, in the circumstances existing at the time, the person's act either was by its nature dangerous to human life or was done with reckless disregard for human life; and..."
You would have to be willing to say that anyone driving as the sun goes down in a particular area at a particular time would be acting with reckless disregard. I do not believe this society, or any other that relies on motor vehicles would be willing to put a vast majority of its population in "jeopardy" of a conviction because they chose to drive as the sun goes down. Or when it is coming up. Or it is at its highest point. Etc etc. Are you willing to say driving is "by its nature dangerous to human life?" I doubt it. Would clearing the roads during sun up and sun down cure all dangers to any one using the roads? Probably not. And since bikers can fall and kill themselves through head injuries [those dumb enough to ride without helmets] bikes need to be banned as "dangerous to human life" as well. I don't want that. Do you?
It is too bad this unfortunate incident is being used by anti-automobile, environmentalist earth-muffins to attack cars and especially SUVs. The tragedy is that someone died, not that a particular car was being driven at a certain time.
Sean Jones
Trinidad and Tobago
Friday, November 14, 2003
Punishing fatal driving #3
Cycling is not risk free. The sun in one's eyes is an inherent risk built into the solar system. We're never going to see charges against a driver whose only error was being on the road at dawn or dusk. Imagine the outcry if driving or cycling was prohibited when the sun was within x degrees of the horizon.
When a cyclist is killed, involuntary manslaughter charges should be brought where there was deliberate dangerous driving in known proximity to cyclists. For example: straddling the shoulder running cyclists off the road (as opposed to passing with 6 inches to spare), throwing heavy objects at cyclists (empty cans probably aren't egregious enough), crossing the center line to run oncoming cyclists off the road. Intent to kill probably isn't there, but reckless disregard for life sure is.
Russell Burnett
Decatur, Georgia, USA
Saturday, November 15, 2003
Punishing fatal driving #4
In response to Darrel Stickler; I feel exactly like you, like a bug trying to dodge windshields and bumpers: pathetically since I moved to Oceano I started avoiding paved roads as much as possible, zip down to the beach and ride by the water (unfortunately that is the ATV park, so even there I got to watch for traffic).
Prosecuting for vehicular manslaughter might be a little difficult (unless you can prove intent on the part of the driver, like road rage or something similar), but how about a little sensitivity training like have the driver drive something smaller for a while like a bycicle (or a moped or tri-cycle if he/she is not fit enough to ride a bycicle).
Just to develop some sympathy for the "other side": the healthier and more physiologically and ecologically sound side, but also the more exposed and fragile side.
I probably should try myself, instead than expressing my feelings of anger because of the careless behaviour of many drivers, to have a more cooperative and understanding approach to drivers who have no respect for those flimsy coloured things on two wheels on the side of the road. Maybe friendly explanation can be more successful with friends, relatives and coworkers. I believe that most drivers mean well, but then life gets in the way and shit happens: ask the senior citizen who mistook the gas for the brake and drove through the farmer's market in Santa Monica, CA.
So a week of bicycle riding instead than the normally lame traffic school after a driver gets a ticket might be a good way to force stressed drivers to a change of pace, and to remind them that they are sharing the road.
I know this would never work. Put a guy who's never ridden a bicycle on urban streets, if he is lucky and does not get killed the first day (after waking up 2 hours earlier than normal and still getting to the office late and all sweaty), his bike will get stolen while he's at work, and he will have to catch a cab and come looking for me to beat me up with his broken Krypton-Lock.
Stefano Drei
Oceano, CA
Monday, November 17, 2003
Hamilton world's
I agree the world championships in Hamilton were great as a spectator as long as you did not prepay for seats at the start finish line. So many VIP's (Very Ignorant People) standing blocking any chance of seeing anything.
But if you want to know why cycling is not progressing in the states, ask a friend, who is not a cyclist to find out if there are any upcoming races in the area you live. Chances are he will not find one or if he does it will have been after substantial effort. Now do the same thing for another sport, and the search will be so much clearer. The national cycling body has so little information, with regards to getting information to the press, it is awful.
The other reason: elitist road riders. Go to a mountain bike event, everyone says hello, and you feel welcome. Can't say the same for a road event.
Michel van Musschenbroek
Georgia
Tuesday, November 18, 2003
Italians spending €600 million/year on drugs
The article in question on doping quoted Donati as specifying 300MM Euro was spent and unaccounted for on EPO and 250MM Euro was spent and unaccounted for on Growth Hormone. I doubt that anyone is self-prescribing these medicines for the flu or any other minor malady.
The article also did not specify it was all being spent on cycling. I am sure there are other sports beyond cycling that have problems with these types of performance-enhancing drugs as well (ie: X-C skiing, Track and Field, etc…).
Erik Sass
USA
Friday, November 14, 2003
Amateur racing in France
Dave should pass on FFC and get a license with UFOLEP (www.ufolep.org). The racing is low-key but excellent -- mostly challenging circuit races -- and the fields consist of weekend racers in their forties and fifties like him. I raced UFOLEP cat 2 and 3 and found them about on a par with masters 40 racing in the U.S. UFOLEP cat 1 is more like a U.S. cat 2 field. I was able to race two or three times a week without having to travel farther than 40 miles.
Geoffrey White
Arlington, VA
Friday, November 14, 2003
2003 World's video wanted
CBC Sports covered the last few hours of the event live. Please visit the following link to make a request.
http://www.cbc.ca/sports/faq.html
Andrew Szafranski
Canada
Friday, November 14, 2003
Put me back on my bike
I read this book in September before going to Hamilton to watch the World Championship's. Nonetheless, I completely agree with your five star review of this excellent book. Fotheringham displays the professional cycling culture of the sixties and Simpson's cycling life with extraordinary nuance and precision and sensitivity. This book is a must-read (and own) for anyone interested in professional cycling.
Chris Jensen
Thunder Bay, Ontario, Canada
Thursday, November 20, 2003
Recent letters pages