Tales from the Peloton - November 17, 2003
Change and challenge for Joseba Beloki
New start with a two year deal at Brioches La Boulangère
By Chris Henry
Joseba Beloki
Photo ©: Cyclingnews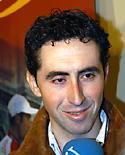 Joseba Beloki's decision to join the French Brioches La Boulangère team caught many observers by surprise, and the deal represents a major coup for the team, ranked 19th at the end of 2003, coming at the tail end of the transfer season. Many would have assumed that Beloki would stick with ONCE-Eroski team director Manolo Saiz, and Beloki himself said on occasion that his preference was to remain loyal to Saiz, but the time necessary to find a replacement sponsor and create a new team was too long. Beloki grew impatient with the negotiations, and although he had not yet settled on a team by the time Saiz announced Liberty Seguros as his new title sponsor, he had evidently decided to move on.
"I think Manolo is the best directeur sportif in the world, and I have incredible respect for him, but there were some problems with the sponsor," Beloki said, explaining his choice not to follow Saiz to Liberty Seguros.
With Saiz no longer in the picture, Beloki's attention turned to the emerging Stayer team from Italy, where he hoped to sign as team leader along with a band of faithful ONCE teammates. The deal looked promising, and Beloki had also convinced his former teammate Abraham Olano to return to the world of professional racing as a directeur sportif for the new team. Beloki and his lawyer Pablo Arregui traveled to Italy, along with Olano, to meet with representatives from Stayer. However, after hours of negotiating, it became clear that the seemingly perfect deal would not be closed. Beloki was said to have placed too great a demand on Stayer for financial guarantees of his salary for three full years, but whatever the reasons, the perfect sporting project fell apart amidst the contract wrangling.
The deal is done
Photo ©: Cyclingnews

While teams such as Gerolsteiner, Lampre, Saeco were thought to be the likely contenders for Beloki's signature, Brioches La Boulangère was quietly putting together a plan to dramatically change the shape of its team for 2004. La Boulangère entered the fray to sign Beloki upon hearing that Beloki wouldn't 'wait forever' for Saiz to find a sponsor back in mid-October. Team director general Philippe Raimbaud and team manager Jean-René Bernaudeau each spoke of the 'acceleration' that Beloki provides for the longer term goals, alluding to objectives in the general classification of the Tour de France in 2005 or 2006, which have now without doubt been pushed ahead to 2004. Bernaudeau also explained the process of meeting Beloki, and learning more about his values.
"We hadn't made a great effort to recruit him, but we decided to take a trip to Spain to present ourselves and to get to know the man, because we already knew Beloki the champion," Bernaudeau said. "In our team, integration is the top priority. It went very well; we had a lot of common ground to discuss."
Beloki will be joined at Brioches La Boulangère by his younger brother Gorka, but was unable to bring a larger entourage of support riders with him. "Friendship is something very important to me," he said, referring to his efforts to find contracts for his faithful circle at Stayer. "For me it was important to be able to follow things to the end, and unfortunately with Stayer that wasn't possible."
"There are different types of teams," Beloki explained. "There are those with multiple leaders and those with a single leader. I think Brioches La Boulangère is a unique team, and I share the team's values."
"Brioches La Boulangère is a strong team that needed a leader to win the Tour," he said. "That'll be my role. The team offered me a contract that suited me perfectly, both in the sporting sense and financially."
A Tour to forget... and remember
Solid prologue
Photo: © AFP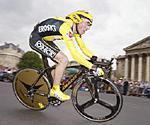 Beloki's 2003 season will forever be remembered for his horrific crash which brought a premature end to his bid to dethrone Lance Armstrong in the Tour de France. After a solid beginning to the Tour, Beloki was showing himself to be in perhaps his best form ever, keeping the time gaps to Armstrong in check and riding in an attacking style that looked more promising than in previous editions of the Tour. As the press whispered of Armstrong's vulnerability, riders like Beloki, a resurgent Jan Ullrich, and Alexandre Vinokourov were gaining confidence and each began to mount his own challenge for the yellow jersey.
At the end of stage 8, which finished atop the famed Alpe d'Huez, Beloki sat just 40" behind Armstrong, who that day took over the yellow jersey. Beloki finished the stage in 6th place, on equal time with Armstrong, after putting in several strong attacks in a back and forth battle amongst the leaders. After solid riding from his dependable ONCE team in the team time trial and throughout the first week of the Tour, Beloki was in prime position to carry on with his offensive.
Tragic end
Photo: © AFP

Fortunes change quickly in the Tour, and by the end of stage 9 from Bourg d'Oisans to Gap, it had all fallen apart. In the closing kilometres of an animated stage, which took the Tour away from the high mountains of the Alps, Beloki was in a select group of GC contenders chasing hard after an opportunistic attack from Telekom's Vinokourov. Descending off a Cat. 3 climb and thundering towards the finish in Gap, Beloki entered a right hand turn too fast, locked his rear wheel, and lost control of his bike as the tire rolled from the rim. As Vinokourov went on to victory, Beloki was left at the roadside, unable to continue.
Race leader Armstrong, who made headlines of his own after a daring cross-country adventure after swerving to miss Beloki, described the incident after the stage ended.
"His wheel started to slide out of control, he rolled his tire and it blew," Armstrong told Cyclingnews. "I couldn't go right because the corner was too sharp, I couldn't go straight because I would hit Beloki, so I had to go left into the field. It happened so fast, I thought Beloki would get a bike change and he would come back immediately... his crash didn't look that bad."
Agony in the aftermath
Photo: © Olympia Photo

In fact, the crash was that bad, and as several ONCE teammates and team director Manolo Saiz tried to comfort Beloki, his screams of pain signaled a dramatic end to what had begun as his best Tour bid yet. Beloki sustained fractures of his right femur, elbow, and wrist, and was out of competition for the remainder of the 2003 season.
Now, with his unfortunate Tour behind him, Beloki knows he can look ahead to 2004 with the confidence that his physical condition was sufficient to challenge for the jersey this year, and bad luck this year could be followed by success in the next.
Recovered and ready
All smiles at the Paris press conference announcing his arrival, Beloki reassured all who asked that he has recovered from the season-ending crash and is ready to work for 2004. After signing the contract in Nantes, Beloki underwent some basic tests with La Boulangère's team doctors, who were impressed by his recovery.
"I've recovered, no problem," Beloki commented. "Now I'm ready to prove myself again."
Beloki and the team will meet throughout the winter to plan his 2004 season, but he leaves no doubt as to where his ambitions are focused: the 2004 Tour de France.
"I know that I'll do more races in France, but hopefully I'll race in Spain as well, because there are important races like [Clasica] San Sebastian," he said. "I'll race in preparation for the Tour de France... and the Vuelta. Naturally I'd like to do both, but my number on goal is to win the Tour de France.
"I'll discuss my racing schedule with the team," he added. "We'll start the season slowly with the objective of being good for the Tour, the Vuelta, the Olympics, and the World Championships."
Beloki will join his new teammates at training camps in Nantes in December and Saint-Raphaël in January. Although not a certainty, his first race in the La Boulangère colours could be the Volta a la Comunitat Valenciana (February 24-28), followed by Paris-Nice (March 7-14). Liège-Bastogne-Liège also figures among Beloki's early season objectives.
Ready to lead
Photo ©: Cyclingnews

Bernaudeau insists his team would profit from Beloki's talent and experience, and would be up for the task of supporting its new leader at the Tour. Younger riders like Sylvain Chavanel will have some of the pressures of leadership eased thanks for Beloki's arrival. Chavanel is likely to focus on races such as Paris-Nice, while Beloki will be the undisputed team leader for the Tour. As the brothers Beloki represent an addition of two riders to the team, Bernaudeau believes that the resources may exist to attempt two grand tours in one season, something thus far impractical with such a young group of riders.
"The Tour is an obsession for Joseba, and for me too," he said with a smile.
Reactions from the team
For the most part, Beloki's decision to join La Boulangère for 2004 was a well-kept secret, even within the team ranks. The riders were all called to the team's headquarters in Nantes for a meeting on Thursday, November 13, at which they knew only that there was 'some good news' waiting for them. For 24 year old Anthony Geslin, who rode his first Tour de France this year, the news is still something of a shock.
"When I got there, I learned that Beloki was joining the team for two years," Geslin told Cyclingnews the following day. "Even better, they said he was coming into the room! It was hard to believe. Now we've moved from the stature of a good team to one that can challenge for victory in the Tour de France."
Walter Beneteau echoed Geslin's surprise at the team's announcement, and added his own satisfaction upon meeting Beloki. "If we're going to move forward and aim for a podium position in the Tour, we have to do something like this," Beneteau told the French paper l'Equipe. "I don't think it will change our way of doing things. Beloki said he liked our team identity, and I thought that was fantastic. Quite simply, we're going to ride the Tour for one ambitious leader, so we'll have to present ourselves like the other big teams."
Didier Rous, French national champion and a mainstay of the team, offered an optimistic, but more guarded response. "Beloki's arrival can be good for the team," he told l'Equipe. "We'll all have to be at the level of these new ambitions, because the responsibilities when your goal is victory in the Tour de France are completely different."
There's no hiding the collective grin on the faces of the Brioches La Boulangère management. Quietly harbouring big ambitions for the coming seasons, the team is now poised to present itself as one of the top teams in the peloton with a man capable of winning a grand tour. As Geslin noted as well, Beloki's presence will help the team receive entry into more World Cup and important single day races, which by extension will allow more of the team's members to look for their own opportunities on the international stage. All part of the team's plans for 2005-2006... Now available in 2004.