Marco Pantani
Photo: © Phil O'Connor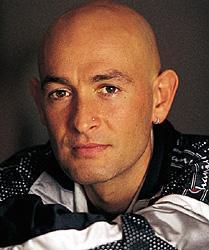 The sudden death on Saturday of Italian climber and 1998 Tour de France winner Marco Pantani shocked the cycling world, and as Pantani's colleagues in the peloton paid tribute, so his achievements and the tragic end to his life were high in the minds of Cyclingnews readers too.
Since we published our first batch of readers' tributes to Marco Pantani on Monday, emails have continued to flood in. They're presented here over the next four pages, in the order that they arrived.
Like watching an angel fly
The first time I saw him it was like watching an angel fly. He inspired my passion for cycling. And my love for climbing. He will be missed. But never forgotten.
Steve Rogers
Sunday, February 15, 2004
Made Lance work
It is a sad day that Pantani took his own life. He was a great climber and fighter. He made Lance work extra hard in the Tour which few cyclist could do. He will be greatly missed.
Tom Hill
Sunday, February 15, 2004
A real character
We were watching the Giro d'Italia ' 03 last night, thoroughly enjoying the thrilling racing and marveling at Marco Pantani's fighting spirit.
Pausing the DVD for a break, we were stunned to see the newsflash on your site regarding "Il Pirata's" death.
Such a brilliant climber. Once again the cycling world has lost a real character.
Our deepest condolences to his family and friends.
R.I.P. Marco Pantani.
Molly Ryan & Dwayne White
Halifax, Nova Scotia
Sunday, February 15, 2004
Guilt
"Until a few hours ago, a lot of people were pointing their fingers at him as a bad person, now they're all saying 'he was a great person'. Pantani could have used more friends when he was alive. "
Claudio Chiapucchi's quote pretty much sums up my feelings toward Mr. Pantani while he was alive.
Perhaps it was the essentially proven doping allegations, the silly rivalry with Lance Armstrong, the martyr's attitude while off the bike, or his absurd excuses during the disintegration of his career. Most likely it was a combination of these things, with a dash of the 'tear down the winner' complex of which many of us fall prey.
The guilt from my own criticisms and sadness at the loss of a proven champion jolts me with the reminder that sometimes the expectations of professional cyclists allow me to forget that they too are human beings.
Ride on, Il Pirate. An anguished life cut so tragically short, no matter what the reasons, causes even one who was not a fan to miss you.
Kevin Watson
Toronto, Canada
Sunday, February 15, 2004
Is this how it should end?
I believe Marco Pantani's death needs to make other riders, owners and sponsors look at themselves. Is this how it should end? A short while back it was Jimenez. To think that a guy like Pantani should leave at age 34 is sad. I hope he has found peace.
Forza Pantani!
Michael
Denmark
Monday, February 16, 2004
Media played a role
I feel deeply sad after reading this terrible story of Marco's death.
Marco Pantani was one of my favorite riders. I think the media played an important role in Marco's latest depression times. The fact he had done drugs was never forgotten by the news media and kept coming back to haunt him. Perhaps we as a society should emphasize more the positive attitudes that an athlete can display with his performance. Maybe he committed suicide because he could not regain the respect from the news media, who never stopped reminding the public of his dark side of drugs addiction.
He was a great rider and he will be truly missed by his fans all over the world!
'adrinico'
Sunday, February 15, 2004
Losing too many
I'm shocked, he didn't have to die so young, something has to be done we are losing too many, maybe something good can come of this I hope, I loved to watch him climb he was a great rider he will be remembered.
Margaret Brown
Sunday, February 15, 2004
One of my heroes
Marco Pantani is one of my cycling heroes. I have modeled much of my cycling style after him. I have read much about his training styles and have tried my best to adopt them so that I could become a better rider. I will miss reading about him and cheering for the Pirate…
My condolences to his family and friends.
Kevin A. Davidson
Sunday, February 15, 2004
Relentless pursuit
The media and the Italian Justice system are to blame for the tragic death of Marco Pantani. Their relentless pursuit of him for alleged drug use - as yet not proved - has led him to the depths of despair and finally the taking of his own life. May they all rot in hell.
Pantani was the last Grand Tour rider with any panache, he would attack and damn the consequences, if it paid off - great, if not - what the heck, at least I gave it my best.
He was the last rider to win the Giro and Tour in the same year, and I doubt that we will ever see another rider duplicate this feat, nobody will risk victory in the Tour to win the Giro.
God rest Marco, you will be missed.
Jack Medlock
Toronto, Canada
Sunday, February 15, 2004
We love attackers
Who do we love in the cycling world? Probably not those who hide in the group or those seeking time bonuses. We love the attackers, the grapplers of vertical roads, the ones with open mouths and open hearts. There is so much to learn from these men and women about how to lead our own lives. Thank you, Marco.
Bruce Kerr
Union, Ontario, Canada
Sunday, February 15, 2004
Climbed like he had wings
I wasn't a big Pantani fan even though he could climb like he had wings - but no matter, it hurts to hear this news and you wish it for no one. I hope he has found peace and that his family, colleagues, and the tifosi find it as well.
'JeffM81770'
Sunday, February 15, 2004
Controversy
How sad the Giro will be this year, with the lost Pantani on everyone's mind, thinking of him at every mountain top finish. In many ways, he MADE the Giro in the past few years, as fans showed up just to see him- and of course other big heroes like Cipo and Simoni. He may also have brought his share of controversy to the Giro (and he sure wasn't alone in THAT respect), but when he was at his best he really was one of the best climbers of all time. You can't take that away from him, no matter what.
Marlene Blanshay
Canada
Sunday, February 15, 2004
Bitter
I couldn't say it any better. He was left bitter and broken by a media feeding frenzy and certain Italian courts who inexplicably singled him out. Frankly, I don't care if he was doping. Perhaps it is true that a large number of the peloton was doped during the years of his career; certainly there still IS doping. The fact is, doping does not create a champion. The fact is, Marco was a champion who never failed a drug test. The fact is, I cried when I heard this news. The fact is, he gave a critical public what they ultimately seemed to want. But I will carry his memory forever. I Marco I see and feel motivation that gets me through an often sad and bleak world.
Jeff Eckert
Sunday, February 15, 2004
A true pioneer
As a typical American, I am willing to say that lance Armstrong has to be one of my favorite riders. But Marco Pantani is a man that shouldn't be remembered for what he did on the bike, but also for what he did for cycling in general. He was one of the true pioneers in the sense that he was one of the men who brought cycling into a worldwide mainstream. Although his escapades, on The Alpe in the tour were something that legends are made of, not hero's. I say that because hero's get remembered and legends never die. That is who and what Marco truly is. A legend who's legacy will never die. I believe that the life of Marco should be honored for ever. Even with a tribute at the start of the Tour. Even though he knew he wasn't gonna be selected for the tour he would still go to the route announcement and pay homage to the race and to the cycling way of life. He is and was a man of honor, no matter what the critics say, no matter what people think, you must respect Pantani.
Shaun P Keenan
USA, PA
Sunday, February 15, 2004
An eagle with the heart of a lion
The Pirate Sails.
Something so beautiful in life will always be missed. I can not tell you what I'm feeling now. I feel something has been taking from me. I keep remembering the 97 Tour when he came back. To see him climb again was perfection at its most high. He was like an eagle with the heart of a lion. The mountains Pantani climbed will never be the same. As the eagle now heads for the skies, thank you for the unforgettable memories.
Your fan always,
Ralph Ramirez
Houston TX USA
Sunday, February 15, 2004
Electric
In my short years as a cyclist I have met quite a few amazing world class cyclists/ cycled with some/ had dinner with some/ been friends to some.
I started cycling with great thanks to Greg LeMond back in the early 90's and have had the bug since then.
Met Marco only once but his energy was electric, his cute smile and passion to his sport was amazing. I enjoyed a wonderful meal with him and will miss so much.
As I shed a tear I only hope that more people stand up and help others in times of need. Depressions is a horrible disease and one that needs friends to help deal with. I only hope that the cycling world takes note of this event to try not to let it happen to other great leaders of our sport.
I will always thing of you Marco
Steffan
Australia
Monday, February 16, 2004
Tenacity
I just turned on my computer and was horrified to learn that Marco Pantani had passed away. As I told my wife as, she sat in the other room, she also gasped with shock. Myself being an avid cyclist and fan of professional racing, I was also able to bring my wife into the frenzied world or professional road racing. She could easily identify Marco not by his appearance and all that has been said about him, but for his tenacity and heart as a truly competitive cyclist.
This past year's Giro performance gave me hope that we'd see Pantani return to the his place at the head of the pack. All I can say is that I'm deeply saddened and horrified at such a huge loss.
"Biker" Tim Dufault
Massachusetts, USA
Sunday, February 15, 2004
An innocent man
Ciao Marco ! We will miss you greatly!
I never believed the accusations against Marco. What always struck me, is how he acted as an innocent man, rather than one who was guilty. A guilty man would have been more accepting of his fate, even denying his guilt. In his heart he knows. Marco never acted that way. He took it to heart, and was appalled by his unjust treatment. Now all of the critics and inquisitioners of our sport, (especially in Italy) bear the responsibility for his death. I for one cannot forget!
Larry Reeve
Breckenridge, Colorado, USA
Sunday, February 15, 2004
Incredible highs
Even though there were horrible lows for Pantani, I feel it's more important to remember the incredible highs. The respect that he and the mountains shared was nearly mythical, something that us laypeople can not even begin to comprehend. Pantani brought beauty, excitement, and chaos to the sport of cycling. Who can forget the comeback story of how he survived the terrible crash in 1995 and yet go on to win the Giro and Tour in 1998? Only a person with great strength and heart could manage such a feat.
My heart has been heavy with grief upon hearing of his demise. As the Dakota proverb goes, "We will be known forever by the tracks we leave."
Buona notte, Pirata. The mountains will miss you.
Chris Rodriguez
USA
Sunday, February 15, 2004
A focal point
Marco was one of the reasons I became a fan of cycling. He was a focal point whenever he raced and all will miss his style.
'Volybal1'
Sunday, February 15, 2004
Most vilified man in cycling
Its a sad, sad day indeed.
That any man feels that suicide is a way out is so very sad. That that man is Marco Pantani is even more sad indeed. The most vilified man in cycling except for say, Paul Kimmage leaves quite an amazingly colorful collection of images for us to recall and admire as we ponder our own mortality. The visions that evoke exhilaration and pure wonderment at his efforts, and the images of grown men and women lining the climbs passionately cheering him on higher! and higher! faster! and faster!.
A lonely sad end is not what this man deserved. It is not what any man deserves.
Robin Tiffany
Mornington Peninsula, Australia
Monday, February 16, 2004
Defender
I hope the public and the press are happy now. For the last 4 years I have defended Marco Pantani from my cycling associates. These people and some of the people who contribute letters to the major cycling magazines have slandered Pantani, made fun of him and his appearance. All I can do now is try and attend his funeral no matter what.
From: "Paul / Debbie"
Sunday, February 15, 2004
Tragic
Not just a great climber, but a great descender as well. Very good going down the hill as well.
Tragic loss.
Gil Dabney
Santa Ana CA
Sunday, February 15, 2004
Awesome natural ability
What a waste! People can point the finger & accuse of what ever they wish but at the end of the day Pantani had awesome natural ability & deserves utmost respect & to be remembered for that. Pantani I thank you for making my days of training alone in Europe as I pursued my duathlon career more bearable as I tuned into the Tour back in 97 & 98 each day, I was far from family & friends but theses days I loved as I saw all the action live. It was amazing to watch you ascend the very climbs that I raced & trained over. I will never forget in 1998 I finished 3rd in a Powerman event near St Beat in France, I rang home to share my news & my Dad's reaction was "you're our Pantani."
Pantani, I hope you can now be at peace with yourself & it's so sad that a questionable error of way can turn around & crucify you & destroy your life & loved ones. Is fame & talent worth it? I'm sure there will be some horribly guilty feeling people out there.
Thank you Pantani
Victoria Kirkby
Australia
Monday, February 16, 2004
The mountains remember
Addio Marco - though we may one day "forget Pantani the athlete", may the Great Mountains remember you always.
Melvin Choo
Penang, Malaysia
Monday, February 16, 2004
Frustrating
It is so frustrating to love a sport so much and see it become so tainted with the stench of drug enhancement. What happened to Pantani and the ultimate price he has paid should be a wake up call to all cyclists. We must end this madness before one more rider falls.
KGSpeed
Cincinnati Ohio
Monday, February 16, 2004
Thanks from an Armstrong fan
Thanks Marco.
I am a full blown Lance Armstrong fan, but no other rider has inspired me like Marco Pantani. No other rider was as exciting to watch as Marco. His fighting spirit was amazing! I only ask what happened to that same spirit? The allegations never let up. The fingers never stopped pointing. Through it all I always thought Marco would come through it to challenge for the TdF crown again. This was not to be.
Thank you Marco for inspiring so many of the cyclists of today. Thank you Marco for all the memories. But most of all thank you Marco for inspiring me to explore the sport that I truly love.
Jason Lilje
La Jolla, CA
Sunday, February 15, 2004
Galibier
Six years ago I stood alone almost freezing about two thirds of the way up the Col du Galibier. Rinero, Massi and Jiminez had just come through then through the swirling cloud a motorbike and behind the unmistakable figure of PANTANI! Go Pantani! Go! I shouted as he passed silently the only noise the swell of water underneath his tires and the distant pipping of horns from the Ulrich group below.
I had no chance of making it to Les Duex Alpes as the roads had been blocked most of the day. I quickly hotfooted it about 5km to a small bar packed with fellow Tour followers and saw the rest of perhaps what turned out to be one of the most awesome Tour stages in modern history. I know how cold it was that day and confirmed it to myself by riding up and down the climb and I had on at least two thermal jackets.
How can it be that six years later il chaba and il pirata are no longer with us, Rinero is nowhere to be seen and to this day there is no explanation to the form he 'suddenly' found that year, Julich is a shadow of his former self and Massi a self-confessed drugs dealer?
For now I prefer to cling to that first memory on the Galibier but cycling as a spectator sport is over for me now and I am sure for others to. How can we ever know who is truly clean or not. To all you pros out there you have brought it on yourselves and remember no matter what you do there will always be doubt.
Enough is enough, its a tough sport but so is fell running and I don't see those boys keeling over at thirty something.
Pantani we forgive you but we won't forgive anyone anymore.. not after this.
Matthew Frost
Hong Kong
Monday, February 16, 2004
Brave
Good Bye Marco.
You were a brilliant and brave cyclist and reminded me again and again why I love to cycle so much. I am so sorry that you have gone, but my memories of you still live on. All the best
Dan Butler
Leiden, Netherlands
Monday, February 16, 2004
A lonely death
What a shame... Poor Marco. From being one of our sport's most glorified heroes, to becoming a much-maligned symbol of doping and then to dying a lonely death in a room surrounded by the trappings of depression. I don't know about the drugs he supposedly took while racing, and I don't really care. I will remember him for his soaring achievements in the Grand Tours that he loved, and the swash-buckling panache that he brought to cycle racing, rather than the gossip and innuendo that destroyed his career and ultimately his life.
Oli Brooke-White
Wellington, New Zealand
Monday, February 16, 2004
Brilliance
Watching Marco Pantani's brilliance in the 1998 Tour inspired me to do more than occasionally ride my bike to work and to get into cycling in a big way. I will never forget how he attacked with such brilliance up Alpe d'Heuz to stamp his authority on the Tour. As a result of Marco Pantani I have two teenage sons who have become very keen competitive cyclists. So many thanks to 'The Pirate' for showing my children that there is more to life than playing video games and watching movies. Tonight my sons and I will watch the video of the 1998 stage up Alpe d'Heuz and I will offer a toast with my beer to one of the greatest climbers of all time.
Malcolm Cook
Canberra ACT Australia
Monday, February 16, 2004
Shock
It has been such a shock when I read this news this morning. I would have never imagine that such a thing would happen. I have always hope that Marco would come back to his best and make us dream again.
The only think I would like to say is: Thanks you Marco, thank you for making me dream during those memorable mountain stages. I will never forget that. You are probably one of the cyclists that gave the most to the sport in the past 10 years. For me you'll remain "The King of the Mountains" for ever.
Rest in peace.
Hugues Martel
France
Monday, February 16, 2004
Remembering Marco Pantani, Part 2
Recent letters pages