US Cyclo-cross Championships - CN
Kansas City, Kansas, USA, December 13-16, 2007
Oh the weather outside is frightful...
Trebon, Compton set to defend jersey
By Mark Zalewski, North American Editor
Ryan Trebon rides towards last year's title
Photo ©: Russ & Nancy Wright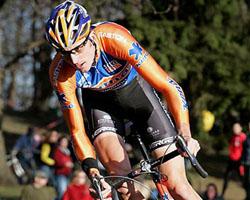 "Hell hath no fury like a woman scorned..." or so the saying goes. If it is true, someone must always anger mother nature right before the USA cyclo-cross nationals every year – and this year is no exception. Strong winter ice storms combined with freezing rain and snow have hit the American mid-states hard in the past week, leaving many areas without electricity and hazardous conditions. Despite this, the course and surrounding areas of Kansas City, Kansas, are reportedly all systems go, with only one more day of winter weather on Tuesday before the racing begins on Thursday.
Tim Johnson has shown strong form recently
Photo ©: Kurt Jambretz

Ryan Trebon (Kona-YourKey.com) is having another strong season, winning the overall title of the US Grand Prix series. But it was a battle the whole way, with Tim Johnson (Cannondale/Leer/Cyclocross World.Com) taking the win in the final race and finishing second overall by only ten points . Trebon's teammate Barry Wicks finished third overall and could play a major role.
It's easy to forget about three-time US champion Jonathan Page, who hasn't raced in the US since September, but Page was the silver medalist at last year's World Championships, and will be a bit of an unknown quantity. He hasn't had the best season in Europe, but that hasn't stopped him from returning to the States and stomping on his competition before.
Other contenders include Jeremy Powers (Cyclocrossworld.Com) who won last weekend at the Verge Cup in Rhode Island. Powers nearly beat Todd Wells (Team GT) by a few inches there, and Wells will be looking for some redemption. Rounding out the field is seven-time Junior and Under 23 cyclo-cross champion Jesse Anthony (Jamis).
On the women's side, it has been a two-up race all season with three-time defending champion, and current world number two, Katie Compton (Spike Shooter) and Luna's Georgia Gould. While Compton has more European racing palmarès, Gould took a tough one against her in Portland a few weeks ago.
There are record numbers for registration across the entire four days or racing in all categories; more than two thousand racers across forty races. And the promoters are doing everything they can to make the racing happen, including grooming the park grounds to avoid ruts from developing.
Tune into Cyclingnews for live coverage of the elite title races, as well as full reports and photos.