Verge NECCS #7, NBX GP - C2
Rhode Island, USA, December 9, 2007
Powers pips Wells while Bessette returns to power
Jeremy Powers (Cyclocrossworld.com)
Photo ©: Dave McElwaine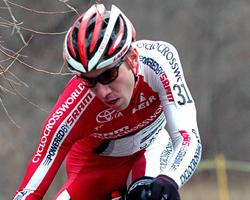 The final event of the 2007 Verge New England Championship cyclo-cross series featured another nail-biter finish in the men's elite race and the return to form of 'cross legend Lyne Bessette.
The final race also crowned series winners in nine categories, including dominant -- and promising -- performances in the Under-19 juniors and Under-23 seniors.
In the men's elite race, Jeremy Powers (Cyclocrossworld.com) got the holeshot and quickly opened a 12-second lead on Todd Wells (GT), who pleased the crowd by hopping the barriers near the course's central carousel building. Series leader Jesse Anthony (Jamis) and Tim Johnson (Cannondale-Leer-Cyclocrossworld.com) were close behind.
After two laps, Wells bridged to Powers and the two traded attacks until Wells crashed and bent his derailleur on the last lap. Powers decided not to attack Wells until he went into the pit to take another bike, then he punched it to take a five-second gap that Wells quickly closed.
From there, it looked to be a repeat of Saturday's race, when Wells came around Anthony to nip him at the line. But this time, Wells attacked Powers about a kilometre from the finish and Powers had to close a small gap on the final straight to win by a hand's width.
"He got a little gap, maybe two bike lengths, coming into the last straight," Powers said. "Maybe it was a little too much, but Todd hit a root kind of cock-eyed and then he went wide so I was able to close maybe one bike length and then I was just able to catch him at the end."
Lyne Bessette (Cyclocrossworld.com)
Photo ©: Dave McElwaine

The women's race saw Lyne Bessette (Cyclocrossworld.com) return to the series after missing the last two events due to illness and travel. She wasted no time producing the kind of performance that has helped her win the four previous series events she started.
"I had a good start, I felt snappy on the start," Bessette said at the finish. "I went through the course gradually and after the middle I opened more gas and I felt good; I tried to really push the speed in the corners."
Behind her, in a breakthrough performance, Amy Wallace (Richard Sachs-RGM Watches) also got a good start and separated herself from the chasers. Wallace kept within 15 seconds of Bessette for about two laps, and held a steady pace to the end to turn in her best series finish to date.
"Today I was feeling good when I got up. I told my team-mates, 'I can win today.' Then I saw Lyne was here and I said, ' I can definitely get second,'" she said with a smile. "The mental attitude helps so much."
Rebecca Wellons (Ridley), who came into Sunday's race in the series lead, and had to finish no worse than second behind Bessette to hold the lead. Unfortunately for Wellons, she got a poor start and finished sixth.
"I gave it everything my body had," said Wellons.
Photography
For a thumbnail gallery of these images, click here
Images by Dave McElwaine/www.trailwatch.net
Images by Bill Hurley/FASTshots Photography
Results
Elite men
 
1 Jeremy Powers (Cyclocrossworld.Com)                                57.16
2 Todd Wells (Team GT)                                                    
3 Tim Johnson (Cannondale/Leer/Cyclocross World.Com)                  1.33
4 Jesse Anthony (Jamis)                                               1.47
5 Jamey Driscoll (Fiordifrutta)*                                      2.31
6 Christopher Jones (Nerac Pro Cycling)                               2.44
7 Mark Mccormick (Team Clif Bar)                                      3.37
8 Adam Myerson (Nerac Pro Cycling)                                        
9 Justin Spinelli (Rgm Watches/Richard Sachs)                             
10 Osmond Bakker (Stevens Cross)                                          
11 Alec Donahue (Joe's Garage)                                        3.42
12 Derrick St John (The Cyclery)                                      3.45
13 Nicholas Keough (Jittery Joes/Sonic)*                              4.12
14 Daniel Neyens (Hagens Bergman)                                     4.37
15 Troy Wells (Team Clif Bar Cyclocross)                              4.42
16 Daniel Coady (Welovebicycles.Com)                                  4.53
17 Jerome Townsend (Ridley)*                                          5.57
18 Amos Brumble (Ccb)                                                 6.08
19 Kevin Wolfson (Dartmouth Cycling)*                                 6.19
20 Toby Marzot (Fiordifrutta)*                                        6.48
21 Peter Rubijono (Cambridge Bike/Igleheart Frames)                   6.53
22 John Burns (Bikeman.Com)                                               
23 Adam Sullivan (Nbx/Narragansett Cyclocross Team)                   7.04
24 Alex Whitmore (Cambridge Bicycle / Igleheart Frames)               7.19
25 Dan Langlois (Circle A Cycles/The Hub)                             7.44
 
One lap down
 
26 Dylan O'sullivan (Housatonic Wheel Club)*                              
27 Tom Gosselin (Fast/If Powered By Lionette's)                           
28 Rickey Visinski (Spiuk / First Endurance / Crank Bros)                 
29 Morgan Macleod (Mechanical Services/Cyclemania)*                       
30 Michael Norton (Verge Sport/Test Pilot)
* denotes Under 23                                
 
Elite women
 
1 Lynne Bessette (Cyclocrossworld.Com)                               41.07
2 Amy Wallace (Rgm Watches/Richard Sachs)                             1.03
3 Maureen Bruno Roy (Independent Fabrication)                         1.45
4 Anna Milkowski (Velo Bella-Kona)                                    2.03
5 Natasha Elliott (Stevens Cross)                                     2.06
6 Rebecca Wellons (Ridley Factory Team)                               2.13
7 Erica Yozell Miller (Fort Factory Team)                             3.08
8 Pauline Frascone (Independent Fabrication/Kempner)                  3.19
9 Marci Titus Hall (Desalvo Custom Cycles)                                
10 Stephanie White (Unh)                                                  
11 Cris Rothfuss (Nebc/Cycle Loft/Devonshire Dental)                  3.28
12 Perri Mertens (Cambridge Bicycle/Igleheart Frames)                 3.35
13 Sara Cushman (Gear Works/Spin Arts)                                3.41
14 Karen Potter (Zanconato/Mtb-Mind.Com)                              3.51
15 Melanie Swartz (Velo Bella - Kona)                                 4.07
16 Linnea Koons (Fts)                                                 4.10
17 Alie Kenzer (Rgm Watches - Richard Sachs)                          4.19
18 Erin Duggan (Ridley Factory Team)                                  4.49
19 Brenda Bahnson (Independent Fabrication)                           5.38
20 Susan Maclean (Gear Works/Spin Arts Cycling Team)                  6.21
21 Joanie Caron (Louis Garneau-Sonic)                                 6.47
22 Hannah Kirshner (Circle A Cylocross/The Hub)                       8.50
23 Laura Jensen (Benidorm/Eastern Bloc Cycling Club)                  8.54
 
One lap down
 
24 Kelly Kavanagh (Mikes Bike Shop)                                       
 
Men 2/3
 
1 Ryan Rumsey (Bikeman.Com)                                          47.20
2 Brendan Cornett (Cyclemania)                                        0.13
3 Jonathan Awerbuch (Dartmouth College)                               0.23
4 John Peterson (Bike Barn)                                           0.29
5 Jeremy Dunn (Cambridge Bicycle / Igleheart Frames)                  0.40
6 Josh Lipka (Unh)                                                        
7 Christopher Bagg (Bikereg.Com)                                          
8 Isaac St. Martin (Noreast Cycling)                                  0.46
9 Sean Mannion (Verge Sport/Test Pilot)                               0.49
10 Colin Reuter (Crossresults.Com)                                        
11 Pete Smith (Cambridge Bicycle / Igleheart Frames)                  1.17
12 Thom Parsons (Team International Bicycle Centers)                  1.26
13 Kenny Ambach (Cyclonauts Racers/Zanconato Custom Cycles)           1.34
14 Cary Fridrich (Cambridge Bicycle Presented By Igleheart Frames)    1.38
15 Jacob Morrison (T3 Southcoast Cycling)                             1.43
16 Shawn Marshall (Ottawa Bicycle Club)                               1.49
17 James Newton (International Bicycle Centers)                       1.58
18 David Dermont (True North Cycles)                                  2.05
19 Scott Brooks (Nebc/Cycle Loft/Devonshire Dental)                   2.19
20 Adam St. Germain (Target Training)                                 2.21
21 Tyson Parody (Bikereg.Com)                                         2.52
22 Michael Harney (Nbx/Narragansett Beer/Apex Tech)                   3.04
23 Christian Eager (Quadcycles)                                       3.11
24 Paul Lynch (Mass Bay Road Club)                                        
25 Ronnie Steers (Gamache Cyclery)                                    3.18
26 Eric Silva (Quadcycles)                                            3.20
27 Brad Jurga (Minuteman Road Club)                                   3.30
28 Nate Simms (North Atlantic Velo)                                   3.43
29 Pierre Vanden Borre (Hup United)                                   3.56
30 Eric Wemhoff (Nebc/Cycle Loft/Devonshire Dental)                   4.11
31 William Palm (Mit Cycling/Cox Communications)                          
32 Ethan Parsons (Ncc/Bikereg.Com)                                    4.25
33 Oscar Jimenez (Nebc/Cycle Loft/Devonshire Dental)                  4.56
34 Chuck Nguyen (Bikeman.Com)                                             
35 Mark Pagell (Cyclocrossontario.Com)                                5.05
36 Todd Crisafulli (North Atlantic Velo)                              5.12
37 Mark Vareschi (Rutgers University Cycling Team)                    5.17
38 Katriel Statman (Bard College Cycling)                                 
39 Thomas Needham (Hup United)                                            
40 Charles Florek (Rutgers University Cycling Team)                   5.36
41 Rod Olliver (Cyclocrossontario.Com)                                5.46
42 Steven Morse (Bikeman.Com)                                         5.53
43 Morgan Hiller (Cl Noonan/Coast To Coast/Kam)                       6.04
44 C Todd Lombardo (International Bicycle Centers)                        
45 James Leone (Cbrc)                                                 7.09
46 Dan Seaton (Unh Cycling)                                           8.07
47 John Broussard (Nebc/Cycle Loft/Devonshire Dental)                 9.06
48 Darko Antic (Cyclocrossontario.com)                               10.00
 
One lap down
 
49 David Chiu (Cycle Loft)                                                
 
Under 19 men
 
1 Gavin Mannion (Hot Tubes Junior Development Team)                  37.40
2 Luke Keough (Clnoonan/Coast To Coast/Kam)                               
3 Jesse Keough (Clnoonan/Coast To Coast/Kam)                          3.48
4 Ryan Packard (Quadcycles)                                           4.16
5 Karl Hoppner (Ride With Rendall)                                    5.04
6 Manny Goguen (Minuteman Road Club)                                  5.57
7 Austin Vincent (Unattached)                                        10.33
 
One lap down
 
8 Aaron House (Housatonic Wheel Club)                                     
9 Nate Morse (Clnoonan/Coast To Coast/Kam)                                
10 Tommy Goguen (Minuteman Road Club)                                     
 
Under 15 men
 
1 Tommy Goguen (Minuteman Road Club)                                 16.53
2 Curtis White (Cbrc/Capital Bicycle Racing Club)                     0.09
3 Austin Vincent (Unattached)                                         0.22
4 Aaron House (Housatonic Wheel Club)                                 0.31
5 Nate Morse (Clnoonan/Coast To Coast/Kam)                            1.36
6 Peter Goguen (Minuteman Road Club)                                  2.24
7 Matthew Gilbert (Cox)                                                   
8 Andrew Frothingham (Ccb)                                                
9 Emily Curley (Mid State Velo)                                       4.30
10 Ian Keough (Clnoonan/Coast To Coast/Kam)                           5.48
 
Women 3/4
 
1 Rebecca Blatt (Team Kenda Tire)                                    36.20
2 Christina Tamilio (Minuteman Road Club/Landry's Bicycles)           0.25
3 Allison Snooks (Landrys Bicycles)                                   0.32
4 Briana Illingworth (Midweek Cycling Club)                               
5 Elizabeth White (Nebc/Cycle Loft/Devonshire Dental)                 1.08
6 Rebecca Zanconato (Hub United)                                      1.18
7 Jessica Kates (Keltic Construction)                                 2.50
8 Ilana Brito (Mit Cycling)                                           3.00
9 Stacey Moseley (Yippee/Das)                                         3.06
10 Kerry Combs (Hup United/Zanconato Custom Cycles)                   3.28
11 Sally Mcinnis (Jra Cycles)                                         3.40
12 Mary Fuchs (Eastern Bloc Cycling Club)                             4.05
13 Jak Kukla (Unh Cycling/Noreast)                                        
14 Caitlin Thompson (Tufts University)                                6.28
 
One lap down
 
15 Julie Lockhart (Nebc/Cycle Loft/Devonshire Dental / Mcra)              
16 Jessica Broderick (Unattached)                                         
 
Masters 35+
 
1 Mark Mccormick (Team Clif Bar)                                     37.51
2 Jonny Bold (Corner Cycle)                                           0.10
3 Michael Yozell (Fort Factory Cyclocross Team)                       0.15
4 Kevin Hines (Corner Cycle)*                                             
5 Greg Ferguson (Fort Factory Team)                                   0.48
6 Curtis Boivin (Refunds Now)                                         0.53
7 John Mosher (Corner Cycle)*                                             
8 Mark Gunsalus (Bikebarnracing.Com)*                                     
9 Todd Cassan (Westwood Velo)*                                        0.58
10 Mark Stotz (Corner Cycle)                                              
11 Sam Morse (Corner Cycle)*                                          1.02
12 Alan Starrett (Bikeman.Com)                                        1.05
13 Michael Bernard (Gearworks Spinarts)*                              1.13
14 Pascal Bussières (Louis Garneau Custom Team)                       1.23
15 Colman O'connor (Bicycle Link/Mbrc)*                               1.30
16 Paul Curley (Gearworks/Spinarts)*                                  1.55
17 Kurt Perham (Cycle-Smart/Boulder Cycle Sport)                      2.07
18 Steve Proulx (Stevens Cross)                                       2.11
19 Chris Borrello (Gear Works/Spin Arts)*                             2.29
20 Paul Lynch (Bicyclelink/Mbrc)*                                     2.34
21 Matthew Myette (Cyclonauts Racers/Zanconato Custom Cycles)         2.44
22 Christopher Burke (Bikeworks/Hallamore)*                           2.55
23 Judd Milne (Squadra Coppi/Im Saab)                                 3.09
24 Brian Rutter (Laughing Dog Bicycles)                               3.12
25 Keith Button (Noreast Cycling)*                                    3.17
26 Kevin Callahan (Bicycle Link/Mbrc)*                                3.32
27 David Belknap (Bicycle Link/Mbrc)*                                 3.35
28 Wayne Cunningham (Nebc/Cycle Loft/Devonshire Dental)               3.36
29 Ian Modesto (Joe's Garage)                                         3.39
30 Geoffrey House (Housatonic Wheel Club)*                            3.47
31 Jerry Chabot (Thejonathanpage.Com)                                 3.49
32 Bryon Atwood (Team Zephyr)                                             
33 Rick Meloff (La Bicicletta/ J. Lindeberg)*                         4.06
34 David Fredrickson                                                  4.08
35 Matt Bodziony (Nbx/Narragansett Beer/Apex Tech.)                   4.15
36 Gary Aspnes (Horst-Benidorm-Property Research Corp.)               4.17
37 Tom Stevens (Gear Works/Spin Arts Cycling Team)*                   4.19
38 David Baxter (Nbx Bikes/Apex Tech)                                     
39 Robert Naser (Nbx/Narragansett Beer)*                              4.59
40 Bill Doonan (Minuteman Road Club)*                                     
41 Martin Valiquette (Encoeur)                                        5.11
42 David Leedberg (Gearworks / Spin Arts)*                                
43 Christopher Smith (Nebc/Cycle Loft/Devonshire Dental)                  
44 Steven Kane (Byron Lake/East End Cycling Team)*                        
45 Paul Weiss (Portland Velo Club)                                    5.15
46 Timothy Shea (Bob/Shift-Stonyfield Farm-Ariza-Goodales)*           5.39
47 Steven Morse (Bikeman.Com)                                         6.04
48 Bill Mark (Nbx/Narragansett Beer)                                  6.32
49 Geoff Williams (Refunds Now / Providence Velo Club)                6.51
50 Doug Aspinwall (Joe's Garage)                                      7.59
51 Jack Madden (The Hub/Circle A Cyclocross)                              
* denotes 45+
 
Men 4
 
1 Steven Wright (Minuteman Road Club)                                32.50
2 Andy Weigel (T3 Southcoast Cycling)                                     
3 Ed Edlund (Mit Cyling)                                              0.46
4 Brian Chapman (Circle A Cycles)                                         
5 Jordan Winkler (Cambridge Bicycle / Igleheart Frames)               1.03
6 James Dutko (Cbrc (Capital Bicycle Racing Club))                    1.06
7 Jason Moriarty                                                      1.10
8 Eric Carlson (Bikers Edge)                                              
9 Erik Peterson (Cambridge/Igleheart)                                 1.20
10 Peter Miller                                                       1.21
11 Bryon Lewis (Unattached)                                           1.42
12 Zachary Wills (Velo Europa- Cyfac)                                     
13 Nathan Pfeifer                                                     1.50
14 John Wilde (Cyfac)                                                 2.06
15 Brian Medeiros (Scottee's Westport Bicycle)                        2.08
16 Matt Monbouquette (Green Mountain Rehabilitation)                  2.28
17 Scott Bell                                                         2.38
18 Brett Kielick (Drexel Cycling)                                         
19 Jason Rabidou                                                          
20 Ben Moberg (Unattached)                                            2.53
21 Anthony Maietta (Maietta Handbuilt Bicycles)                           
22 Christian Rynkiewicz (Team Bicycle Alley)                              
23 Jay Ladieu (Team Psycho)                                           3.08
24 Joseph Gilch (Rutgers University Cycling Team)                         
25 Matt Aumiller (Organicathlete)                                     3.16
26 Guy Zerega                                                         3.29
27 Alexander Parachini (Quadcycles)                                   3.48
28 Matthew Miller (Organicathlete)                                    3.49
29 Brian Croteau (Noreast Cycling)                                    3.54
30 Ken Scott (Welovebicycles.Com)                                     4.00
31 David Kim (Rutgers University Cycling Team)                            
32 Scott Sweeney (Minuteman Road Club)                                4.08
33 John Adamik (Essex County Velo)                                    4.20
34 Nicholas Mashburn (Cambridge Bicycle/ Igleheart Frames)            4.37
35 John Witmer (Gmbc/Catamount)                                       4.47
36 Nathan Miller (Unh Cycling/Benidorm Bikes)                             
37 David Powell (Cyclonauts Racers)                                   4.52
38 Rick Tobin                                                         5.09
39 Brian Rutledge                                                     5.11
40 Timothy Metzger (Noreast Cycling)                                      
41 Patrick Mccue (Minuteman Road Club)                                5.36
42 Robert Wilson (Ncc/Northampton Cycling Club)                       6.30
43 Jeff Lukach (Unh Cycling)                                          7.18
44 Peter Kelly                                                        8.00
45 Christian Parker (Unattached)                                      8.02
 
One lap down
 
46 Stephen Sekelsky (Maxxis/Evomo/Tomatoes Racing)                        
DQ Ryan Shank (Drexel University)                                         
 
3/4 Masters
 
1 Gary David (Minuteman Road Club)                                   32.41
2 Roger Goulart (Scottee's Westport Bicycle)                              
3 Matthew Theodore (Cape Cod Cyclist/E-Caps)                          0.11
4 Chris Brown (Corner Cycle)                                          0.27
5 Mitchell Medeiros (Scottee's Westport Bicycle)*                         
6 Christopher Cyr (Bikeman.Com)                                       0.50
7 Jack Hayden (Essex County Velo)                                     1.08
8 Derek Griggs (Recycled Sports)*                                     1.10
9 Robert Carmen (Team International Bike Club, Boston)                1.28
10 James Paterson*                                                    1.39
11 Matt Carpenter (Team Edge)*                                        1.45
12 Jim Peters (Nbx)                                                   1.47
13 James Hoard (Nbx/Narragasett Beer/Apex Tech)*                      2.02
14 James Mcdonald (Ncc (Northampton Cycling Club))*                   2.05
15 Scott Medeiros (Cox Communications Cycling Team)                   2.15
16 Brian Mcinnis (Jra Cycles)                                         2.19
17 Robert Tyszko (Team Nhcc/New Hampshire Cycling Club)               2.20
18 Michael Lowry (Minuteman Road Club)                                2.30
19 David Schachte (Union Velo)*                                       2.51
20 Thomas Hurley (T3 South Coast Cycling)*                            2.59
21 George Gagnon (Naults.Com)*                                        3.06
22 Al Curtis (Bethel Cycly)*                                          3.17
23 Kenneth Hamel (Afd/Bikeman.Com)*                                   3.18
24 Jorge Hernandez                                                        
25 Robert Naser (Nbx/Narragansett Beer)*                              3.37
26 Robert Tutwiler (Noreast Cycling)*                                 4.14
27 Justin Craig Roth (Cambridge Igleheart)                            4.17
28 Dave Miller*                                                       4.28
29 Lawrence Purtill (Cox Communications Cycling Team)*                4.41
30 Jay Mongillo (Keltic Construction / Zanes Cycles)*                 4.46
31 Adam Brodsky (Mbrc/ Bicycle Link)*                                     
32 Lawrence King (Union Velo)*                                        4.57
33 Robert Davenport                                                   5.23
34 Tim Alty (Cape Cod Cyclists)                                       5.29
35 Jonathan Gilbert (Cox Communications Cycling Team)*                5.33
36 Sean Wilson                                                        5.35
37 James Dean Vogel (Nbx/Narragansett Beer/Apex Tech Group)*          6.01
38 David Michaud (Mtbmind)*                                           6.03
39 Colin Kernan (Missing Link Bicycle Club)*                          6.45
40 Rick Comshaw (Capital Velo Club / Vernon Cycles)                   7.36
* denotes 45+
 
Masters 55+
 
1 Edward Hamel (Joe's Garage)                                        34.35
2 Stephen Abbott (Cyclonauts)                                         1.49
3 Jerry White (Essex Velo Club)                                       2.02
4 Garabed Minasian (Bob Cycling/Stoneyfield)                              
5 Richard Sachs (Team Rgmwatches)                                     2.08
6 Dave Beals (Cbrc)                                                   2.21
7 Richard Costa (Cyclonauts Racers Inc.)                              2.26
8 Jim Quinn (The Bicycle Link/Mbrc)                                   2.29
9 Terry Cowman (Essex Velo Club)                                      3.48
10 James Themig (Mystic Velo Mcra)                                    4.38
11 Donald Snoop (Hang On Snoopy Racing)                               8.21
12 Vincent Donohue (Worcester Cycling Club)                           8.52