US Cyclo-cross Championships - CN
Providence, RI, USA, December 15-17, 2006
US Cyclocross champs start this weekend
By Steve Medcroft in Providence
The elite men race at last year's event
Photo ©: Ed Collier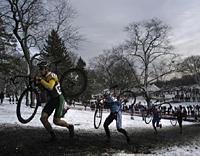 The 2006 US Cyclocross National Championships get underway Friday morning at Roger Williams Park in Providence Rhode Island. Gone were the whiteout blizzards that marked the opening day of the 2005 championships; replaced by cool, overcast conditions and a superfast, tacky and firm racecourse.
Not gone were the crowds. In fact, the 2006 edition of Nationals, the second consecutive year the event has been held in Providence, is shaping up to be possibly the largest cyclocross gathering in US history - 1,940 entrants vying for 28 national titles. Promoters say the numbers represent a 14-percent increase over the 2005 edition and 41-percent growth over 2004.
What does that mean to the racing? For starters, it means the fields will be large; too large according to some. More than 120 men will line up for the elite men's race on Saturday, for example. In the Friday's master's racing, several categories were stacked 12 riders wide and more than a dozen rows deep. That dynamic caused all kinds of panic and riders with preferred positions ended up 500 meters ahead of riders relegated to the back rows in just the first lap.
Couple the impact of a good start position with the leanings of the course to power riders (fast, non-technical terrain, wide corners, a 300-meter start/finish straight) and any rider not lined up in the first couple of rows in the elite races will need to expend a huge amount of energy to get into contention.
Elite men:
With start positions based on overall UCI points, the front rows will be made up of America's cyclocross elite. In Saturday's men's race USGP Series winner Ryan Trebon (Kona) will be the marked man - he's been off the front in most of the domestic races he entered and even managed to scratch a tenth-place together at the Superprestige in Hamme Zogge, Belgium. Trebon will attempt to duplicate his win at the US National MTB Championships in Sonoma, California where, as is his style, he soloed off the front in the very first lap and stayed away for the win. Should Trebon wedge a gap between himself and the rest of the field in the 60-minute cyclocross championships, we could see a double-discipline champion crowned in Providence. "I've been back in the States for a couple of days," Trebon said. "You never know how the travel is going to hit you but I feel good."
Last year, it was fellow mountain biker Todd Wells (GT/Hyundai) who was able to hold the front of the race for a convincing second cyclocross title of his career. Conditions played a major role in the race in 2005 though and Wells' has not been able to get around Trebon in USGP competition this season. Wells says his approach will be simple; ride out of his mind and hang on to the lead as long as possible. "It'll be strung out from the gun," he said Friday night.
And Jonathan Page (Cervelo/Hot Tubes) is back on a cyclocross bike. The three-time US National Champion has spent the last several years thriving in the harshest environment for 'cross racing in the world (the Central European UCI circuit). Page has been sidelined in 2006 due to a shoulder injury but. America's most dominant 'cross racer says he's "feeling better than I should right now," and has reportedly been riding three-hour motorpace sessions in preparation for his return to competition.
"Jon is the guy I worry the most about," Trebon said on Friday. "It doesn't matter that he's been hurt. Once you ride (in Europe) at the level he has, you know how to race."
As for who Page thinks is a threat; "anyone who's in front of me."
If the power riders don't escape and a lead group coalesces in Saturday's main event, Tim Johnson (Cannondale/cyclocrossworld.com), second in the 2006 USGP series and winner of a handful of regional UCI races this season, is likely to play a role in the final podium. Barry Wicks (Kona), Jeremy Powers (Jelly Belly), Mark McCormack (Clif Bar), and the swarm of others that make up an ever-expanding threat in any elite race will no doubt make their presence felt as well.
Elite women:
The course is primed for two-time consecutive National Champion Katie Compton (Primus Mootry). With the weather forecasts calling for moderate temperatures and a conspicuous lack of rain, Compton will no doubt find excellent traction for her powerful riding style in Sunday's women's championship.
She may find her strongest challenge though from equally powerful Luna Chix team rider Georgia Gould. A former roadie, Gould has the kind of power that, if the constantly changing rhythm of the course doesn't disrupt her, could keep her closely connected to the front of the race. Gould also won the 2006 US National MTB Championship with a power-solo. If these two riders get away together - we could have a truly interesting sprint up the final 300 meters.
Also in contention are a long list of riders including Velo Bella/Kona's Dee Dee Winfield, Rebecca Wellons (Gearworks/Spinarts), Melissa Thomas (Maxxis) and Mandy Lozano (Cheerwine Cycling) among others. And then there's Christine Vardaros (Lotto-Beliosol Ladies Team). Vardaros earned herself the second starting spot base don UCI points she's been collecting racing the UCI Elite women's cyclocross circuit in Europe.
Cyclingnews will be covering the 2006 US Cyclocross National Championship throughout the weekend. Check back often for race report, results and photographs. We'll also have live coverage of four events, starting Saturday morning at 11:30 EST.
Live Coverage Schedule
Saturday, December 16
11:30 Elite Junior Men
13:00 U23 Men
14:00 Elite Men
Sunday, December 17