US Cyclo-cross Championships - CN
Kansas City, Kansas, USA, December 13-16, 2007
Main Page Results Overall standings Live report Previous Race
Race 14 - December 16: Elite Men
Johnson back on top at 'cross nats
Page holds for second, Trebon crashes out
By Mark Zalewski, North American Editor in Kansas City, Kansas
Tim Johnson (Leer /Cannondale /Cyclocrossworld.com) takes his second USA title after seven years
Photo ©: Dave McElwaine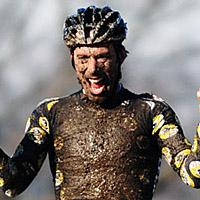 After days of cold, snow and more cold, the sun shone down on the elite 'cross categories, softening the course enough and bringing out the mud to make it an official 'cross championship. After the first lap sorted the contenders from the pretenders, it was three that eventually made the final selection – Jonathan Page (Sunweb-Projob) held a small lead for much of the race over Todd Wells (Gt Bicycles) and Tim Johnson (Cannondale/Leer/Cyclocrossworld). After Wells was slowed by some slip-ups, it was mano-a-mano between Page and Johnson. In the final two laps the two battled hard, trading the lead until Page crashed following Johnson in a turn. This gave the Massachusetts native just enough of a gap to hold off last year's world silver medalist for his second national title.
"With two to go I attacked Jonathan through the start/finish," said Johnson. "When I attacked him I just wanted a little bit of a gap so I could have my shot at the best lines. If you ride behind somebody it is just too sketchy, and I think that is why Jonathan went under the tape. I was leading through that section and you have no idea where you are going to end up with the ruts. I just heard that he went down, but he eventually caught me. If I were him I would have tried to pass, because you just can't trust riding behind someone [in these conditions]."
While the conditions did improve compared to earlier races, the difference between winning and losing was measured more in the ability to avoid crashing. "The way this course was there was just one top speed, and if you could surf that speed without going down, that was a good lap," said Johnson. "I don't think that last lap was anywhere near flawless, but if you can stay upright and not get into trouble, that was considered flawless."
Johnson summed up the conditions this way: "You risked crashing in any one of the 30 corners all over the course!"
Todd Wells (GT) passes Jonathan Page (Sunweb)
Photo ©: Dave McElwaine

"I just rode my own race, starting strong and If people caught me that was fine," said a clearly disappointed Page. "[Johnson] attacked up top and then I just stayed steady to not make a mistake and bring him back. Unfortunately I crashed and dropped my chain, but fortunately I was near the pit... but still... it was just one little thing and he got a bit of a gap – I was closing and closing but just ran out of laps, and he just kept enough in his tank."
While Page was closing Johnson was focused solely on not making a stupid mistake, particularly in the two stair run-ups on the bottom end of the course before the final finish stretches. It was clear he was playing it safe as Page took-out about four second on Johnson in this section alone in the final two laps. "I was just trying to stay safe," said Johnson. "Our feet were completely numb out there and if you catch a toe... you are running but you may not be getting high enough off the ground! I just wanted to make sure I didn't crash on that little bit, because that would be worse than anything!"
After clearing the stair section and making it onto the pavement for the final time, Johnson finally looked back and saw he had the win in the bag. "I only felt it in the last 25 meters."
Kansas City fans dressed as sharks.
Photo ©: Dave McElwaine

Page was counting on the win here to jump-start an otherwise disappointing season, telling Cyclingnews before the race that a win here would be like a clean slate for him. "I don't want to take anything away from him, he won the race, but I was the best rider today. I was just unlucky – but that seems to be my season this year."
Page commented that while he feels additional pressure being the top American in the sport, he does appreciate all of the support from the fans – including the ones here in Kansas City. "It was a good race and the fans were really great here!" he said. "It's nice to have such support, but it's also hard because I basically have all of American cyclo-cross on my shoulders – it's some pressure." Page said that he is returning to Europe tomorrow to focus solely on a good world championship performance.
For Johnson, the win here does not change his outlook for the rest of the 'cross season. "It's one race, one day," he said. "I don't think it changes how I ride or how I approach it. It certainly makes it easier, because this first part of the year is done and now I have something to bring home. Mentally that will make it easier. I'm going to go over [to Europe] and getting my head kicked in – I'm not expecting to light the world on fire, but I think that is a better mentality to have heading over there."
The medical staff helps Ryan Trebon (Kona/yourkey.com)
Photo ©: Kurt Jambretz

The biggest disappointment of the race was defending champion Ryan Trebon (Kona/YourKey.com), who was involved in a nasty head-on collision with another rider that lost control in a section of the course that doubled back on itself. The rider broke through the course tape and collided with Trebon, knocking him back onto the hard ground. The blow reportedly made Trebon lose consciousness and he was transported to hospital as a precaution.
"He hit me head-on and I landed on the ice on my back, shoulder and arm," Trebon said. "It hurt like hell. I'm not too happy right now." Luckily the only negative result of the incident was Trebon's chance to defend his title.
Trebon's team-mate Barry Wicks was left to fly the Kona/YourKey.com flag, finishing fourth. "The start was pretty scary," he said. "I took it easy because it was such pandemonium – guys were crashing all over the place. I was trying to mellow the first lap and not make any mistakes. If you could just minimize your mistakes and ride smooth you would do well. That was just what I was trying to do. I felt pretty good out there, but didn't get to ride like I wanted to. I had a pretty awful start but eventually was able to get things going."
Tim Johnson's younger team-mate Jeremy Powers was having an impressive race in the first two laps, sitting in second place on Page's wheel, until a nasty crash took him out of contention.
Tim Johnson (Cannondale / Cyclocrossworld) is victorious!
Photo ©: Mitch Clinton
"It was really disappointing," he managed to say between pained breaths. "I hit my chest on my frame really hard when I crashed on the back side – I hit it so hard it's hard to talk. I was in second place just behind Jonathan [Page] and he and I were bumping bars and I just hit the deck. Everyone had to deal with the cold, but hitting my chest... after that I wasn't able to take the corners as hard. I'm gonna have to get an x-ray."
Powers will join Johnson over in Europe, and barring any serious injury from his crash, has good form to show his potential. "I hope to be strong in Europe for the rest of the year. I am absolutely elated for Tim, and as soon as I get out of this hypothermic state I am going to give him a huge hug!"
Finishing solo in third place was the older Wells brother, Todd. Wells made the elite selection, and even led for a short time, but got caught up in a few too many spots. "Page had the hole-shot but I was able to bridge up to him at the first turn," he said. "We were really banging a lot in that first lap. It was good for a while and then I had some crashes and bobbles. I don't feel like I slowed down fitness wise, but when I started making mistakes, crashing one or two times, it gets in your head. So you start taking turns a little slower."
Wells had some company on the podium though, as his younger brother Troy (Team Clif Bar) finished a strong fifth. "It's a great result for him," said Todd. "Just a couple of years out of the U23s!"
Photography
For a thumbnail gallery of these images, click here
Images by Jonathan Devich/

Images by Mitch Clinton/www.clintonphoto.com
Images by Dave McElwaine/www.trailwatch.net
Images by Kurt Jambretz /www.actionimages.cc
Results
Elite men
 
1 Tim Johnson (Cannondale/Leer/Cyclocrossworld.com)                       51.58
2 Jonathan Page (Sunweb-Projob)                                            0.08
3 Todd Wells (GT Bicycles)                                                 0.54
4 Barry Wicks (Kona-Yourkey.com)                                           2.11
5 Troy Wells (Team Clif Bar)                                               3.27
6 Andy Jacques-Maynes (California Giant Berry Farms)                       3.38
7 Bart Gillespie (Mona Vie/Cannondale)                                     3.46
8 Tristan Schouten (Trek/VW)                                               3.51
9 Erik Tonkin (Kona)                                                       3.59
10 Jeremy Powers (Jelly Belly)                                             4.19
11 Christopher Jones (Nerac Pro Cycling)                                   4.35
12 Ali Goulet (Ridley Factory Team/Fishers Cyclery)                        4.43
13 Jesse Anthony (Kodak Gallery P/B Sierra Nevada )                        4.54
14 Matt Pacocha (Velonews.com)                                             4.57
15 Justin Robinson (California Giant Berry Farms)                          5.17
16 Adam Myerson (Nerac Pro Cycling)                                        5.30
17 Sean Babcock (Team S&M)                                                 5.47
18 Jake Wells (Mafiaracing.com/Ellsworth)                                  6.28
19 Weston Schempf (C3-Sollay.com)                                          6.31
20 Taylor Carrington (Turin Bicycles - Powerbar)                           6.34
21 Kevin Bradford-Parish (Redline)                                         6.46
22 Jonny Sundt (Kelly Benefit Strategies/Medifast)                         6.53
23 Molly Cameron (Vanilla Bicycles)                                        7.02
24 Tyler Wren (Colavita/Sutter Home P/B Cooking Light)                     7.07
25 Michael Easter (Time Factory Team)                                      7.19
26 Jon Cariveau (Moots)                                                    7.21
27 Frederick Bottger (Team Bearclaw)                                       7.29
28 Troy Kilgore (Boulder Cycle Sport)                                      7.34
29 Steve Tilford (KCCX/Verge/Eriksen Cycles)                               7.37
30 Matt Shriver (Jittery Joe's)                                            7.58
31 Greg Wittwer (Fort Factory Team)                                        8.11
32 Shawn Harshman (Harshman Wealth / Primus Mootry)                        8.50
33 Matthew White (Fiordifrutta)                                            9.53

One lap down

34 Ryan Knapp (Bikereg.com)
35 Kurt Refsnider (Fort Factory Team)
36 Sam Krieg (Sienna Dev't - Goble Knee Clinic)
37 Damian Schmitt (Sunnyside Sports)
38 Matt Kraus (RGM Watches - Richard Sachs)
39 Christopher Case (Boulder Cycle Sport CX)
40 Tim Barrett (Myogenesis.com)
41 Mark Studnicki (Localcycling.com-Trek Store KC)

Two laps down

42 Dave Weaver (NA)
43 Chance Noble (California Giant Berry Farms)
44 John-Christian Flack (The Valley Athletic Club)
45 Brent Prenzlow (Alan North America Cycling Team)
46 Nathaniel Ward (Joe's Garage)
47 Nathan Rice (Big Shark)
48 Jeremy Gardner (Velosportivo-Spokepost)
49 Jonathan Card (Saturn Of Toledo)
50 Jed Schneider (Subaru Cycling Team)
51 Marko Lalonde (Bob Brown Cycles/BKB)
52 Shadd Smith (Hrrc/ Trek Stores)
53 Nathan Wyatt (Carolina Fatz/SRAM/Santa Cruz)
54 Robert Foshag (Saturn Of Toledo)
55 Joshua Johnson (Big Shark Racing)
56 Ryan Gamm (Abercrombie & Fitch Pro Development )
57 Alistair Sponsel (Colavita-Bolla Racing)
58 Benjamin Popper (Twin Six)
59 Josh Whitmore (Carolina Tri - Ryobi Tools)
60 Evan Plews (Capitol Subaru Cycling)
61 Chad Cheeney (Durango Devo)

Three laps down

62 Scott Ogilvie (Mesa Cycles)
63 Jeff Winkler (Ridley Factory Team)
64 Brad Cole (KCCX/Verge )
65 Aaron Oakes (NA)
66 David Hall (Charleston Bicycle Company)
67 Chad Berg (Redline Bicycles)
68 Andy Applegate (Landrover / Cannondale)
69 Mark Nagy (Dogfish Racing Team)
70 Peter Ozolins (Kahala-Lagrange)
71 Daniel Neyens (Hagens-Berman Llp)
72 Joseph Brenner (NA)
73 Leonard Lawrence (Successfulliving.com)
74 Jason Lowetz (Team Bearclaw)
75 Derek Loudermilk (Big Shark Racing)
76 Adam Mills (MRRC/ Trek/ Volkswagon)
77 John Meehan (Priority Health)
78 Jesse Giordano (Nob Hill Velo)
79 Anthony Dust (Dogfish Racing Team)
80 Brooks Leedahl (Team Brown Bear)
DNF Ryan Trebon (Kona/Yourkey.com)
DNF Bandon Dwight (Boulder Cycle Sport)
DNF Joey Thompson (Rocky Mtn Chocolate Factory)
DNF Charlie Pendry (Inland Construction - BTD)
DNF John Behrens (Bailey/Black Mountain Bicycles)
DNF Donald Reeb (CMG Racing/Giant)
DNF Jon Hansen (Organic Athlete/ Sunnyside Sports)
DNF Kevin Klug (Killjoy Cycling)
DNF Alex Whitmore (Cambridge Bicycle/Igleheart Frames)
DNF Justin Lindine (Targetraining)
DNF Paul Hernandez (Bicycle John's Serious Cycling)
DNF John Bailey (Bailey/Black Mountain Bicycles)
DNF Miles Venzara (Mrv Enterprises)
DNF Stephen Iles (Comotion Sports/Yeti Cycles)
DNF Bryan Fawley (Bicycle Sport Shop)
DNF Jon Hamblen (RGM Watches- Richard Sachs)
DNF Justin Spinelli (Richard Sachs/RGM/Rex Chiu)
DNF Scott Hammack (Karl Strauss/San Diego Bicycle Club)
DNF Michael Yozell (Fort Factory Team)
DNS Christopher Horner (Indiana Regional Medical Center)
DNS Jonathan Baker (Primus Mootry)
DNS Mark McCormack (Team Clif Bar Cyclo Cross)
DNS Adam Bergman (Salsa/Grand Performance)
DNS Grant Berry (Rocky Mtn Chocolate Factory)
DNS Tyler Johnson (Alan North American Cycling Team)
DNS Lucas Livermon (Inland Construction)
DNS Mat Ankney (Mercy Cycling)
DNS Brian Conant (The Pony Shop)
DNS Scott Gibson (KCCX/Verge)
DNS Chris Strout (World Bicycle Relief/SRAM)
DNS Brook Watts (Cody Racing)
DNS William Gault (KCCX/Verge)
DNS David White (KCOI/Boulevard)
DNS Josh Stevens (Back To Dirt/Inland Construction)
DNS Aaron Brown (Rocky Mountain Bikes/Sempre Duro )
DNS Kevin Hulick (Vanilla Bicycles)
DNS Bobby Williamson (NA)
DNS Michael Pease (KHSNM.com Cycling Team)
DNS Ernest Marenchin (Asylum Cycles)
DNS Michael Koons (Velo Project / Schwab)
DNS Shawn Adams (October Lake Effect)
DNS Mark Wiggans (Colonel's)
DNS Jamie Ryan-White (KHSNM.com Cycling Team)
DNS Chris Newell (HVB/Marathon Roofing)
DNS Marty Netzel (Erik's Bike Shop)
DNS Dan Wilson (Monstr Health Cycling)
DNS Jesse Mayberry (Scott/Ritchey)
DNS Kristopher Auer (C3-Sollay.com)
DNS Bruce Weyman (Kahala/La Grange)
DNS Richard McClung (Hagens-Berman LLP Cycling)
DNS Zac Daab (Hup United)
DNS Michael Hosang (Tripower)
DNS Mark Kutney (Van Dessel Factory Team)
DNS Bob Downs (Planetbike)
DNS Tim Granshaw (Morgan Stanley)
DNS Nick Hanni (Scott/ Ritchey)
DNS Todd Cassan (Westwood Velo)
DNS Chris Tirone (Ridley Factory Team)
DNS David Howe (Camp Highlands)
DNS George Smith (Webcor/Alto Velo)
DNS Jamie Pair (Alan North American Cycling Team)
DNS Steven Hunter (Veloshop)
DNS Christopher Bagg (Bikereg.com)

Back to top