US Cyclocross Championships - CN
Providence, RI, USA, December 9-11, 2005
Main Page Results Overall standings Live report Previous Race
Race 16 - December 11: Elite Women
Compton repeats at U.S. 'cross national champs
By Steve Medcroft
Katie Compton (Redline)
Photo ©: Keli Medcroft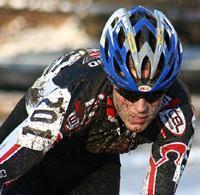 Katie Compton (Redline) did it again. Just like at the 2004 Cyclocross Nationals in Portland, defending national champion Compton came from four rows back at the start and powered her way through a tough Elite women's field to win the Liberty Mutual U.S. Cyclocross National Championships in Providence, Rhode Island on Sunday. In just half the first lap, she cruised around pre-race favorites Barbara Howe (Velo Bella), Ann Knapp (Kona) and Maureen Bruno-Roy (Independent Fabrications) to solo to her second consecutive title.
And just like last year, Compton succeeded at the highest level in women's 'cross after a season of non-UCI men's and women's local races in and around her Colorado Spring home (Compton doesn't want to claim UCI points because it would disqualify her from her place as the sighted pilot of a tandem track racing team with blind stoker Karissa Whitsell).
"It's an off year for Paralympics so I've not done as much training as I did last year," Compton said afterwards. "But I have done the local races and I have worked with my colleagues at Carmichael Training System (where Compton herself is a coach) to get ready for this race." Although she had been preparing, Compton kept a deliberately low profile leading up the race. In fact, before Sunday, not one competitor mentioned having seen Compton in any race or had any hints as to her form. But when the gun fired, there was no doubt Compton was on form.
The race
Ann Knapp suffered
Photo ©: Keli Medcroft

The skies above Providence had thrown everything it could think of to make racing at Roger Williams Park difficult. Blinding snowstorms and freezing rain on Friday combined with icy mornings and mild temperatures on Saturday left the course a difficult combination of sloppy mud layered over frozen ruts. With a balance of technical dirt, off-camber turns and tricky ups and downs, many women seemed unsure of where they would be strong.
2002 national champion Ann Knapp, who had not prepared for the 2005 championship race as thoroughly as she had for past events but who is notoriously good on courses that require running said, "I like the shape of the course, the flow of the course. It's well designed and has good ups and downs. There's some road, there's some running. But I don't think it favors anybody."
When the race started, Maureen Bruno-Roy, who had won the Master's 30-34 national championship on Saturday, pressed the pace. "I've really been working on my starts this year," she said. Her effort stretched the sixty-eight starters in the first five minutes.
By the halfway mark in the first lap, only Ann Knapp and Rhonda Mazza (Team S&M/Vanilla Bikes) were on Bruno-Roy's wheel.
Compton, who had not received an invitation to the front line (there's those pesky UCI points causing problems again), muscled her way through the pack of riders. "Katie and Ann Knapp came by me like a freight train," Bruno-Roy said. "Those two were battling it out. I tried to catch on to Ann but she was a lot stronger through the technical stuff." After blowing the race apart, Bruno-Roy settled into third on the course.
Maureen Bruno-Roy
Photo ©: Keli Medcroft

Compton settled into a rhythm on the tough course that kept her out of danger from everyone; only Knapp could keep her in sight (mostly due to Knapp's ability to stay focused through the bumpy technical sections).
Compton spent the next four of the five total laps on her own and won without challenge. Knapp finished second, a minute back. Third place was settled only after a battle. "In the second to last lap, Bruno-Roy said, "Rhonda Mazza was closing in on me. She's a very technical rider and very consistent and came by me moving quickly."
Bruno-Roy and Mazza had faced each other in USGP and Verge Mid-Atlantic Series races. "I've never been able to catch her before," Bruno-Roy said. But an untimely stumble by Mazza gave Bruno-Roy an opportunity. "It was hard to know what was snow and what was ice out there; there was a lot of black ice under the mud. She bobbled a little in this off-camber technical section and I was able to pass her through the pits."
Bruno-Roy held off Mazza to finish third, her second podium in two days. Melissa Thomas finished fifth.
Although Compton says she will not represent the U.S. at Cyclocross Worlds in Zeddam (the Netherlands; a race which comes with Katie's kryptonite – UCI points) she enjoys 'cross and plans to take a shot at a third title next year. "I'll keep things like this until Beijing (Paralympics) in 2008 then I'll switch to 'cross full time;" a move that will allow her to put her own racing goals – to stand on top of the World Championship podium – back in the forefront.
Race notes
The women's cyclcross national championship podium
Photo ©: Keli Medcroft

Canadian Cyclocross National Champion and USGP Series winner Lyne Bessette got a chance to try the course at Providence on Sunday; as the only woman in the Liberty Cup Invitational. The hour-long race was open to every recently crowned male national champion and approximately 150 of America's best 'crossers. With bragging rights and a $2,000 purse, Todd Wells rode away from a field containing everyone from four-time NORBA and Master's 45-49 National Cyclocross Champion Steve Tilford, to fifteen-year old men's National Champion Alex Coehlo. Bessette made it through three laps before calling it a successful training session and pulling out of the race.
Photography
For a thumbnail gallery of these images, click here
Images by Keli Medcroft/www.keliskolor.com
Images by Trish Albert/www.southeasterncycling.com
Images by Bill Hurley/www.fastshotsphoto.com
Images by Russ and Nancy Wright/www.abbiorca.com
Images by Ed Collier/Ed Collier Photography
Images by Paul McKenzie/Paul McKenzie
Results
Top 10

1 Katie Compton (Redline)                                    39.55
2 Ann Knapp (KONA)                                            1.32
3 Maureen Bruno Roy (Independent Fabrication)                 2.38
4 Rhonda Mazza (Team S&M/Vanilla Bicycles)                    3.05
5 Melissa Thomas (Tokyo Joes/GoLite)                          3.23
6 Barbara Howe (Velo Bella)                                   4.02
7 Georgia Gould (Kona)                                        4.24
8 Brigette Stoick (Rivercity Bicycles)                        6.11
9 Amy Wallace (Verizon Wireless Wheelworks)                   6.35
10 Josie Beggs (Starbucks-CA Giants-Specialized)              6.39
11 Anna Milkowski (Gearworks-SpinArts Cycling Team)           7.07
12 Ann Fitzsimmons (Velo Bella)                               7.16
13 Pauline Frascone (Independent Fabrication/Kempner)         7.40
14 Kristi Berg (Bicycle Centers Racing)                       7.43
15 Catherine Walberg (team kenda tire)                        8.11
16 Wendy Williams (River City Bicycles)                       8.20
17 Audrey Huffman (Mad River Riders)                          8.27
18 Megan Monroe (Lemond/PCW)
19 Colleen Wanty (Missing Link/Bianchi)                       8.39
20 Lauren Costantini (Sycip Racing)                           8.44
21 Mandy Lozano (CCA/Kona)                                    9.01
22 Marianne Stover (Independent Fabrication)                  9.24
23 Rebecca Wellons (Gearworks/Spin Arts Cycling)              9.30
24 Anne Schwartz (Flying Rhino Cycling Club)                  9.35
25 Marci Titus Hall (Groton, Ma)                              9.54
26 Stephanie White (Gearworks/Spin Arts)
27 Linda Sone (Silver Cycling/Hollywood Racing)
28 Mackenzie Dickey (Team Bicycle Alley)                     10.10
29 Melanie Swartz (Squadra Coppi/Van Dessel)                 10.29
30 Cristina Begy (Spot /Gofast)                              10.32
31 Catherine Johnson (Pro Peloton)                           10.47
32 Hollie Mcgovern (sierra express)                          10.52
33 Sara Cushman (Gear Works/Spin Arts)                       11.02
34 Daniele Staskal (Kona/CCA)                                11.40
35 Kami Tremblay (Gear Works/ Spin Arts Cycling Team)        12.16
36 Jennifer Tilley (Lawrence, Ks)                            12.26
37 Eszter Horanyi (Boulder, Co)                              12.32
38 Erin Kassoy (Velo Bella)                                  12.33
39 Lauren Trull (Kona/CCA)
40 Celeste Drumm (HUP United)                                12.48
41 Dorothy Wong (Kelly Bike Company)                         12.54
42 Cris Rothfuss (NEBC/Cycle Loft)                           13.00
43 Alicia Hamblen (RGM Watches-Richard Sachs-Hudson Valley)  13.11
44 Melodie Metzger (Velo Bella)                              1 lap
45 Cara Mccauley (CCA/Kona)
46 Kristine Church (Human Zoom)
47 Natalie Dumont (Gearworks Cyclery)
48 Kim Sawyer (travelgirl)
49 Joanne Stevens (Sunnyside Sports)
50 Janet Olney (Alan Mid-Atlantic)
51 Betsy Schauer (FORT- GPOA !)
52 Heidi Von Teitenberg (Alan Mid-Atlantic)
53 Sami Fournier (Velo Bella)
DNF Jennifer Magur (Team Biovail)
DNF Christine Vardaros (Velo Bella)
DNF Lisa Most (Wissahickon)
DNF Kerry Litka (Dansko Wheelworks)
DNF Martha Wilson (Gear Works/Spin Arts Cycling Team)
DNF Perri Mertens (harriscyclery.com)
DNF Brenda Bahnson (Independent Fabrication)
DNF Kathy Sarvary (Gearworks/Spin Arts Cycling Team)
DNF Beth Mason (NCVC/Edge Technologies)
DNF Tiffany Pezzulo (Team Biogen-Idec)