Introduction to Track Racing - What's a Wheelrace? - Introduction to Six Day racing
Tasmanian Christmas Carnivals
Tasmania, December 26, 2005 - January 1, 2006
Main Page Wheelrace Results Complete event results
Launceston Carnival - December 28
By Les Clarke, with additional reporting by Gerard Knapp
A Grade elimination
A full house
Photo ©: Anthony Tan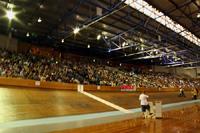 It was a quality field for the men's A grade elimination race, but with Mark Jamieson, Joel Leonard and Ben Kersten dropping out of contention early, it was left to endurance riders such as Sean Finning, Nathan Clarke and Christian Lademann to fight it out for the win.
Proving his win in Monday's 16km scratch race in Latrobe was no first-day fluke, Lademann was up against Clarke in the final lap taking the win ahead of his partner in tonight's highly-anticipated Madison. In what was a great warm-up for the evening session's big race, Lademann said, "It takes one or two events to get back to a good feeling."
The German rider is looking forward to tonight's main event, and after a relaxed rest day believes that the opening events are necessary to get back to speed. "Yesterday was some road training and a long sleep in, so I'm not feeling too good at the moment; but you quickly get faster and this race was a good warm-up," he said.
Ladies invitational A Grade elimination
Belinda Goss (L)
Photo ©: Shane Goss

After the disappointment of missing out on a win in Latrobe on Monday, TIS rider Belinda Goss came through for an easy win in the women's invitational elimination race. Riding a tactically smart race, Goss spent most of the distance with teammate Grace Sulzberger in the middle of the pack, with fellow Tasmanian Laura McCaughey eliminated around the midway mark, and fancied Victorians Peta Mullins and Apryl Eppinger also amongst those eliminated earlier in proceedings.
With the field whittled away to just two riders, Goss had no trouble in leading out ACT rider Jessie McLean over the final half lap to take a comfortable win. Post-race, Goss was pleased to win on a track she's familiar on, saying, "I love racing indoors - it feels a lot faster and the atmosphere is better indoors. It's always nice to get a win, and it's nice to be going a bit better than I was at Latrobe on Monday."
Goss was far from her best on Monday, and explained, "I've been doing a lot of road base at the moment, so it's taken me a day or two to get my track legs back." With good form and her tactics spot-on, Goss is looking forward to the rest of the week's racing, "Hopefully I can build on today and keep moving forward. I felt alright - I felt reasonably comfortable in that one, and it was nice to get the win."
Ladies invitational A Grade scratch
But it was Belinda Goss (Tas)
Photo ©: Anthony Tan

Belinda Goss took her second win of the Launceston meet with a classy win in the ladies invitational A Grade scratch race. Goss positioned herself perfectly to easily power around the outside of Jessica Berry through the final bend and take the win.
After a relatively slow start, ACT rider Jessie McLean stretched her legs with seven laps remaining, but a lap later the bunch was back together, with the front riders pulling through for smooth, strong turns. At three laps to go, McLean, Berry and Goss decided to go it alone, working well to hold the bunch until the final lap. It was then time for Berry, who won the women's scratch race at Latrobe on Monday, to lead out early before Goss picked her moment and came around Berry for another win.
"I took the race as it came," said a smiling Goss following her win. "I thought some of the girls might try a bit of an attack, so I was watching - but it came down to a bunch sprint and I put myself in the right spot," she said. A feature of Goss' ride was her positioning, and she recognises the role it plays in her racing. "That's one of my strengths, so I try not to think about it too much and it works better that way," she said.
Men's A Grade scratch race
Riders in the men's A Grade scratch race
Photo ©: Shane Goss

In a fast-paced race, American rider and perennial Tasmanian favourite Jame Carney took out the A Grade scratch race following a last-lap dash for the line.
The quality field took off quickly out of the blocks, and riders worked together well, pulling through for smooth turns in order to chase down the limited attacks during the race. Nearing the final 10 laps, Argentinean rider Sebastian Cancio was the first to try his luck out front, but was pulled back within the next two laps by TIS rider and Latrobe wheel race winner Matt Goss.
With 10 laps remaining it was Cameron Meyer who decided to attack, putting on a powerful display of solo riding before he too was caught with eight laps to go. From there a group of five riders formed at the front, with Meyer, Leigh Howard and Bobby Lea placing themselves at the front.
But with seven laps remaining it was Christian Lademann who decided to fly the coop, getting into a strong rhythm for five laps, and for some time it appeared as if he may repeat his win in the 16km scratch race at Latrobe on Monday. A group of three - Evan Oliphant, Mark Jamieson and Jame Carney - formed, chasing Lademann down until Carney, showing all his experience and strength, who capitalised on a lapse by the chasing bunch to put his head down and head for home a full lap out.
USA's Jame Carney
Photo ©: Anthony Tan

It worked, and Carney held off a very fast finishing Ben Kersten to take the win, with Kersten taking second and Darren Young third. After the race Carney was happy with the win, saying, "I felt Gossome" [kinda like awesome, we guess]. "I thought it was going to bust up a little more than it did, in fact. Both the scratch races in Latrobe busted up, and I'm only riding 48x14 tonight because we've got the Madison later - I didn't want it to be a mad dash sprint with guys riding 96 [inch gearing]," he added.
The bunch worked in Carney's favour, and by the end of the race he was in a position to attack, which he did. "You just have to know who's working with who, and what's dangerous and what's not, and when that group went I knew there were enough guys in the field who were going to block for that group; it was going to take a little time for them to figure out who wanted to chase them down," he said. "Lucky enough, when I punched it people just looked around - that's when I got a gap." From there it was a one-way street, with Carney showing great leg speed to take the win and keep his band of followers happy for another day.
Lightning handicap final
Ben Kersten (L)
Photo ©: Shane Goss

With Ben Kersten lining up on scratch, and Victorians Joel Leonard and Leigh Howard just ahead of him, the lightning handicap final lived up to its name, as the three main backmarkers made contact with the front group within the first lap. Tom and Will Robinson led the field with two laps to go, before John Forrest hit the front with 1.5 laps remaining.
Canberra rider Forrest led the fast-charging bunch into the final lap, but it wasn't long until Leonard and Kersten made their way around the outside of the field and to the front of the race. Leonard led Kersten going into the home straight, and that's how it stayed. Commissaires later deemed Leonard's line had changed in the final straight and the Victorian was relegated to second place, with Kersten adding to his tally on the night with another win.
Keirin
Joel Leonard
Photo ©: Shane Goss

National keirin champion Joel Leonard reversed the result of Monday's keirin in Latrobe, winning the Launceston edition of this popular event in another tight finish against Ben Kersten. Relegated to second in the previous race, the Victorian rider lined up against Kersten, Scott Sunderland, Todd Wilksch, John Norfolk, Daniel Ellis and Anthony Peden.
As the motorbike pulled off, Leonard and Kersten lurked behind the field until the final lap, when Leonard let loose with explosive power, only to have Kersten follow him. Kersten's reaction time wasn't quick enough, however, and Leonard maintained his lead through the final turn and into the home straight to take a dominant win.
Following the race Leonard was pleased with his performance. "It felt great. Coming into bell lap I was third wheel, which is good; more ground for Benny [Kersten] and Anthony Peden to cover. I laid off a bit around the back straight before heading around Wilksch and Sunderland and holding off Ben Kersten - again," he said.
Leonard was philosophical about his relegation to second in the previous race, the lightning handicap, saying, "I spoke to Ben after it [the lightning handicap] and he said there wasn't much impeding his progress or that of the other riders, but the commissaires saw it differently. Them's the breaks!"
Wheel race final
The podium Launceston Wheelrace final
Photo ©: Anthony Tan

With Stephen Rossendell and Ben Kersten the two scratchmen, it was up to the middlemarkers to make the running in the final of the Launceston wheel race. Travis Meyer did this to perfection, resisting the urge to fly the coop early to ride to an intelligent win.
16-year-old Meyer, who is a member of the WAIS squad visiting the Tasmanian carnivals, featured at Monday's Latrobe carnival with his massive solo attacks and overall strength. This same strength was on display during tonight's final, with the middlemarkers catching the front runners after only two laps. With four laps to go, both scratchmen withdrew from the race, Kersten presumably saving himself for the rest of the night's programme.
With three laps remaining, Canberra rider John Forrest pulled through for a big turn, setting up Meyer and fellow middlemarker Anthony Rix to position themselves near the front. With two laps remaining James Langedyk hit the front - but he was the 'sacrificial lamb', working hard before Meyer and Rix held court in front of the capacity crowd in a sprint to the line. With Rix taking the upper line and looking strong coming out of the final corner it looked like Meyer may have to settle for second, but the West Australian junior held on for a great win in front of the capacity crowd.
Following his win, Meyer was delighted with his win, saying, "I feel absolutely fantastic right now. I was just dreaming of winning something as big as this - it's just great!" Meyer knew things were going to be a bit easier because there were only two scratchmen, but wasn't counting his chickens. "There aren't any slouchs in the middle markers - they're all good bike riders - I was just lucky that I had the strongest legs at the end to win it."
The young West Australian believes it was almost the perfect ride, with his positioning a feature of the win. At 16, the $2,600 prize purse is a big windfall, and Meyer says he'll probably bank the money for now, giving his parents even more to be proud of!.
Derby final
Ben Kersten
Photo ©: Shane Goss

With Scott Sunderland, Ben Kersten, Joel Leonard and Todd Wilksch lining up for the Derby final, all riders had their work cut out for them, and the finish was bound to be fast and furious. Once again it was the Kersten/Leonard show, with Leonard making the early running over the final lap before Kersten took out the big 'go fast stick' and punched his way around Leonard out of the final turn.
Following his win, which came during a packed day's racing, Kersten was absolutely exhausted, threatening physical harm to the programme organisers - as a friendly joke, of course. "I'm going to murder the guy who wrote this programme," he joked after his win. "I'm going to put him in a big sock and use it for baseball practice." But speaking seriously, Kersten wasn't
he was able to take the win, saying that Leonard's finishing so far during the day's racing may have prevented him coming around the flying Victorian. In the end, however, Kersten had the speed and took home the cash to round out a healthy kitty for the night.
Ladies invitational wheel race final
Grace Sulzberger (TIS/Cyclingnews.com)
Photo ©: Shane Goss

After her teammate Belinda Goss took out the women's elimination and scratch races, TIS rider Grace Sulzberger maintained the Institute's domination in women's racing at their home track with a win in the ladies invitational wheel race final.
17-year-old Sulzberger continued her great run this season, adding the wheel race final to her wins on the road in Tasmania so far this summer, with the great form transferring over to the track. "This is what I hoped to do - win a wheel race. We had a really strong field out there and I wasn't sure what was going to happen," she said. But everything worked to plan, and after Goss' wins she was glad to get a win of her own. "We both work hard together and we're training partners, so it's good for both of us to get a win."
Island State 50km Madison
Riders in the Madison line up
Photo ©: Shane Goss

With experience and strength on their side, the VIS pairing of Sean Finning and Brad Norton took the race to their opponents in the highly-anticipated Madison late in the evening session and it paid off handsomely, the duo taking a hard-fought win over VIS teammates Leigh Howard and Simon Clarke in front of the big Launceston crowd.
With a field full of talent, including German rider Christian Lademann, Argentinean riders Sebastian Cancio and Sebastian Donado, plus teenage sensation Leigh Howard and his VIS teammate Simon Clarke, the Madison was the night's main event. Adding to the quality was TIS rider Mark Jamieson, Matt Goss and Darren Young, all keen to impress their home crowd on a familiar track.
Nathan Clarke (R)
Photo ©: Shane Goss

The field suffered a lethal blow when Finning and Norton headed for the front early, pinning their ears back and taking a lap out of the big bunch. The lack of reaction from some experienced riders meant their chances of winning were diminished, if not ended with 157 laps remaining. The highlight of the race was the ability of Simon Clarke and Leigh Howard to win sprints at almost every opportunity, and if it hadn't been for the early move of Finning and Norton, the chances of the other VIS team taking the win would have been fairly healthy.
American duo Jame Carney and Bobby Lea provided some added interest in the race as they attempted regaining the lost lap with 55 laps to go. They were able to get half a lap in front of the pack before the effort of some gutsy solo riding took its toll and they were reeled in about 20 laps later. Local boy Matt Goss, who won the Latrobe wheel race on Monday, tried his hand at a break with some big efforts of his own, but Finning and Norton were consistently on the ball, staying glued to the wheels of their attackers with what resembled relative ease.
Norton and Finning formed their strong pairing for the two-man event recently and have become known for their aggressive racing. With success comes confidence, and Norton was feeling every bit the champion on the night. Winning the 50km event in 57:33 and keeping the pace high discouraged any further attacks, but Norton's verdict on the pace was, "well, that's pretty much the standard race time these days - they're fast."
The winning duo
Photo ©: Anthony Tan

The 21 year-old added, "The Madison has really come along in the last five to 10 years and you have to race flat-out the whole time. It wasn't really part of the plan (to lap the field so early). I found I had a quarter of a lap on the field after I had really just rolled off the front. I was a bit surprised that they didn't chase, so we decided to keep going and take the lap." And from that point on, "we just had to keep an eye open and cover everything."
Norton said they picked out three or four teams in the strong field who they had to watch. As Finning said, "it's always easier to close down 20 metres than to make up another 230."
Next up for the duo will be other lucrative Madisons on the Australian summer track racing circuit, although they are not sure if they will be paired for the Australian Madison Championships, given that it may have an impact on qualifications for the Australian commonwealth Games squad, and only Finning has been nominated - though not selected - as a possible member of that squad.
Photography
For a thumbnail gallery of these images, click here
Images by Shane Goss/www.licoricegallery.com
Images by Anthony Tan/Cyclingnews
Images by Gerard Knapp/Cyclingnews
Results

Event 5: Eaglecrest Technology A Grade Elimination Race
 
1 Christian Lademann (Ger)
2 Anthony Niblett (NSW)
3 Nathan Clarke (Tas)
 
Event 11b: Country Club Salon Ladies A Grade Invitation Elimination
 
1 Belinda Goss (Tas)
2 Jessie McLean (ACT)
3 Grace Sulzberger (Tas)
 
Event 35: Sue Napier Ladies Invitation A Grade Scratch Race
 
1 Belinda Goss (Tas)
2 Jessica Berry (Vic)
3 Kate Cullen (GBr)
4 Laura McCaughey (Tas)
 
Event 36: Gunns Limited A Grade Scratch Race, 40 laps
 
1 Jame Carney (USA)                        13.13.59
2 Ben Kersten (NSW)
3 Darren Young (Vic)
 
Event 42: J&H Complete Gardening Lightning Handicap, 4 laps - Final
 
1 Ben Kersten (NSW) (Scr)
2 Joel Leonard (Vic) (10)
3 Bobby Lea (USA) (25)
 
Event 53: Eaglecrest Technology Keirin, 7 laps/2000m
 
1 Joel Leonard (Vic)                        2.38.78
2 Ben Kersten (NSW)
 
Event 56: Praties Launceston Wheelrace, 7 laps/2000m - Final
 
1 Travis Meyer (WA)
2 Anthony Rix (Vic)
3 Justin Tomlinson (NSW)
4 Paul Atkinson (Tas)
 
Event 57: Cascade Invitation Derby Series, 4 laps - Final
 
1 Ben Kersten (NSW)                           10.83
2 Joel Leonard (Vic)
3 Scott Sunderland (WA)
4 Todd Wilksch (Vic)
 
Event 58: Country Club Salon Ladies Invitation Wheelrace, 7 laps/2000m - Final
 
1 Grace Sulzberger (Tas) (80)
2 Kate Cullen (GBr) (60)
3 Apryl Eppinger (Vic) (70)
4 Peta Mullens (Vic) (20)
5 Kate De Paoli (Tas) (240)
 
Event 62: Island State 2005 Madison, 175 laps/50km
 
1 Sean Finning/Brad Norton (VIS)                 27 pts
 
1 lap behind
 
2 Simon Clarke/Leigh Howard                      41 pts
3 Christian Lademann/Nathan Clarke               27
4 Darren Young/Matt Goss                         17
5 Sebastian Donadio/Sebastian Cancio             17
6 Jame Carney/Bobby Lea                          17
7 Mark Jamieson/Bernard Sulzberger                7
8 Cameron Myer/T. Myer                            6
9 Tim Decker/Steve Rossendell                     4
 
2 laps behind
 
10 Matty Rice/Caleb Manion                        1
 
3 laps behind
 
11 Mark Kelly/Leigh Deluca                        1
 
4 laps behind
 
12 Evan Oliphant/J. McCallum
 
5 laps behind
 
13 Daniel Cutting/Gareth Atkins
 
DNF Elliot Gaunt/Josh Kerkhoff
DNF Tom Robinson/Will Robinson


Complete event results