Introduction to Track Racing - What's a Wheelrace? - Introduction to Six Day racing
Tasmanian Christmas Carnivals
Tasmania, December 26, 2005 - January 1, 2006
Main Page Results Complete results
Latrobe Carnival - December 26
By Les Clarke & Anthony Tan
AJ Clarke & Sons 2000 metre handicap
Adrian Hanson
Photo ©: Shane Goss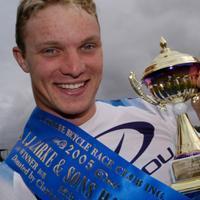 With Ben Kersten and Matt Goss riding from scratch, the field for the AJ Clarke & Sons 2000 metre handicap had their work cut out for them; with riders such as Joel Leonard, Scott Sunderland and Mark Jamieson in the field, a win by an outsider seemed almost impossible. But it was Victorian rider Adrian Hanson, starting off 130 metres, who stayed near the front for most of the race and took the winner's $1,200 first-place purse.
It was a reasonably fast start, with the backmarkers working well together to reel in the front riders, and they did so with two laps remaining. At this point, however, some of the previously fast-charging backmarkers began to fall away, with Matt Goss and Bobby Lea just two casualties of the tough conditions. Heading into the final lap, West Australian Travis Meyer went on the attack, lifting the pace into what was a challenging headwind, and with the bunch slow to respond it was Hanson who stayed with Meyer through the back straight before launching his attack with half a lap remaining.
From there Hanson appeared unstoppable, holding off a fast-finishing field to take a comfortable win by half a bike length over Joel Leonard and Scott Sunderland. Hanson played it simple throughout the race, and it worked. "I stayed with the guys at the front and they were working well, which was definitely to my benefit. With half a lap the backmarkers made their move and I jumped in front and went for it," he said.
It's Hanson's first ride in the Tasmanian carnivals, and the young Victorian knows it was a great to start his Tasmanian campaign. "It's my first time racing in Tasmania and it's a good way to start off," he said. Asked if he went into the week's races with a new-found confidence he said, "It's the best way to start, and it's only going to get harder, so a win first up is good. I'm racing every day and can't wait to race at the indoor track." If this win is anything to go by, he should feature this week in Tasmania.
Mackey's Royal Hotel Women's 1000 metre handicap
Carnival ambassador Louise Yaxley (C)
Photo ©: Shane Goss

The first women's race of the day began slowly, with three distinct groups content to work amongst themselves until the final bend, when it all came together for a final bunch sprint. But Victorian rider Apryl Eppinger decided a bunch finish wasn't for her, pushing hard out of the final corner to hold a clear advantage along the home straight where she took the win ahead of Emma Smith and Emma Heynes. Eppinger managed to hold off Tasmanians Belinda Goss and Grace Sulzberger to take $300 of the $500 prize purse in what was a great start for the young rider.
Women's wheelrace
Emma Heynes
Photo ©: Shane Goss

Buoyed by the success of the backmarkers in the previous two wheelrace heats, Launceston local Emma Heynes took advantage of a generous 230 metre head start to upstage her more experienced rivals and take home $300 in the women's wheelrace final.
Both of the women's heats lacked the depth of field seen in the five men's heats held just before, with riders like Belinda Goss, Laura McCaughey, Jessie McLean and Peta Mullens forced to do more legwork than they would of liked. It was an almost identical scenario in the final, as Heynes, Karissa Ling and Adele Gee - all off 230 metres - forged a sizeable lead shortly before the race's midway point and courageously held their advantage, with Heynes proving a clear winner over Ling and Gee at the line.
"Just to get to the final was pretty big, and to win was awesome," said the 24 year-old Heynes to Cyclingnews. "I got a win in a 1000 [metre wheelrace] two weeks ago where I'd been out in front on my own, but Latrobe was one of the big ones [I was targeting]. We were working really well together - we were an excellent group - and by the last corner, I thought, 'I've got it, just keep going and you've got it won!'"
Patrick Latrobe 3000 metre wheelrace
They bunch up
Photo ©: Shane Goss
Having never won a coastal wheelrace before, TIS rider Matt Goss went into the Latrobe wheel race with plenty of ambition and form. Starting from scratch with Darren Young, Nathan Clarke and Argentinean Sebastian Cancio, Goss worked well with his fellow backmarkers as all four pulled through for nice smooth turns to share the work into the notorious headwind. Meanwhile, middle markers Scott Sunderland, Evan Oliphant, and Isle of Man rider Mark Kelly were working well together to close the gap.
With three laps to go, Goss and co had breached the gap to both the middle group and the front markers and the race was on to catch Cameron Meyer, who had stayed out front and was looking strong. Meyer, who third-placed Leigh Howard noted as a potential race-winner, was powering his way solo into the back straight headwind, increasingly looking like he could snare the big one. At two laps to go the West Australian rider was still alone at the head of the race, head down into the gusts around the back of the track.
Behind him, however, the big bunch had wound up the pace and with half a lap remaining Darren Young led out Matt Goss along the back straight in an attempt to bridge to Meyer. The move was successful, and from that point it was a matter of which TIS rider was going to win - Goss proved his season just keeps getting better by taking a comfortable win ahead of Young and Victorian gun Leigh Howard, with Bernard Sulzberger and Mark Kelly rounding out the top five.
Matt Goss (TIS/Cyclingnews.com)
Photo ©: Shane Goss

Post race, the in-form Goss was quietly happy with the win. "Hopefully the good season continues," he said." It worked out easier than I thought it might have been and worked out well. The front markers didn't work well together and were watching each other." Once it came together Goss was always a favourite for the win and came through for a big victory, aided by plenty of recent work on the road. "I've been doing plenty of miles, which helps on the windy track," he said. And when asked whether this beats his win at last season's Launceston criterium was quick to reply, "No, I still think that's the best one." Goss was aware of the strong Western Australian contingent, citing fast man Scott Sunderland as one of his biggest threats. "I was looking for Scott Sunderland, but he didn't come through, and Leigh Howard worked well."
Third-placed Leigh Howard, fresh from huge wins at the Sydney Thousand and Melbourne Cup on Wheels was also aware of the threat posed by Sunderland and Meyer, and was happy with the final result. "I thought the WA guys would hit out," he said. "I pulled a good turn, and didn't expect to get back on, but when they slowed I got back on and got Gossy's wheel which worked out well." Howard has come to Tasmania to keep the fitness levels up but not wear himself out. "Before I came down here a lot of people were saying 'get fit, but not run down', and I'm just hoping I can get some extra fitness."
The 16-year-old Victorian's recent great performances have secured added interest from sponsors such as Oakley, and if his current form continues there'll be more podium places in store during the remainder of the carnivals.
Sid Patterson Memorial Invitational 8000 metre scratch race
Leigh Howard (Jayco/VIS)
Photo ©: Shane Goss

Leigh Howard's great opening day to the Tasmanian carnivals continued with a win in the Sid Patterson Memorial invitational, showing off his incredible speed and finishing kick to secure the $900 first-place purse. Riding off 45 metres, Howard spent most of the race working hard by himself, having been "caught in no-man's land" as a result of his starting mark.
Once he had caught the main group, the 16-year-old Victorian was able to bide his time despite the constant manoeuvring at the front of the field. American Bobby Lea was consistently amongst the action out front, and along with James McCallum, Darren Young and Sebastian Cancio, Lea was able to dictate terms. But every attack was brought back by a bunch containing the likes of Howard, Sunderland, Joel Leonard and Mark Jamieson, and it was no surprise that when they wound up the pace with four laps to go it was going to finish in a bunch gallop.
But there were still more moves to come, as Jamieson tried his luck with two laps remaining, and Lea sat in second wheel. With half a lap to go it was time for the afterburners as Howard kicked and Cancio followed suit, showing amazing pace against an experienced field to hold off the Argentinean rider and take the win. Howard was both pleased and surprised with his form, saying, "After the wheel race earlier I thought it was going to be a long day."
"There was a good bunch of riders out there - I didn't expect to win." And as for the remainder of the carnivals, Howard was playing down his chances, saying, "We'll just have to wait and see. It can change so much." He's looking forward to racing at Launceston's Silverdome on Wednesday night, virtually licking his lips at the prospect of more racing indoors during a season where he's been almost unbeatable on the wooden boards.
Devon Industries elimination race
American Jame Carney (L
Photo ©: Shane Goss

American rider Jame Carney got his first win of the carnivals in the Devon Industries elimination race, beating Argentinean riders Sebastian Donado and Sebastian Cancio after eight riders had been eliminated. Darren Young was the first to be eliminated, followed by Stephen Rossendell the next lap. It was a close call, but Nathan Clarke was the next rider to be eliminated before Mark Jamieson surrendered his place in the race the next lap.
The next lap's elimination disappointed the crowd when Christian Lademann was eliminated - many observers thought Carney should have gone, but the American knew he had made the cut. "I got through there," he said. It looked like I didn't make it, but with the tailwind I got in there." It was then time for Todd Wilksch to leave the race, with Matt Goss the last rider eliminated.
In the final sprint Carney was faced with the prospect of two speedy Argentineans in Cancio and Donado, but the American veteran managed to hold off Donado for the win. Following the race, Carney was sure it was his developing bike setup that helped him to the win. "I've been off the track bike since September 4," he said. "I've been playing with the bars and seat and it feels better every time I go out there." Carney has been racing Cyclocross in Oregon, taking third overall in the singlespeed category - something he believes has helped with his racing. "I don't do any speed work, and doing the cross means I'm not carrying too much weight, which helps me down this back straight." He's confident his form can keep coming up as in previous years, and is looking forward to his favourite leg of the carnival in Burnie.
TAS Alkaloids keirin
Ben Kersten
Photo ©: Shane Goss

With Shane Kelly missing from this year's Tasmanian carnivals, Joel Leonard and Ben Kersten were the fancied riders going into the TAS Alkaloids keirin. When the slightly overpowered derny (1000cc motorbike) pulled off it was time for VIS teammates Leonard and Leigh Howard to work together, and going into the final lap it was the former leading the latter. With Howard's blistering form in the second of the event's two heats, leaving the 16-year-old any room to move would have meant certain defeat for the quality field.
Going into the final bend the field were still together until Ben Kersten delivered one of his trademark bursts to fire ahead of bunch, leaving all in his wake and enjoying an opportunity to celebrate. And he almost celebrated too soon, with Leonard jumping at him before the line to send a quick scare into the Kersten camp. But alas it was one of Australia's fastest men who ended his first day at the Tasmanian carnivals on a high note.
Asked post-race how he felt, Kersten was quick to point out he's still on the mend from a recent back injury, saying, "I'm just starting out and seeing how it goes at the moment," but was happy with the way he pulled up after the pace of the event.
Bill Redpath Memorial 16,000 metre scratch race
Vantage points
Photo ©: Shane Goss

In the day's final event, the Bill Redpath Memorial over 16km, it was German rider Christian Lademann and Argentinean Sebastian Cancio who showed the field they've got their endurance legs well and truly going with a commanding performance at the head of the field to take first and second respectively.
The field took it easy for the first three laps until Jame Carney and then Matt Goss took turns to try and break things up. With 25 laps remaining Joel Leonard attacked, prompting a rise in the race pace before Goss, Bobby Lea and Sebastian Donadio decided to head out for a stint in front of the field at 20 laps to go. During the three laps this trio were away, Goss and Lea 'agreed to disagree' on several occasions, with shoulder exchanges featuring in their tęte-ŕ-tęte along the home straight and into the first bend.
At 14 laps to go, Christian Lademann was looking comfortable near the front of the group, planning his winning move but certainly not telegraphing his intentions. With 12 laps remaining, TIS rider Mark Jamieson displayed his pursuiting ability with a strong solo stint that lasted for three laps. With nine laps remaining it was time for the Lademann/Cancio show, the two riders working perfectly together to build a lead of up to 10 seconds over the 3rd/4th pairing of Mark Jamieson and British rider Evan Oliphant. By this stage of the race it was a case of two pairs and a bunch in the 'race hand', with no room for bluffing and even less for tricks.
Christian Ladermann
Photo ©: Shane Goss

In a wonderful display of co-operation, Lademann and Cancio were able to hold off the chasing duo until the finish, with Lademann showing his strength in the final corner to comfortably take the win. Oliphant was able to pip Jamieson for third, with Leigh Howard rounding out a great opening day with fifth place. Following the race, Lademann told Cyclingnews that the agreement between himself and Cancio was totally necessary to stay at the front. "Once you get at the front, and if you want to stay there, you have to work together," he said, before adding, "The Argentineans are very strong endurance riders, so I picked Sebastian [Cancio] to work with, and it was good."
As for the way the race panned out, Lademann didn't expect a break, saying, "I thought it would end in a bunch sprint, so I put a bigger gear on." It worked out well for the German rider who is looking forward to Wednesday night's Madison, which he's riding with Nathan Clarke. And in his second year at the Tasmanian carnivals, how does it compare to the six-day events of Europe? "It's very different," he said. "Here the races are much shorter and faster, and you're sitting down for longer. At the six-days the races there are a lot more miles to ride." But he's quick to add that he enjoys Tasmania - why else would he be here? And after a win like today's, he's sure to enjoy it more if the good form continues.
Photography
For a thumbnail gallery of these images, click here
Images by Shane Goss/www.licoricegallery.com
Results

Event 20: A.J. Clarke & Sons Handicap, 2000m - Final
 
1 Adrian Hanson                             2.10.68
2 Joel Leonard
3 Matthew Goss
4 Joel Stewart
 
Event 43: Women's Wheelrace - Final
 
1 Emma Heynes
2 Karissa Ling
3 Adele Gee
 
Event 45: Patrick Latrobe Wheelrace, 3000m - Final
 
1 Matthew Goss                              3.27.82
2 Darren Young
3 Leigh Howard
4 Bernard Sulzberger
5 Mark Kelly
 
Event 51: Sid Patterson Memorial A Grade Invitational Scratch Race, 8000m - Final
 
1 Leigh Howard
2 Sebastian Cancio
3 Nathan Clarke
 
Event 55: Women's A Grade Scratch Race, 3000m
 
1 Jessica Berry
2 Jessie McLean
3 Rosi McCall
 
Event 63: Devon Industries Elimination Race
 
1 Jame Carney
2 Sebastian Donado
3 Sebastian Cancio
 
Event 68: Tas Alkaloids's Keirin - Final
 
1 Ben Kersten
2 Joel Leonard
3 Todd Wilksch
4 Jon Norfolk
5 Scott Sunderland
 
Event 71: The William Redpath Memorial Invitational A Grade Scratch Race, 16,000m
 
1 Christian Lademann                       20.42.78
2 Sebastian Cancio
3 Evan Oliphant
4 Mark Jamieson
5 Leigh Howard