Introduction to Track Racing - What's a Wheelrace? - Introduction to Six Day racing - UCI codes
An Introduction to - Track Cycling
What is six-day racing?
By Nick Rosenthal*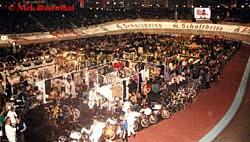 The Six Day Circus in Berlin
Photo: © Nick Rosenthal
The first Six Day races were exactly that - cycle races held over six days and six nights on a bicycle, on a banked cycle track. Some might say that the organisers of such events must have been cruel and uncaring people, but that would be untrue. In their kindness, they allowed the cyclists to race in teams of two. Only one rider from each team actually had to be on the track at any one time, so the second rider could eat, rest or even sleep for a few minutes.
Admittedly, watching exhausted cyclists circle a track for six days did not always make for exciting racing, so the formula was refined. Nowadays, the riders race on an indoor track (or velodrome) over six successive evenings. The cyclists still race in teams of two, and only one rider needs to be in the race at any one time. Generally, the rider not actually racing will circle slowly at the top of the track, waiting for his partner to (literally) throw him into the race by a hand sling.
Rather than one long race lasting all night, an evening's racing typically includes a few Madison sessions (the mainstay of the event) lasting an hour or so each, interspersed with "crowd pleasers" such as riders competing for the fastest flying lap time, or Derny races (where the cyclists are paced behind very odd little motorbikes). Only one rider from each team is needed for these events, which enables the other rider to rest before the next race.
The race is won by gaining points in sprints that are held every 20 laps or so, and by gaining laps on the other riders. Gaining laps is actually more important than scoring points, as the points are only used to differentiate between teams on the same number of laps. Six Day events give riders an extra lap for every 100 points (except in the final Madison of the event), which makes the mathematics of it all even more interesting.
The racing normally starts in the early evening and goes on until late in the night. There is a good social atmosphere (for the spectators, in any case!) at six-day bike races. For example, the Munich 6-Day race featured a funfair around the outside of the track, with five restaurants, too many bars to count, and a night-club in the cellar that opened at two in the morning (when the racing finished). And the Ghent Six is a wonderful place to sample a range of Belgian beers....
*The author, Nick Rosenthal, (Fat Nick) is an aficionado of track racing and has his own website with more background material, photos and interesting stories.