Introduction to Track Racing - What's a Wheelrace? - Introduction to Six Day racing
Tasmanian Christmas Carnivals
Tasmania, December 26, 2004 - January 1, 2005
Devonport Carnival, December 29-30 - Day 2
Main Results Complete event results Men's wheelrace Other men's races
Women's races
Yaxley solos to scratch race win
By John Stevenson in Devonport
Louise Yaxley (TIS/Cyclingnews)
Photo ©: Shane Goss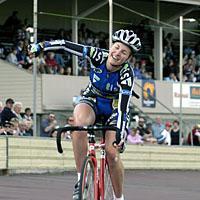 Knowing that she had no chance if she arrived at the finish in the company of sprinters such as Rochelle Gilmore and Liz Williams, Louise Yaxley rode an attacking race to win the women's A grade scratch. Yaxley got away with five laps to go, taking Rosemary Barnes and Jess McLean with her, and the three combined tobuild a 150m gap to therest of the field.
With no chase developing, Belinda Goss kicked hard to bridge across to the break, but as Goss caught with a lap and a half to go, Yaxley attacked again. Goss had no answer and the remaining field were by now so far off the pace they were out of the race.
Yaxley dug deep to stay away for the remaining lap, crossing the line with, as the announcer put it, "daylight in second, third, fourth, fifth sixth and seventh."
According to Yaxley it had all gone according to plan, another example of TIS/Cyclingnews coach Kevin Tabotta's scripting of his riders' wins. "I was told that I had to put in at least three attacks," said Yaxley. "That's what Kevin suggested, so the first two I sort of conserved because I knew I might get caught. But that was the plan and it worked! Good coach, good plan!"
The plan exploited the endurance Yaxley has been building in training. "I've been doing mainly road work," she said, "this is the only track work I've done for the year, so that's what I had to bank on - my endurance."
It also helped that Yaxley had had a couple of days to recover from the crash at Launceston two days ago, and the remaining pieces of thetrack had been removed from her skin. "We got all [the splinters] out today, so that must have been all I needed. There were a few that were starting to get a bit uncomfortable."
With that win under her belt, Yaxley was looking forward to the remaining major women's race, the wheelrace. "Provided I get up I'd love to take a win and see how the TIS can go," she said. "Hopefully we can we can get someone up there for a win."
Goss's turn in second TIS women's victory
Belinda Goss (TIS/Cyclingnews)
Photo ©: Shane Goss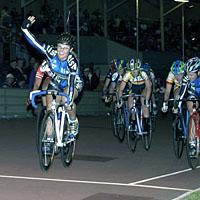 Yaxley's words turned out to be prophetic as her team-mate Belinda Goss used the turn of speed that she's regained after throwing herself into training recently to win the women's wheelrace.
"I'm stoked," said Goss after crossing the line well clear of second-placed Rosie McCall. "The scratch girls did a great job to help us get up there, so thanks to them as well."
Her two wheelrace wins have been a pleasant surprise for Goss, who came into the carnivals not sure of her condition. "I didn't quite know where I was at, so it's definitely above expectations to be going so well. It's great!"
Can she land a third at Burnie on New Year's Day? "That'd be great but we'll just see what happens."
Goss and Yaxley lined up at the back, from scratch and 20m respectively, along with Laura McCaughey (scratch) and Jess McLean (20m). The four worked hard together to reel in the middle and front women, making contact with a lap and a half to go. Jess McLean took the front ahead of Yaxley and Rosie McCall. In the back straight, Yaxley moved up, with surviving middlemarker Carrie Price in third spot and Goss coming round the outside. Into the final bend, Goss stood in the pedals to pass first McCall, then Yaxley and was still accelerating as she crossed the line in first.
In the second wheelrace heat, Yaxley and Goss had been part of an efficient backmarker group that had quickly caught the midfield and made sure all its riders qualified. The first heat, however, had not gone the backmarkers way, with Rochelle Gilmore and Liz Williams unable to get a chase going.
Belinda Goss models her new Carnival Leader's jersey
Photo ©: Shane Goss

Photography
For a thumbnail gallery of these images, click here
Images by Shane Goss/www.licoricegallery.com
Results
Women's A grade scratch
 
1 Louise Yaxley                5.19.30
2 Laura McCaughey
3 Belinda Goss
4 Rosie McCall
5 Jess McLean
 
Devonport Women's Wheelrace heat 1
 
1 Carrie Price (140)           2.36.70
2 Tiffany Manion (190)         
3 Sarah Eaves (140)            
4 Alitta Laskey (200)          
5 Bethany Coleman (160)        
6 Kate Depaoli (220)           
7 Melissa Barnes (160)         
8 Angela Hayes (130)           
 
Devonport Women's Wheelrace heat 2
 
1 Louise Yaxley (20)           2.25.58
2 Rosie McCall (70)            
3 Jess McLean (20)             
4 Laura McCaughey (scr)        
5 Belinda Goss (scr)           
6 Deb Reynolds (200)           
7 Sue-Anne Knight (150)        
8 Laurelea Sharman (200)       
 
Devonport Women's Wheelrace field
 
Belinda Goss (scr)            
Laura McCaughey (scr)         
Louise Yaxley (20)            
Jess McLean (20)              
Rosie McCall (70)             
Angela Hayes (130)            
Carrie Price (140)            
Sarah Eaves (140)             
Sue-Anne Knight (150)         
Bethany Coleman (160)         
Melissa Barnes (160)          
Tiffany Manion (190)          
Alitta Laskey (200)           
Deb Reynolds (200)            
Laurelea Sharman (200)        
Kate Depaoli (220)            
 
Devonport Women's Wheelrace final
 
1 Belinda Goss (scr)           2.31.15
2 Rosie McCall (70)
3 Louise Yaxley (20)
4 Sarah Eaves (140)
 
Complete results