Introduction to Track Racing - What's a Wheelrace? - Introduction to Six Day racing
Tasmanian Christmas Carnivals
Tasmania, December 26, 2004 - January 1, 2005
Special feature: Inside the carnivals
Part one: Life is a carnival
Fixed-gear track racing remains the drawcard at Tasmania's Christmas Carnivals, but can they maintain their long tradition and stay relevant in 2005 and beyond? Gerard Knapp reports from Tasmania.
The Tasmanian track carnivals always get a big turn-out of fans and a great atmosphere.
Photo ©: Shane Goss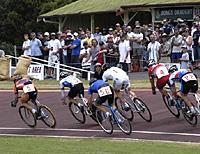 Looking out your back door takes on a new meaning at the Devonport round of the Christmas Carnivals in Tasmania. For some competitors, it means sitting on lounge furniture in the back of a truck, taking in the view of the competition, whether it's cycling, athletics or wood-chopping.
The Ford Transit van being used by dual Olympic gold medallist Graeme Brown and fellow pursuiter, 2004 world champion Ashley Hutchinson, was well-appointed for their recovery between events. Showing classic Australian improvisation, lounge room furniture that looked suspiciously like what would be found in a country motel room, fitted comfortably inside their large van, parked only metres from the track.
It was one of many supporters' vehicles that line the perimeter of the 500 metre outdoor concrete track, with old grandstands and clubhouses near the start-finish line.
The Transit van is an improvement on the station wagon presented to them last year by local vehicle sponsor, Jackson Ford. "Yeah, it was too small, we had to pull everything apart at the end of each day. This is much better," said Ray Brown, brother of Graeme, who's along to help out with things such as keeping track of handicaps, gears and distributing his 'graemebrown.com' baseball caps, water-bottles and the like. The rider everyone calls 'Brownie' adds a touch of le Tour's publicity caravan when he competes in the country towns of north-east Tasmania.
Taking in the view
Photo ©: Gerard Knapp

The newly-married Brownie is one of the star riders at the Carnivals this year and he has a very strong lead-out man in Ash Hutchinson to wind it up for the big races. Hutchinson has his "better half", girlfriend Briana Humphreys, also down from Queensland, keeping him company in between the multitude of events they enter over a daily program that can run well into the night, for up to eight hours.
"There's nothing like this anywhere else, really," Hutchinson said. As a Queenslander, Hutchinson is also proud of the 'Rocky Cup', a similar cycling carnival that takes place in Rockhampton, Queensland, later in January.
Hutchinson was referring to Australia, but his comment could be extended to the rest of the world. Sports carnivals in country towns are a tradition in Australia, but Tasmania seems to have the largest.
"You can't get better training than racing."
- Australian sprinter, Ben Kersten, on making the most of the competition on offer.
Held mostly on outdoor tracks - with the exception of the Launceston Carnival, that uses a 285 metre indoor timber velodrome - they start on December 26 and finish on January 1. These are in addition to other carnivals also held in Tasmania prior to and after this week, but the big four - Latrobe, Launceston, Devonport and Burnie - are all held around Christmas.
The Carnivals are multi-sport events that run in the week when most folk are on holidays. I say multi-sport but there are only three disciplines: fixed-gear bike racing, athletics (running, principally) and wood-chopping, a 'sport' where enormous axemen race each other to hack their way through 12 inch logs.
It's all about tradition, and these carnivals started in the late 19th century with the same three sports, and there's little chance of that changing anytime soon, apart from adding new events. Indeed, it has taken until 2004 for a specific series of handicap wheelraces for women to be added to the program. (See 'What's a wheelrace?' for more details on the format of these events.)
A series of wheelraces for women was only added in 2004.
Photo ©: Gerard Knapp

The women have responded positively with record numbers of female cyclists taking part in their first Carnivals series. For their impressions, see Rochelle Gilmore's diary on Cyclingnews and an interview with New Zealand rider, Liz Williams.
World-class fields
Given its location - relative to Australia and indeed the rest of the world - the Christmas Carnivals in Tasmania offer fields and cycling that are world-class, regularly surprising many first-timers. The cycling can at times be predictable - such as when a pure sprinter finds him or herself in a field of endurance specialists - or exhilarating, when evenly-matched fields of national, world and Olympic champions are all desperate to claim to purses of up to $12,000 for one race.
They're professionals after all, and that is part of the appeal. They need the money and the good riders know how to put it on for the crowd; whether it's the unpredictable 'Brownie' playing rough-house cat-and-mouse with almost any rider, or Ben Kersten winding up his huge kilo-style gear to mow down 30 riders in 250 metres, his momentum carrying him across the line in a victory salute, winning by half-a-wheel. If you want to watch genuinely fast riders show how they can time their sprints to perfection, then standing two metres away at a country carnival is a good place.
To be sure, the crowds are there in the thousands, packing picnic baskets, thermos flasks and blankets. They watch alongside the track, in the stands and are generally relaxed enough to allow the visitor a close view of the action.
"Not only is it more aggressive, it's like learning how to race again."
- Josh Kerkhof, USA track cyclist, on riding at the Carnivals.
The outdoor tracks are generally round with short finishing and back straights. Unlike the steep velodromes, they are only slightly banked, and the spectators are almost on the same level as the riders, unlike the amphitheatre of indoor tracks.
Throughout the year, the one ground is used for cycling, athletics, football, cricket and other field sports. The cycling track is part of the town's sports ground; it was always a part and never something that needed any special extra lobbying more than any other popular sport.
Bikes await riders
Photo ©: Gerard Knapp
Then there's the racing, that stretches well on into the night, under fairly weak lighting that punctuates the dark but creates an illusion of speed. "It always looks faster at night," said a regular.
Unique to Australian cycling are the egalitarian wheelraces, pitting D grade club riders against a world champion or three. The participation of the lesser riders gives the home crowd an underdog or 10 they can cheer for, until they can applaud the sheer pace of the world's fastest, gradually eating away head-starts of up to 300 metres in a 3 km race. Only a wheelrace gives club riders the opportunity to pit themselves against riders of this caliber, and they get to ride 10 percent less distance so they're in with a chance.
However, many of the big races are won by local riders, as the standard of racing surprises many first-time visiting pros.
"When I first came here, I lost a race to this guy named Darren Young and I didn't know who the hell he was," said Jame Carney, 36, an American who's competed at the Olympic and world level for much of his career. Carney knows him now, as does any elite-level endurance track racer in the world. This year, Darren "Dasher" Young was back home in Tassie, but this time after riding the international Six Day races in Europe.
As 20 year-old endurance specialist Josh Kerkhof, from Austin, Texas, said, "not only is it more aggressive, it's like learning how to race again."
The visiting pros can come up against a local teenager who goes on to become a national or junior world champion. For a combination of factors, but principally its tradition and integration into the sports fabric of the region, Tasmania produces an extraordinarily high number of very good bike racers.
Such is the standard of competition, riders attend from the USA, Germany, Japan, the Czech Republic - indeed, in any year, there will be a mini UN of competitors. This year one of world's leading paralympic cyclists, Jiri Jezek, 30, who won both the men's road race and individual pursuit track titles at this year's Paralympic Games in Athens, was also in action in Tasmania.
"He could put a lot of able-bodied cyclists to shame," said a spectator. Jezek lost most of his right leg just above the knee at 11 in a tractor accident, but when competing in Tasmania, he displayed good bike-handling skills and asked for no special considerations.
Gimme shelter
Inside 'the sheds' at the Devonport Carnival
Photo ©: Gerard Knapp

While some riders prefer being outside in deck chairs with support vehicles parked alongside the track, taking in the strong Tasmanian sunshine and its extremely high UV light, visiting Victorian sprinter Tommy Nankervis and many others spend time between events camped in the relative shelter of 'the sheds'.
These are large rooms underneath the grandstands where the riders can prepare for races. Inside they set up their rollers, spread out their kit and even take short naps, if they can block out the constant commentary piped in on a loudspeaker.
The commentators' barrage is mixed with the sounds of riders warming up on rollers, talking and skylarking; the scent is a mix of embrocation liniment, chain lube, sunscreen and sweat.
For many track riders, racing multiple events in the outdoors is a completely different experience. "I prefer being in here, it wears you out being in the sun and wind all day," Nankervis said.
The sheds are also the place where deals can be done among groups of riders to work together in the handicap events. For example, the 'scratchies' (that is, the favourites, top riders who start from the back mark in wheelraces) must work together to overhaul the middle- and front-markers, those riders with their generous head-starts. If they don't work together, then the elite riders are unlikely to win the big handicap races; but only one rider can win, so many impromptu deals are cut in pursuit of the big purses on offer.
"But that can happen anywhere, even out on the track," Nankervis said of the riders' efforts to reach agreement to work together to ensure at least one of them can 'get up' (win) on the day. (In a further Australianism, if you like, the biggest money is offered in the 'open-to-allcomers' wheelraces.)
Nankervis had been quoted in the local Tasmanian press as favouring the Tasmanian carnivals over a rival series of carnivals held at the same time in his home state, Victoria. "Yeah, I guess that was a bit controversial," he joked of the interstate rivalry. "But they don't have facilities like this, the quality of the racing and the prize-money.
"[The Victorian carnivals] just expect you to rock up, but here we get assistance with travel and other things. It's worth coming for sure."
Nankervis, one of Melbourne's emerging sprinters, had found himself entered in B grade scratch races in Tasmania and so far, he'd picked up two wins in those events. "They're just as hard as A grade ones in Melbourne."
In part two we look at the international appeal of these unique events and examine the way forward as organisers work to balance tradition and development.