Introduction to Track Racing - What's a Wheelrace? - Introduction to Six Day racing
Tasmanian Christmas Carnivals
Tasmania, December 26, 2004 - January 1, 2005
Special feature: "Team USA" at the carnivals
Team America takes the far track
A posse of American riders made the big trip south for warmer weather and hot racing in Tasmania. Gerard Knapp reports on their southern sojourn.
"Team USA" at the carnivals.
Photo ©: Gerard Knapp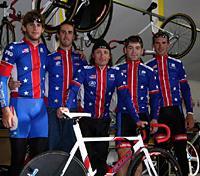 The participation of elite-level riders in non-UCI races is contingent on two things, it would seem: timing and money. If the timing is right - in that the competition can benefit their preparation, then it can be viewed favourably. But if there's also a financial incentive, in the form of travel assistance and five-figure prize money for several races, then it may be worth traveling halfway around the world.
Those are two of the reasons why a group of six American track cyclists made their way to the island state of Tasmania that lies off the southern coast of Australia.
In addition, there is the environment, weather and perhaps most of all - the competition and the racing. As 20 year-old endurance specialist Josh Kerkhof, from Austin, Texas, said, "not only is it more aggressive, it's like learning how to race again."
His team-mate, Mike Friedman, added, "the racing's faster here, and the people actually know how to ride their bike". They should not be surprised, given that they were regularly facing Olympic and world champions. To add to the mystery, they were racing mainly on non-standard, slightly-banked, 500-metre concrete tracks open to the elements. They were still racing their fixed-gear track bikes, of course, as that is tradition, and tradition has a major role in what are called the 'Christmas Carnivals', a series of multi-sport events held around north-western Tasmania in the week between Christmas and New Year's Day (see Life is a Carnival).
Four of the USA men
Photo ©: Shane Goss

Given that the first Carnival was held towards the end of the 19th century, there is some tradition to be maintained, but cycling is a key attraction at the Carnivals and visiting cyclists are always welcome. One regular at the Carnivals over the years has been Jame Carney, arguably America's finest endurance trackie for over a decade.
"The racing's faster here, and the people actually know how to ride their bike"
- Mike Friedman on the Tasmanian scene..
This year, Carney came with his posse (should any problems occur with pesky Englishmen); a group of four young male riders as well as the more experienced woman, Becky Conzelman.
The four first-timers - Kerkhof, Friedman, Bobby Lea and Gui Nelessen - are all in Tasmania for the training and there is no training like racing, particularly if it's a multitude of events in outdoor conditions against world-class fields.
Racing is fine if that's what the rider's preparation calls for, and Tasmania's carnivals fit in well with their schedule. All of the riders specialize in the endurance events on the track and are hoping to qualify the USA for the teams pursuit in the world championships, to be held in Los Angeles this March.
"This is basically our pursuit squad," Carney said, who is training all five riders. The group arrived on December 17 (although Conzelman arrived later) and will stay until after the Sydney round of the UCI track world cup, to be held February 18 - 20.
It's two solid months away from home, but at the time they spoke to Cyclingnews, they weren't complaining, given it was time for sunscreen rather than thermals.
While Kerkhof had made the classic mistake of turning into incoming traffic while out on training rides - "you guys drive on the wrong side of the road" - they were enjoying their stay.
"It's the most consistently hard racing I've done, outside of a stage race, there's just no down-time."
- Bobby Lea on the packed program.
"I told these guys the Tasmanian towns close at 5pm," Carney joked, "but some bars in Launceston stay open to 6am, and that's not such a bad thing!"
So far, they'd had a reasonable run in Tasmania and had one big race win to celebrate, when Carney took out the prestigious Launceston Wheelrace against riders like Graeme Brown and Ashley Hutchinson (see report).
So, how did they get here?
Jame Carney swapping turns
Photo ©: Gerard Knapp

It would seem ironic that this group of emerging young American track racers, led by a wily veteran with many victories to his credit, would find more assistance to attend coming from a regional sports association in Australia, rather than their own federation.
Carney and his crew received travel and accommodation assistance from the Carnivals organizer to appear in Tasmania, but they received nothing from USA Cycling to gain this valuable training and racing experience.
"They (USAC) are waiting to see if these guys can do anything," Carney explained. But for the young riders, it is disheartening, particularly when they see the development programs in Australia and race against well-drilled, committed young riders from Australian sports institutes and clubs.
"They pretty much doubt you until you do something," Kerkhof said. But to "do something" against a quality field of Australian and European cyclists in unfamiliar events is a big ask of any developing rider. Still, they realize the experience they are funding themselves - and with help from the locals - is a worthwhile investment in their development.
"I told these guys the Tasmanian towns close at 5pm," Carney joked, "but some bars in Launceston stay open to 6am, and that's not such a bad thing!"
Such is the case for the contemporary American track cyclist, lost it would seem, in the country's preference for road racing. To be sure, the American riders are a force on the road, but unlike the top Australian professional roadies, none of the high-profile American cyclists really have any results on the track. It shows when they're racing on the road, as the Americans are known more for their strength, than their tactical finesse in the finale of major road races.
While the young Americans had been on the receiving end of some aggressive, body-contact racing with the fast Australians and Europeans in Tasmania, they remained unfazed and continued to test themselves.
Indeed, Nelessen showed some track cunning when he bagged third place in the Launceston International Classic, a major street criterium held on December 27. He used the speed and power of a local Tasmanian rider to re-gain contact with the lead group and then positioned himself well to finish behind winner Matt Goss and Stuart O'Grady. He repeated the performance with a second place at the Burnie Bay Criterium four days later, showing once again a head for making the right move.
Simple - go as hard you can
From the experienced Carney through to young riders, they were all amazed at the way in which the largely Australian field would treat some established track events, while at the same time, they had to understand the concept of handicap racing.
"In scratch races they swap turns and go as fast as they can," he said. "For an American, we would ask 'why am I going to take a turn? Why would you do that? What's in it for me to do a hard turn on the front?'," Carney said.
The locals' theory is that a brutally high pace prevents any breakaway from succeeding, plus it's damn good training. Consequently, the Americans enter 10-20km scratch races with average speeds well over 50km/h, hanging tough as the rest of the field seem intent on testing each other. If a rider can leave the field behind, then they must be flying.
"They pretty much doubt you until you do something."
- Josh Kerkhof on the lack of support from USAC for the trip to Australia. Ironically, the Americans received financial assistance to attend from a regional sports association in Tasmania (pop. <500K).
Carney said, "it's that (scratch races) and the standing starts, they hurt. These guys do more racing than at a typical American race". The young American riders do "maybe one or two" standing-start, one-kilometer efforts "in a year, but here, they're doing two every day!"
Among the events at the Carnivals are 'lightning handicaps', usually over just one kilometre, and there is no time for tactics. "You just have to go as hard as you can," he said. And then repeat it, again and again.
"It's the most consistently hard racing I've done, outside of a stage race," said Bobby Lea, "there's just no down-time." A typical Carnival program can run for two days and feature a multitude of cycling events, from flying 200 metre time trials, the all-out 1km lightning handicaps through to full-on 20km scratch races.
Being American a handicap?
Jame Carney wins the Launceston Wheel.
Photo ©: Shane Goss

Then there is handicap racing, a by-product of Australia's egalitarian approach to sport. "There's no handicap racing in the US," Carney said. In Australian events called 'wheelraces', lesser riders start well ahead on the track, so they have a head-start on the elite riders, who ride "off scratch", in other words, they complete the full race distance. The rest of the field, meanwhile, has anything from 20 to 300 metres less distance to cover.
Of the Americans, only Carney is considered a 'scratch rider', sitting back with the world champions and Olympians. The younger Americans were anything from 75 to 125 metres ahead, a reasonable start but nonetheless they were usually reeled in by the scratch riders after a few brutal laps. Once the fields came together, it got more interesting.
"The bike handling skills are way up there," said Mike Friedman. "The people are more willing to make contact here, but they don't seem to mind, it's like how they race."
However, if anything does go down on the track, it does seem to stay there. "Everybody is pretty friendly," he said. Despite their aggressive racing style, "the Aussies seem friendly".
The Americans also had to come to terms with the other nature of handicap racing, and that is forming "the combines" among other riders so that a group can work together to secure a win. However, only one rider can win, so these 'gentlemen's agreements' are made on the fly, and with insider knowledge. While the prize money and crowds give the riders incentive to perform, Carney said "you guys (Australians) have a screwed-up prize list. In the US, we're not allowed to give more than 29 percent (of the total prize money) for first place. Here, it's like almost all the money is for first place."
Then there are the outdoor tracks, exposed to the elements and where factors such as headwinds can play a role in any tactical moves. Carney said, "You guys would race on something we would never think of (in America) and maybe we should think of that as a concept to develop track racing in the US. Instead of spending $5 million on one indoor velodrome, maybe build 20 flat tracks all over the US."
The 'flat tracks' are typically co-sited with a sports ground inside the track that is used for a variety of ball sports, as well as track and field. The tracks are generally well-sealed, but not with the smoothness and steep banking of a timber velodrome.
Overall, Carney is one of the greatest proponents of the Tasmanian carnivals, and training in Tasmania in general. He is keeping his crew in the state until they travel to Sydney for the track world cup, taking advantage of its quieter roads and challenging terrain. They can go from a world-class timber velodrome, such as Launceston's silverdome, to challenging 20km climbs in Tasmania's mountains.
Not to mention the environment. Each year, tens of thousands of tourists travel to Tasmania for the state's unique World Heritage-listed wilderness areas, as well as the quality food and wine.
"Australia has some things like they are in the US, and then there's other stuff that reminds you of Europe, so it's like this collision of cultures," said Nelessen. Not that he's complaining. "No, there's only the helmet law really," he said, when asked if there was something that he would like to change.
The aim for this quartet of young riders is to build their speed and endurance so they can post a teams pursuit time of under 4.17 seconds at the Sydney World Cup round; the qualifying time for the world championships. By February 20, they will learn if their southern adventure has been worth all the effort.